BlackBerry vs iPhone vs Android Smart Phone: Which Is the Best?
Each of us would have some favorite smart phones in our heart while choosing a smart phone can be daunting enough even before you consider what operating system it will run. From touch screens to QWERTY keyboards, candy-bars to sliders, e-mail to multimedia, choosing a smart phone has never been more confusing because of the vast range of handsets on the market. Most smart phones currently on the market run the following operating systems - iOS, Android, BlackBerry, Windows Phone and Symbian. Selecting which operating system will make a big impact on your mobile experience.
In this page, we will show you the differences of BlackBerry, iPhone and Android OS in details. After that, a phone to phone transfer program will be illustrated to help you transfer data between two smart phones. Now let's see BlackBerry vs. iPhone vs. Android first.
How to Compare BlackBerry, iPhone and Android OS?
Tricks to Transfer Data among BlackBerry, iPhone and Android
How to Compare BlackBerry, iPhone and Android OS?
- BlackBerry OS: The BlackBerry OS is RIM's proprietary operating system for its range of smart phones. Renowned for superb email integration, the BlackBerry was originally a device targeted particularly at corporate users. These days, the BlackBerry is as much a consumer device as it is a business tool, but its strong emphasis on email remains. The BlackBerry is famous for its trackball and QWERTY keyboard design, and many users swear by its physical keyboard for fast text entry. BlackBerry App World, an app store similar to iPhone's App Store, has already been launched in international markets.
Pros: Fantastic email, trackball or track pad is easy to navigate, multitasking, complete wireless synchronization.
Cons: Touch-screen model was less than impressive, Web browsing needs improvement.
- iPhone OS: The iOS is Apple's operating system for its iPhone, iPad and iPod Touch devices. Best known for its ease of use thanks to the excellent capacitive touch screen used in Apple's handsets, the iPhone OS also has the largest mobile application store - the App Store. The iPhone OS is widely considered to have the best mobile Web browser, Safari, and the best MP3 playback thanks to its iPod feature. Despite its popularity, the iPhone OS has been criticized for its closed nature, the lack of multitasking and Apple's stringent review process for third-party apps. In addition, heavy e-mailers may not take to the iPhone's on-screen keyboard.
Pros: Ease of use, shallow learning curve, great mobile Web browser, excellent App Store.
Cons: Stringent app approval process, not able to send files via Bluetooth, closed OS, lack of multitasking.
- Android OS: The Android OS is an open-source operating system initially developed by Google, which brings together mobile phone manufacturers, software developers and telecoms. Like the iOS, Android is purely designed for touch-screen phones. However because of its open source it can run on a variety of devices, including candy-bar and slider smart phones. The Android OS is best known for being easy to customize and having tight integration with Google services such as Gmail.
Pros: User-friendly, open source, ability to tweak and customize, multitasking.
Cons: Still in its infancy, much smaller development community compared to the iPhone, not as polished as alternatives.
Tricks to Transfer Data among BlackBerry, iPhone and Android
With Mobile Phone Data Transfer, you can transfer data between Android and iPhone, BlackBerry and iPhone and BlackBerry and Android freely. To start with, you can download a free trial Windows version on your computer. Mac users can turn to the Mac version.
Link two smart phones to the computer via USB cables. Launch the program and select the Phone to Phone Transfer mode. The program will begin to detect the smart phones and set them as the source and destination devices at random. You can click the Flip button to change their positions.
Note: If you try to transfer files between iPhone and another phone, make sure you've installed iTunes on your computer already.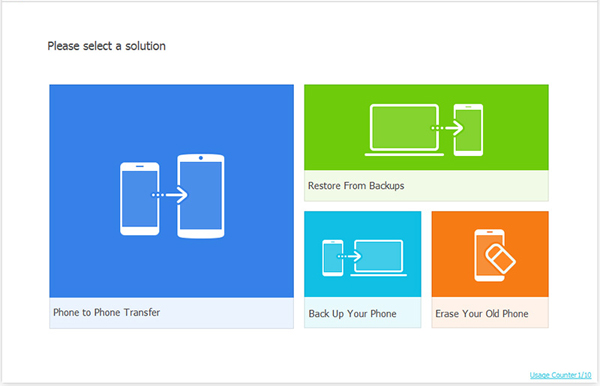 The transferrable data like contacts, text messages, videos, photos and music, etc. are on the interface so you can choose one file and then click the Start Transfer button to transfer data from one device to another.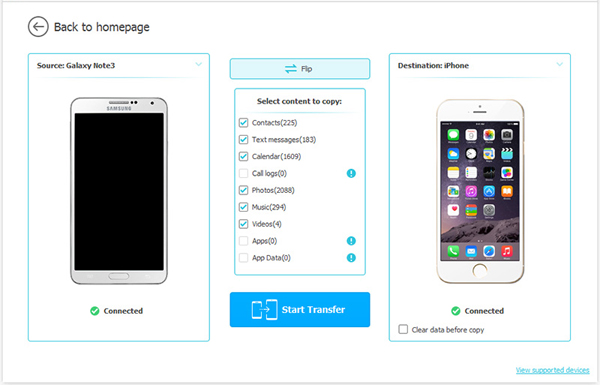 Read more: Get the MobiKin Android File Transfer software to transfer files from Android phone to computer.
Related Articles:
Easy Way to Transfer Contacts between iPhone and Android
How to Transfer Contacts from HTC to iPhone Easily
How to Transfer SMS from Android to iPhone Easily
How to Transfer Contacts from Android to iPhone? (4 Quick & Safe Ways)
How to Transfer Contacts from Samsung to iPhone - 5 Methods You'd Better Know