6 Flexible Ways to Transfer Apps from Android to Android
With its perfect functions and reasonable price, the Android phone or tablet has attracted more and more users in recent years and played an essential role in the smartphone market. People like to download and install all kinds of APK files on their Android devices for entertainment. Sometimes they may also wish to transfer apps from Android to Android, to share some favorite apps with our family members or friends' Android phones directly.
Even though download and install an app on your Android device is not a challenging task, when you have lots of apps that need to be installed, things could be time-consuming. And if you're offline, how to get the app on your device? So here, if you have read the six methods about how to transfer apps to a new Android phone, moving and sharing apps could be more efficient for all of you.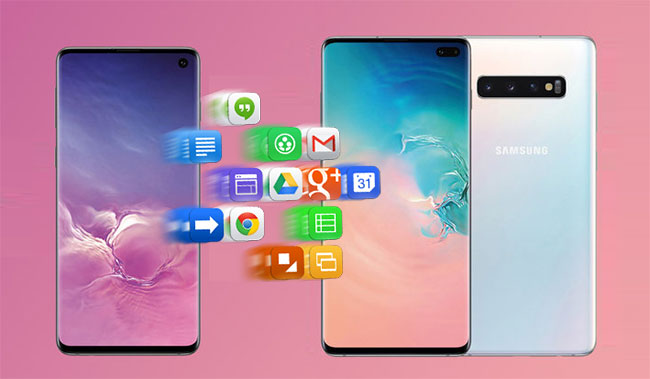 Way 1: How to Transfer Apps from Android to Android with One Click
First of all, we would like to recommend MobiKin Transfer for Mobile for your reference. With it, you can easily and quickly transfer apps from Android to Android with one simple click. In addition to apps, other data like contacts, messages, call history, photos, etc., also can be copied between Android devices with zero limitation.
Main Features of Transfer for Mobile:
Transfer apps, as well as music, videos, photos, contacts, text messages, call logs, and more from Android to Android.
Apart from Android to Android transfer, it can also perform iOS to iOS, Android to iOS, and iOS to Android transfer.
With a simple click on your mouse, the transfer process will begin in no time.
It also comes with a Mac version: Transfer for Mobile (Mac).
It is compatible with all Android and iOS devices, including Samsung, Huawei, HTC, LG, Motorola, OnePlus, Vivo, Oppo, Xiaomi, iPhone, iPad, and iPod touch.
Now, download this powerful program and follow the below steps to transfer apps from one Android phone to another Android mobile phone or tablet easily.
How to Transfer Android Apps to Another Phone with Transfer for Mobile?
Step 1: Directly launch the program on your desktop computer after you downloaded and installed it. You will see its primary window like this: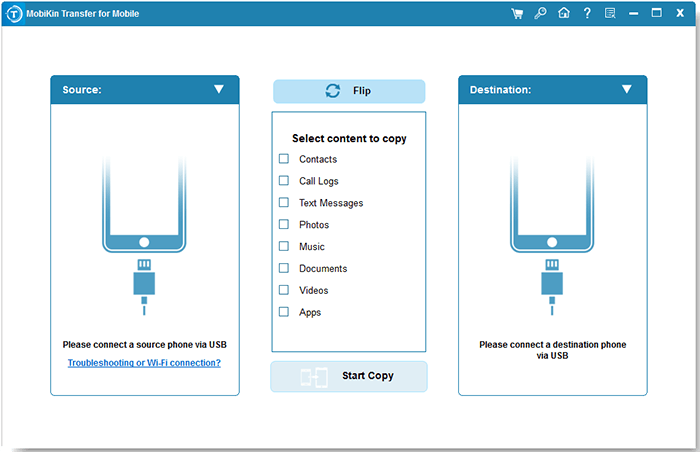 Step 2: Use two USB cables to link your two Android devices to the computer simultaneously. And then you'll see them in the program. Be sure these two devices have in the right source and destination area because data will be transferred from source device to destination device.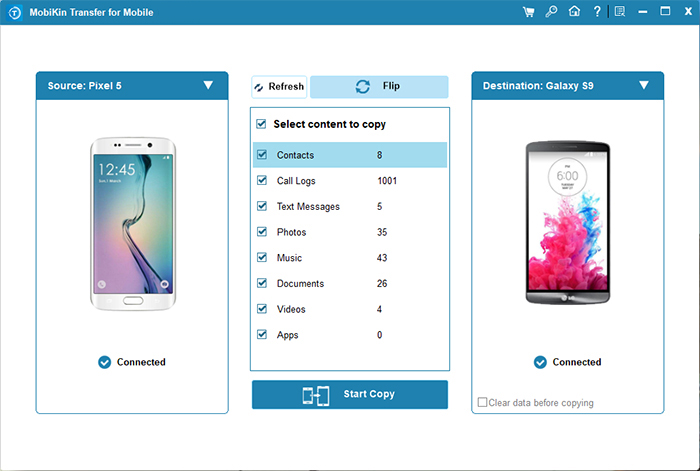 Step 3: Tick the option of "Apps" in the middle of the panel, and then you can hit the "Start Copy" icon to start the process.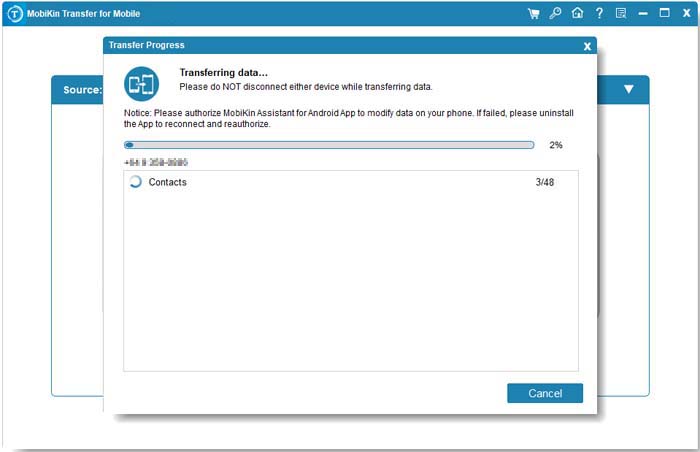 Note: Transfer for Mobile only supports transferring apps, not app data. If you want to transfer app data together, you can refer to other methods in this article.
Check If You Need:
Way 2: How to Send Apps to Another Phone via Android Backup and Restore
This can also be accomplished by using MobiKin Backup Manager for Android, an Android backup and restore utility to help you back up Android phone to a computer, and then restore it from the computer to another Android phone. It can back up and restore apps, contacts, call history, text messages, pictures, videos, documents, etc., on your Android devices.
To utilize the program's functionality, you can readily back up apps from the source Android phone to your computer and then restore these apps from the computer to your target Android device.
How to transfer apps from phone to phone by using this Android backup and restore tool?
Step 1. Install and launch the tool on your computer. Connect your old Android phone to the computer with a USB cable. Now, the main interface of the tool will show you two options - "Backup" and "Restore". Just click the "Backup" option.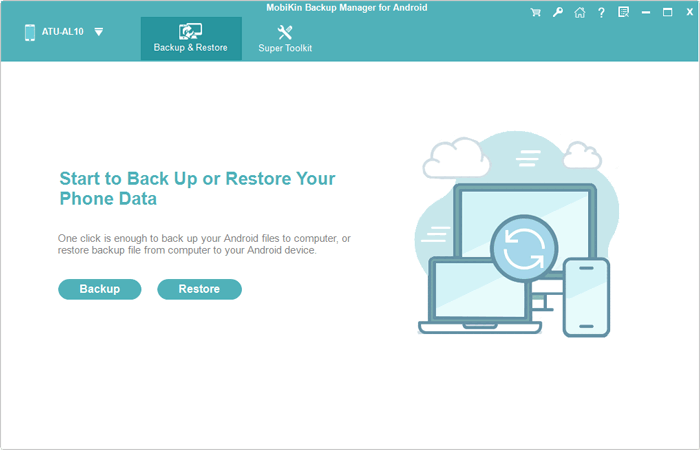 Step 2. All data types available are listed here. Tick them off and tap "Back Up" to save them on your computer. After that, unplug your old Android from the computer.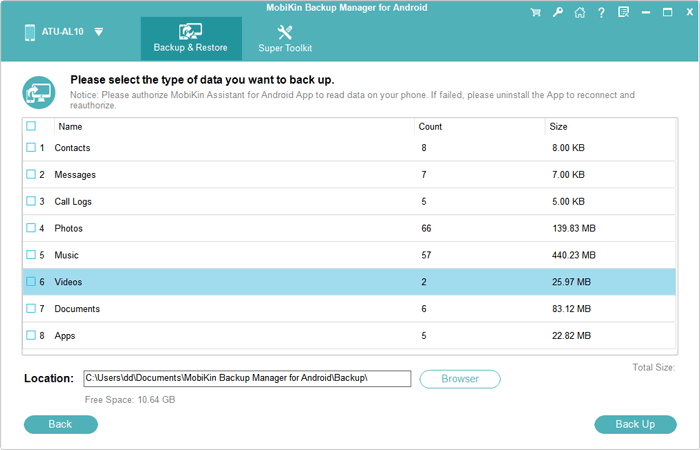 Step 3. Connect your new Android to this computer. After the connection is created, tap the "Restore" option from the main interface, and you'll see all the backed-up files on the computer. Select the file(s) you want and tap "Restore" again to get them to your new Android.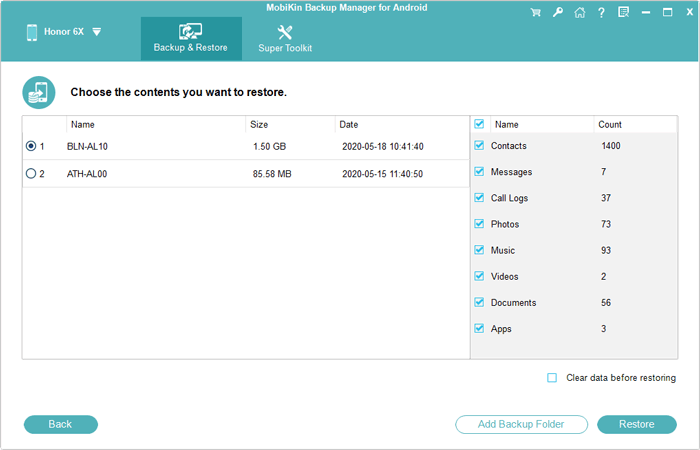 Way 3: How to Transfer Apps from One Phone to Another with Google Account
After all, apps and app data, just like contacts and messages, are indispensable parts of the Android user experience. Therefore, Google attaches great importance to this kind of data, and Google Drive also supports backing up apps and related app data. As long as you log in to the same Google account on a new Android device, you can synchronize all the backed-up files. Here is what you need to do.
On your old Android device, go to the "Settings" app scroll down to choose the "Backup & reset" option.
Turn on the "Back up my data" option, and all data on the old Android phone will be synced to your Google account automatically.

After the backup process, turn to the new Android phone and go to "Settings" > "Backup & restore" > "Restore".
Log in to the same Google account and get all of your synced apps and app data over to the new Android device.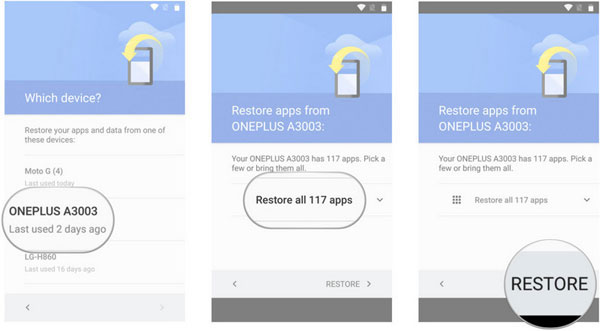 Check If You Need:
Way 4: How to Transfer Apps from Android to Android via Bluetooth
We can transfer all applications on the old phone to the new phone by using the Bluetooth function. This will save a lot of time than downloading all the applications to the new phone again.
First, go to the Google Play Store to search and download a free app called "Android Assistant".

Run this app, and then go to the "App Backup and Restore" option under "Tools".
After that, you can see all the apps on the old phone. Select the apps you want to transfer to the new phone, and then click "Backup".
After the backup is completed, all the APK files of the backed-up applications are saved on the mobile phone SD card.
Long-press an APK file, and in the pop-up window, select "Share via" to share the file via Bluetooth to the new phone.
Way 5: How to Transfer Apps to Another Phone with Samsung Smart Switch
If your new Android phone is Samsung, you can use Samsung Smart Switch to transfer apps to help you transfer apps. However, the prerequisite for using Smart Switch is that the old Android device must be running Android 4.0 or higher. Let us now learn how to send an app to another phone by using Samsung Smart Switch.
Install the Smart Switch app on both phones.
Run the app on your old Android device and click the "Send data" option.
Now, you need to connect your old Android device to the new Samsung phone. You can establish the connection wirelessly or via a USB cable.

After the connection, you can turn to the old Android phone to choose the content you want to transfer to the new device.
Select "Apps" > "Send" to move the installed apps from your old Android device to the new Galaxy.
On the new Galaxy device, tap the "Receive" button to begin the transfer process.
Once the transfer has been completed, you can tap "Done" and head back to see all the transferred apps on your new phone.
Way 6: How to Copy Apps from Android to Android Using SHAREit App
Finally, we recommend a very popular data transfer app called SHAREit. With it, you can migrate a certain number of applications from one Android phone or tablet to another.
Download and install the SHAREit app on both your Android devices.
On the old Android device, from which you wish to send the apps, run SHAREit and choose "Send".
On the new Android device, to which you wish to receive the apps, run SHAREit and choose "Receive".
Head back to the old Android device, you can see the icons of all the installed apps on the system. Just select the ones you want to transfer and tap on "Send".
The SHAREit app will begin to search for the receiving device. Once you see the receiving Android phone pops up in the radar, tap on it.
All the selected apps will be transferred to your new Android phone in the form of APK files.

Once the apps transfer is finished, you can tap on the individual APK files to install them on your new Android device.
In the End
Upgrading your phone is a great experience. After all, everyone wants to get the latest electronic equipment on the market. However, upgrading mobile phones means data migration. If you are worried about how to transfer apps from Android to Android, I hope this guide can help you. If you have any questions about the process, or if you have a better solution, you can communicate with us in the comment section below.
Related Articles:
How to Transfer SMS from Android to iPhone
Transfer Contacts from Old iPhone to New iPhone
How to Transfer Music from iPod to iTunes
Top 9 Samsung Smart Switch Alternatives and Similar Apps
How to Transfer Contacts & Text Messages from iPhone to Pixel