How to Transfer SMS from Nokia to Samsung Quickly
As each popular model of their brands, Nokia Lumia 1020 and Samsung Galaxy S5 draw people's attention in their own ways. Now we'd like to show you the comparison of these two smart phones for your reference.
Comparison of Nokia and Samsung:
The Nokia Lumia 1020 runs Windows Phone 8.1, 8 while the Samsung Galaxy S5 runs Android (5.0, 4.4.2) operating system. The dimensions of Lumia 1020 are 5.13 x 2.81 x 0.41 inches (130.4 x 71.4 x 10.4 mm) and that of Galaxy S5 are 5.59 x 2.85 x 0.32 inches (142 x 72.5 x 8.1 mm). As for the resolution, Lumia 1020 shows 768 x 1280 pixels and the Galaxy S5 are 1080 x 1920 pixels with the pixel density of 334 PPI and 432 PPI respectively.
Then we come the most useful part - camera. The Nokia Lumia 1020 has 41 megapixels and the Galaxy S5 has 14 megapixels. And the features of their cameras are optical image stabilization, continuous autofocus, video light, video calling versus digital image stabilization, High Dynamic Range mode (HDR), video calling and video sharing. Although Nokia has a more powerful rear camera, the Galaxy S5's 2.1 MP of the front-facing camera has beaten the 1.2 MP of Nokia Lumia 1020.
Tool You'll Need to Transfer SMS between Nokia and Samsung:
That's the brief comparison between Nokia and Samsung, and now let's come to the question that many of you have asked - how to transfer SMS from Nokia to Samsung. Generally speaking, this problem can be easily solved only if you have a professional phone transfer program like the Mobile Phone Data Transfer. It is a program that allows you to transfer SMS from Nokia to Samsung or from Samsung to Nokia. Not only the text messages, but also other data like contacts, music, videos, and photos can be moved between Nokia and Samsung. Moreover, this software can be highly compatible that it supports any Android, iOS, Symbian, BlackBerry and Windows Phone devices.
Sounds good, right? Have a try on this helpful program now.
Notice: If your Nokia is based on Symbian system, you can use this program to transfer the text messages from Nokia to Samsung without any hassle. But if the system of your Nokia is Windows, you cannot complete the transmission via this tool directly cause this function is not supported yet.
Guidance to Sync Nokia SMS to Samsung Easily
Step 1. Launch the Nokia to Samsung Transfer Software
Link both of the Nokia and Samsung to the computer via USB cables and launch the Nokia to Samsung transfer software when you finish the installation.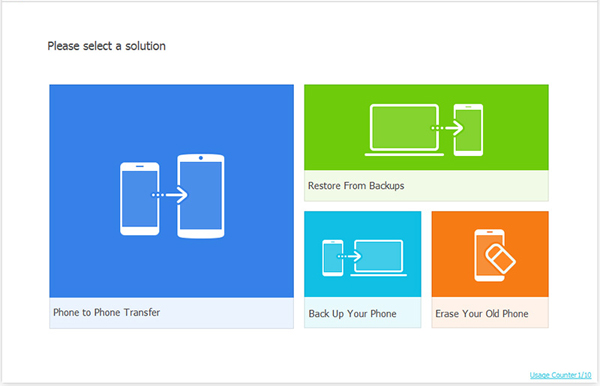 Step 2. Select the Phone to Phone Transfer Feature
On the interface shows different modes. You can directly select the Phone to Phone Transfer feature and let the program detect your devices. Make sure the smart phones are always connected to your computer.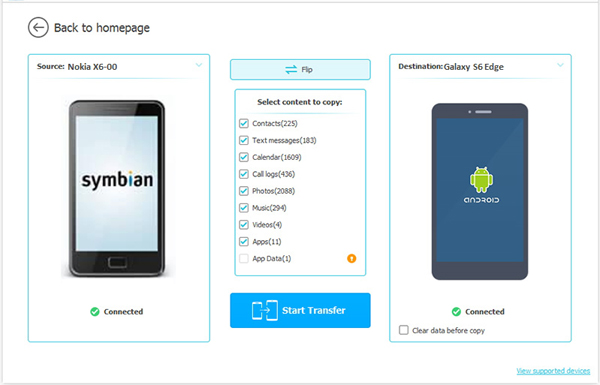 Step 3. Transfer SMS from Nokia to Samsung
When the detection is finished, the Nokia and Samsung cell phones will be shown as the source and destination devices at random. If the Nokia is in the source area, you can go ahead to the next step. If not, you can exchange their positions by clicking the Flip button to the right order.
Then you can tick the Text Messages option in the middle of the panel and click Start Transfer to transfer SMS from Nokia to Samsung. By analogy, SMS can be moved from Samsung to Nokia in the same way.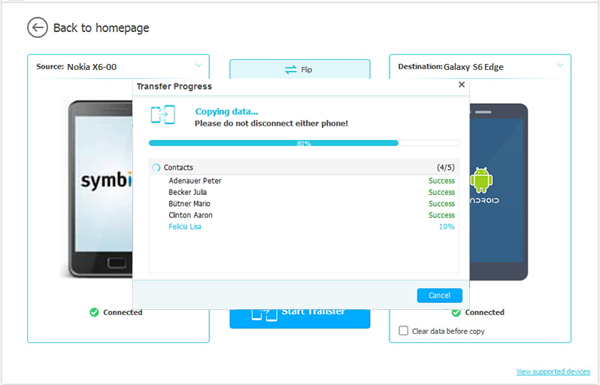 Note: In addition to the SMS messages, you can also sync other data such as contacts, music, photos and videos between Nokia and Samsung.
Try this Samsung Galaxy desktop manager to manage the data on your computer.
Related Articles:
How to Transfer Contacts from iPhone to Samsung (Practical in 2023)
How to Transfer Photos from iPhone to PC in 7 Ways? [Comprehensive Guide]
Top 11 iExplorer Alternatives for Windows and Mac [Must-read]