Transfer Contacts/SMS from Motorola to Sony
People who have Motorola phones can perform quite a few essential functions on their mobile devices today. These functions can vary from one mobile user to another, however, some of these functions are often used for the same or similar purposes and reasons. This is one of the main reasons why some Motorola phone users likes to save their contacts and text messages so that they can access them whenever they need to. So, when any mobile phone user changes their devices from a Motorola phone to a Sony Phone, they may need to transfer their contacts and messages to the new Sony phone. Then, how to transfer contacts and SMS from Motorola to Sony?
Transferring contacts and text messages from the Motorola phone to the Sony phone is not always a simple or straight forward task. Therefore, it is essential that the users find an application that can help to do this with ease. Motorola to Sony Transfer is such kind of tool to help you transfer all your files, including contacts, text messages, photos, videos, music, apps and more between Motorola and Sony phones without any hassle. The whole transfer process can be made in a simple 2 to 3 step process. With the instructions provided with this application, any user can make these changes without the assistance of a person who has experienced technical skills.
Supported Motorola devices: Moto G5, Moto G5 Plus, Moto X, MB860, MB525, MB526, XT910, DROID RAZR, DROID3, DROIDX, etc.
Supported Sony devices: Sony Xperia X, Xperia E5, Xperia Z5/Z4/Z3/Z2/Z1/Z, Xperia M5/M4, Xperia E4, Xperia 10, compact, Xperia ZR, Xperia T2 Ultra Dual, Xperia SP, Xperia Ultra Dual, etc.
Read similar article:
How to Copy iPhone Text Messages to Sony
Copy Call Logs between Motorola and Samsung
People who need to transfer contacts and text messages from Motorola to Sony phone can keep on reading, to see how to use Motorola to Sony Transfer to complete the transfer process in 3 simple steps.
How to Copy Contacts/Messages from Motorola to Sony?
Step 1. Open Motorola to Sony Transfer
Download and install the application on your computer. Once the installation is complete, the first step in the process is to launch it and connect the two devices to the computer using 2 separate USB cables.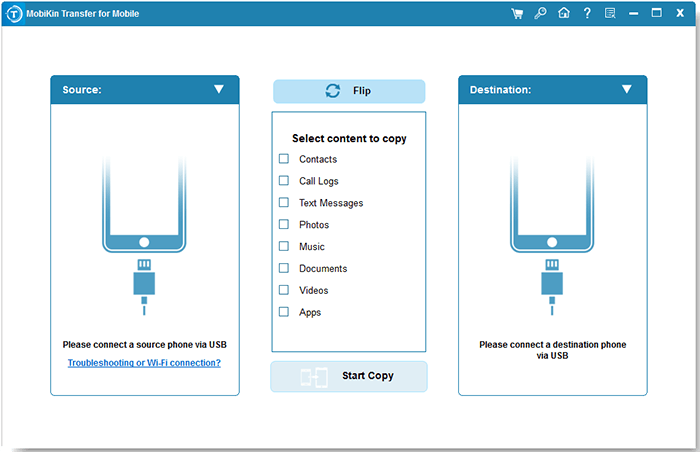 Step 2. Now click on the wanted categories

After the 2 mobile devices have been connected to the computer, you can view the window that shows the two phones, as well as all file types including Contacts and SMS that will need to be transferred.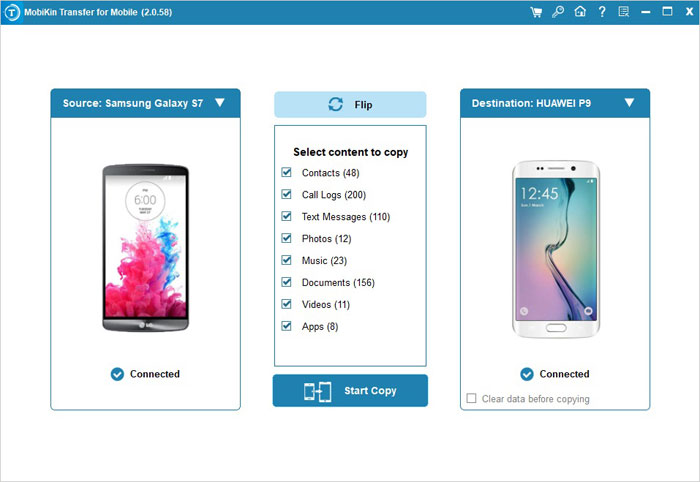 Step 3. Transfer contacts/SMS from Motorola to Sony
Select the contacts and text messages that you want to transfer and make sure the types of data that you don't want to transfer are unchecked. Once the user determines what files that need to be transferred, they will click on the Start Copy button to complete the transferring process.