Guide to Transfer Files from Android to iPhone X/8 Plus/8/7
"Recently I bought a new iPhone 8 Plus, and my father asked me to give my old Motorola phone to him rather than buying a new one. Before that, I need to get the files out of my Motorola and sync directly to the new iPhone 8 Plus because some of them are really important. But I don't have a clue about how to do that. I guess some of you have some good ideas that I could adopt. Thanks in advance if you can enlighten me."
The idea of moving files from Android phone to new iPhone X, iPhone 8 Plus or iPhone 8 may occur to anyone who changed his or her Android smart phone to a new iPhone. The most efficient way is to use a professional phone transfer program that can support different operating systems. Thus, Mobile Phone Data Transfer can do you a favor.
About Mobile Phone Data Transfer:
With the help of it, you can transfer a variety of files from Android to iPhone or from iPhone to Android easily. Not limited to Android phone and iPhone, this great software is compatible with BlackBerry OS, Symbian and Windows Phone devices such as BlackBerry, Nokia, LG, Samsung, Huawei and LG, etc. For now, both Windows and Mac versions of the program are reachable. All you have to do is to download a free trial version and follow the tutorial. Now let's begin.
From Android to iPhone or from iPhone to Android, you can transfer files as below:
- Contacts, SMS messages, photos, videos and music.
Apple offers users with app like Move to iOS, which is first Apple software that can be used to transfer data from Android to iPhone. But the function is limited because it can not support the transferring process from iPhone to Android.
The files it can transfer from Android to iPhone are as follows:
- contacts, message history, camera photos and videos, web bookmarks, mail accounts, calendars and free apps.
How to Move Data from Android to iPhone X/8 or from iPhone to Android?
Before we start, you need to check the stuff as follows:
1. The iTunes installed on your computer already. (If not, please download from the official website and install it on the computer)
2. The phone to phone transfer program installed on your computer, too.
3. Android phone, iPhone (iPhone X/8 Plus/8/7 Plus/7/6 Plus/6/5S/5C included) and USB cables at handy.
Step 1. Connect the Android and iPhone to PC
Launch the program and connect the Android phone and iPhone to the computer and the program will start detecting your devices. Then they will be shown on both sides of the window respectively. To transfer files from Android to iPhone, you have to make sure that Android phone is in the source area. If not, you can click "Flip" to switch their order to make them in the right positions.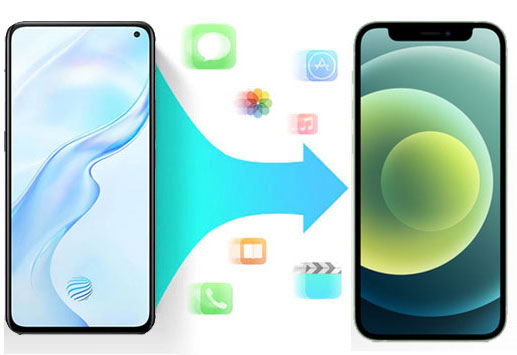 Step 2. Transfer Files from Android to iPhone
You can see the data are listed in the middle menu. Preview them briefly and choose a type of data and click "Start Copy" to transfer them from Android phone to iPhone. The files include contacts and documents.
Note: Not only can you copy files from Android to iPhone, but you are able to sync iPhone data to Android phone as well. This is the powerful function of the software. Now download it and try it out.
See also: Try this Android file transfer program to transfer files from Android to computer perfectly
Tutorial to Move the Data from Android to iOS
Preparation Works:
1, Make sure the Android phone's operating system is Android 4.0 or later.
2, Make sure the Wi-Fi on your Android phone is on.
3, Plug the two devices to the power.
4, The transferred files are fit for the iPhone.
Steps to perform the transferring process.
Step 1, download the app on your Android phone by clicking the icon below.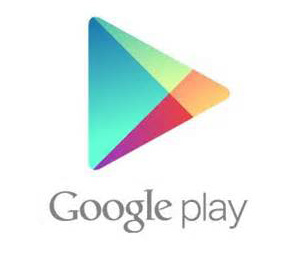 Step 2, launch the software and you will see the interface just like the first picture.
Step 3, choose the files you want to transfer and click the "Next" button on the top of the interface just like the second picture shows.
Step 4, the iPhone will create a private Wi-Fi network and detect and find your Android phone. Just type the security code and the files will be transferred to the iPhone.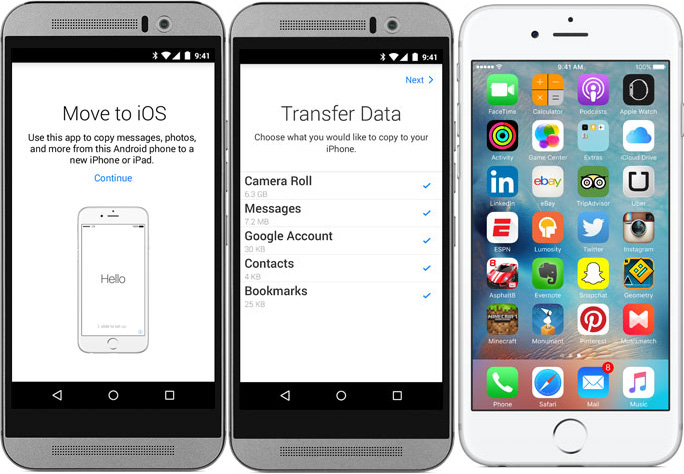 Related Articles:
Transfer Photos from iPhone to iPhone Easily
Transfer Contacts from Old iPhone to New iPhone