How to Transfer Files from Symbian to Android
Q:"I have a Nokia phone. Yes, I know there is few people that still use the Symbian phone. But I always yearn for the past and I do not think Nokia is bad. Nowadays most of the people use the iPhone, Android or Blackberry, which make me feel weird when I take out my old Nokia phone. Finally, I decide to follow the fashion and I'm going to buy a new Samsung. But the big problem is that I can not avoid is that the files like contacts, books, photos, some important messages that I must keep. I can not just delete or abandon the files, so I want to transfer these files to my new Android phone but I don't know how. The applications that can support Nokia is also less and less and I have no idea about what to do or what software I need. Thanks in advance if anyone can give me some useful advices."
With few apps and software that can support Symbian phone, it will be inconvenient for Nokia users to manage their mobile phones, let alone transferring files from Symbian phones to Android phones. But here we will recommend you a powerful software - Mobile Phone Data Transfer (Windows/Mac) that can enable you perform the transferring process quickly and effectively.
About Mobile Phone Data Transfer:
The professional transfer software will provide you the ability the transfer many files like photos, contacts, music, videos and so on with one click between mobile phones. You can not only transfer files from your Symbian phone to the new Android phone, but also sync Android data to Symbian as free as you like. Furthermore, the software is totally clean and has no malware like spyware or adware at all.
Now you may want to have a try and you just need to click the icon below.
How Can I Sync Symbian Data to Android?
First of all, install and run the software you just download. And connect your two mobile phones Nokia and Android to the computer with their USB cable.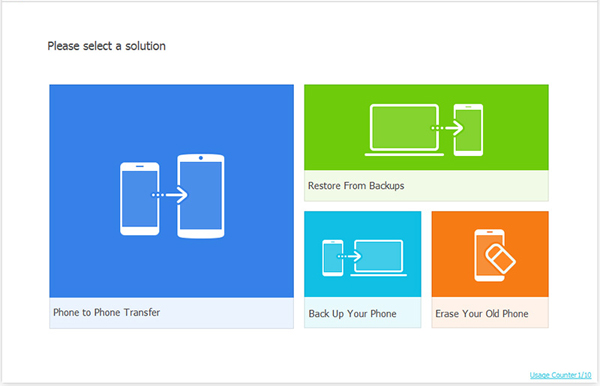 Secondly, select the Phone to Phone Transfer mode by clicking the first icon.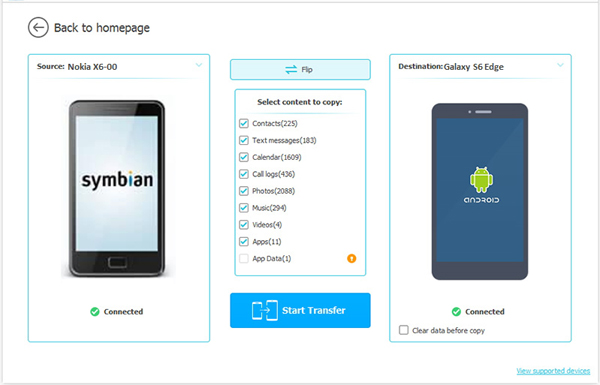 Finally, you will see the interface like the below one. The files of two mobile phones will be displayed on the interface. You can click the options like Contacts, Photos, Books, etc on the top panel and preview the details on the remaining part.
Mark the items you want to transfer and click the transferring icon named Start Transfer on the middle part of the interface.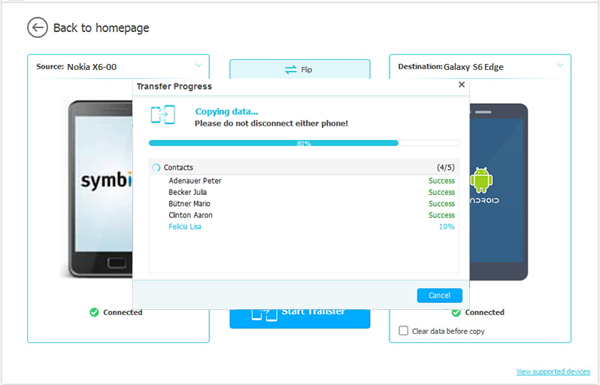 Related Articles:
How to Transfer Contacts from BlackBerry to Android
How to Transfer SMS from Android to iPhone Easily