How to Transfer Music from Nokia to iPhone 6 Plus/6/5S
"I recently bought a new iPhone 6 Plus for my mother 'cause her birthday is approaching. She's quite into music but doesn't know how to download songs to the iPhone. I remember she once said that a few songs on my Nokia are totally her type so I was wondering if I can sync some songs from my Nokia to her iPhone. But this kind of got me as I'm not aware of how to do that. Do you guys have some ideas? Appreciate that if I could get some suggestions."
"I mistakenly broke my old Nokia so I changed a new iPhone 6. And I need to transfer some songs from Nokia to iPhone since I don't want to download them from the Internet once again. Can somebody recommend some software? Thanks a lot."
Recommended Tool to Transfer Songs:
As is known to all, now the Nokia smart phones are divided into two types: Windows Phone and Symbian devices. In a word, so as to transfer music from Nokia to iPhone, the software must have the ability to support different operating systems. Thus we'd like to recommend Mobile Phone Data Transfer to you. This is an easy-to-handle third-party tool which helps you transfer music from Nokia to iPhone. Not only songs, but this software empowers you to sync other data between Nokia and iPhone. To sum up, for most mobile phones, this program can be compatible with them which include Android, iOS, Windows Phone, Symbian and BlackBerry devices.
After you use the phone transfer software, it will become a necessary tool for you to extract all data from Nokia to iPhone or from iPhone to Nokia. Now click one of the blue icons below to get the program and give it a go.
How to Sync Music or Songs between Nokia and iPhone ?
Step 1. Install and Launch the Program
Download and install the free trial Windows version of the phone transfer program and directly run it on your computer. Then you can enter the Phone to Phone Transfer feature.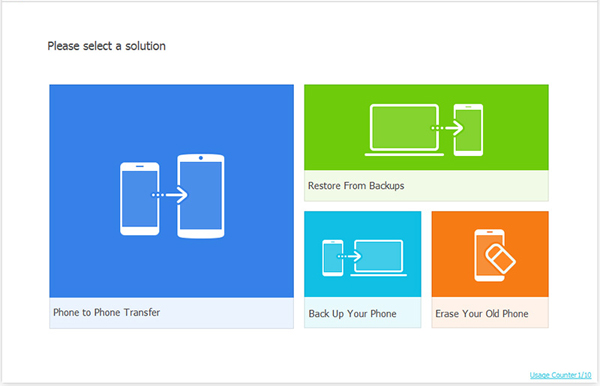 Step 2. Link the Smart Phones to PC
Connect the Nokia and iPhone to the computer via USB cables, and then the program will begin to detect your devices. Make sure the iTunes is already on your computer, or the software won't recognize your iPhone smoothly.
Attention: During the detection, always keep your smart phones connected with your PC.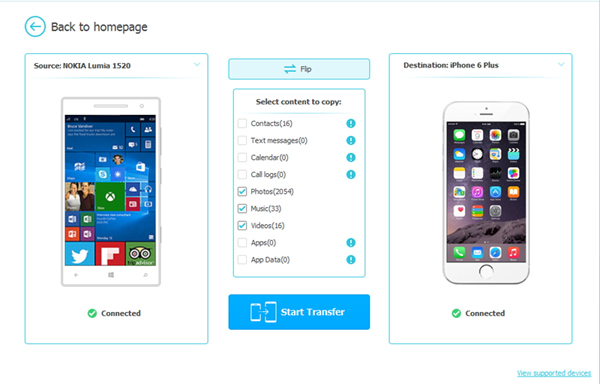 Step 3. Transfer Music from Nokia to iPhone
Select the Music data on the interface and click the Start Copy button to transfer music from Nokia to iPhone. Other data like contacts, text messages, photos and videos are also transferrable between Nokia and iPhone.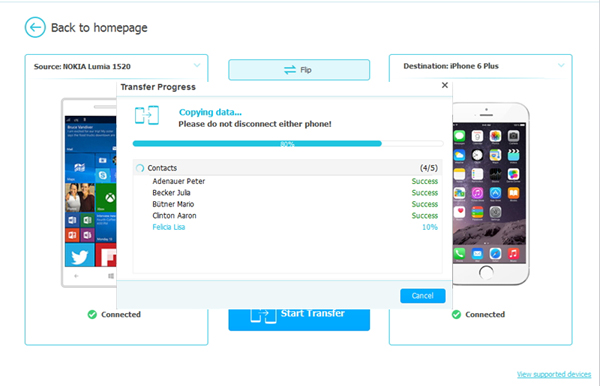 Note: It's easy for you to switch the positions of these two devices by simply clicking Flip if you want to transfer music from iPhone to Nokia. Then you can follow the same steps above.
Related Articles:
4 Effective Ways to Transfer Music from Mac to Android in 2023
Phone Transfer Apps: Top 8 Data Transfer Apps to Sync Phone Data Seamlessly