Guide to Transfer Data from Nokia to iPhone 14/13/12/11/X/8/7
"I've changed my Nokia N85 to iPhone 8 Plus, and I want to transfer the contacts and photos to the new iPhone so I can dump the old Nokia assuredly. Then I'm caught in a dilemma that I've no idea of how to do that. These contacts and photos mean a lot to me so I hope someone of you can help me with this problem. I would be much grateful if you can give a lead to me. Thanks a lot again."
"My father is not so good with mobile phones, so I gave him my Nokia 900 which is easy to handle. Then I bought a new iPhone X. But there remains some data in the Nokia phone that I need to export to my iPhone X. Since they run totally different operating platforms, I'm baffled about the solution of transferring data from Nokia to iPhone. Therefore, I'm wondering if there is anybody that can solve the problem for me. Many thanks."
Nothing would be difficult as long as you rely on this Mobile Phone Data Transfer (Windows or Mac) software. It's a standalone and third-party tool which can be used for transferring data from Nokia to iPhone or from iPhone to Nokia. Various types of files such as contacts, SMS, photos, music and videos can be transferred in this program. Plus, in addition to iPhone and Nokia, other smart phone like Samsung, Sony, Motorola, LG, HTC, Nexus and BlackBerry are compatible with this software. Now you can turn to the main part to transfer data from Nokia to iPhone along with the instructions.
Steps to Copy Data/Files between Nokia and iPhone X/8 Plus/8/7 Plus/6 Plus/6
Just download and install the Windows version on your computer now. If you're using a Mac, you can switch to the Mac version instead.
Step 1. Choose the Phone to Phone Transfer Mode
Once you completed the installation of the program, double click it to launch it on your computer. Then click the Phone to Phone Transfer mode on the interface.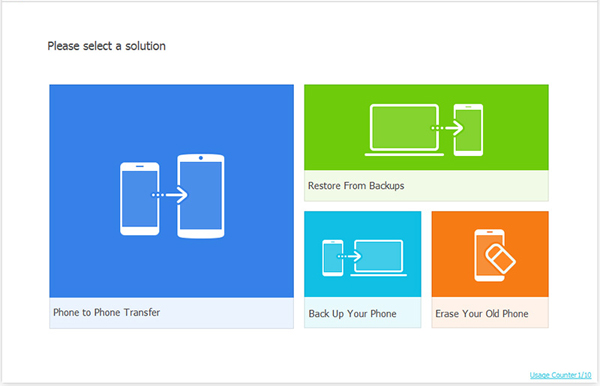 Step 2. Link Your Nokia and iPhone to PC
Connect the Nokia and iPhone to the computer via USB cables and let the program detect them then. After that, it will set the Nokia and iPhone in the source and destination areas respectively. If they are in the wrong positions, you can click the Flip button to switch their order quickly.
By the way, you have to confirm that the iTunes is already installed on your computer, or the program will fail to recognize your iPhone.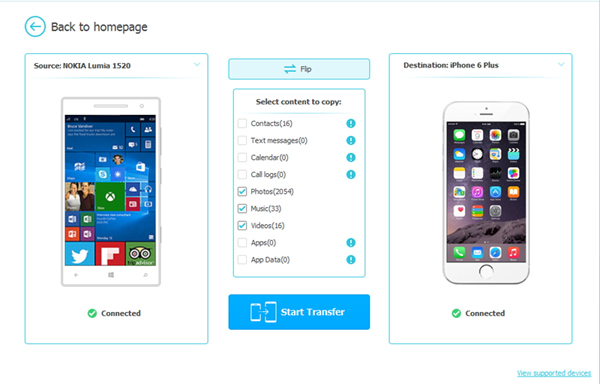 Step 3. Transfer Data from Nokia to iPhone
Contacts, SMS, videos, music and photos will be the data that you can transfer from Nokia to iPhone. Tick one of the files and then hit the Start Transfer button to move files from Nokia to iPhone. When you change the source device and destination device in the former step, you can transfer data from iPhone to Nokia then.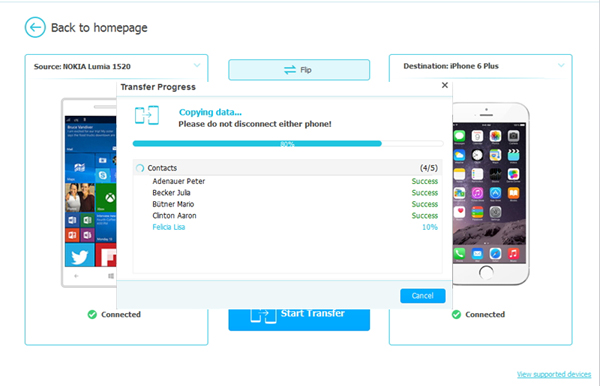 Want to know how to transfer data from iPhone to computer? Just check transfer files from iPhone to PC to get the answers.
Related Articles:
How to Transfer Contacts from BlackBerry to iPhone 6
How to Transfer Contacts from HTC to iPhone Easily