Extract Videos from iPod to Android Phone or Tablets
It's common that you watch videos or movies on your iPod touch or your Android device nowadays instead of computer or TV out of convenience. If you are on a business trip, you may want to extract videos from iPod to your Android phone. So what's the trick of the transmission? Apparently, it's a little complicated to answer the question.
For an iPod, you can use iTunes to extract videos from iPod to the computer. But you'll get stuck on the next step to transfer them to your Android phone because of lack of a specific program. Even if you have got the software to move videos from the computer to Android phone, it costs you your precious time in the end.
Tool You'll Need:
Hence, it's crucial to get an amazing program specialize on extracting videos from iPod to Android phone. Fortunately, Mobile Phone Data Transfer is here to help you. It is a program that excels at moving videos from iPod to Android, and you can transfer data like music, photos, contacts, SMS, and call logs, etc. between these two devices just the same. Furthermore, this software works out well on almost all smart phones with Android, iOS, BlackBerry, Symbian, Windows Phone operating systems. And it is also compatible with Android tablets and iPad and so on.
Time for you to download a free trial version to experience the quickness when your extract videos from iPod to Android!
-Android device supported: Samsung Galaxy S/Note 5/4/3, Samsung Galaxy Tab P3108/P3100/2, Sony Xperia Z Ultra/Z3/Z2, LG G3/G2, Moto X Pro/X, HTC One M8/M7, HTC X8, Huawei, Nexus 6/5, etc.
-iOS device supported: iPhone 6 Plus/6/5S/5C/5/4S, iPod touch, iPad Air 2, iPad Air, iPad Mini 3/2, iPad Mini, etc.
How to Switch Videos between iPod touch and Android Device
Step 1. Link the iPod and Android Phone to PC and Launch the Software
Launch the program and connect your iPod and Android phone to the computer. Select "Phone to Phone Transfer" mode on the interface.
Note: If you uninstalled the iTunes on your computer before, remember to download it from the official Apple website and install it again. Otherwise your iPod won't be detected by the program and you can extract videos from iPod to Android phone.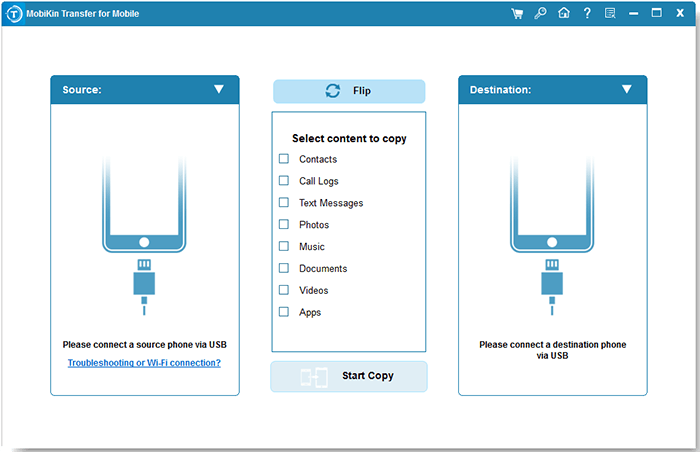 Step 2. Extract Videos from iPod to Android
Tick "Videos" and hit the "Start Copy" button so that the software will start to transfer videos from iPod to the Android phone.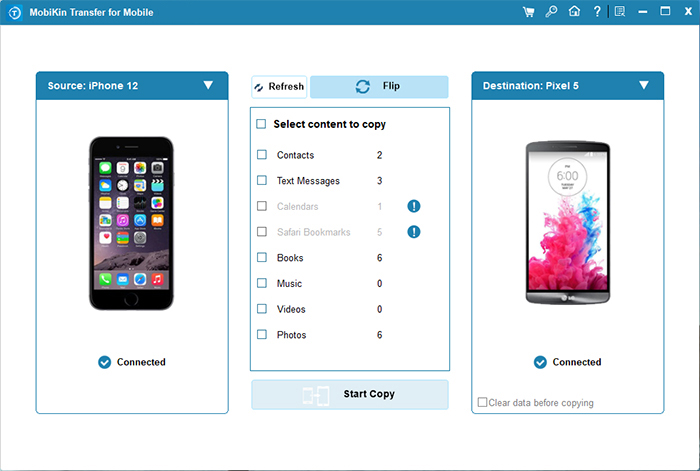 Note: If you want to move videos from Android to iPod, you can click "Flip" to make the Android phone to be the source device and the iPod the destination device. It's your call for that.
Reference: If you have an iPhone 6 Plus or 6 in your hand, you may need to transfer videos from iPhone to the computer sometimes. Click here to know the details.
Related Articles:
Top 4 Solutions to Fix iPhone Unavailable without Data Loss
3 Proven Ways to Transfer Data from LG to Samsung
How to Transfer Photos from iPhone to Samsung? [9 Ways in 2023]