How to Transfer iPhone Data to Google Nexus?
Why do you need to transfer iPhone data to Nexus phone?
When an individual buys their new phone, it's not uncommon for them to have a lot of data on their phone that they use on a daily basis. In fact, over a period of time, they may collect huge amounts of data that they use for a wide variety of different situations and purposes. From collecting data for their job to storing data to be used for personal reasons, there are many purposes for filling up a phones database with lots of important information. Google Nexus 6 is the most forward-looking product of Google company, which is equipped with latest Android 5.0 Lollipop and 3GB RAM. If you are interested in this new flagship product and want to purchase it to replace your old iPhone, this article will solve some problems you may encounter.
One of the main problems you should consider is how to transfer data from your old iPhone to the new Google Nexus 6. Fortunately, there are procedures that make the transfer process as easy as 1, 2, 3. With other processes, however, the user may experience a few problems that need to be repaired quickly. So, the user will need to search around for the procedures that will yield the best results possible. To save you from endless trial and error, we sincerely recommend you to try the Phone to Phone Transfer. With the help of this program, you are able to transfer multiple contents, such as contacts, text messages, photos, videos, music, apps, calendar, call logs and more between iPhone and Google Nexus phone with simple clicks.
Maybe you will be interested in:
How to Transfer Call Logs from iPhone to Samsung?
How Can I Transfer SMS from iPhone to Android?
The Mobikin Transfer for Mobile is not only a software application that is available for those users who want to transfer their data from one mobile device to another, but also a backup tool to help you transfer files from your phone to computer and even restore from computer to any phone anytime you need. Click the following button to download the free trial version of the software and read the instructions on how to transfer data from iPhone 6S/6/Plus/5S/5 to Google Nexus 6/6P/5/4
Tutorial to Transfer Files from iPhone to Google Nexus
Step 1. Launch Transfer for Mobile on your computer
First of all, you need to download and install the program on your computer. Then, launch it immediately and connect your iPhone and Google Nexus 6 phone with the use of USB cables. The program will detect the two phones automatically.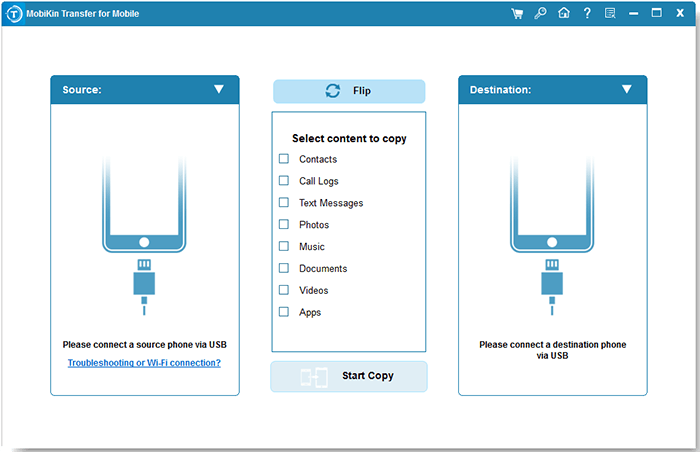 Step 2. Enter Phone to Phone Transfer mode
In the main window, choose the "Phone to Phone Transfer" mode and you will see the program displays as follows. The two phones, along with all transferable file types, such as contacts, SMS, photos, music, videos, apps, calendar, etc. are listed here.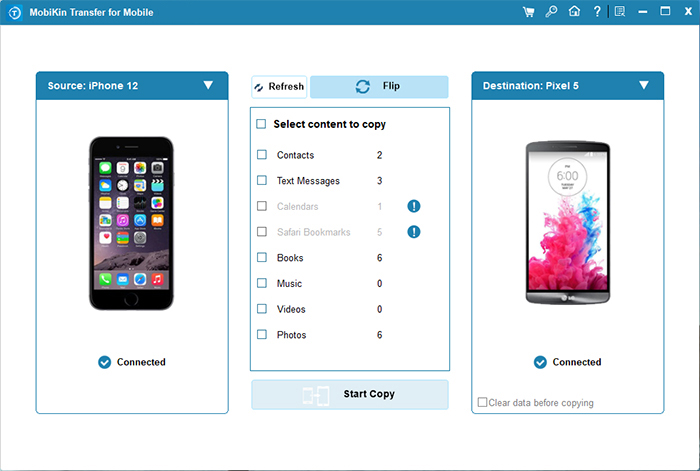 Step 3. Transfer iPhone data to Google Nexus
You are able to transfer the contents such as music, photos, videos, messages, contacts, etc. from your iPhone to Google Nexus 6. Check the contents you want and then give a click on the transfer icon to initiate the transfer process.