Top 10 Android Rooting Software & Apps [with/without Computer]
Rooting is the Android equivalent of iOS jailbreaking. Various restrictions set on Android devices keep us from taking full control over our handsets. Thus, rooting an Android phone probably comes right to our mind. Indeed, it is an important measure to maximize the function of mobile phones.
Yet, since there are some programs on the market that may fail to root Android phones, it is necessary to choose a reliable tool to get the task done well. Well, in today's post, we'll come up with the top 10 Android rooting software and apps. And you'll get useful tips associated with Android phone rooting.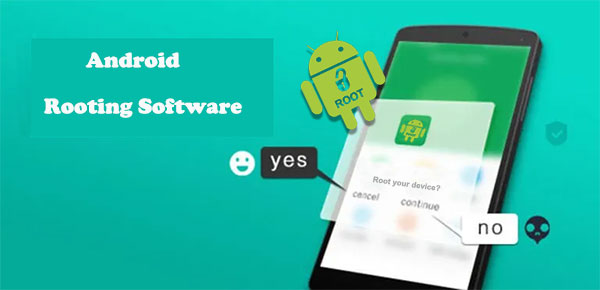 Part 1: Reasons & Preparations for Rooting Android Phones
To be honest, we're not in a rush to learn how to root Android devices easily with the best Android rooting software or app. Before digging deeper, let's see what benefits the root can bring us and what preparations need to be done first.
Why Root an Android Device?
Boost the speed of your phone and battery life.
Block ads in any applications.
Enjoy many hidden features.
Install incompatible apps.
Get free wireless Internet tethering.
There will be no more crapware and bloatware.
Have the holy grail of automation.
Flash a custom kernel.
Preparations for Rooting Android Phones:
Charge your Android phone battery to at least 50%.
Install proper Android Debug Bridge drivers for your device.
Switch on "Install Apps from Unknown Sources" on your phone.
Download the root checker app from Google Play Store.
Back up your Android phone to a PC or another independent memory.
Research the procedure of Android rooting programs.
Some anti-virus tool may detect the rooting program as a malicious entity. Just ignore their warnings.
More about rooting Android devices:
Rooting Android may potentially damage or permanently brick your device.
It would invalidate your warranty.
Android rooting is illegal in some countries.
It's legal to root your smartphone in the U.S., but illegal to root a tablet.
In the EU, rooting doesn't void the warranty.
Part 2: 5 Best Android Rooting Software
First, let's take a look at the top 5 Android rooting software. They are iRoot, MobileGo, SRSRoot, KingoRoot, and Dr. Fone - Root, ranked by their overall performance.
1. iRoot
Judging from its good compatibility and deep support for older Android OS, iRoot could be the best and free Android rooting software. It can root almost all Android devices without the knowledge of coding. It is also rated as one of the most popular software for rooting Android phones.
Advantages:
Access administrator-level permissions.
Support the sideloading process.
Alter system applications and settings.
Disadvantages:
No unroot feature temporarily.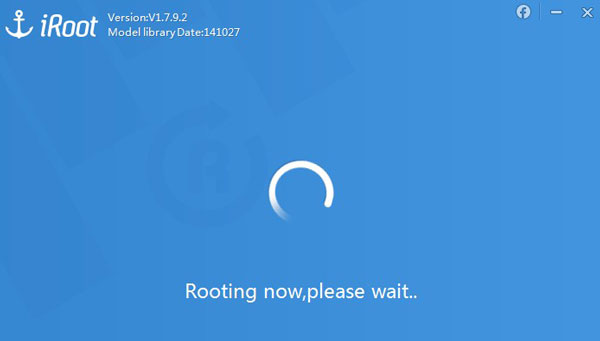 Read Also:
2. MobileGo
You can also root Android phones with software like MobileGo. It is totally safe to use. What's remarkable about it is that it can help back up and restore data before or after rooting. And you can use it to manage the rooted Android phone or tablet like a cork.
Advantages:
It runs on various Android phones and tablets.
Work for Android 2.1 and up.
Easy backups with one click before rooting.
Disadvantages:
Not free after the trial period.
No unroot function for the time being.
Not available for Windows phone.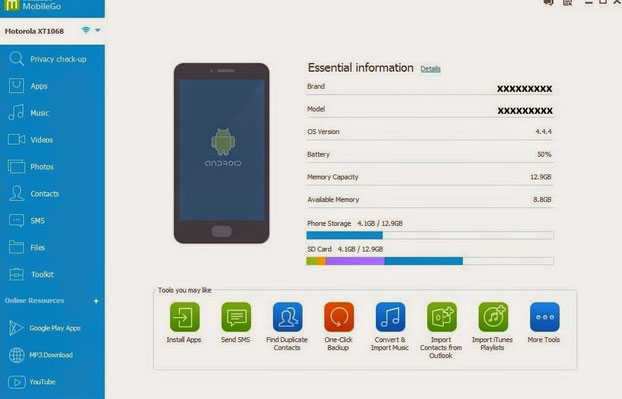 3. SRSRoot
With SRSRoot, you're allowed to root your Android device in 2 ways. It offers multiple exploits to achieve root access to your phone and can remove root it with a single click. This Android rooting software is free of charge, helping modify your device at short notice.
Advantages:
One-tap rooting software.
Contain Android exploits for rooting and unrooting phones.
There is an APK version of SRSRoot, too.
Disadvantages:
Bundled with ads.
Its user interface is outdated.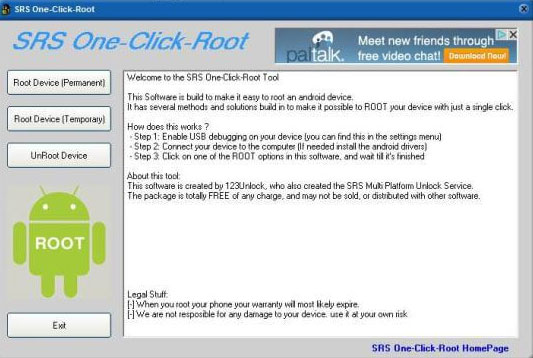 4. KingoRoot
Android rooting programs like KingoRoot can also be a great option if you want to root Android phones running Android 7.0 and older (it also works for Android 7.0 and up). This free software has a high success rate for rooting these devices. You can check the guide: how to root an Android phone with KingoRoot for more detail.
Advantages:
Easy to install and operate.
It boasts a high success rate for Android 7.0 and older.
It also offers the "Unroot" option.
Disadvantages:
It might not work on some devices.
Potential security risks.
Not good at rooting the latest Android versions.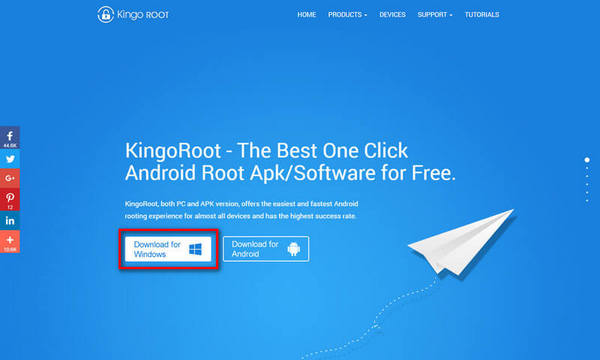 5. Dr.Fone - Root
The last Android root software we recommend here is Dr.Fone - Root. It's a popular player among the best Android rooting tools. It can almost all Android phones or tablets in 1 click with a high success rate. Yet, it's not really free software, for its root feature is integrated into a paid Toolkit.
Advantages:
Facilitate you to unroot your device.
An all-around software.
Disadvantages:
User reviews are mixed.
Require to purchase for its toolkit.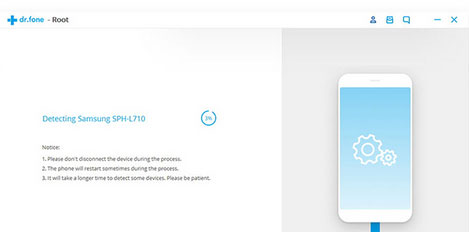 Part 3: Top 5 Apps for Rooting Android Phones
In this section, you'll know 5 root apps for Android phones. It's worth noting that some also come with Windows versions, helping root your Android phone with or without a computer.
1. Root Genius
Root Genius is one of the top apps to root your Android tablet or phone without a computer. You can root Android with Root Genius in recovery mode easily. It works for various Android devices and contains no adware or hidden apps. Plus, it has a Windows version and doesn't require installation on your PC.
Advantages:
Lightweight software with a beautiful interface.
Enable you to Flash custom ROM to uninstall built-in apps.
Completely free to download and easy to use.
Disadvantages:
It's not compatible with macOS and Linux.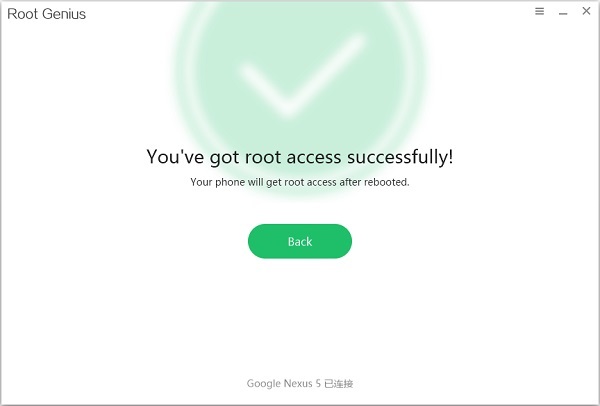 2. Root Master
You can take Root Master as an alternative when Root Genius fails. As a desirable Android rooting application, it serves as a root checker to detect your device and tell you if the device is possible to root. Now, click the link to get the full guide of Root Master as required.
Advantages:
One-click rooting.
It comes with management utility.
It's also an unrooting app.
Excellent rooting tool for newbies.
Disadvantages:
Not universally used.
The warranty for your phone may get voided.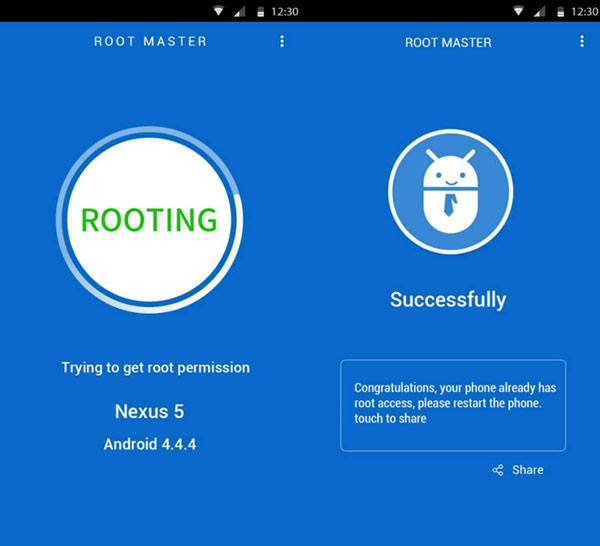 Check if You Need:
3. One Click Root
With both an Android app and a Windows program, One Click Root does well in rooting overall Android phones. To use the app, just install it on your Android phone and click the Root button to start with. You could also try the "Remote root service" built in this app if you want to root phones with Android 4.0 and higher.
Advantages:
1-click rooting.
Remote rooting feature.
It can also work on a Windows computer.
Disadvantages:
It contains ads.
No "Unroot" function.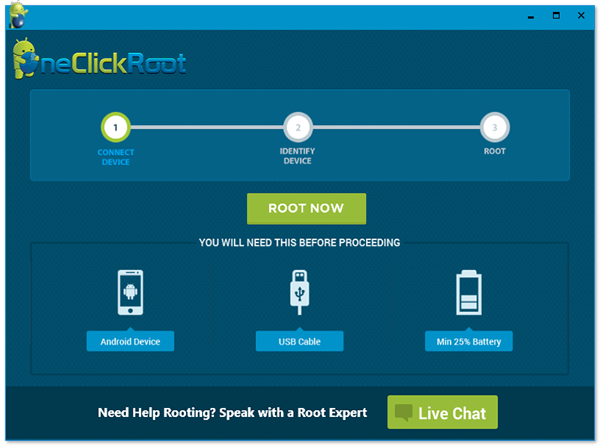 4. SuperSU
SuperSU is an entry app that enables you to manage rooted apps on Android smartphones. When using it, you should connect your Android phone to a computer, though it is an Android rooting app. Then you can grant or deny root permissions on it in a few steps.
Advantages:
Frequent update.
Open source and free.
Disadvantages:
You're required to install TWRP first.
You should know how to navigate root settings while using it.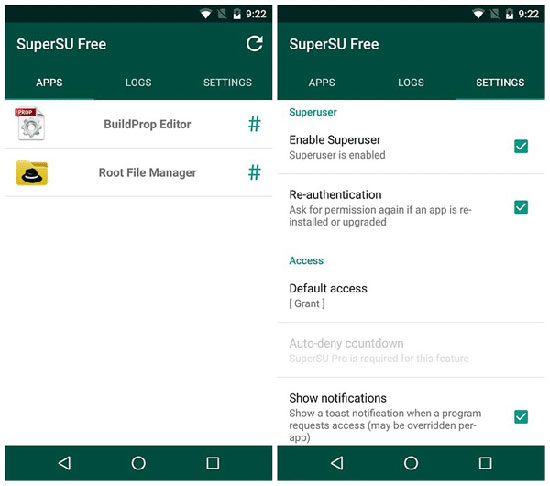 5. Z4root
Getting Z4root, one of the outstanding root tools for Android phones, you can gain deeper root-level access on your devices. It is compatible with a wide range of Android devices and can root older gadgets as well. Again, before trying it, please quit the apps your phone is running.
Advantages:
Support for a wide range of devices.
Root and unroot your Android device in minutes.
Disadvantages:
Lack of updates.
A general interface with few descriptions.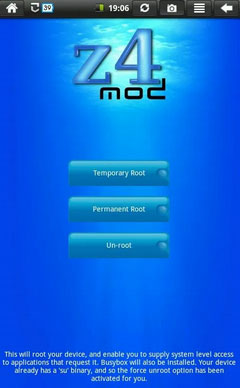 In Conclusion
To sum up, we sketched out the 10 best Android rooting software and apps in this article. You can judge by their merits and downsides accordingly. Then get a suitable tool and attempt to root your Android device with great ease.
At last, here are 4 suggestions that can facilitate you to get the most out of your phone after it is rooted:
Clean up the apps we don't need on your Android phone.
Delete the programs that start by themselves when you reboot your phone.
Turn off the root permission on your device.
Finally, restart your Android phone.
Related Articles:
Top 6 Root APKs for Rooting Android without PC
Top 7 Tools to Root Android Devices Online
Easily & Safely Root Your Samsung Galaxy S20/S10/S9/S8/S7
Easy & Safe Ways of Android Data Recovery without Root [Proven Tips]