Top 3 Tips to Change Location on Instagram to Boost User Engagement
If you are trying to increase your exposure on Instagram, learning how to change your location on it can help immensely. Instagram is significantly dependent on geo-location. So, by targeting specific regions, businesses can acquire new customers and influencers can acquire more popularity. Changing location can put you on the map, per se. Fortunately, you do not have to jump through hoops to change your location. The following tips have already helped many Instagram users to change location on Instagram easily and swiftly.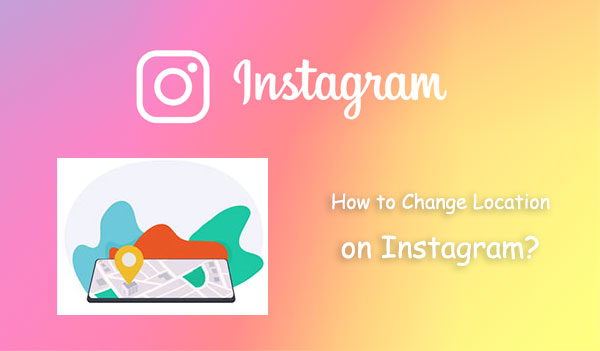 Part 1: Benefits of Changing Location on Instagram
There are more than a handful of benefits of changing location on Instagram. Nevertheless, there are three benefits that standout meaningfully, causing more users to jump on the bandwagon.
Boost Engagement
Have you ever found yourself looking at one of your recent posts frequently, taking note on the 'likes' and comments it has received thus far? You are not alone! This is a common action that most users conduct. Face it—just like everybody else, you want your posts to receive a lot of likes and comments. Everybody wants to be the center of attention! There are specific locations that help users get more likes and comments. Changing location to one of them will cause your content to be shown to users in that area.
Get Desired Content
You can get location-specific content by changing your location. Imagine all of the content that you have missed out on due to having your account set at your current location. When you change location, you will have a lot of exploring to do due to being shown location-based influencers, restaurants, shops, cafes, events, and etc. As long as your location does not change, you will continue to acquire the content associated with that location.
Boost Brand Awareness
If you are a business owner, you should always seek to increase your brand's exposure to get more customers. Social media platforms have allowed this to occur in a timely fashion manner, especially Instagram. You can boost brand awareness on Instagram by changing your location. Potential customers will note your Instagram page, and if they like the products/services provided, they will more than likely like, comment, and follow your account. A lot of business owners have already done this and have seen their businesses flourish in a short period of time.
Read Also:
Part 2: How to Change Instagram Location in Settings
Changing locations on posts can be easily done within seconds in "settings."
Tap on the top right corner of your post and then click on "edit."
Tap on "add location."
Select a location and tap on "done."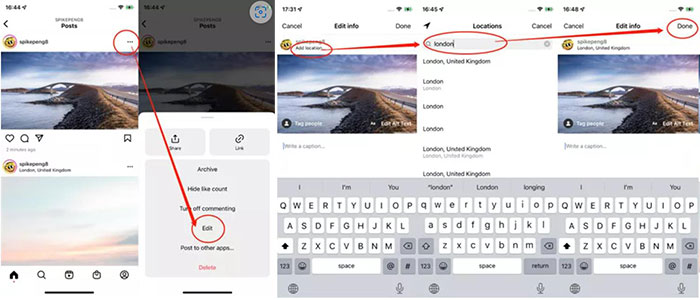 Changing current location on Instagram can also be conducted within seconds.
Tap on the top right corner of your post and then click on "edit."
Tap on "change location."
Search desired location and then select it.
Tap "done" to save changes.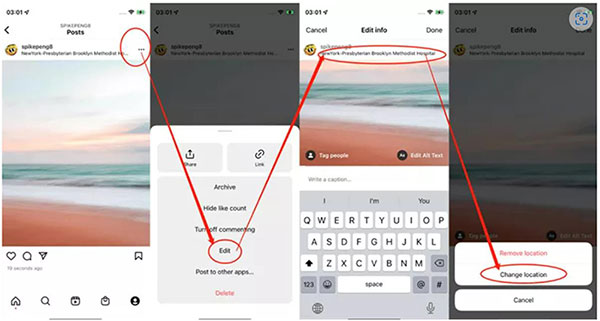 Part 3: How to Change Location on Instagram with One-Click
There are several tools that you can utilize to change Instagram account location by manipulating GPS location, no matter if you have an Android device or iOS device. Virtual Location Tool, in particular, has become a favorite due to its features that do not fail to impress. At the moment, it has been downloaded more than one million times! Everything indicates that this number will continue to increase because of its garnered significant positive buzz.
Noteworthy Features of Virtual Location Tool:
Allows you to integrate a customized route to stimulate GPS movement.
Can be used on Instagram, WhatsApp, Facebook, and etc.
Allows you to move and pause as you please.
Provides a hassle-free teleport to any location with one click.
How to change login activity location on Instagram via Virtual Location Tool?
Step 1. Download the Virtual Location Tool on your computer, and then launch it by tapping on the "get started" button.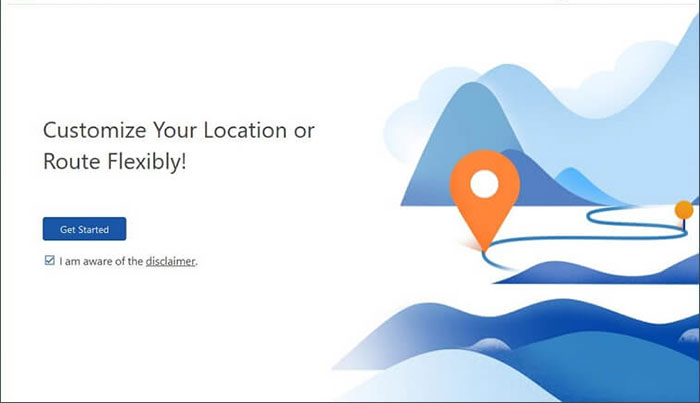 Step 2. Using a USB cable, connect your phone to your computer/Mac. After a notification that requests connection confirmation, tap on 'trust' and then enter passcode to confirm.
Step 3. You will note a map, one that will display current location. To change it, tap "teleport" in the top right corner to select another location. (The top search bar can also be used to change location.)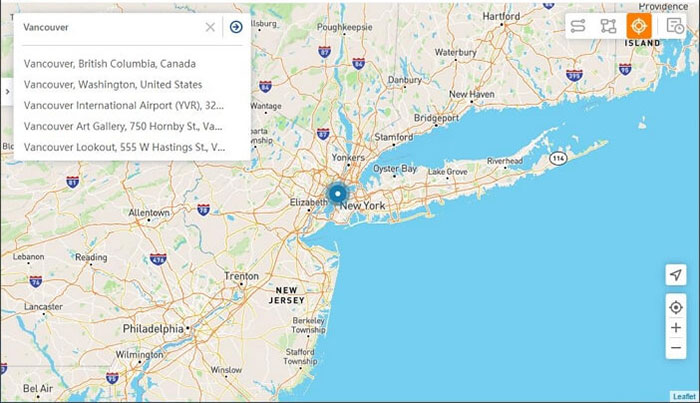 Step 4. Once new location has been selected, tap "move" from the pop-up left sidebar to change GPS location. (Record on changed locations will always be available.)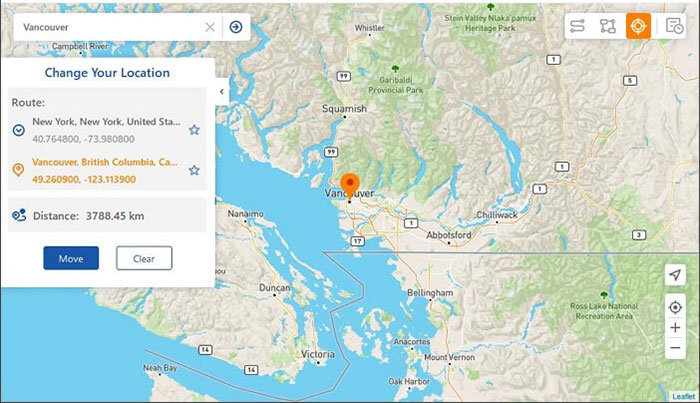 Step 5. Change Instagram account location by launching the app and then tapping on "add post" to add image. Tap on "next" and then tap on "add location." Continue with your post upload.
Part 4: How to Custom Location Tag on Instagram with Facebook
Customizing location tag cannot be done on Instagram, but it can surely be conducted on Facebook by following a few simple steps.
On iPhone or iPad, open your Facebook app and tap on "check in." (It can be found under the update status box.)

In the search bar, click "x" to add a custom location.
You will note a message that specifies that what you are looking for could not be found. Click on the "add" button that appears to add a new location.
Specify location category to draw targeted audience to your Instagram posts and feed.
Move pin to the physical address of customized location and then tap on "create."

Open Instagram app and tap on "add post." When you click on "add location," your custom location will be displayed in the location suggestions, ready to be clicked on.
See More:
Part 5: Hottest Location Tags on Instagram 2023
1. London
The hashtag #London has more than 150 million postings, making it the most popular. Therefore, there are a lot of users taking advantage of it and thus seeing rapid results from doing so.
2. Italy
The hashtag #Italy has approximately 144 million postings. It is common to note it in posts that discuss art, and high cuisine.
3. New York
The hashtag #NewYork has about 113 million postings, which is not surprising due to it being a state that has the city that never sleeps—New York City.
4. California
In about 94 million posts, the hashtag #California can found. If you stop to think about it, this makes perfect sense due to it being a state that attracts millions of tourists every year.
5. France
The hashtag #France can be found in more than 92 million posts, which makes it a great location to choose to acquire significant traffic to your account.
Change Your Location on Instagram Today!
There is no reason why you should not be well-known on Instagram. By implementing the aforementioned tips, you will be able to change location on Instagram profile effectively without hassles. You will certainly benefit from Instagram significantly. Do not take our word for it. Go ahead and see firsthand how taking these tips into account can give your Instagram account a 180-degree turn for the better.
Related Articles:
What You Should Know About Fake GPS on Android without Mock Location
Where Does iTunes Store Backups & How to Change iTunes Backup Location?
7 Great Ways to Spoof Location on iPhone with or without Jailbreak
Where Are Texts Stored on Android? SMS Location, Backup, Recovery, etc.
4 Optional Ways to Change Location on Facebook Marketplace [2023]
How to Mock Locations on Huawei P40/P30 Lite/P20 Pro/P20 Lite, etc.