Tips: Change Email Address for Google Account
Some users like to backup their Android phone data with their primary email address but are used to send and receive emails with other email address. This is feasible but it would be troublesome, right? You always need to sign in your Google account with one address to sync your data and then change the address while sending or receiving emails. So why don't you complete these two things with one email address? You can complete it simply by changing email address for Google account. In other words, you can associate the email address you often use with your Google account then you can backup data, send and receive emails easily.
If you want to know more details about the email address change, just read on!
What the Email Address is?
To change the email address, you need to know what it is first. In simple terms, the email address:
- A key that allows you to sign in the accounts like Google account so you can use the service related to this account, such as Google Play Store, Google Play Music, Google Maps and so on.
- It shows up next to your name and profile photos when you're signed in. You can click or tap your profile photo to find it and get the information about it.
- It's where you get important information about most Google services you use, unless you've added a contact email.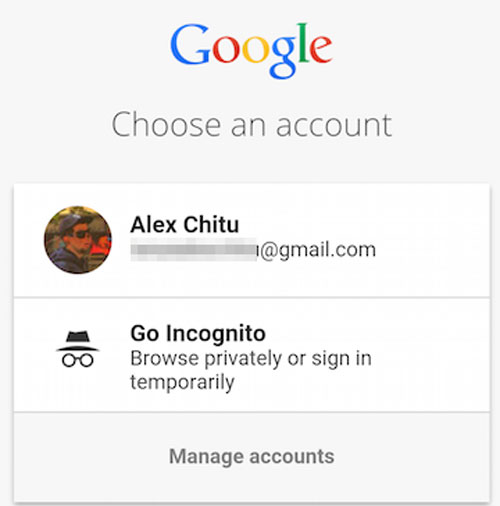 You can also read:
Tutorial on How to Add Google Account on Android
What to Do If I Cannot Sign in Google Account on Android?
Things You Should Know Before Changing the Email Address
Before you perform the changing process, you need to know some tips about the Google account first. Then you can decide whether to switch the email address or not.
- Currently, it is impossible for you to change the Gmail username with your account after being registered. But you can add an alternate non-Gmail email address.
- Do not bundle your Google account with a Google account that has already been linked to another Gmail account for the reason that one email address can only be associated with one Google account.
- If you want to take your alternate email address as the new primary address, you need to delete your alternate email address from the original account it associated at first and then re-add it to the current account.
- If you decide to add a non-Gmail email address, you need to make sure that the address is active and valid.
- Once the email address is linked to a Google account, you should remember to use Google Account to sign in as to this alternate email address.
Steps to Change Email Address for Google Account
The changing process can only be performed on a computer so please turn on your computer first and then go with the instructions below to associate an alternate email address with your Google account.
Step 1. At first, you need to check if you can change the email address or not. Just go to the Google Account email page in My Account and sign in your account. Then just look for the Edit icon next to your account's email address. If the option is there, that means you can change the address. But if the address ends in @gmail.com, you can't change it normally.
Step 2. Launch the browser on your computer and then open Google My Account to log in with your account.
Step 3. Click on Personal info & privacy option and select Your personal info in this section.
Step 4. Now just tap on the option Email on the right side of the interface and then choose Advanced to display more options.
Notice: You are strongly advised to add a recovery email for security.
Step 5. Next, you need to go to the Alternate emails column and elect ADD ALTERNATE EMAIL option in it and go on.
Step 6. Type in the alternate non-Gmail address can click ADD to sign in the account with the address and confirm via the link sent to your address. Here you can add more alternate email address with one Google account actually.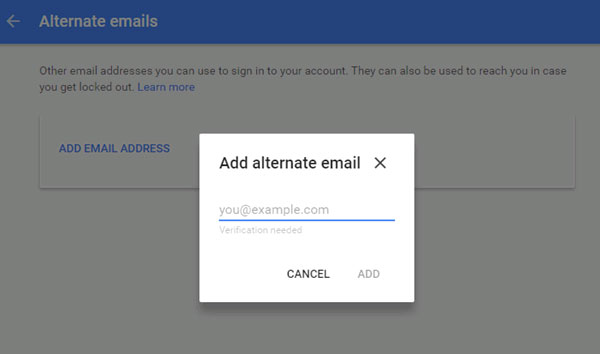 Related Articles:
Google Backup Not Working, How to Fix It?
How to Uninstall Google Play Service?
8 Best Screen Share Apps to Share Screen or Control Your Device Remotely
Why Can't I Share My Screen on FaceTime? 11 Possible Solutions to Fix It
Fix "Android Touch Screen Not Working - Can't Unlock" Issues in 12 Methods
5 Proven Ways to Recover Deleted Screen Recording Video on Android