Why Is My Location Wrong on My iPhone? 10 Ways to Fix It
"I have always lived locally. Interestingly, my iPhone shows the wrong location". This is a complaint from a user in Apple Forum. Well, do you have the same doubts as him? When you check the GPS location of your iPhone, you may find a place you didn't even go to. Then you probably want to figure out "why is my location wrong on my iPhone" and how to correct it.
OK, this article is to provide you with referential answers to these questions. And just read on to get what you want.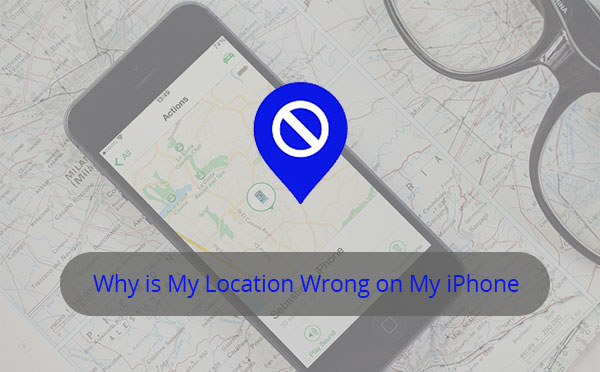 Part 1: Why Is My Location Wrong on My iPhone
Why does my phone think I'm somewhere else? Let's get straight to the point now! Generally, there are at least seven causes of this symptom:
You do not have the location services enabled.
You don't give location permissions to specific apps.
Your iPhone is working with an older iOS version.
The firmware of an app on your iPhone is outdated.
The "Find My iPhone" on your device is disabled.
You have a poor cellular or WiFi signal.
Your iPhone's Date and Time isn't synchronized in real time.
Having identified these main reasons, we will learn how to reset the location on an iPhone 13/12/11/X/XR/Xs/SE/8/7 with easy and quick solutions in the following.
You May Wonder:
Part 2: How to Fix Location on iPhone in 10 Excellent Ways
Way 1: Ensure You Gave the App Permissions to Use Your Location
"I find my iPhone not showing correct location". Giving the app permissions to use the location is the first thing to do in such a situation. To do it, you can:
Open iPhone Settings > Privacy > Location Services.
Here you will see a list of the apps that asked to use your location. For instance, if "Find My iPhone" says "Never" next to it, it does not have permission to see your location info.
Tap on the app and ensure it's set to "While Using the App".

Then close "Settings", quit the app, and reopen it.
Way 2: Check Apps for Updates
The iPhone location wrong can be resolved by checking the problematic apps for updates as follows:
Go to App Store and tap on your "Profile" icon from the top.
Update the faulty app. (If you're not sure which app is out of order, just tap the "Update All" option.)
Tips: You can also uninstall apps on your iPhone if you find them useless on your device.
Way 3: Activate Find My iPhone
A disabled Find My iPhone could be the key culprit of "iPhone significant locations wrong". To find it in iCloud and thus enable it, you can go to iPhone Settings > [your device name] > iCloud > Find My iPhone > activate "Find My iPhone".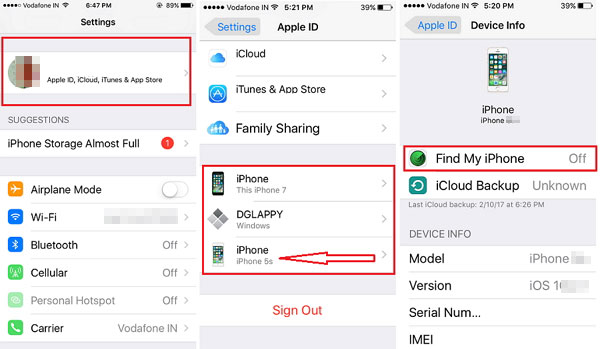 Way 4: Check Network Connection
Sometimes, an interrupted network connection may be blamed when the "my iPhone location is wrong" problem occurs. Here's how to check the connection:
Go to iPhone "Settings" and tap "Cellular".
Choose the "Cellular Data" option.
In the "Voice & Data" tab, enable switching between 3G, 4G and, 5G if available.
Another thing to consider is enabling "Data Roaming", which can lead to extra charges if you travel beyond the network coverage.
Way 5: Reset Location Services
It's vital to check and reset location services when your iPhone GPS is wrong. Here are the directions:
Launch iPhone "Settings" and go to "General".
Tap on "Reset".
Select "Reset Location and Privacy".

Enter your passcode and tap "Reset Setting" to confirm.
Way 6: Fix Date and Time on iPhone
If the date and time aren't correct, you may face Google maps showing the wrong location on your iPhone. Here are the steps to fix it:
Go to iPhone Settings > General > Date & Time.

"Set Automatically" should have a green spot nearby it. If not, tap the toggle to turn it on.
You can also manually choose your time zone if the "Set Automatically" option doesn't fix your Find My iPhone.
Way 7: Perform a Soft Reset
"My phone thinks I'm in a different city"; maybe there are some bugs in your iPhone. This might be fixed by soft reset, which differs from factory reset. (How to factory reset iPhone without passcode?) Here's how to perform a soft reset on iPhone:
Press and hold down the "Power" and "Sleep/Wake" buttons simultaneously for about 10 seconds.
Once the Apple logo appears, please release the buttons.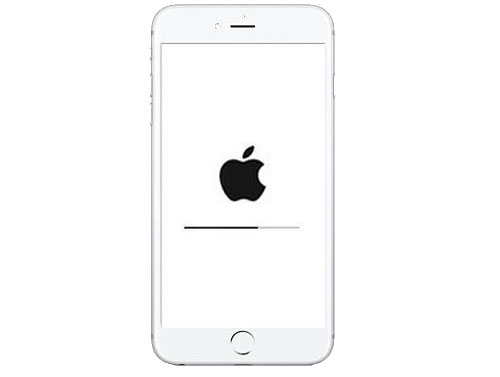 Way 8: Update iOS Version
Here's the simple manual on how to fix location on iPhone by updating iOS to the latest version:
Open iPhone "Settings" and tap "General".
Push "Software Update" at the top.
If there's an iOS update available, please tap "Download and Install".
Enter the passcode if required.
Touch "Details", followed by "Install Now".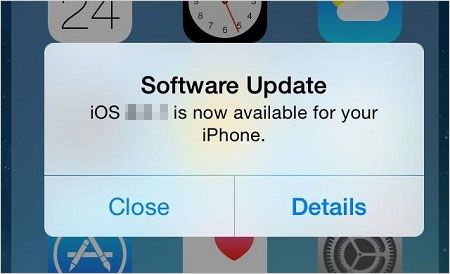 Way 9: Restore iPhone via iTunes
You can try iTunes to restore your device if you have synced your iPhone to it on a computer in advance. (How to sync iPhone to a new computer without erasing?) Once completed, the operating system in this iPhone will be restored to the earlier version, and the issue should be fixed.
How to reset location on iPhone by restoring from iTunes:
Launch iTunes and connect your iPhone to the computer via USB.
Select your iPhone after iTunes recognizes it.
Choose "Restore Backup" and select the latest backup file to restore by looking at the date and size.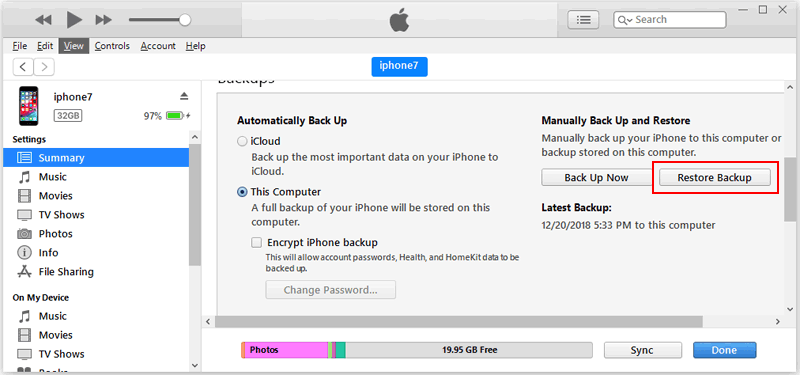 Way 10: Use Professional iOS System Recovery Tool
Assuming none of the methods above works, just try to fix how to correct location on iPhone with a professional program - iOS System Recovery. Delivering two repairing modes, this utility resolves 50+ screen/device/iOS mode/iTunes issues, covering iPhone black screen of death, Touch ID not working, loop restart, etc. It works well with a whole range of iOS devices. Moreover, it can help upgrade or downgrade iOS to the supported version.
Next, let's see how to use iOS System Recovery to fix location issues on iPhone:
Download and install this product on your computer.
You can then open it and select "More Tools" > "iOS System Recovery".
Connect your iPhone to the computer via a USB cable.
Click "Start" to initiate the iOS System Recovery tool.

This tool will detect the info of your iPhone soon.
You can then check your device and tap "Repair". (If the detected info is wrong, you can pick the correct one and hit "Repair" again.)
Wait for the repair to complete.
After that, restart your iPhone, and your iDevice will work just fine.
Know More:
Part 3: How to Change Location on iPhone While Location Service Is On
After fixing the location on your iPhone, you may want to fake the location according as you wish. It is actually very useful for protecting your privacy and profiting for yourself when operating geo-gaming or dating apps. Well, this can be realized through the Virtual Location Tool. This program lets you change GPS location on your iPhone instantly when Location Service is enabled.
Main features of Virtual Location Tool:
Securely change iPhone or Android location with simple clicks.
Let you flexibly select or delete the places saved on this tool you've visited before.
Customize/simulate routes or even create different routes.
Work well with location apps, including AR games, social platforms, etc.
Play functions on various iOS devices, including iPhone 14/14 Pro/13/13 Pro (Max)/13 mini, iPhone 12/12 Pro (Max)/12 mini, iPhone 11/11 Pro/11 Pro Max, iPhone XR/Xs/Xs Max/X, iPhone 8/8 Plus, iPhone 7/7 Plus, iPhone 6/6S/6 Plus, iPod touch, iPad, etc.
It won't uncover your privacy.
Here's how to fake/change GPS location on iPhone with Virtual Location Tool:
Step 1. Install and run this program after the download. Tap on "Get Started", and you should see a welcome screen. Please now connect your iPhone to this computer and unlock it.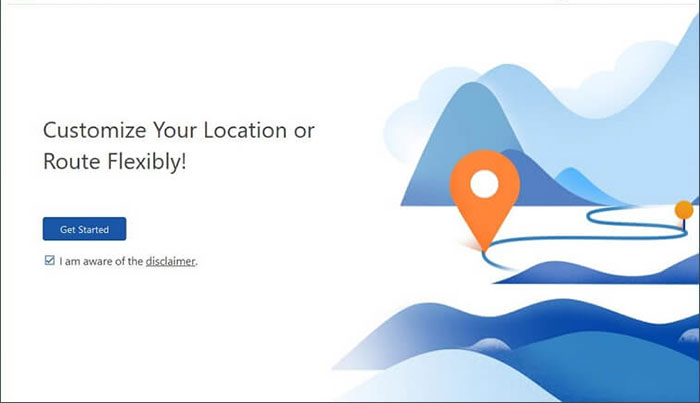 Step 2. When the map loads, click on the "Teleport" option in the upper-right corner.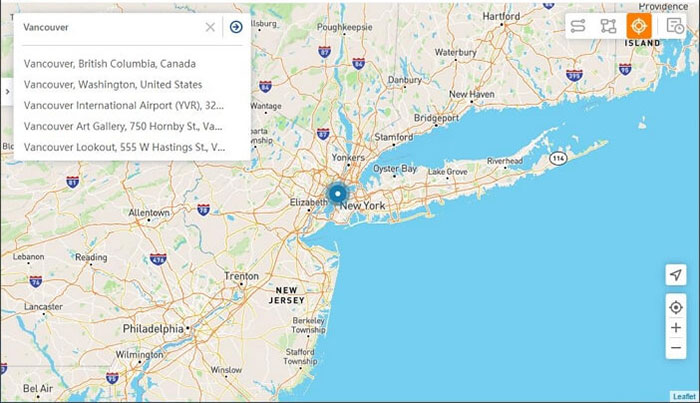 Step 3. Determine where you want your iPhone location to be at the upper-left corner. Or you can pick a destination by zooming in or out of the map.
Step 4. Finally, you should find and click the "Move" button. Your iPhone's GPS location will be where you set it up just now. After that, you can open "Apple Maps" on your device to check the new location.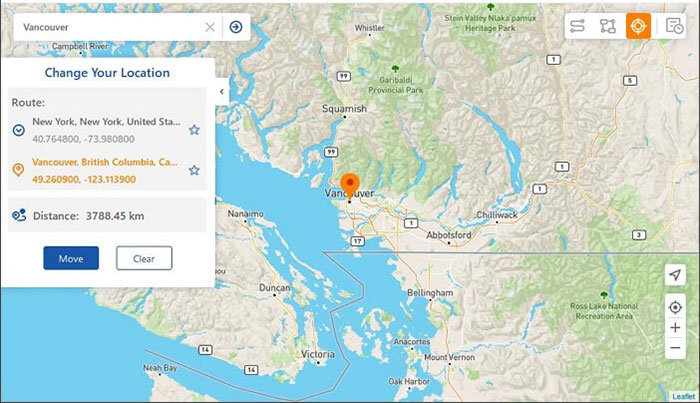 Closing Remarks
Well, there you go! It is no exaggeration to say that this article may be one of the most referential ones you have ever read. This is because we just offered the most comprehensive cause analysis and solutions to fix how to reset the location on an iPhone. Else, we also covered a practical way to let you set your iPhone location anywhere as you like. Finally, please share this page on social media to help those in need if you find it helpful.
Related Articles:
Where Does iTunes Store Backups & How to Change iTunes Backup Location?
14 Best Pokemon Go Spoofing Apps/Software for Android & iOS Devices
How to Change iPhone Location without Jailbreak: 6 Ways and Their Comparison
How to Find and Protect Lost iPhone 14/13/12/11/XR/X/8
[Easy Guide] How to Transfer Data from iPhone to iPhone without iCloud?