14 Best Pokemon Go Spoofing Apps/Software for Android & iOS Devices
Pokemon GO is one of the most pinup gaming apps in terms of AR. This app is now heavily dependent on your current location that has a close bearing on the availability of the Pokemons nearby. To catch more rare and strong Pokemon, you may need to travel to different places. So, you probably want to find the best spoofing app for Pokemon GO so as to prank your friends without being tracked. (how to track messages from another phone?)
Today, we will come up with the 14 best pokemon go spoofers for both Android and iOS devices. Now, just check out this page for details.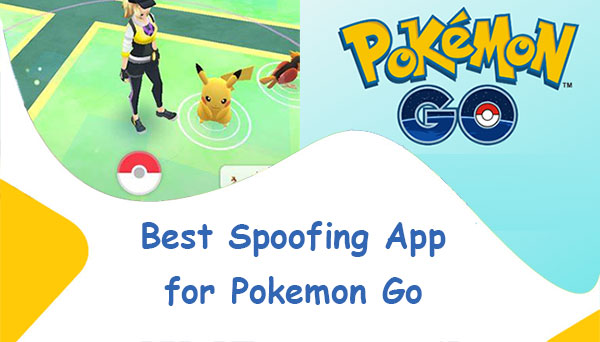 Part 1: 7 Best Spoofing Apps for Pokemon GO on Android
1. iMyFone AnyTo (Android/iOS)
Dubbed as one of the safest and the best Pokemon GO spoofer for its simulating GPS, customizing speed/route, pausing anytime, setting coordinates, historical records, etc., iMyFone AnyTo is arguably the most popular location changer for Android and iOS devices on the market. When using this program to fake locations, it'll apply to most of the apps/programs on mobile phones. (how to remove malware from an Android phone?)
iMyFone AnyTo can help you:
Fake the location on Android devices iPhone to any place in the world.
Select or delete the places saved on this program you've visited before.
Customize routes, simulate routes, and create different routes.
Work well with any location-based apps, covering AR games, social platforms, etc.
Apply to various mobile phones, such as Samsung, Google, Huawei, LG, Sony, OPPO, Vivo, Xiaomi, OnePlus, Motorola, iPhone 14/13/12/12 Pro (Max)/12 mini, 11/11 Pro (Max), iPhone X/XS/XR/XS Max, iPhone 8/8 Plus, iPhone 7/7 Plus, iPhone 6/6S/6 Plus, iPad Pro/mini/Air, iPod touch, etc.
It won't uncover your privacy.
How to use iMyFone AnyTo to fake location?
Step 1. Download and install AnyTo on your computer. Launch it and click "Get Started" on the initial screen.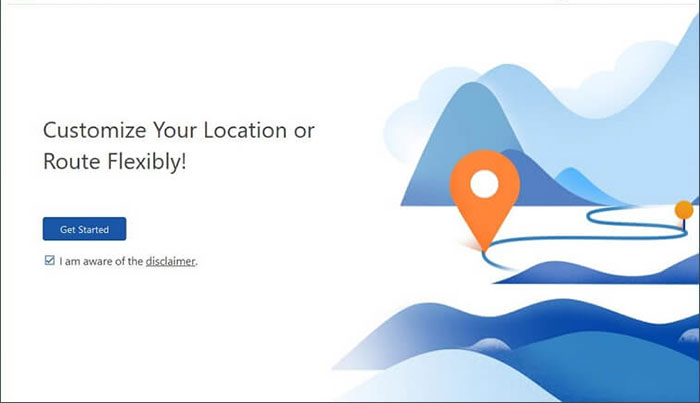 Step 2. Connect your Android device to the computer via a USB data cable. Wait for a while until the program recognizes your device.
Step 3. From the upper right corner of the interface, click "Teleport Mode" and enter the location you desire in the search bar. You can also enter GPS coordinates to locate a specific location.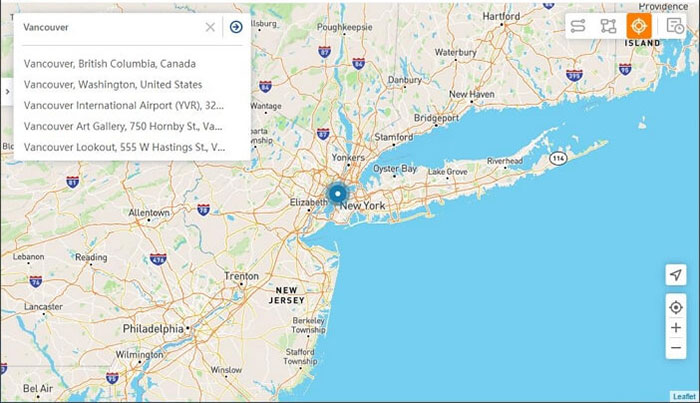 Step 4. The pointer on the screen will move to the corresponding location on the map according to the one you specify. Tap "Move", and this location will then be set as your current GPS location.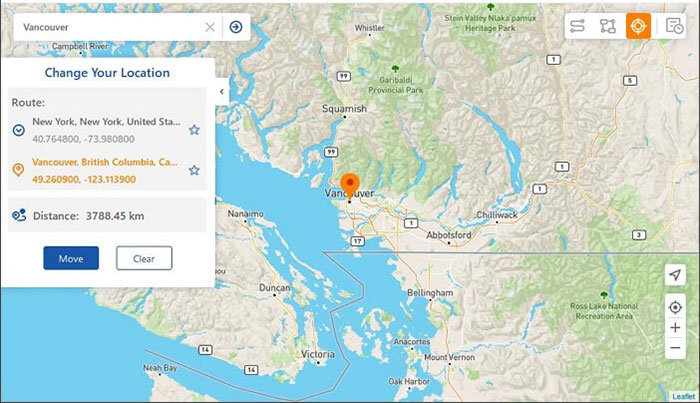 After mocking location without developer options in this way, no location-based applications on this device can track your real location.
Read Also:
2. Fake GPS Location
Fake GPS Location can easily change your Pokemon GO account region, though it has been updated back in 2018. It could be one of the best free Pokemon GO spoofing Android apps. After launching it, please press the Search and enter your desired city. You'll see the location move on the map and can then change your Pokemon GO account region.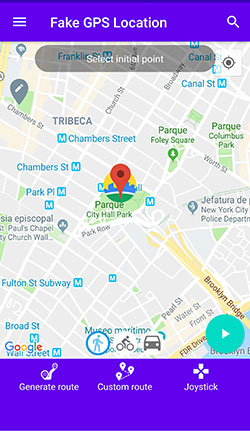 3. Fake GPS
Besides teleporting your fake Android location miles away from where you are, Fake GPS can be tweaked to increase or decrease accuracy, altitude, and update interval. Other features like Movement simulation, which randomizes your location on a regular basis to make it appear you are actually hunting Pokemons. However, it isn't the best Pokemon GO spoofing app, as it contains ads and in-app purchases.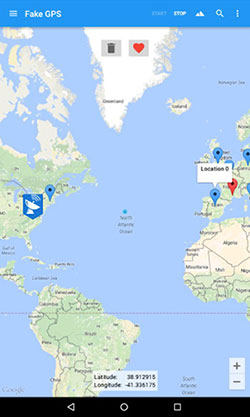 4. PGSharp
As one of the best apps for spoofing on Pokemon GO, PGSharp offers many features to keep you from getting caught by the game company. Moreover, it doesn't require you to root your device or install any other apps to support it. All you need to do is to download the latest version of PGSharp your device and then set your wanted location on the map of it. You can get one PGSharp free beta key from its official site.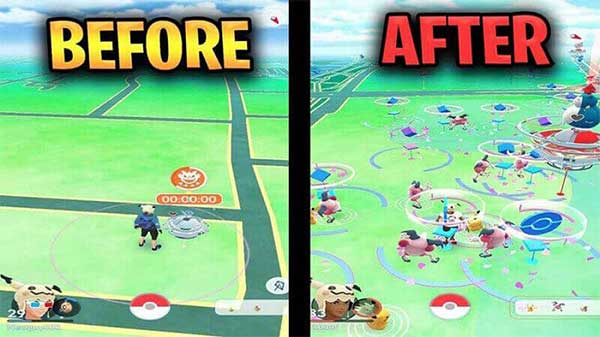 You Might Be Interested in:
5. Fake GPS 360
Developed to fake your current GPS location and show an entirely different and fake one around the globe, Fake GPS 360, among the top five best spoofers for Pokemon GO, can elegantly override your real proximity so that you can play your friends on any social network without thinking you're somewhere else. Plus, it lets you look for people in different cities and fly your GPS from city to city without moving.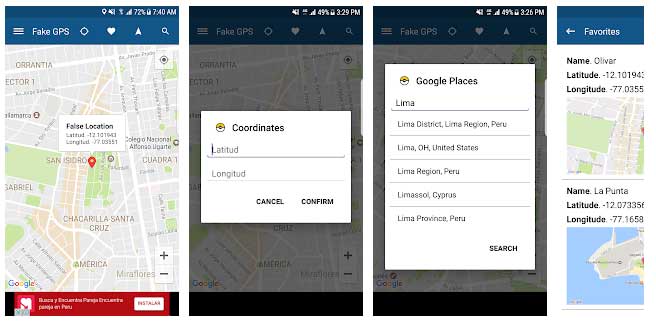 6. Fake GPS Run
Being the best GPS spoofing app for Pokemon GO Android, Fake GPS Run (Fake GPS JoyStick Run) teleports your phone to any place in the globe with two clicks. This app sets up a fake GPS location, so other apps in your phone mistakenly believe you are there. If you have rooted your Android devices (is my phone rooted?), you can mock locations without enabling the "Allow mock locations" option.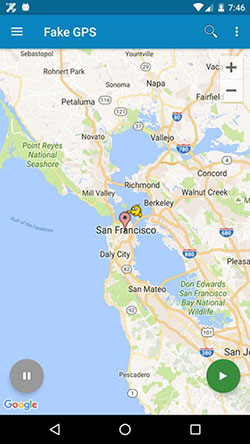 7. VPNa
VPNa Fake GPS Location is amongst the top spoofing apps for Pokemon GO, kidding about your Android phone location and teleport to any place on earth. You can then prank your friends on the social network. It's like a VPN but for GPS location. Please note that some games and apps will suspend your account if you try to fake the location.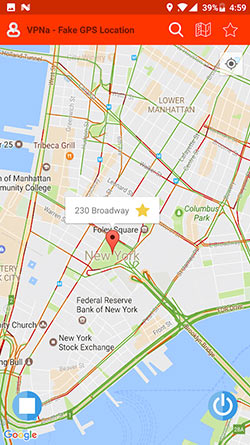 Part 2: 7 Best Pokemon GO Spoofers on iPhone
1. iOS Roaming Guide
Some Apple users may have heard of TweaksZilla Pokemon GO spoofer. Yet this app doesn't work well with iOS devices currently. Apart from AnyTo mentioned in Part 1, iOS Roaming Guide deserves to be at the top of your list. It is very easy to use. You just drop the pin on your desired location before it does the rest. Please note that you cannot find this app on Apple's App Store, and you'll need to install Cydia first to get it.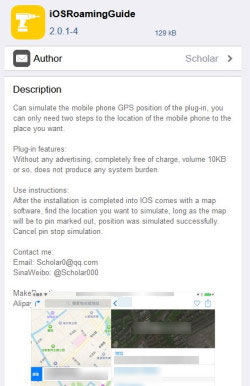 2. iSpoofer for POGO
A magical iOS location changer like iSpoofer for POGO can manipulate your presence in a particular place, and the same will be displayed on the GPS location, too, not only for gaming but for privacy reasons. This fake GPS app for Pokemon GO delivers flexible GPS control, simulating movement along a route.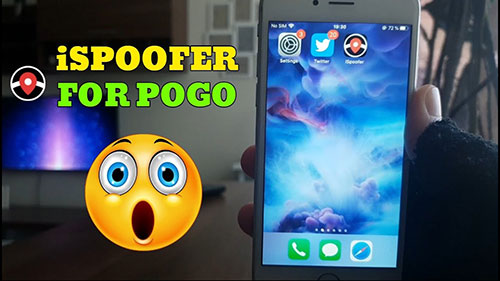 3. iTools by ThinkSky
iTools by ThinkSky is a good spoofing app for Pokemon GO on iPhone. The Fake GPS feature of it is pretty practical and works globally. The dropped location can be retained after your iPhone is disconnected from the system. You can stop the simulation whenever you want. It offers unlimited spoofing options for premium users. Besides, you can use it to back up and restore your iPhone.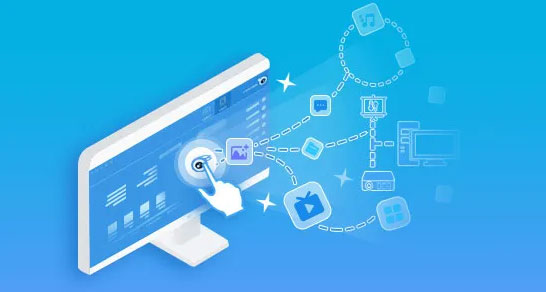 4. Localizador
Localizador is trying to catch up with the best mock GPS app for Pokemon GO, allowing you to fake GPS in the background. It is a multifunction app. You can use it to locate your phone and create smart alerts, such as sending an e-mail or sending text messages when the phone battery is low. In addition, you can generate reports, view check-ins, and more from our web app.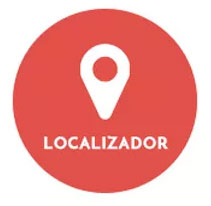 5. Location Faker
Designed for simulating your GPS coordinates without the need for real GPS signals, Location Faker is a well-received Pokemon GO spoofer for iOS. You can utilize it to mask your location by searching for a specific location or just by long-pressing anywhere on the map. However, you cannot save favorite locations on it, and you may run into battery-draining problems with it.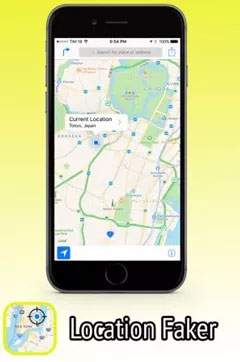 6. PokeGo++
PokeGo++ refers to the best Pokemon GO spoof app for iOS. It offers you joystick operation for easy movement. It's able to enhance the speed of your avatar (up to 8 times). It only impacts your location in the game after you enable teleportation in it. Moreover, as a part of the BuildStore, it is generally safe and checked for harmful code.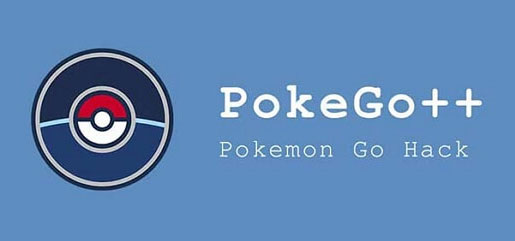 7. Change My GPS Location
Change My GPS Location is one of the best spoofing Pokemon GO apps that still work for mainstream iOS devices. As its name implies, it enables its users to change GPS location to anywhere in the world and send a fake location to friends on Whatsapp or Facebook. It works well in apps but turns off after you do something else on the phone, according to feedback.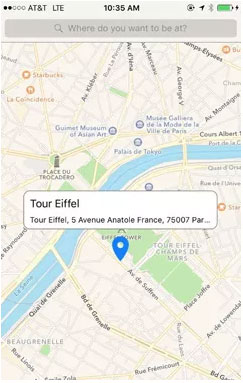 Ending Words
That's all for today's topic. We now come to a conclusion that iMyFone AnyTo is the best fake GPS app/software for Pokemon GO, not just because it is one of the few good apps that support both Android and iPhone.
Finally, if you find a better tool or want to know more about your Android or iPhone issues, feel free to leave a comment below. And we'll be glad to respond to any given situation.
Related Articles:
What You Should Know About Fake GPS on Android without Mock Location
Top 10 iPhone Security Apps to Protect Your Device Well
Where Does iTunes Store Backups & How to Change iTunes Backup Location?
Where Are Texts Stored on Android? SMS Location, Backup, Recovery, etc.
[4 Ways] How to Transfer Contacts from iPhone to iPhone without iCloud?