Where Are Texts Stored on Android? SMS Location, Backup, Recovery, etc.
- "What file are text messages stored on Android?"
- "Where on the file system are deleted SMS messages stored?"
As one of the Android phone's most essential features, sending and receiving SMS is a necessary supplement for making phone calls and chatting with social apps. Sometimes, we may need to do something with Android text messages, such as transferring SMS to a computer for printing, recovering important messages after they disappear, etc.
These are likely to drive us to come up with a query - where are texts stored on Android? Well, this page will shed light on the Android text message folder location, ways to back up and recover Android messages, and more.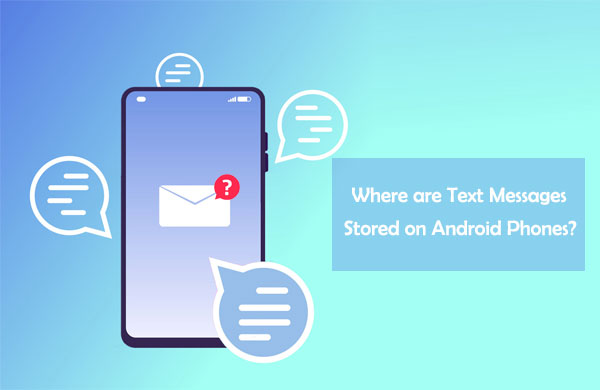 Part 1: Where Are Texts Stored on Android
So, where are text messages stored on Android phones? Android texts are generally in a database, which is in the data folder located within your device's internal memory.
Android text history location may vary from phone to phone. And you can check it in accordance with your Android version:
For Android 4.3 or earlier: /data/data/com.android.providers/telephony/database/mmssms.db.
For Android 4.4 and higher: /data/data/com.android.providers.telephony/database/mmssms.db.
For Android 7.0 and above: /data/user_de/0/com.android.providers.telephony/databases/mmssms.db.
You can only check the text messages in the AQLite database folder on a rooted Android phone (see how to root an Android device?). The database is not readable, but you can open it with an SQLite viewer.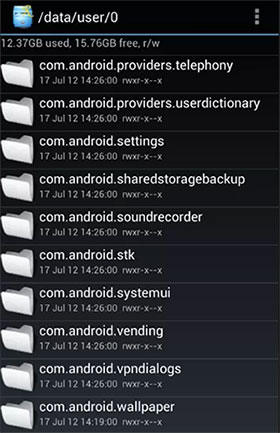 Read Also:
Part 2: How to Transfer Messages Stored on Android to Computer
Messages located in the Android database are at risk of being lost due to various reasons. For safety, most of us would like to keep a copy of them on a computer. If you want to do the same, MobiKin Assistant for Android (Win and Mac) is your must-have tool.
This program is made to fulfill the needs of Android users who wish to transfer, back up, restore, and take control over their Android data breezily.
Main Features of MobiKin Assistant for Android:
Transfer texts stored on Android to PC/Mac selectively or in batches, and vice versa.
It also works for other Android files like contacts, call logs, apps, photos, music, video, movie, books, etc.
One-click to back up and restore Android SMS and other data.
Manage your Android content on a computer without a hitch.
Run smoothly on nearly all Android devices, like Samsung, Xiaomi, Motorola, Sony, Huawei, LG, OnePlus, OPPO, Vivo, Google, ASUS, etc.
Get the job done well in an effortless manner without giving away your privacy.
How to transfer SMS messages stored on Android to a computer via Assistant for Android?
Step 1. Connect Android device to computer
Start by downloading and installing the software on your computer. Link your Android phone to the PC through a USB cable. Then, you can refer to the on-screen prompts to make your device be recognized.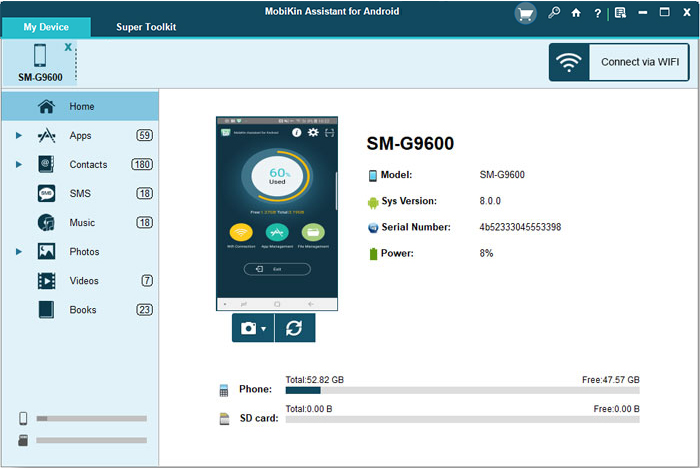 Step 2. Preview and choose the messages for backup
On the main interface, click the "SMS" category at the left menu. After that, preview and select the text messages you want to transfer from the right pane.
Step 3. Export text messages from Android to computer
Click "Export" from the top screen and select a output format to save the items onto your computer.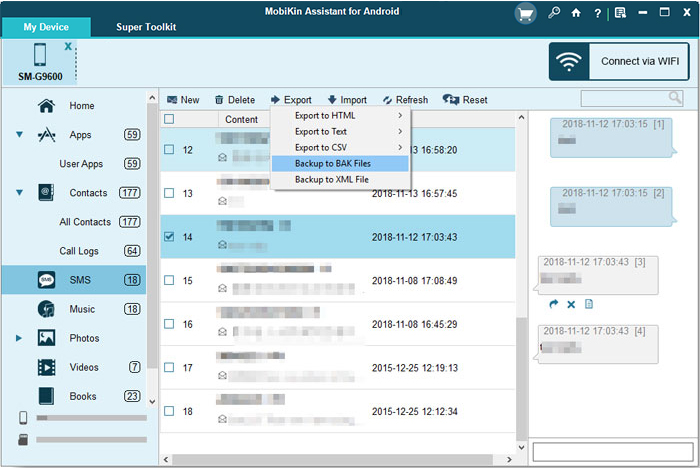 Video guide on how to export Android contacts to computer:
Part 3: How to Back Up Text Messages on Android
Making use of SMS Backup & Restore, a free app, you can take a backup of your Android text messages and save them locally. This app is compatible with Android devices running Android 4.0.3 or above. Now, here are the backup guidelines:
Install the app on Android after the download.
Run it, and it'll take you to its main screen.
Touch "Set up a backup" to begin creating a new backup.
From here, you can choose what info you want to save and where to store the backups.
You can save the texts directly to your phone, Dropbox, OneDrive, or Google Drive.
For this topic, just choose your device as the destination.
Choose to save the emojis attached to the SMS.
Name the backup files and store them locally.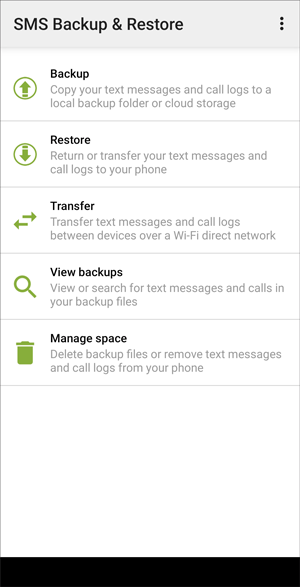 You can also automate the process by going to Settings > select the hamburger menu at the upper-left corner and follow the prompts to do the rest.
Where are Android text messages stored on your Android phone after making the backup with SMS Backup & Restore? Well, when you decide to save the texts directly to your phone, this app allows you to store them on Android SMS location as either "Default app folder" or "Your own folder".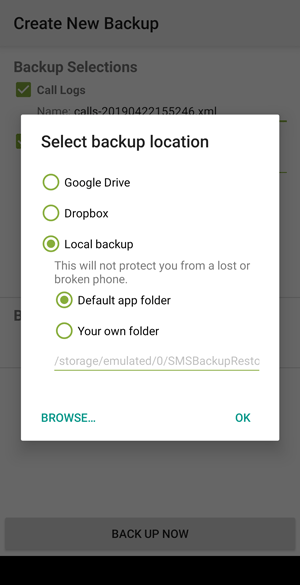 Extended Reading:
Part 4: Where Are Deleted Text Messages Stored on Android
Where are SMS text messages stored on Android file system after you get them deleted? Well, these text messages won't disappear from your Android phone at once.
Actually, they are still on the phone's internal memory, but the allocation of the data is removed by the File Allocation Table. And the memory they occupy will be freed up for use by other files.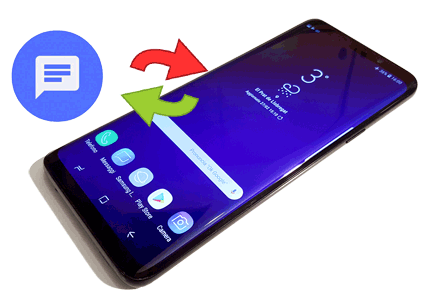 As we know, there is no recycle bin on Android devices to recover deleted files directly. Thus, if you delete the text messages or lost them for some unknown reason, it's not easy to retrieve them quickly.
Yet, you can stop using your Android phone immediately after losing the content and then find a trusted 3rd-party software to retrieve them with the least possible delay. Keep on reading the part 5.
Part 5: How to Recover Deleted Text Messages Stored on Android Phone
We can't stand to lose a portion of the valuable messages on Android phones. But what happens in real life is often out of our control. SMS loss is among many kinds of dilemmas. If you are struggling with the situation now, just take a glance at MobiKin Doctor for Android (Win and Mac).
This is a professional and advanced program, helping Android users to recover overall deleted/lost data from Android internal memory and SD card, including SMS, contacts, call logs, photos, videos, music, documents, etc. It lets you preview and select the recoverable and existing Android items on a computer and restore what you want in one piece.
How to recover deleted/lost Android texts with MobiKin Doctor for Android?
Install the program on your computer after the download.
Launch the tool and link Android to the computer via a USB cable.
Enable USB debugging on Android device to let the phone detected by the software.
Mark Messages on the pop-up screen.
Tap "Next" and follow the hints to trigger the scanning procedure.
After the scanning, view and choose your desired text messages.
Click "Recover" to save them onto your computer. (Learn how to recover SMS from a broken Android phone?)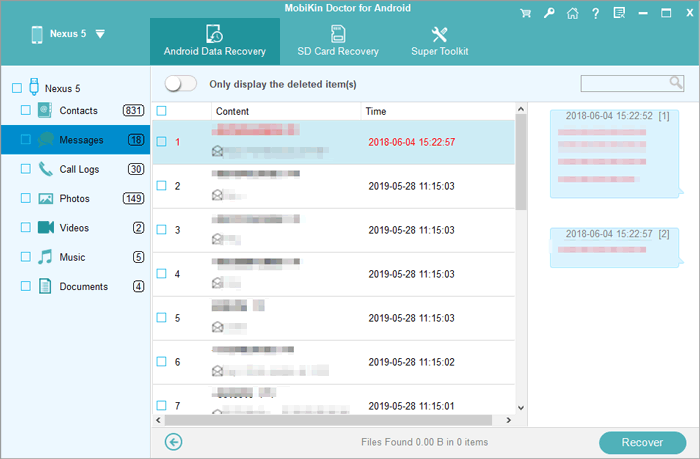 Bonus: Where Does Android Phone Store Pictures from Text Messages?
MMS (Multimedia Messaging Service) often consists of text messages, photos, audio. They are stored in the Android data folder on your phone's memory as well. OK, here's a question: what's the location of the pictures and other attachments within text messages? Here are the steps to find the photos:
Press the image on the messages thread view.
Choose an option like Save attachment, Download Attachment, Save to SD card, etc.
By doing so, you'll download the pictures to the "Download" folder on your SD Card.
Go to your Android gallery to check the pictures there.
Final Words
This post mainly focuses on "where does Android store text messages". Meanwhile, it is also about how to back up SMS to PCs/Android phones, the recovery method of deleted texts, and where's the MMS pictures folder. Now, you can refer to the corresponding measures or download relevant software to take on tasks as per your needs.
Lastly, please drop a line in the comment box below if you have any questions or suggestions. And we will be happy to help you out soon.
Related Articles:
Top 10 Android SMS Managers Help You Manage Android Messages Easily
How to Transfer Text Messages from Android to iPhone Easily & Quickly?
How to View/Read Your Android Text Messages on A Computer Easily?
How to Permanently Delete Text Messages from My Android Phone?
Android Message Recovery - How to Retrieve Deleted Text Messages on Android