Why Is Snapchat Location Wrong? How to Fix It? [Complete Guide]
Snapchat Map lets you see where your Snap contacts are, share the current location, and view Snaps from your friends to see what is going on around you. When you find your partners' location at one place but actually they aren't there, it may cause unpleasantness or conflict. And sometimes, The same trick, in turn, puzzles you on your Map. That is, the Snapchat location is wrong, but you didn't fake your location on Snapchat.
Well, what can we do when the current location is quite different from the actual one? Today, we shall offer you a few optional tips for reference. Yet first, let's get the answer to the question, "why is Snapchat showing the wrong location of mine or my friend's?"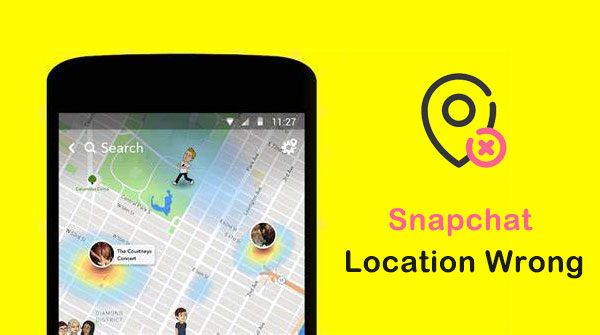 Part 1: Why Does My Snapchat Location Say I'm Somewhere Else?
Can the Snapchat location be wrong? Of course. When outdated or last used location of you or your friends are displayed on the Snapchat Map, some factors are to blame. And here are the most common reasons:
Lack or unstable Internet connectivity.
You are offline longer than it allows you to be.
The Snapchat app has been artificially changed.
Your friends are using a location-changing app.
The app location malfunction for unknown reasons every now and then.
Click to Know:
Part 2: Fix Snapchat Location Wrong with 7 Tricks
Trick 1: Restart Snapchat
Unknown bugs or minor glitches may result in the Snapchat Map not working. Restarting the device may help get rid of the trick most of the time.
Trick 2: Reinstall the latest version of Snapchat
Reinstall Snapchat on iPhone to fix Snapchat location wrong:
Long press the Snapchat icon and tap "Remove App".
Choose "Delete" and confirm the action.

Go to App Store to get and install the latest version of Snapchat.
Reinstall Snapchat on Android:
Long press the Snapchat avatar on the main menu.
Press "Uninstall" to eradicate it.
Open Google Play to get and install Snapchat.
Trick 3: Disable Ghost Mode
Enabling Ghost Mode will make your location invisible to anyone on the Map. So, please follow the steps below to turn off the feature from Snapchat settings:
On your iPhone/Android phone, run Snapchat and go to its "Map" icon.
Tap the "Gear" sign to access the Snap Map settings.
Disable the "Ghost Mode" option, and your wrong Snapchat location will no longer be displayed. (Want to fake GPS location without root?)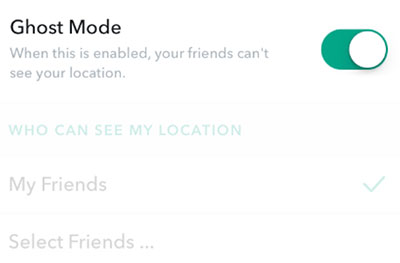 Trick 4: Update Location Settings on Snapchat
Snapchat doesn't mean to fake GPS on Android/iPhone. But some outdated or wrong location settings may lead to incorrect Snapchat locations. After disabling the "Ghost Mode" from Snapchat settings, you can update location settings by following the similar steps:
Open Snapchat on your device.
Access your account through login credentials.
Go to your profile and tap "Settings Gear".
Choose "See My Location".
Toggle off "Allow friends to request my location" to disable location request.

Choose "My Friends" to show the location to friends only.
Select "My Friends, Except..." to show your location to limited friends.
See More:
Trick 5: Give Snapchat permissions
When Snapchat is showing the wrong location, chances are that you may didn't give its permission to access your location and mobile data. Try to make some changes to this app as follows:
On an iPhone, open "Settings" and tap "Snapchat"; head to "Allow Snapchat To Access" > "Location" > give the location access to this app.
On an Android phone, go to its "Settings" > "Apps" > "Snapchat" > "App Permissions" > "Location"; then select "While Using the App" or "Always" from the "ALLOW LOCATION ACCESS" section.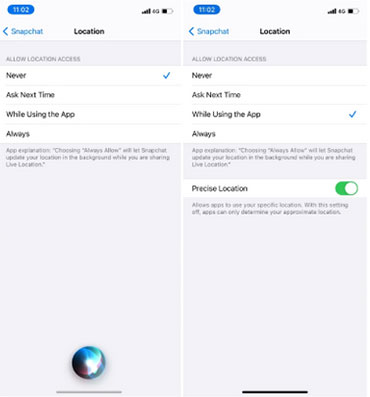 Trick 6: Clean Snapchat cache
Any inappropriate content on the Snap Map may lead to the wrong location on Snapchat not working. This may be the time to clear the cache on it:
Go to your Snapchat profile and tap the "Gear".
When in the Snapchat settings, tap the "Account Actions" option.
Press the "Clear Cache" option.
Select "Continue"/"Clear All".

Reboot your Android or iOS device.
Trick 7: Report on Snapchat Map
If the wrong Snapchat location cannot be corrected, it's a good idea to flag up the question on Snapchat Map. To make it, you can:
Head over to the Snap you wish to report.
Long press on the Snap.
Tap "Report"/"Flag" that appears at the bottom-left corner.
Part 3: How to Change Snapchat Location without Anyone Knowing It
The Snapchat location is wrong, but you cannot correct it with any of the methods above? You don't want your friends to see the location displayed on Snapchat to avoid unnecessary misunderstanding? Just get what you want from Virtual Location Tool. With this program, you can easily change your location on Snapchat or other social apps. More importantly, any changes you make to it will not be known to others.
Main highlights of Virtual Location Tool:
Randomly change the current location on Snapchat for Android/iPhone.
Select or delete the old addresses on this tool you once visited.
Customize routes, simulate routes, and even create routes.
Change locations on Skout, AR games like Pokemon GO, some social platforms, etc.
Get along well with both iOS and Android devices, including iPhone 13/12/12 Pro (Max)/12 mini, iPhone 11/11 Pro/11 Pro Max, iPhone X/XR/Xs/Xs Max, iPhone 8/8 Plus, iPhone 7/7 Plus, iPhone 6/6S/6 Plus, iPad, iPod touch, Samsung, Xiaomi, Huawei, Google, HTC, Alcatel, Sony, LG, Motorola, OPPO, Vivo, etc.
It won't divulge your privacy.
How to change the wrong or current Snapchat location via the Virtual Location Tool?
Step 1. Download and install the Virtual Location Tool on a computer. Open the program and click on "Get Started".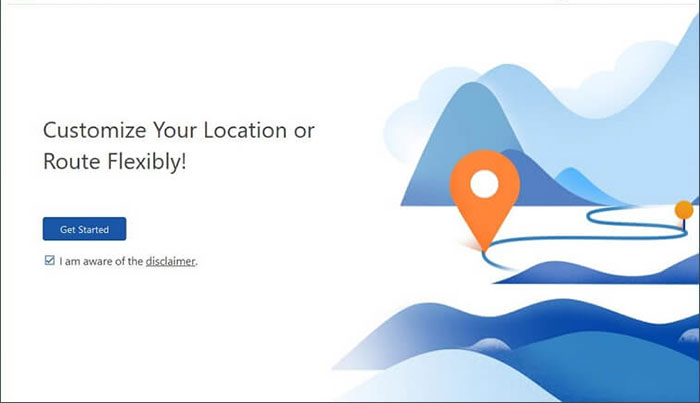 Step 2. Connect your iPhone/Android phone to the computer via USB. Wait for a while until the software recognizes your device.
Step 3. Tap "Teleport Mode" from the right menu and input the location you desire in the search box. You can also enter GPS coordinates to define a specific location.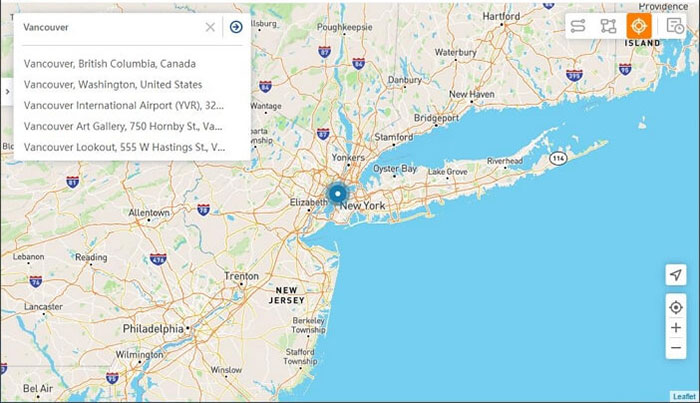 Step 4. The map's pointer will move to the corresponding address on the Map in accordance with the one you appointed. Tap on "Move", and the current or wrong location will be set as your wanted GPS location. That's it!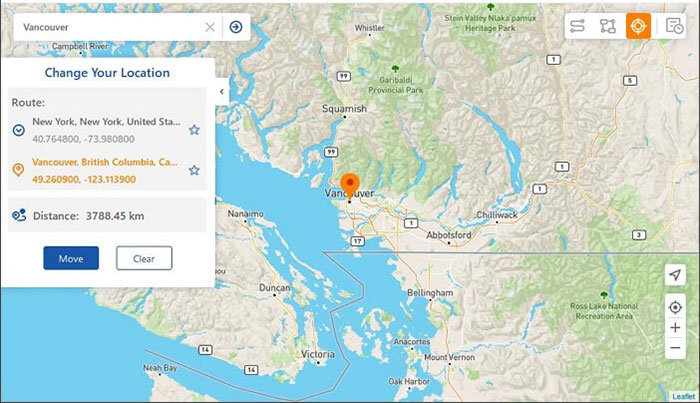 FAQs about Snapchat Location
Q1: How to hide the location on Snapchat?
Run Snapchat on your mobile phone.
Get into your account and tap "Profile".
Go for "Settings Gear" > "See My Location".
Tap "Ghost Mode" to hide your location permanently.
Q2: What does my location show on Snapchat Map when powering off my phone?
After your phone is off, Snapchat doesn't interrupt to show your last known location for 8 hours before it is out of service.
Q3: Is Snapchat location service secure?
Snapchat Map helps you observe your friends and what they do. But this service is only shared with its common followers and is not always trustworthy. Therefore, adding trusted friends to it can avoid some unnecessary misleading.
The End
On the whole, seven optional approaches were offered to fix the wrong Snapchat location. And further, we expatiated a professional utility - Virtual Location Tool to fake locations on the Snapchat map without extra premise. Any comments or suggestions on this topic would be appreciated.
Finally, as a side note here, when a person is active on Snapchat for dozens of minutes while walking or on the way to another place, the system may not be aware of it until later. And after getting offline, you may still find the same location on Snapchat when you were online several minutes ago.
Related Articles:
Why Is My Location Wrong on My iPhone? 10 Ways to Fix It
6 Methods to Delete Snapchat Messages on iPhone and Android
2 Fast & Easy Ways to Recover Snapchat Messages on Android
4 Effective Ways to Recover Snapchat Photos from iPhone
2 Simple Ways to Wipe Android Data Remotely