5 Secure Ways to Change Zenly Location on Android/iPhone in 2022
Typically, it is a pleasant experience to use Zenly, a location-sharing app, to share location details and communicate with your friends and family. However, since you want to meet new folks before engaging with regional groups or keep your privacy from being potentially compromised, you want to let Zenly display a different location. Therefore, it's important to figure out how to change Zenly location as required. OK, this article will cover this topic in-depth; read on to know more now.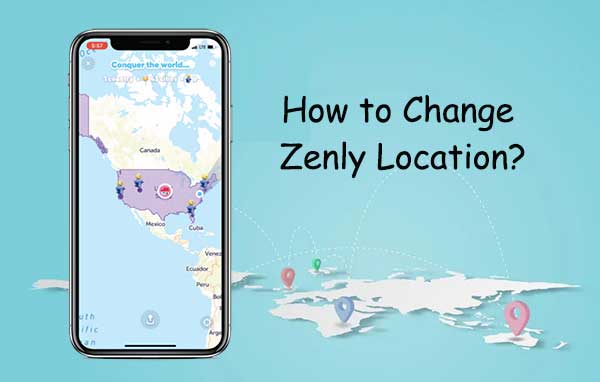 Part 1: What Is Zenly? How Does It Work?
What Is Zenly?
Zenly, developed by Snap Inc, is a social-map app enabling its users to share their locations with those around them to know more about each other in real life. With this smart app, you can check who is around, chat with them, and receive notifications about their whereabouts. Technically, Zenly can perceive a portion of the map's functionality, and you may find it much like Snapchat. (Need to recover Snapchat photos on Android?)
How Does Zenly Work?
When running the app on an iPhone/Android device, you'll find a GPS map on its screen, where your companions' profiles are displayed nearby the location details. This app lets you continue to add buddies to the map. If someone confirms your friendship request, you'll find the profile and location on its screen. And your Zenly companions will also see your location on the map.
It's easy to select your companions' location, track courses, get messages out, or send stickers or photos. However, with its "What's Up" feature, you can send a photo/video to one friend at a time, and the item will expire after 2 hours or whenever the recipient opens it. Well, if you don't want it to display your real-time location, you may wonder how to freeze location on Zenly. OK, we shall cover this and more on simulating GPS location.
People Also Like:
Part 2: How to Change Zenly Location with a Professional Tool (Android/iOS)
The real location restrains the people from meeting and limits the possibility of more contact with groups in other regions. It is said that there is some third-party software on the market that can easily fake any address. Generally, they have both advantages and disadvantages. So, how should we distinguish them smartly? Well, good question!
Today, we would recommend Virtual Location Tool, a program that is easy to change GPS location, enjoys a large user group, and is hard to identifiable.
Main features of Virtual Location Tool:
Change Zenly location to anywhere on the planet with one click.
Work for any geo-based apps like Pokemon GO, Scout, and social platforms.
Let you select/delete the locations you've ever visited.
Customize routes, simulate routes, and create diverse routes.
Compatible with overall cellphones, including Samsung, Xiaomi, Google, Motorola, OPPO, Vivo, LG, iPhone 14/14 Plus/14 Pro (Max), iPhone 13/13 Pro (Max)/13 mini/12/12 Pro (Max)/12 mini, iPhone 11/11 Pro/11 Pro Max, iPhone X/XR/Xs/Xs Max, iPhone 8/8 Plus, iPhone 7/7 Plus, iPhone 6/6S/6 Plus, iPod touch, iPad, etc.
It won't disclose your privacy.
How can I fake my location on Zenly Virtual Location Tool?
Step 1. Get the program started
Free download and install this program on your computer. Run it and click "Get Started" from the initial interface.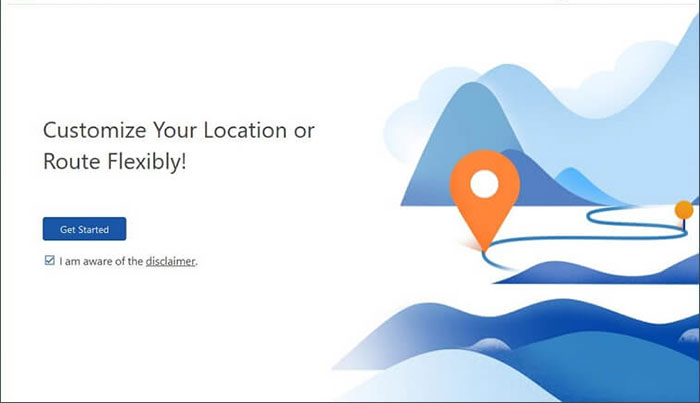 Step 2. Enter the "Teleport Mode"
Connect your device to the computer with a USB cable. The tool will recognize the device soon. After that, click "Teleport Mode" on the screen and input the location you want in the search box. Here, you can also enter GPS coordinates to find a specific location.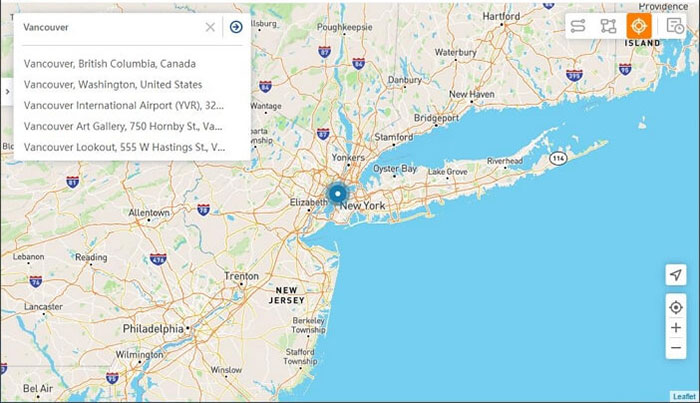 Step 3. Change Zenly location at your option
The pointer on the interface will move to the corresponding place on the map according to the address you specify. Then, click "Move" to set the place as your desired GPS location for Zenly.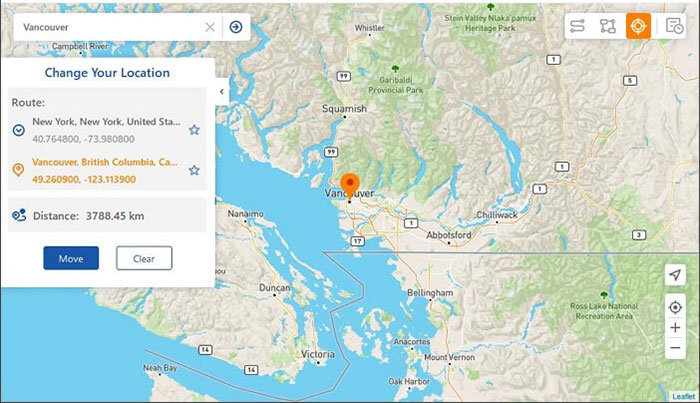 Part 3: How to Fake Location on Zenly with Ghost Mode (Android/iOS)
Can you freeze your location on Zenly? Do you want to stay your last live location fixed on the app? OK, try Ghost Mode (This mode on Snap can also be used to hide/freeze Snapchat locations). As a privacy feature on Zenly, Ghost Mode lets you configure your location with three options, namely precise, blur, and frozen. Specifically:
Use the "precise" option to find a precise location on Zenly with displaying your real-time place.
Use the "blur" option to blur your friends by giving them the location near your current one.
Use the "frozen" option to keep your frozen location on Zenly, freezing your real-time location and keeping your location secret.
The Ghost Mode cannot let you spoof GPS location on Zenly at your disposal. To be precise, you can only use it to materialize, slightly adjust, or hide your location on the app.
Learn how to hide my location on Zenly using Ghost Mode:
Open Zenly on your smartphone and go to your profile.
Tap the "ghost mode" option.
Select the friends you wish to hide your location from. (Or pick the "SELECT ALL" option to select all your friends.)

Opt for either the "frozen" or "blurred" sign to use Zenly to freeze or hide your location.
Part 4: How to Change Zenly Location Using Hola (Android/iOS)
Hola is technically amongst the top 10 fake GPS apps to mock location for Android/iOS. It can largely function like any other VPN. Namely, it is fully eligible to work as a Zenly location hack. However, it may not be compatible with some apps or websites at times.
How can I fake my location change via Hola?
Download and install Hola on your mobile phone from App Store.
After that, go to your "Settings" and disable the "Location Services".
Run the app and hit its location spoofing option. And once done, you'll have a fake location on Zenly.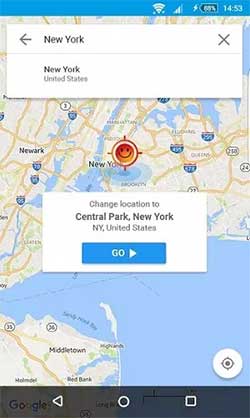 Click to Know:
Part 5: How to Fake Zenly Location with Cydia (iOS)
Like some GPS location changer apps for iOS devices, Cydia is capable of providing you with any virtual locations for Zenly. Yet you have to jailbreak your iPhone first, and it'll void the warranty on the device. Here's how to fake Zenly location iPhone with Cydia.
Download a program like Checkra1n and get Cydia on your computer.
Install the program and connect your iPhone to your computer via USB.
Allow your computer to "trust" Cydia.
Open the tool, click "Start", and go to your device's "Settings".
Proceed to "General" > "Profiles" > "Device Management".
Trust the developer when asked by Cydia Impactor.
Click the "Go" button on Cydia and let it jailbreak your device.
After that, your phone will reboot.
Then, download Relocate Reborn on your iPhone.
Install and start the app to change your location to wherever you want.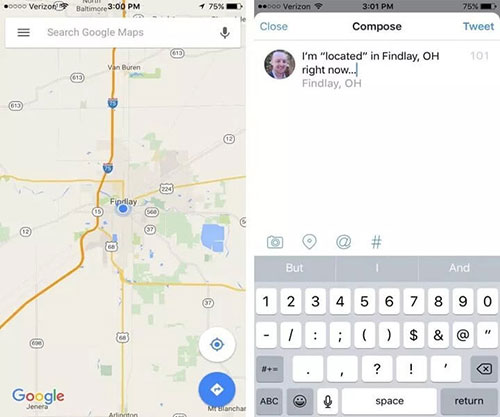 Part 6: How to Fake Location on Zenly with Fake GPS App (Android)
With Fake GPS, Android users can set locations to any place across the globe straightforwardly. Before the configuration, please turn on the "Allow Mock Location" on the Android developer settings. Yet please note that you may bump into inconsistency issues when refreshing the app.
How to fake location on Zenly on Android using the Fake GPS app?
Download Fake GPS on your Android phone from Google Play Store.
Click the "Install" option to download and install the app.
Open the app after the installation.
Select the location you want to demonstrate on your device when running the Zenly location tracking app.
Press the "Start" button to change the current IP address to that of the location you selected just now. (If you want to change your location next time, hit the "Stop" button, enter a new location, and tap "Start".)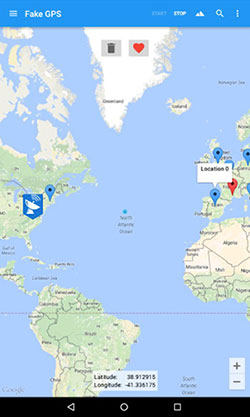 FAQs on Zenly Location
Q1. How to tell if someone is in Zenly's Ghost Mode?
You won't instantaneously receive notifications about someone's location when he/she is on "frozen" ghost mode. If the "blurred" ghost mode is enabled, you will see the blurred location on Zenly in his/her map pin.
Q2. Why is my friend's location wrong on Zenly?
Your friend's device has a weak or no signal.
The Ghost Mode is turned on to hide the real-time location.
Your friend quit using Zenly.
Q3. Why isn't Zenly updating its location?
No location access for Zenly.
Signal strength is drained.
Zenly may be under the auto-cleanup settings.
A battery optimizer may be in action.
A Wi-Fi connection isn't made.
Q4. How can you change KPH to MPH on Zenly?
MPH or KPH can show you speed when driving with Zenly. To track location more accurately, you can change MPH to KPH as follows:
Open the Zenly app and go to its "Settings" tab.
Locate the "Length" units and pick what you desire ("Metric" addresses km while "Imperial" addresses Mi.)
If you change KPH and MPH, it moderates the temperature, which might be degrees of C or F.
Q5. How to track someone's location using Zenly?
You can only use Zenly to track the people using the same app around you. Their locations are marked in a green circle with their profile images.
Q6. How to disable location services on Zenly?
Go to the "Settings" app on your phone.
Head to "Security" and turn on "Location Services".
Find the Zenly app and choose the location access you believe it should have.
The Bottom Line
Well, it's time to round off this page. We just gave a basic introduction to Zenly, learned its working principle, and presented five methods for changing Zenly locations on different platforms. With the advantages of the greatest compatibility and the least downsides, Virtual Location Tool is undoubtedly your premium choice. So, just give the utility a download and try it out now.
Related Articles:
Why Is Snapchat Location Wrong? How to Fix It? [Complete Guide]
Spoof GPS Locations with the 8 Best iTools Virtual Location Alternatives
Want to Fake GPS with No Root? 6 Programs You'd Better Know
How to Transfer Data from One Phone to Another? 3 Ways for You!
5 Best Storage Managers for Android to Free Up Android Space Easily
How to Free Up Space on iPhone/iPad without Deleting Apps? Try These Ways!