How to Share Photos in Dropbox on Android?
Do you know the photo sharing feature of Dropbox? It is really a useful as well as convenient function. With it, you can:
- Share the Dropbox pictures on Android with the users of iPhone or other OS;
- Share images to contacts in Facebook, WhatsApp, Line and Skype without opening a lot of applications.
What a wonderful feature which can greatly simplify the photos sharing process! If you are interested in it, just go with the detail below to learn how to share photos in Dropbox on Android.
Share Single or Multiple Pictures in Dropbox
To share one or several photos in Dropbox on Android, you only need to share the link of the photos. Then others can receive the link from messages, email or other social media applications even though they do not have a Dropbox account, which is extremely effortless and effective.
- Launch Dropbox on your Android mobile phone and then click on the icon of three horizontal bars at the top left. After that, you will gain a menu. Just select Photos from the list and all the photos in Dropbox will be gathered and organized in the folder.
- Click on the checkmark icon on the top to start choosing pictures. Next, tap on the Share icon.
- Select the option Anyone with the link can view this file and choose the way you want to send the link, including Email, messages, Facebook or other social media platforms.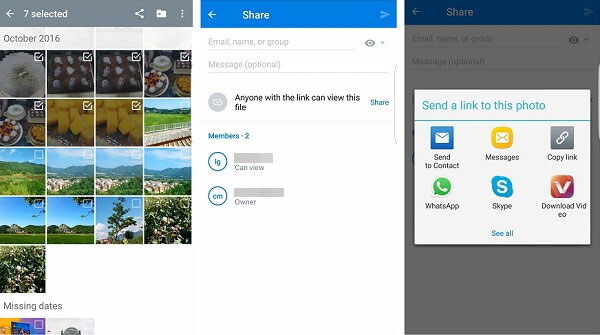 Attention:
- You need to install Facebook, WhatsApp, Link, Skype or other social networking software on your Android phone or you will be unable to share the photos via these applications.
- If you do not want to share the images, you can void the link by signing in to dropbox.com and electing the Link folder. Then click on the X icon and tap on Delete link to cancel it.
See also:
How to Backup Android Photos to Cloud?
Use Dropbox to Sync Photo Albums
There is another possibility that users want to share photos in bulk. In this case, you can select to add the photos to one album and then share the album. It is very simple. You just need to:
- Open Dropbox on your device and go to Photos category.
- Long press one picture to begin electing pictures. Just check all the images that you want to sync and click on the three dots icon at the top right corner and select Add to album. Then, you can add the selected photos to a new or existing album.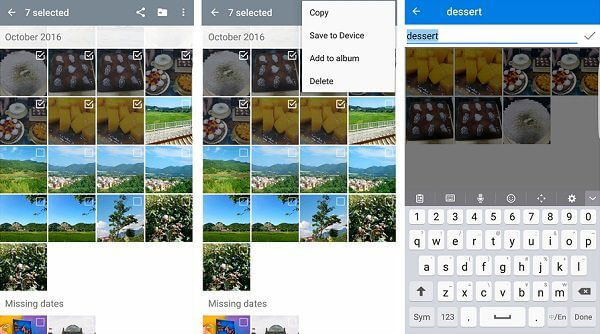 - Now, you can begin to share the Dropbox photos album. Just tap on the Albums option under the Photos folder and choose the album you wish to share.
- Tap on Share album on the bottom and then select an application to share them, such as WhatsApp, Facebook, Email, Link or other software as you like.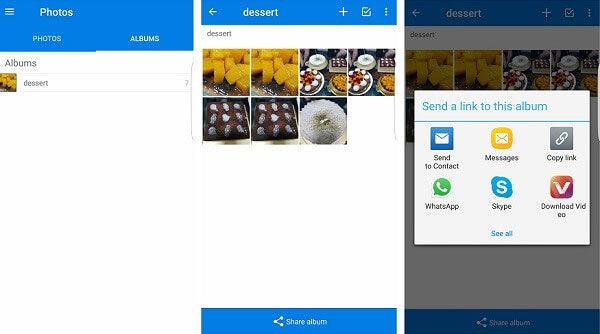 Extra bonus: Some Useful Tips to Manage Dropbox Albums on Android
- Remove images from an album: enter a Dropbox album on your phone and long press one photo to start the selection. Just check all the pictures that you do not like and click on remove button to delete these photos from album. This operation would not omit the pictures from Dropbox.
- Delete photos album: open a photo album and tap on the menu icon (three dots icon) on the top right and elect Delete album option. Also, after deleting the album, you still can find the photos in Photos folder.
- Rename album: just select a photo album and tap on its name. Next, you can type in the new name of the album to rename it.
Related Article: