Samsung Galaxy Recovery - How to Recover Samsung Data from Normal & Crack Samsung Galaxy [4 Methods]
Samsung Galaxy is one of the widely known and used brands in different parts of the world. It is therefore common to hear of people losing data and trying to find out more information about Samsung Galaxy recovery. This tutorial covers 2 awesome programs to recover deleted Samsung files from normal & broken Samsung, tips to recover Samsung data from backups and 5 top Samsung data recovery apps.
According to Google, people also want to learn:
You can jump to the sections to find what you need directly and select one of them to retrieve your lost files.
Part 1. What Causes Samsung Data Loss?
You know that data loss is always unpredictable. Let us check the reasons that lead to Samsung data loss.
Most people find themselves in such situations due to different reasons such as phone loss, accidental deletion or even phone damage.
Other reasons for loss of data in Samsung Galaxy include updates, battery placements, jailbreak, and theft.
Like computers, phones also need updates to optimize their functionality. Unfortunately, this is also one of the major causes of data loss in phones.
Putting the battery back on the phone may seem like one of the easiest actions but it can cause so much damage to your phone leading to loss of all your data.
When it comes to jailbreaking, you can discover amazing features in your phone making it a high performing and efficient gadget that can do almost everything. However, one of the major disadvantages of jailbreak is its potential to cause data loss.
Whatever the reason, you can easily recover your files to your Samsung Galaxy using any method suitable to you.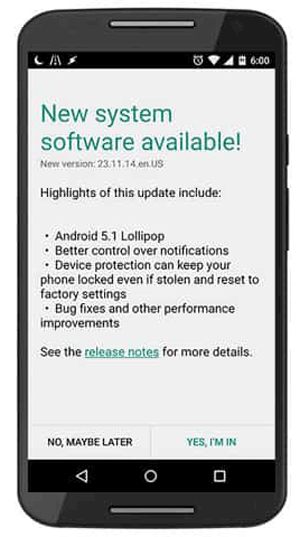 Part 2. How to Recover Samsung Galaxy with the Best Samsung Galaxy Recovery (without Backup)
Since many users lose Samsung data without backup, we would like to recommend a professional software to help you recover Samsung Galaxy without backup. MobiKin Doctor for Android (Win/Mac) is a great Samsung Galaxy Recovery for almost all Samsung devices on the market. With it, you can easily recover all the files that you accidentally delete. The program supports contacts, call logs, text messages, documents, media files, and many others.
The software also has some amazing features such as the ability to let you preview your lost data before reinstalling them. Such data are marked differently from the rest making identification easier.
Compatibility with multiple devices is another great feature. With this, you can use the same tool if you own mobile devices from different brands and even operating systems. With just a few clicks, you can accomplish Samsung data recovery.
Summary
The Key Features of Samsung Data Recovery - MobiKin Doctor for Android:
- Restore contacts, text messages, call logs, media files and more from internal memory (root required).
- Retrieve music, videos, photos and documents from SD card (without root).
- Preview the data before recovering.
- Work perfectly on almost all Samsung devices, including Samsung Galaxy S10+/S10/S9+/S9/Galaxy Note9/Note8/Galaxy A9/A8/A7/A6 and so on. Other Android brands, like LG, HTC, Huawei, Xiaomi and more, are also supported.
Free Download Samsung Data Recovery Software - MobiKin Doctor for Android:
# 1. MobiKin Doctor for Android Recovers Samsung Data from Internal Memory in 3 Steps
Private info is always stored in phone memory, like contacts, SMS, call logs, etc. If you want to restore these kinds of data from your Samsung Galaxy, you need to root your Samsung phone at first.
Step 1. Connect Samsung Galaxy to PC via a USB cable.
Please plug your Samsung Galaxy to the computer via a USB cable, then enable USB debugging if prompted. After that, you need to run the program on your computer. Follow the on-screen prompts to make Samsung phone be recognized by the program, you can see the interface as below. Please click Next to activate data scan on your Samsung phone.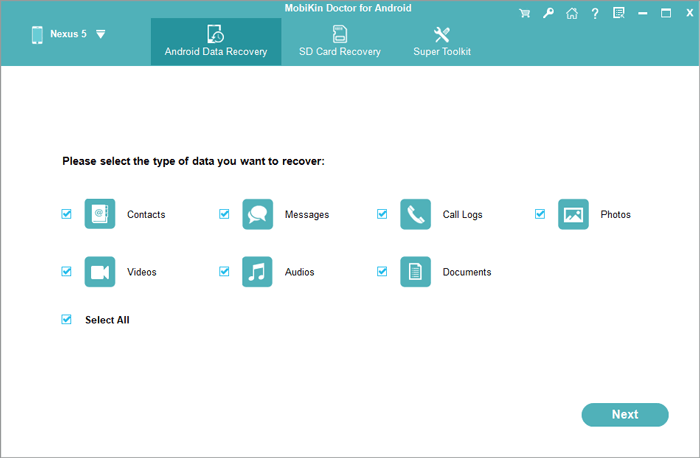 Step 2. Select the data.
The program will sort all the files into different folders on the left panel. You can now open the folder that contains your wanted files, preview the detailed info on the right and tick the boxes on if you want to recover them.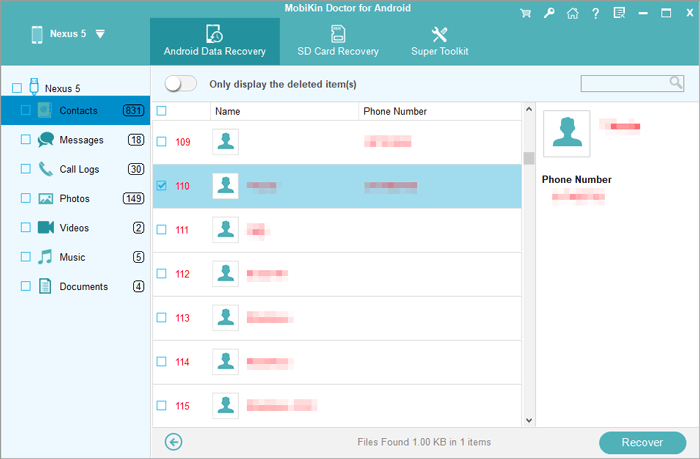 Step 3. Start to retrieve lost files to PC.
After selecting files, you can now click Recover on the screen and choose a local folder to store the recovered files on your computer.
Still have problems to use this Samsung Galaxy recovery tool? Please have a look at the video tutorial.
You may need:
# 2. MobiKin Doctor for Android Recovers Samsung Files from SD Card
Media files can be saved and moved to SD card. If you like to retrieve data from SD card, root is not required. Please follow the 1-2-3 steps to recover deleted media files from SD card.
Step 1. Connect Samsung SD card to PC.
Please launch the program, choose Android SD Card Recovery mode from the top menu bar. Then insert your SD card to computer via an SD card reader.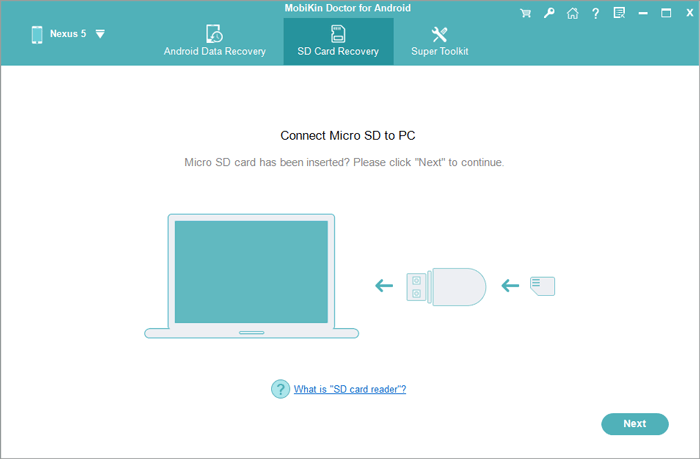 Step 2. Scan SD card.
Once your SD card is read by the program, you can see this interface. You need to select an SD card and tap on Next to scan it.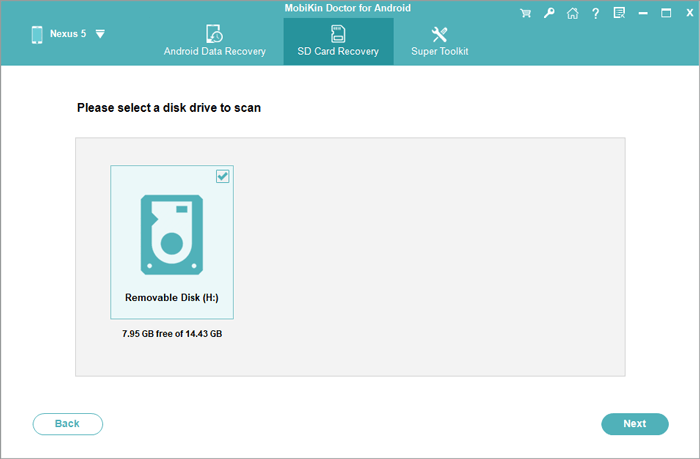 Step 3. Select and recover files.
The readable data will be display into different types on the left. Please open the folder that contains your wanted lost files, preview the detailed info on the right and tick the boxes on. Then, just simply click Recover to retrieve files to the computer.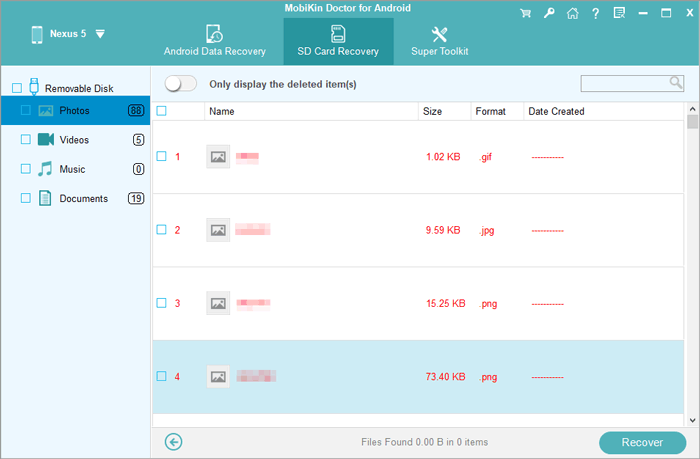 Part 3. Broken Samsung Galaxy Recovery - Recover Samsung Deleted Data from Broken/Damaged Screen
If you have broken/damaged your Samsung Galaxy, you can not use MobiKin Doctor for Android. So we recommend another powerful Samsung Galaxy Recovery - Broken Samsung Phone Data Extraction.
Broken Samsung Phone Data Extraction is a fantastic software that allows you to recover deleted data from broken/damaged Samsung devices.
Quick Look
The Key Features of Broken Samsung Phone Data Extraction:
- Recover files from broken/damaged/dead/locked Samsung screen.
- Support contacts, call logs, SMS, media files, WhatsApp and its attachments.
- Only support Samsung Galaxy S6/S5/S4, Galaxy Note 5/4/3, and Galaxy Tab Pro 10.1.
Free Download Broken Samsung Galaxy Recovery:

When it comes to using the software, it involves simple steps that everyone can understand and follow successfully regardless of their level of expertise in technology.
Part 4. Samsung Galaxy Recovery - Recover Samsung Deleted Files from Cloud Backups
This method is undoubtedly one of the simplest restoration methods usually taking a few seconds. To use this method, you need to make sure you backup up your Samsung frequently. This will allow you to restore the most recent files thereby preventing loss of your latest additions.
Google and Samsung Cloud are some of the most popular backup platforms used by Samsung users. They provide users with 15 GB of free storage for backups. The best feature of Google storage is that you can easily access your account with a wide variety of devices anywhere and anytime. But Samsung Cloud, sounds like to be developed for Samsung devices, may not be as widespread as Google account among Android devices.
When you recover deleted files on Samsung Galaxy with backups, you just need to make sure that nothing interrupts the process. You will also need a good Wi-Fi connection to ensure that the restoration happens fast.
Here's how.
Recover Deleted Data on Samsung Galaxy from Samsung Cloud:
Please go to Settings > Backup and restore > Restore data > select your wanted content > RESTORE. You can either follow the on-screen prompts to download the backups from Samsung cloud.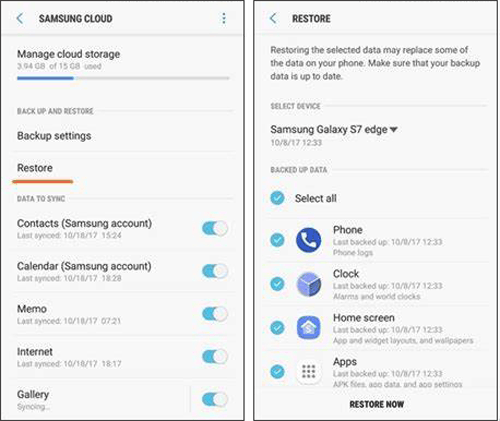 Recover Deleted Files on Samsung Galaxy from Google:
Please go to Settings > Cloud and accounts > Backup and restore > turn on Automatic restore (make sure that you have turned on Back up my data and backed up your Samsung Galaxy).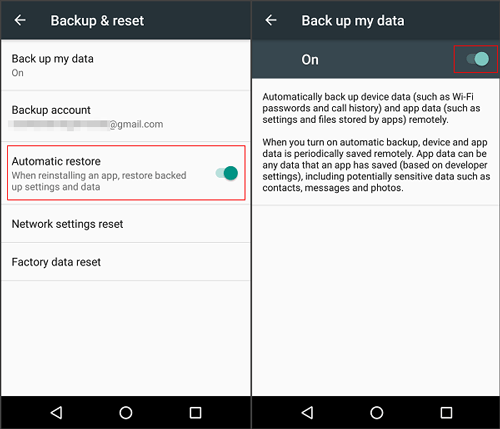 What's more, if you have downloaded Google Drive on your Samsung phone, you can recover deleted files from Google Drive Trash within 30 days (learn more about restoring Android from google backup).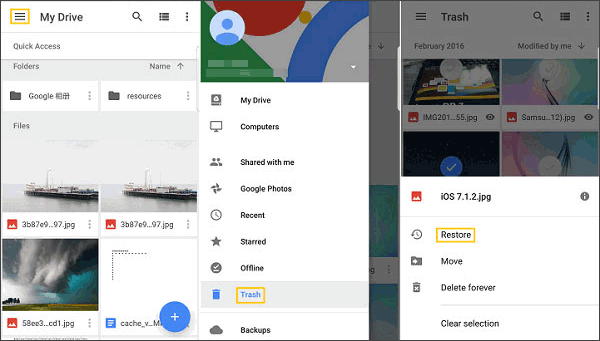 Part 5. Retrieve Samsung Files with Samsung Data Apps
One of the reasons why Samsung Galaxy is loved by a majority of people is the fact that it comes with many apps that can perform different tasks efficiently. There are many Android recovery apps can be served as Samsung Galaxy recovery in the market but some of the most popular ones include.
Dropbox
Dropbox is a widely used app that is designed for business work. It supports Word/Excel/PPT/PDF and other files that are used in work. Like Google Drive, this program provides 2 GB free cloud service for the individual to sync your Samsung phone. And it also offers larger fee-based storage spaces for teamwork. If you have backup your documents before the data loss, you can try to recover them from Dropbox.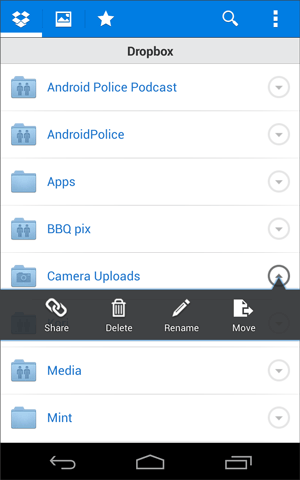 Dumpster
Dumpster is designed to recover Android files without root, including apps, videos, music, and photos. Once you downloaded this program, it backups your deleted data automatically. It serves as a recycle bin, you can retrieve deleted Samsung files at once. But you can not recover the data that has been deleted before installing this app on your Galaxy.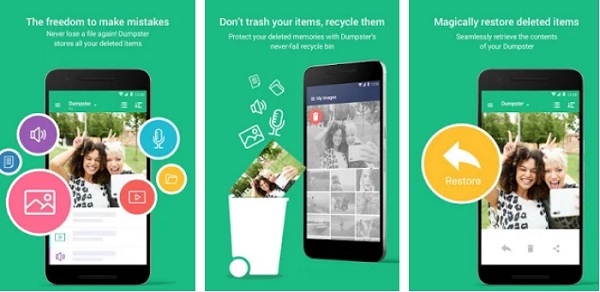 Call History Manager
Call History Manager is a call logs recovery that stores your past 1000 days call logs. You can easily find and restore the deleted call history on Samsung from the category, including the incoming, outgoing and missed numbers.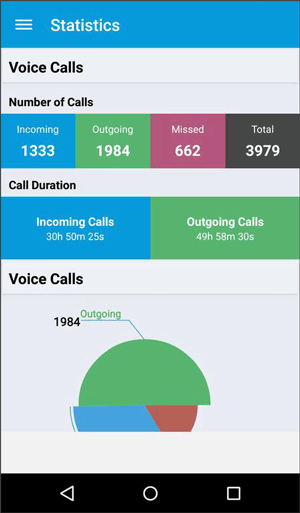 SMS Backup & Restore
SMS Backup & Restore focuses on backup & restore Android text messages/MMS and call logs, so it can serve as Samsung Galaxy recovery. It saves backups on phone memory by default, but you can change the settings to backup files to Google could or Dropbox, so that you can access the backed up files on other devices if you lose your Samsung Galaxy.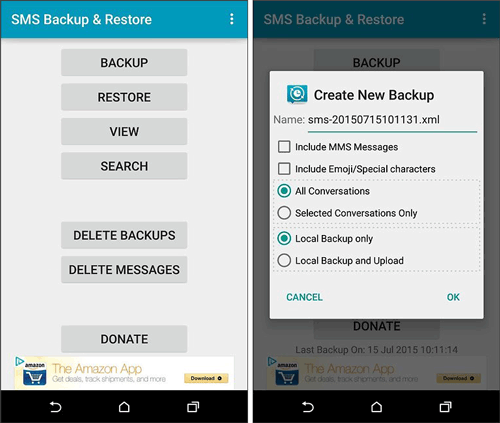 Deleted Contacts Recovery
As its name says, Deleted Contacts Recovery is a special app working for recovering deleted contacts. You can use it to recover deleted contacts on Samsung after contacts losing by accidental deletion and a factory reset.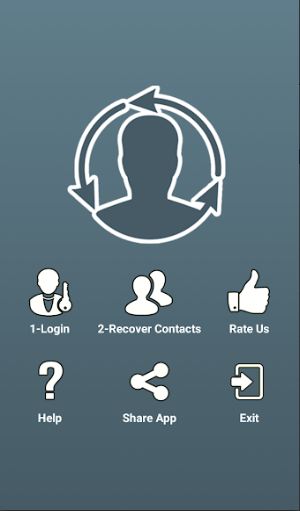 Conclusion
With these Samsung Galaxy recovery tools, you have totally a large chance to recover deleted data on Samsung Galaxy. No one is able to confirm a 100% success when recovering deleted files. So you should not rely on Samsung Galaxy recovery tools to protect your Samsung data. Instead, you should backup your Samsung Galaxy frequently at daily time.
MobiKin Assistant for Android is developed for you, a one-stop Android manager and assistant, which allows you to manage everything of your Android on computer and backup your whole phone to computer with just 1 click.
Did you have any experience of losing data? Please leave your comments and tell us how did you resolve the problem.
Related Articles:
How to Recover Deleted Contacts from iPhone X/8/7/6S/6?
Samsung Galaxy Desktop Manager - Powerful Tool to Help You Manage Samsung Phone Easily
Recover Deleted Photos from Samsung Galaxy
Recover Files from Android SD Card for Windows/Mac
Step-by-step Tutorial- Transfer WhatsApp from iPhone to Samsung S9