[Up to Date] How to Wipe Android Phone Completely before Selling?
With the advancement of technology, more and more new mobile phones have begun to be put on the market. Many mobile phone enthusiasts want to try to discard old phones in exchange for new devices and enjoy the satisfaction and freshness brought by the new phones. However, before changing your phone, the most important thing to remember is to wipe Android phone before selling. Many people now reset their phones to factory settings before they sell their old phones so as to erase personal data on them. If you think it's safe enough, you're wrong.
In fact, it is not possible to permanently erase an Android device by simply resetting the device to factory settings. Why is that? So what can we do to permanently erase the Android phone before selling it? This article will give you the perfect answer.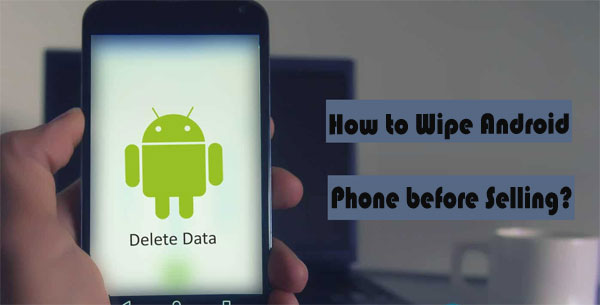 Part 1. What You Should Do before Erasing Your Android Phone?
Before you choose to erase your old Android phone in order to sell it off, you'd better back up the useful data and settings on your Android phone to your Google account or computer:
Back up Android data to Google account: Just head over to Settings > Account > Google > choose Google account > select the file types you want to back up. After that, all your selected files will be backed up to Google account from your Android phone. With this way, you can sync data such as contacts, calendar, Gmail data, documents to Google account. Here is a detailed guide showing you how to back up Android to Google account.
Back up Android data to computer: Or, you can back up your Android data to computer by using a professional Android data backup & restore tool called MobiKin Assistant for Android. With it, you can back up Android data, including contacts, text messages, call logs, photos, videos, music, apps and more to PC or Mac with one click. Later you can restore the backup record back to your Android phone selectively.
Steps to back up Android data by using Assistant for Android:
Launch Assistant for Android, and choose "Super Toolkit" from the top menu.
Choose "Backup" option from the new window.
Select the file types you want to backup and choose a local folder to store the files.
Click the "Back Up" button to start the Android backup process.
Next time, you can choose "Super Toolkit" > "Restore" to restore the backup files to your phone.
Here is also a detailed guide showing you how to back up Android to computer.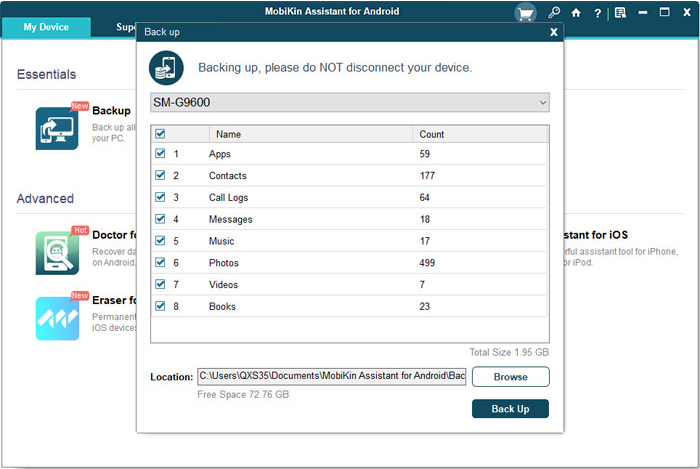 Related Posts:
Part 2. How to Wipe Android Phone before Selling by Factory Reset
Factory resetting an Android smartphone is undoubtedly the fastest way to delete all phone data, because each Android smartphone is equipped with an option to restore factory settings. Once the phone is reset, all pictures, messages, music, videos, apps and any other private data on the phone will be erased and the entire phone will return to the state it was in when it was first purchased. However, mobile phone data deleted in this way can be easily restored by professional Android recovery software such as MobiKin Doctor for Android.
Step 1. Unlock your Android phone and click Settings.
Step 2. Scroll down, find and click "Backup and reset".
Step 3. Click "Factory data reset" and then "Reset phone".
Step 4. Now wait a few minutes until the device completes the factory reset operation. You will end up with an empty phone.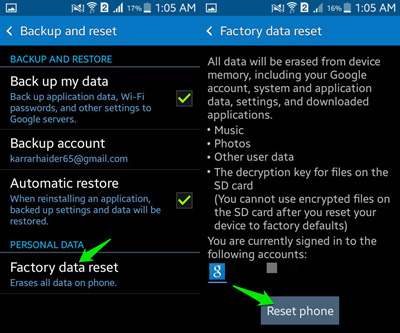 Attention: As I said above, the phone data deleted by resetting the phone can be recovered by professional Android data recovery software. According to the latest report from the security company, Android factory reset is not enough to completely wipe out any Android device. Some people have even tested and bought multiple second-hand Android phones on eBay and successfully retrieved emails, texts and even photos from these old phones through the extraction method. This is enough proof that a factory reset is not enough to erase Android phones and tablets. So, is there any way to completely erase an Android phone? Yes! Just read on.
Part 3. How to Erase Android Phone before Selling without Restoring
Please note that the method we will introduce below is that all data of the Android phone will be permanently erased and it cannot be recovered by any method. Therefore, make sure that you have backed up your phone content. What I want to recommend to you is MobiKin Eraser for Android, which can perfectly and thoroughly wipe Android phone before selling and protect your privacy through a simple click process.
Permanently Erase Everything on Android and Protect Your Privacy
Easy and click-through process.
Delete everything on your Android phone completely and permanently.
Erase photos, contacts, text messages, call logs and other private data from Android devices with simple clicks.
Supports almost all Android devices available in the market.

Following is the detailed guide that you can follow carefully to wipe Android phone completely with the help of Eraser for Android.
Step 1. Install Eraser for Android on your computer
Download and install the software on your computer. Run it and get your Android phone connected to the computer via the USB cord. You need to enable USB debugging on your Android phone if it prompts.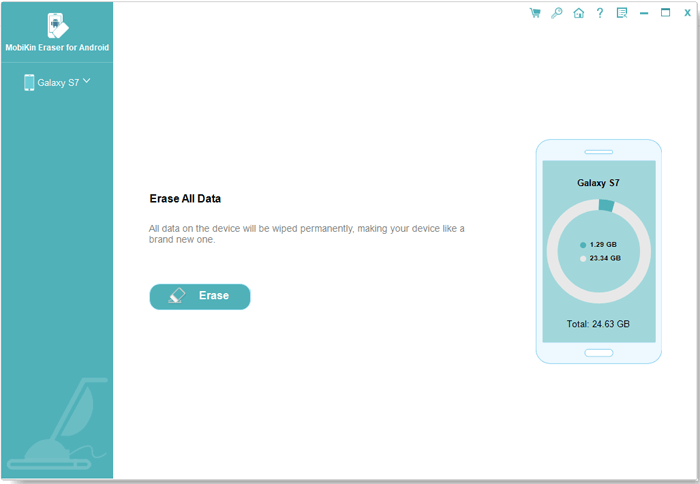 Step 2. Choose and confirm the security level
Once your connected Android phone is detected by the software successfully, you can click the "Erase" button to bring out a new window, from which you can choose a security level you need and type "delete" below to confirm.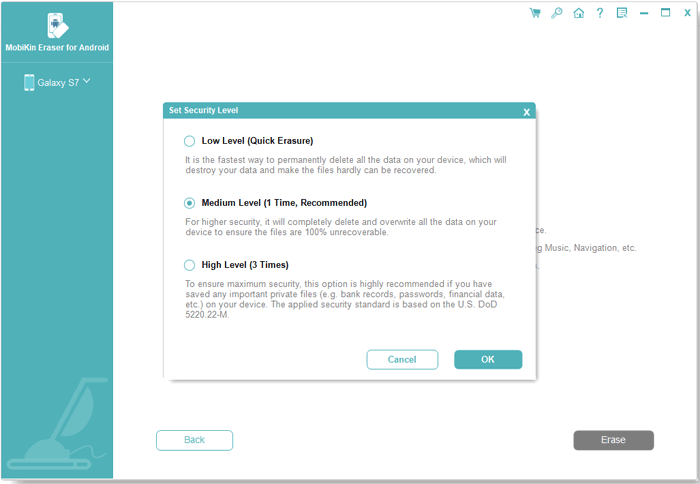 Step 3. How to erase Android phone before selling
After above settings, you can hit the "Erase" option to erase Android data before selling it. Finally, just wait patiently for the process to get completed within a little while.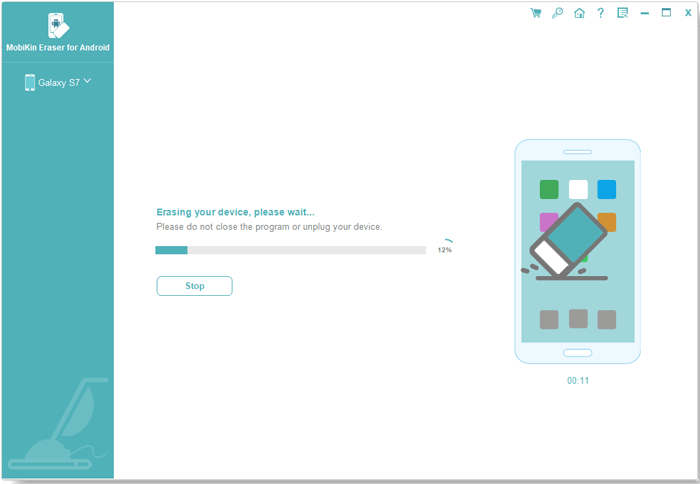 Step 4. Factory reset your Android phone.
In order to clear the system data and settings, you are strongly recommended to factory reset your Android phone. Just follow the prompts to do that. Once done, click "Continue" and then all the data has been deleted from your Android phone permanently.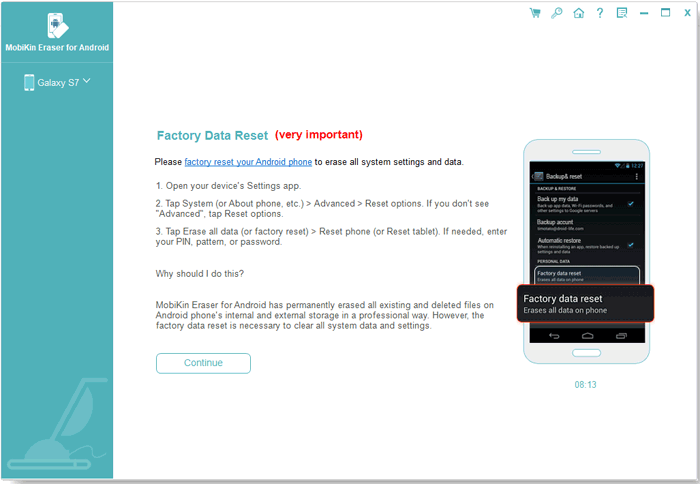 Related Posts:
Part 4. Traditional way to Encrypt and Wipe data from Your Android Phone
In addition to using professional tools to securely erase Android data, there is a primitive way to help protect all your personal data before performing a factory reset on your Android phone. Please follow the steps described below:
Step 1: Encrypt your Android phone
It is recommended that you encrypt your device before preparing to wipe it. That means encrypting the data on your phone. The purpose of this is equivalent to perform a double protection on your phone. After that, even if the factory reset cannot completely delete the data, if others want to steal your mobile phone data, they must first decrypt it with a special decryption method.
How to encrypt your Android device? Do this: go to the "Settings" app, click "Security", and select "Encrypt phone". Of course, the location of this option may vary depending on the phone model.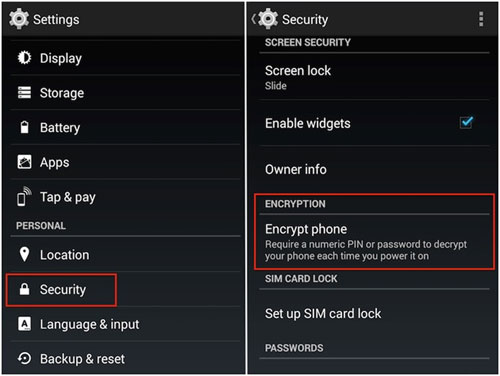 Step 2: Reset your phone to factory settings
You can then restore your phone to factory settings (For detailed operation steps, please refer to part 2 in this post). I emphasize again, because restoring the factory settings will erase all data on the phone, so please be sure to back up all the phone data that you do not want to lose.
Step 3: Load dummy data
In fact, it is enough if you have completed the first two steps, but in order to further improve the safety factor, you can also take extra steps to load some fake photos and contacts on the device. You may ask: is it necessary to do this? The answer is in the next step.
Step 4: Factory reset the phone again
After you have loaded your phone with dummy content, you can now reset your phone to factory settings again to erase these dummy contents. If you do this, the original erased data will be buried under the dummy content, which will also make it difficult for others to restore the data that was erased after the first factory setting.
The Bottom Line
In this article, we talked about how to prepare Android phone for trade in. We also demonstrate how to wipe your phone permanently before selling. We do not recommend using a simple delete button to delete your phone data, nor use the factory reset to erase your phone content, because they are not safe to do so, and others can easily recover this data. The safest method is to use professional software such as Eraser for Android, which can permanently erase phone data. So far, this product has not been negatively evaluated. The software interface is also very simple and very friendly to novices. So guys, I hope you can find your satisfactory solution in this article to wipe your Android phone before selling.

Related Articles:
Permanently Erase SIM Card from Android Phone
4 Ways to Permanently Delete Games/Apps on iPhone/iPad
How to Delete Google History on iPad Pro, Air, mini, 4
How to Delete Viber Messages on iPhone 14/13/12/11
How to Delete SIM Card Contacts on Android Permanently?