Full Guide about How to Clear App Caches and Data on Android
The application caches and data would not only take up the usable storage space on Android but also cause some phone issues. Hence, many users are suggested to clear App caches and data on Android to keep their phones run smoothly. So today, to help you better understand the application cache clean and manage your Android phone, this article is written to tell you:
What is App Cache and Data?
Cached data is the temporary data that an application stores in phone memory. With it, the application can load things faster. For instance, when you load WhatsApp, it will save the images, messages or videos that you have read in the cache. And next time it does not need to download the data again when it needs them so the App can load faster. Except for that, the cached data would not affect any other thing on the App and mobile phone. That's is to say, it won't remove your other App data like settings, saved photos, conversations, etc. when you delete the Android App data and caches.
You may be interested in:
How to Easily Delete Backup on Android?
When Should You Delete the App Caches and Data on Android?
Normally, the application caches and data on Android would not affect the running of the application or mobile phone but you still need to clear them regularly especially when:
* The available storage space on your Android phone is insufficient. If your phone prompts you that you fail to download or use an application due to the storage shortage, that means it is time to delete the cached data to clean up the device.
* Meet some phone issues. The cached data would result in some phone or system issues like Google Play error sometimes. And in this case, removing App caches and data could be a way to fix the issue.
* Your Android phone runs slowly. Deleting caches data can also help to speed up your mobile phone.
How to Clear Android App Caches and Data?
So now, I think what you most care about must be how to clear application caches and data on Android, right? It is easy actually. Just go with the step-by-step tutorial below to delete the useless application caches and data in different cases.
1. Clear cache and data of an application
If the problem is caused by a certain application on your mobile phone, you can select to remove the cached data of this App only. The whole process is easy to follow and you can complete in simple steps:
Step 1. Tap on the icon of Settings on your phone and select Apps or Application Management in the section.
Step 2. After that, a list of applications will be displayed on the screen. Here you need to look for the problematic App from the list and tap on it to enter the App Info page.
Step 3. On this page, you can simply click the option Clear Cache and Clear Data to remove the useless data from the selected application.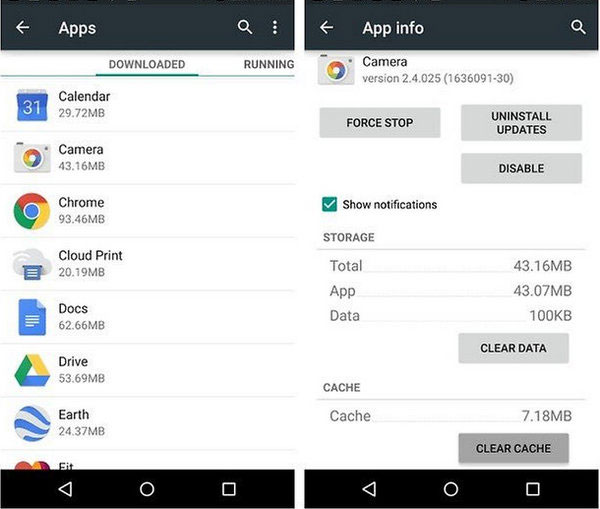 On the App Info page, you can also click the option Uninstall to remove the application, Force Stop to turn off the App or Move to SD card to transfer the App data according to your need.
2. Delete cached data of all applications
Sometimes the problem would be caused by several applications on the phone. Then do you need to clear their cached data one by one? Certainly not! You can choose to delete them once. The detailed steps are as below:
Step 1. Enter the Settings App on your phone and then go to Storage.
Step 2. In this section, you can tap on Cached Data and then a pop-up window will appear to ask you whether want to "Clear cached data". Here you just need to click OK to confirm your option.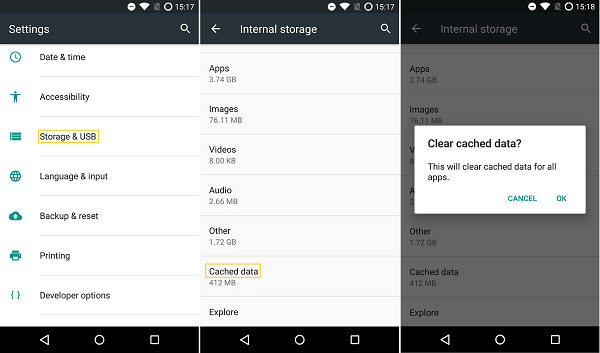 After that, the device will begin to delete the cached data of all Apps on your Android phone.
3. Wipe cache partition
Apart from App caches, there is also system caches which would lead to some system problems like black screen, errors after system upgrade, etc. on your phone. While encountering this situation, you are unable to settle the issue by simply clearing the App caches. Instead, you need to wipe the cache partition in Recovery Mode to solve the problem.
Step 1. Power off your Android phone and hold down the Volume Up, Home and Power buttons at the same time.
Step 2. When the phone reboots with the Android System Recovery screen, you can release all the keys.
Step 3. Next, you can use the Volume button to select the option wipe cache partition and press the Power button to confirm your option.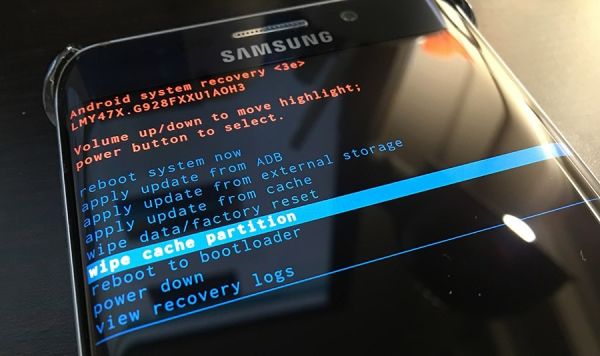 Step 4. Once the wiping process finishes, you can choose the reboot system now option to reboot your phone.
Extra tip: If you want to clean your Android phone completely and permanently, you can use a powerful software- Android Data Eraser to remove all your Android files with one click. When you want to switch to a new phone or delete some privacy information on the device, you can download the free trial on your computer to have a try.
Related Articles:
How to Optimize Storage on iPhone/iPad/iPod?