6 Popular Ways to Delete/Uninstall/Remove Apps on Android Phones
So, your Android phone's storage is at an alarming tipping point. An app in the device often costing hundreds of megabytes is a big eater of its memory. OK, if you want to "lighten" your phone for a better experience, deleting some apps you don't use or like is also a way of self-reward. Then here comes the question - how to delete apps on Android phones or tablets? Well, this tutorial is all about the viable methods to uninstall Android apps. Check it out, and you will get a lot out of it.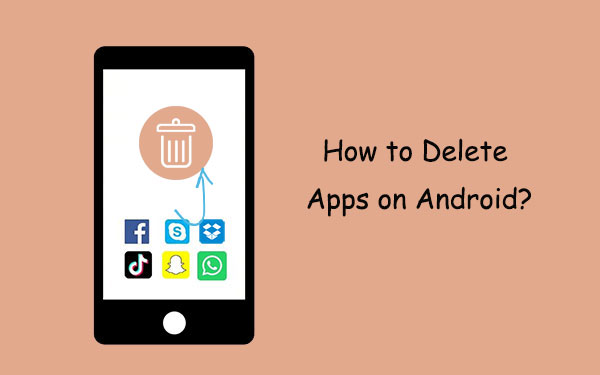 Part 1: How to Delete Apps on Android from Computer
Well, how do I uninstall an app from a larger screen with simple taps? Can I remove all that I don't want on my phone? Give MobiKin Assistant for Android (Win and Mac) a shot, and you'll find the thrill of controlling your Android phone remotely. As its name suggests, this top-notch utility is designed to manage Android devices, and it is ahead of traditional tools like "File Manager" or "App Manager" in every way.
Some Highlights of Assistant for Android:
Delete/uninstall apps on Android from a computer selectively.
Get APK files and install apps on Android from a PC/Mac.
Delete Android contacts, SMS, and other data types as you wish.
Transfer content between Android and your computer.
Back up and restore Android data.
Manage Android files from a larger machine independently.
Apply to such files as apps, contacts, call logs, text messages, videos, photos, music, books, etc.
USB & Wi-Fi connection, clean interface, free trial, and risk-free.
Work for almost all Android phones or tablets, including Samsung, Motorola, LG, Sony, Google, OPPO, Huawei, Xiaomi, HTC, etc.
It won't let out your privacy.
How do I delete/remove apps on my phone with Assistant for Android?
Step 1. Run the program and link Android to a computer
Have the software installed after the free download. Run it and connect your Android phone or tablet to the computer with a USB cable. Next, follow the on-screen prompt to let the tool recognize your phone.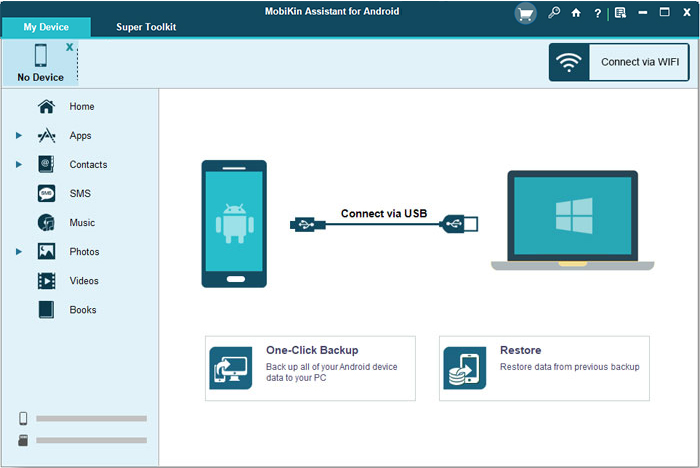 Step 2. Get into the app managing screen
Once the recognition is successful, the program will categorize all your Android data types on its screen. Here, click "Apps" from the left panel and choose "User Apps" to reveal all Android applications.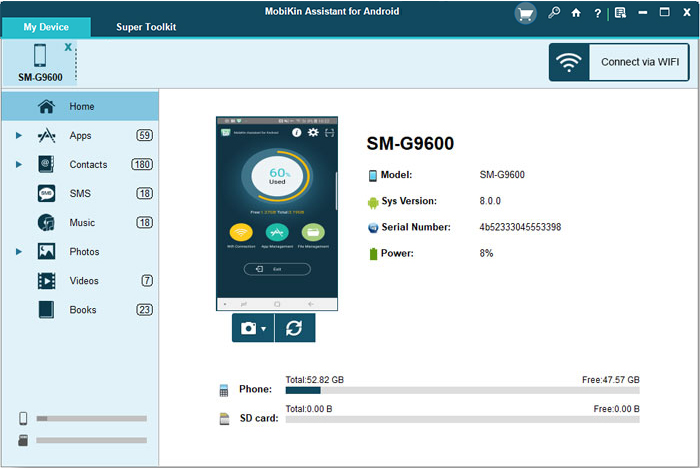 Step 3. Delete/uninstall apps on Android
Preview and choose any numbers of apps you want to remove from your phone. Finally, tap on "Uninstall" on the top menu bar to uninstall them instantly.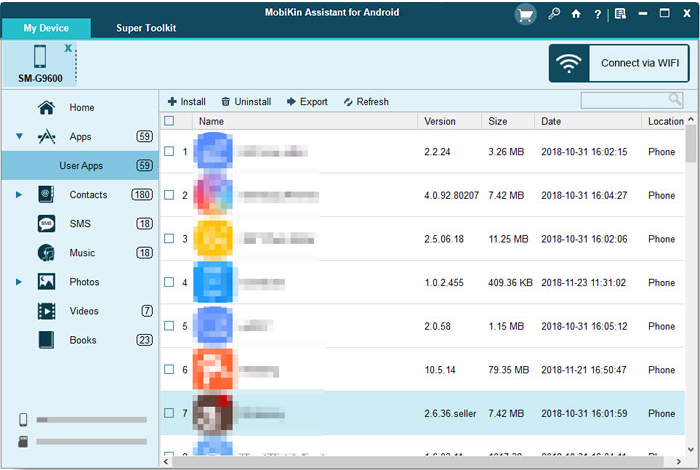 You May Also Want to Know:
Part 2: How to Uninstall Apps on Android from Settings
It's an easy way to remove apps from phone settings. And the best part of this method is you can check which apps take up a lot of space concurrently. How do you/I take apps off my phone from settings?
Open your Android "Settings".
Click "Apps" > choose "See all apps".
Locate the app you wish to delete and select it.
Tap on "Uninstall".

Touch "OK" to speed up Samsung/Android.
Part 3: How to Delete Apps on Android Phone from Home Screen/App Drawer
Android devices with newer versions of operating systems may allow you to remove all apps from the app drawer or Home screen directly. How do I remove apps from my phone/tablet on the Home screen or app drawer?
Press and hold on to an app in the Home screen or the app drawer.
Drag it to the "Uninstall" section that turns up on the screen.

Press "OK" to delete this app.
How to move apps to the app drawer on Android? Quick Look: Press and hold the app you intend to remove > drag the app to the top left corner of the page, where it says "Remove" > Take your finger off the app when it goes gray.
See More:
Part 4: How to Remove Apps from Android Using Google Play Store
Google Play Store lets you erase all apps or a single one with ease. After removing an app, you can add it back to your Android phone. If you bought it, you could reinstall it without purchasing it again.
How do I get rid of an app with Google Play Store?
Run the Google Play Store app on Android.
Hit your profile icon at the top right corner of the page.
Tap "Manage apps and device".

Tap "Manage" and click the checkbox nearby each app you wish to delete.
Hit the trash can icon at the top right.
Tap "Uninstall" to remove all updates you have installed to the app.
Part 5: How to Get Rid of Apps on Android via ADB
Do you want to delete system apps on Android phones technically? ADB can do you a big favor. During the task, make sure that the apps you're to delete are not closely related to the operation of the system.
How to delete apps on Android that came with phones via ADB?
Download the Android SDK and extract the "SDK Tools only" package.
Get and run the installer for your system.
Link your Android phone to your computer through USB.
Go to the folder where you installed ADB. By default, it is C:\Users\username\AppData\Local\Android\android-sdk\platform-tools.

Hold the "Shift" key on Windows PC and right-click in that folder.
Click the "Open command" window to launch the "Command Prompt" at the current location.
Type adb shell and press "Enter" to start a dedicated command prompt for your phone.
Type cd system/app and press "Enter" to open the apps folder.
Type ls and press "Enter" to display a list of all of the apps installed on your device.
Locate the app you want to uninstall.
Type rm AppName.apk and press "Enter" to uninstall the app.
Type reboot and press "Enter" after finishing removing apps and reboot your phone.
Part 6: How to Disable Preinstalled Apps/Bloatware on Android
If some preinstalled apps are still in the app list after the ADB method is carried out, try to disable them without making a threat to the overall performance of the phone. Learn how to disable preinstalled apps on Android:
Navigate to the "Settings" app of the phone.
Tap the "Apps"/"App Manager".
Locate the app you want to disable.
Tap the "Uninstall Updates".
Then, go to the "App permissions" and disable all the permissions.
Go back to the "App info" screen and select "Disable" or "FORCE STOP".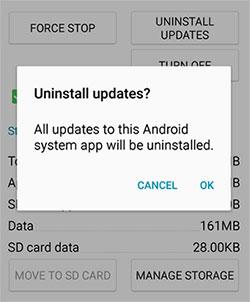 Extra: Why Can't I Delete Apps on My Android Phone?
An admin blocked the deletion.
Android bugs run into the system.
Some system or preinstalled apps cannot be removed, even if you make it with ADB.
Your phone doesn't function well and delays tasks too long.
Round Off
OK, we just came up with several solutions to remove Android applications. Now, how do you delete apps on your Android phone? In all conscience, MobiKin Assistant for Android is the most recommended because it helps you preview various apps on your computer and delete them all at once with just one simple click.
Again, among all the techniques, ADB can theoretically remove some of the apps that come with the system, but it may require background knowledge about programming. And please make this decision carefully, for some preinstalled apps may be involved in keeping the Android system energetic.
Related Articles:
Useful Tips to Delete Call History/Logs on Android in Different Cases
Top 10 Android Screen/SIM Unlock Apps You'd Better Know [Free & Paid]
6 Secure Ways to Delete Apps on iPhone Permanently [2023 Latest]
Top 9 Android Flashing Software for PC/Mac You Wish You'd Known Sooner
5 Easy Ways to Recover Data from Locked Android Phone with Broken Screens