Fixed! How to Recover Deleted Audio Files from Android Phone?
Please help me! I was just listening to music on my phone, and because there were some files in the music list that I didn't need, I wanted to delete them. As a result, some very important recording files were accidentally deleted. Can someone tell me how to recover deleted audio files from Android phone?
How to recover lost Android data is already a cliche. It's no surprise that accidental data loss on Android is much more common than you think. So, if you accidentally deleted important audio files from your Android device and don't know what to do to save it, this article may be helpful to you. You can use Android audio recovery software to minimize your loss. However, there are a few things you need to be aware of when you want to recover files on your Android devices.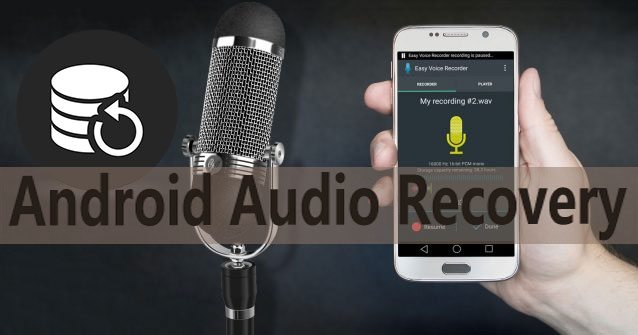 In this article, we will discuss how to recover deleted audio files from Android phone. For those who want to recover music files from other devices like iPhone, another guide can be of greater help: How to recover deleted audio files from iPhone.
Part 1. The Scenarios of Losing Audio Files from Android Phone
From improper operation to virus attack, there may be different reasons why audio files are lost from Android phones. In summary, most Android users encounter the following situations when they accidentally lose audio files:
You may have accidentally deleted audio files on your phone.
A factory reset of the device automatically deletes all existing data on it.
Intentional or unintentional formatting of the device will cause all data to be deleted.
An error occurred while updating the device, resulting in data loss.
Virus infections may interfere with the internal systems of memory chips and devices, resulting in data loss.
The device or SD card on the device is damaged.
Improper handling of audio files can also cause damage and loss.
Corrupted storage space, third-party applications, or documents can also cause this problem.
If you accidentally lost important Android audio files, I believe you must have encountered one of the above causes of Android Data Loss. Don't worry, you still have a chance to recover deleted audio files from Android phones and tablets, all you need to do is choose the right Android audio recovery tool.
Can't Miss:
Part 2. The Best Android Audio Recovery Software: Doctor for Android
[HOT!]
The best tool that you can use as Android audio recovery software is MobiKin Doctor for Android (with its Mac version). It is fully capable of recovering not only media files like audio files, music, photos and videos, but also contacts, SMS, call logs and more from all types of Android devices. You can easily get back your wanted Android audio files as long as they haven't been overwritten by new data. Therefore, the only precaution you need to take is to stop using your Android device right after the data loss happens.
Why Choose MobiKin Doctor for Android?
- Has helped over millions of Android users successfully recovered deleted or lost data, including all types of audio files.
- It allows you to preview and select your wanted audio files before recovering.
- Supports various file types, including music, photos, videos, call logs, contacts, SMS and many more.
- Supports 6000+ Android device models, various Android OS, including Samsung, HTC, LG, Sony, Motorola, Huawei, Xiaomi, etc.
- The operation is very simple and does not require professional computer knowledge.
- It guarantees 100% safe, clean and virus-free.
So, no matter what format your audio file is, you can easily retrieve it using Doctor for Android. The recovery process is very simple. Now, download this Android audio recovery software and follow the steps below to recover the lost audio files.
How to Recover Deleted Audio Files by Using Doctor for Android?
Step 1. Connect your Android phone
First of all, install and launch the Doctor for Android on your PC or Mac and then connect your Android device with the same computer through a USB cable. Once the connected Android phone is detected by the software, you can see the following screenshot of the program interface.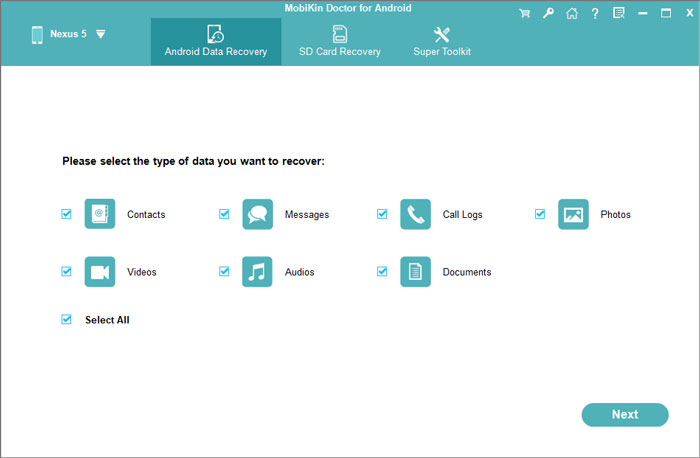 Here, please ensure you have enabled USB debugging on your Android device to make the program can get access to the device smoothly.
Step 2. Preview and select the audio files you want
Check the file types you want to recover on the main interface. According to the theme of this article, we should select the "Music" category and click the "Next" button. This software will start scanning your Android device, find all the lost audio files and display them for user preview and selection.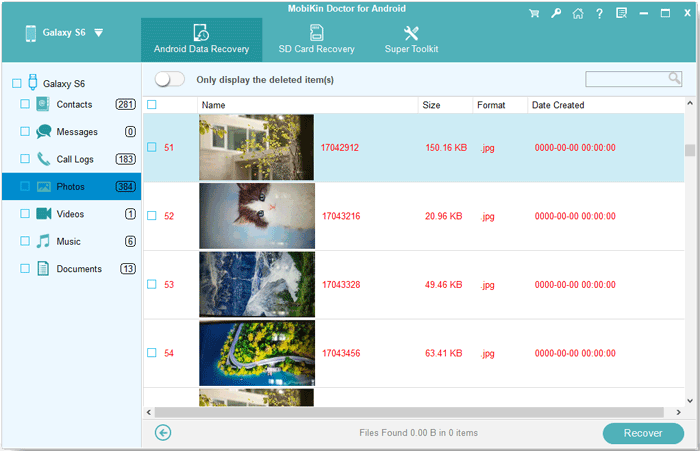 Step 3. Start to recover deleted Android audio files
After you have chosen all the audio files that you need, you can click "Recover" button to recover deleted audio files from Android phone. We kindly suggest you save the recovered audio files on your computer, instead of the phone, for safety consideration.
Video Guide:
Part 3. Recover Deleted Audio Files on Android from Google Drive Backup
As we all know, if you have ever backed up your Android phone to Google account, then you can easily restore backup files to your phone. Therefore, we repeatedly emphasize the importance of backup. Google Drive provides 15GB of storage space for users to save files for a long time. If you enable the Google Account sync option, your phone data will be automatically backed up to your Google Account. Of course, you can also manually back up your files to Google Drive. After that, no matter you format your device or damage your data, you can always restore data from the Google Drive.
Follow the steps on how to recover deleted audio files from backup Android files on Google Drive.
Open the Google Drive app on your phone and find the audio file you want to recover in the storage. You can also search for the name of the audio file in the search bar to quickly find the file you need.
Make sure your phone is connected to a stable WiFi network, as the network interruption will cause the recovery process to fail.
You can now click and hold the audio file to select it. You can restore multiple files at once.
Click the menu button on the right side of the screen, that is, the three vertical dot icon, and then select the "Make Available Offline" option or "Download" option from the list.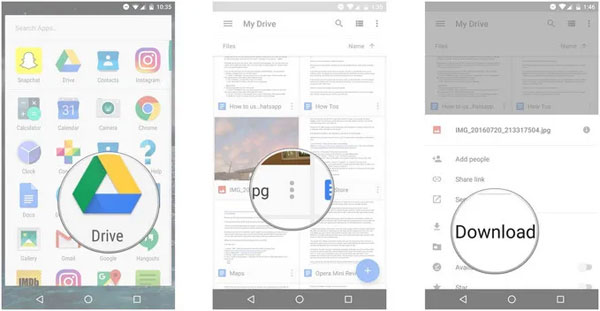 Can't Miss:
Part 4. Recover Deleted Audio Files from Android Phone without PC via Google Account
If your Android device was linked to your Google account before the audio file was lost, it will be very easy to recover the lost audio file. Because as long as you enable the SYNC option, you can easily restore your audio files from the backup file.
Follow these steps to recover Android audio files from Google account.
First, open the "Settings" app on your Android device.
After that, swipe down the phone screen to find and select "Backup and reset option", here, you will be required to turn on "Automatic restore".
After completing the above operations, your lost audio files will be successfully restored from the backup to the phone.
Conclusion:
People often don't know how to cherish when they lose. Know the importance of it before accidentally losing the audio file. We should make a good habit of backing up the phone on time, and use a safe and reliable method to recover it after losing the file. That's all I have for you about how to recover deleted audio files from Android phone, especially MobiKin Doctor for Android is a great Android recovery tool that I am using. Hopefully following the above method, you can successfully retrieve lost audio files from your Android phone.
In addition, if you have any suggestions or if you have other solutions, you can mention them in the comments section below. If you find this guide useful, then don't forget to share it.
Related Articles
Ultimate Solution to Recover Deleted Contacts from Android
How to Transfer, Copy Text Messages from Samsung Galaxy to PC/Mac
How to Recover Lost Contacts from Samsung Galaxy
How to Recover Data from Water Damaged Android Phone or Tablet?
How to Access Phone with Broken Screen with PC Easily & Safely?