How to Free Up Space on Android - 7 Efficient Methods
Is your phone preventing you from installing new apps or downloading files because it has reached its storage limit? I feel sympathy for this pain. After all, I believe many users have experienced the same troubles. After a period of use, a new Android phone or tablet can be flooded with images, apps, cache files, widgets, and more. Storage space is getting full, and so is your phone speed. Time to free up space on Android.
You might want to ask: how to see what's eating up space on my phone? You can navigate to "Settings" -> "Storage" to see the storage consumption of your Android device. Find out exactly what types of data are consuming your device storage. Now, in this article, we'll cover some ways to help you free up storage on your Android. Let's get started!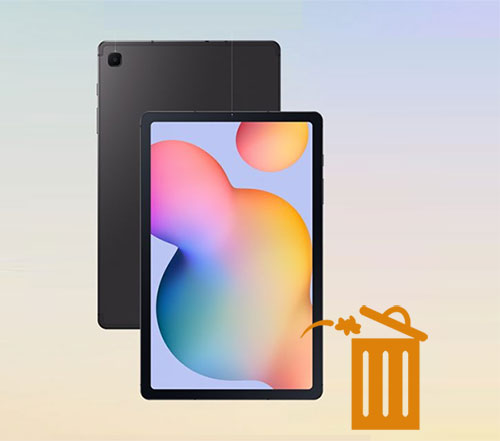 Method 1: Free up Space on Android by Clearing App Cache
Each application has its own "cache data". These cached data can be from a few kilobytes to hundreds of megabytes or more. If you want to clear internal storage on Android fast, clearing cache is a quick solution.
Go to "Settings" > "Apps" on your Android device.
View All Apps and select each app you want to delete cache.
Tap "Storage and cache" > "Clear cache".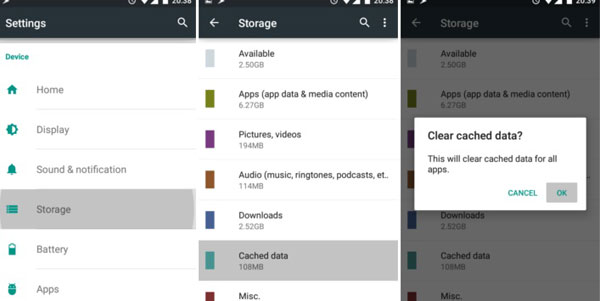 Method 2: Clear Storage on Android by Removing Unused Apps
Apps can take up quite a bit of storage space, and often apps you no longer use take up a lot of memory on your phone or tablet. Now, start getting rid of everything you don't use.
You can open "Settings" > "Apps" > View all apps > select the app you want to uninstall > "Uninstall".
If you want to uninstall Android apps in batches to save time, you can use Android management tools such as MobiKin Assistant for Android to clean up useless apps to complete Android storage clean.
Install and run Assistant for Android on your computer.
Connect your Android device to the computer.
Click "Apps" > "User Apps" from the left panel.
Select the apps you want to remove and click "Uninstall" to uninstall apps from Android.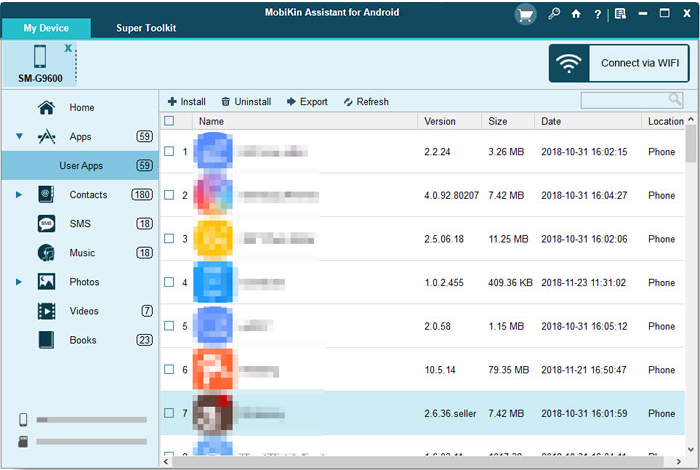 Method 3: Free up Storage on Android by Clearing the Download Folder
Many times, we download some files because we need them temporarily. We don't need them anymore after the fact, but forget to delete them. And these files keep piling up in the Downloads folder, consuming more and more internal storage space. You need to take the following steps to clean Android phone internal memory.
Go to "My Files" or "File Explorer" on your Android device.
Tap on the "Downloads" folder and you can see a list of all the files in that folder.
Select the files you want to clean and tap on the "Delete" option.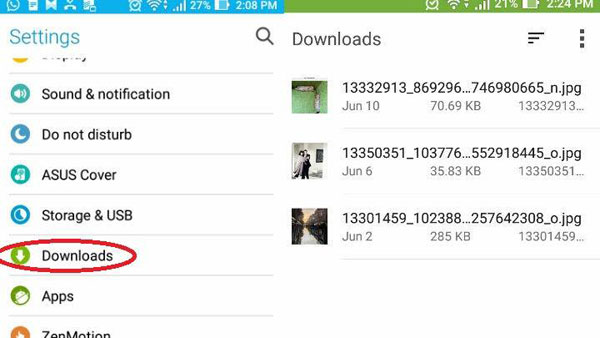 Method 4: Free up Space on Android by Transferring Data to SD Card
If your Android device has a microSD card slot, you can get more storage space by using an external SD card. You can transfer videos, pictures, music and other media files to SD card to free up internal storage space. It's a good option, but it has some drawbacks. For example, SD cards can be expensive, and not all applications can be moved to external storage.
Insert the micro-SD card into your Android phone.
Open the "My Files" app or the "File Explorer" app.
Click "Internal Storage" and select the files you want to move from the internal storage to the SD card.
Once selected, tap the Move option.
Go to the micro-SD card and click on the "Move here" option.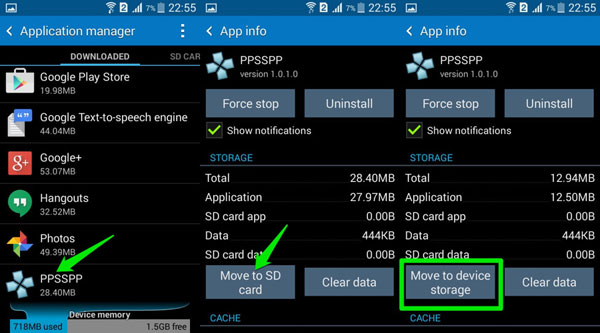 You May Need:
Method 5: Back up Data to Computer to Clear Storage on Android
If your Android device doesn't support a micro-SD card, you can also choose to transfer data from your Android device to another place, such as a computer, to free up more space. You can restore files from your computer to your Android device when you need it. Here, I recommend a one-click Android backup and restore tool - MobiKin Backup Manager for Android.
This third-party software lets you create backups of your entire device with one click so you can wipe them off your phone. It supports to backup Android contacts, messages, call logs, photos, videos, audio files, documents, apps and other file types.
How to back up Android data to computer?
Open the software on your computer and connect your Android phone.
Go to the "Backup" option.

Tick off the data types you'd like to back up.
Specify a location on your computer and click "Back Up" to copy Android data to this computer.
How to restore your Android device from computer?
Launch Android Backup and Restore tool and connect the Android phone to the computer.
Choose "Restore" from the main screen and select from the backup lists.
Select the file types to restore and click "Restore".
Read Also:
Method 6: Free up Storage on Android Using a Cloud Storage Service
You can also take advantage of cloud storage services to clean up your Android phone's internal memory. More and more people are using cloud storage because they are convenient, cheap and secure. Cloud services like Google Drive, OneDrive and Dropbox are good options. For Android users, Google Drive will be more popular. Because all Android devices can use Google Drive. All you need to do is create a Google account and enjoy 15GB of free space on Google Drive.
We've put together a list of the best cloud storage services for Android users to help you decide which one you should use.
Method 7: Free up Space on Android via Factory Reset
Performing a factory reset is one very aggressive approach you can take. We don't recommend doing this, as it wipes all information stored on your device, including apps, photos, videos, files, and other content, and restores your Android device to its original factory state. But sometimes, doing a factory reset is the most straightforward way to clear system storage on Android.
If you're not afraid of losing all your data, or you've backed up what you think is necessary, then you can perform the factory reset steps on your Android device.
Open the "Settings" app.
Click "System" > "Reset" options.
Click "Erase All Data".
Enter the password to confirm.
Tap "Erase All Data" again.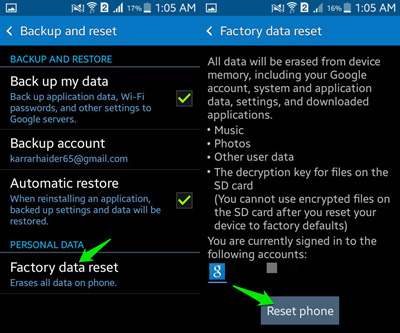 In the End
Above are the 7 useful ways we give you to free up Android space. You can try these methods, I believe there must be suitable for you. Of course, if we've missed any other space-saving tips, please share them with us below!
Related Articles:
One-Click to Delete Cookies on Samsung Phone/Tablet
Quick Way to Delete Games on Android Phone/Tablet
3 Ways to Delete Photos from Samsung Galaxy Permanently in 2023
How to Transfer Photos from Samsung Phone to Tablet? [5 Easy Ways]
Complete Guide to Fix Samsung Tablet Problems