Where is Recycle Bin on Android? How to Find Deleted Android Files?
- "Is there a deleted folder on Android?"
- "What happens to deleted files in Android?"
- "Where is deleted data stored on Android?"
There's a Recycle Bin on Windows PC and a Trash Can on Mac, as is known to all. So, some of you may come up with an idea for whether there's an Android recycle bin, especially when you deleted valuable info off from an Android phone/tablet. Next, how to find deleted items on Android phone would naturally catch your attention after accidental deletion.
Well, this page is mainly about the Android trash bin. And we will also show you a piece of Android data recovery software to help restore deleted or lost files without backup in a pinch.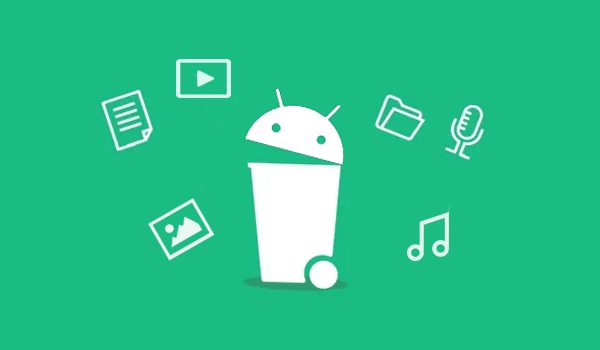 Section 1: Is There a Trash Bin on Android Phones
Unfortunately that there's no recycle bin on Android phones. In contrast, there is a Recycle Bin for Windows/Mac users, a temporary location for files deleted from the hard drive but not permanently wiped out from the system. This probably results from the limited storage of an Android device.
However, some phones like Samsung, OnePlus, Xiaomi, and Vivo carry with Android trash folders. You can access the recently deleted folder on Android to get deleted data back within 15/30 days. So, where is the trash on my phone? Let's talk about it detailedly in the next section.

You May Be Interested in:
Section 2: Where Do Deleted Files Go on My Android Phone
Since there's no recycle bin in Android devices, where to find deleted files in Android? Actually, the deleted files are still saved in their original spots in the Android phone internal memory. They are invisible to you but they aren't gone permanently unless new data overwrite their spots.
Important: Operations such as installing applications, sending messages, taking photos, or even turning on cellular data may put the phone files at risk of being deleted. Thus, you'd better stop using your cellphone after the deletion. Then get a great solution to retrieve the lost files.
Section 3: How to Restore Media from Trash on Android Phone
Android recently deleted folder, as described above, can be found on some Android phones. So, if you deleted precious media files within 15 or 30 days, just try to retrieve them from the trash folder. (P.S., iPhone users can recover lost photos/videos from iPhone recently deleted album.) After the restore, you can check them from the original folder.
Here, let's take Samsung, Xiaomi, OnePlus, and Vivo as an example to illustrate how to regain media files from trash on Android phones:
* Retrieve media from trash folder on Samsung
Wake up Samsung and locate "Gallery".
Open the Gallery and tap MORE > Settings > Gallery settings.
Choose "Recycle bin".

You can now find the recently detected photos and videos.
Tap the images or video clips.
Locate and touch the restore option.
* Restore media files from trash folder on Xiaomi/Redmi
Wake up your Xiaomi phone and locate Gallery.
Open the Gallery and tap the three vertical dots.
Select Trash Bin.
Sign in to your Mi account with your email and password.
You will now see the recently deleted pictures and videos.
Tap the media to open it.
Hit the restore icon to get them back.
* Recover media from trash folder on Vivo
On your Vivo phone, go to the gallery.
Scroll all the way down to find Recently deleted under Space Management.
Open the folder to access the deleted media files.
Tap the images or video.
Press the restore option.
* Rescue media files from trash folder on OnePlus
Go to your OnePlus phone's gallery.
Scroll down to find Recently deleted under other.
Open the folder, and you'll see all the deleted items.
Select the photos or videos you want.
Tap the restore option to fetch them.
Learn More:
Section 4: How to Restore Deleted Files without Android Recycle Bin?
Sometimes, the deleted media files in the recently deleted folder cannot be found and thus restored, according to the feedback from some Android users. Given this, how to restore deleted media and other Android data types without any backup? Not to worry, MobiKin Doctor for Android (Win and Mac) can do you a big favor. It offers you two scanning modes to scan and recover missing files without an Android recycle bin.
Why choose MobiKin Doctor for Android?
Recover deleted data from phone's internal memory & SD card without backup.
Support recovering file types like contacts, SMS, call logs, photos, videos, music, audio, documents, and more.
Let you preview specific files before the recovery.
Apply to various Android devices, including Samsung, Huawei, Sony, Motorola, Google, Xiaomi, HTC, LG, OPPO, Vivo, etc.
It carries with a free trial.
It won't let out your privacy.
How to find and recover deleted items on Android phone with Doctor for Android?
Step 1. Start the software on a computer
Install and run the program on your computer. Connect your Android phone to the computer through a USB cable. Then you may need to enable USB debugging on Android to let the utility recognize your phone.
Step 2. Scan for your Android files
Mark file categories from the program screen to choose your desired items to recover before clicking "Next". Subsequently, follow the on-screen guide to trigger the scan.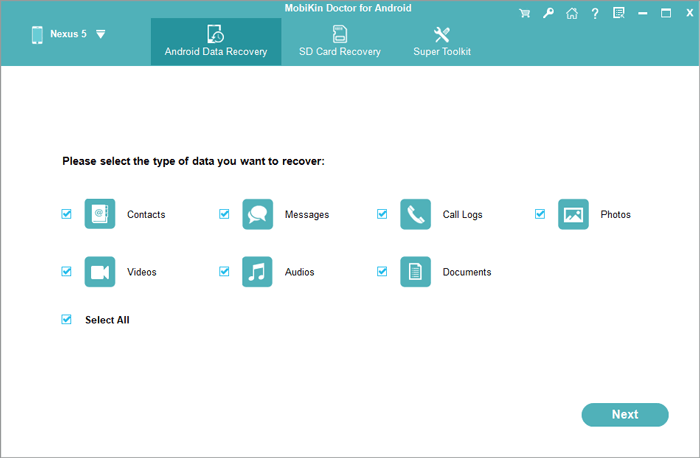 Note: If the files you want to restore cannot be detected, they must be in Android internal storage. You should root your phone (according to the instruction) to run a deep scan and then get them scanned out.
Step 3. Restore deleted data without Android recycle bin
Soon, all your phone content will arise on the screen. Now, preview and tick the files you want to retrieve and tap "Recover" to get them onto your computer.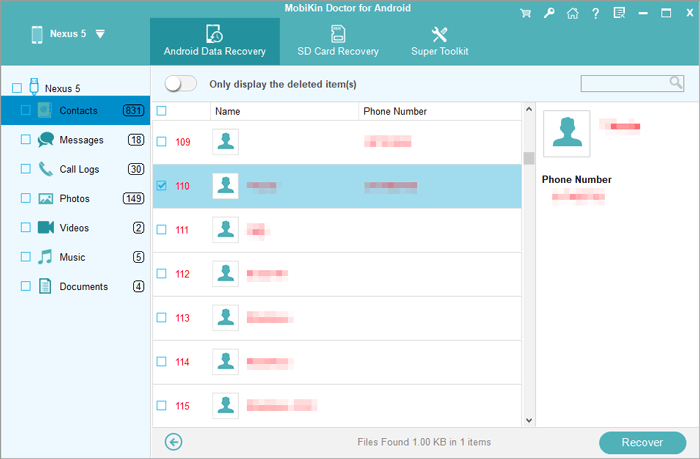 Section 5: How to Get an "Android Trash Bin"
We have sketched out the question "where deleted files go in mobile phone". Although there's no recycle bin on Android devices, we can turn to some practical applications below to get back lost files from their in-built trash folders.
1. Google Photos
As one of the noted apps, Google Photos serves as an Android trash bin. When you get it from its official website, you can recover temporarily deleted photos on your Android device as follows. (how to recover Android deleted photos from Google Photos?)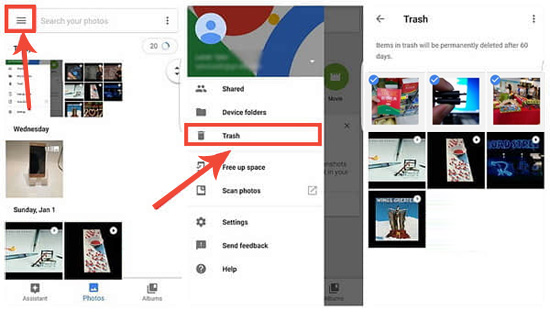 2. ES File Explorer
Being a dedicated file manager app for Android, ES File Explorer provides many features and acts as a recycle bin for Android. Whenever you delete any file through this app, it'll go to its recycle bin automatically. You can get the app from Google Play, activate it, and then use it to retrieve data from its Trash on Android.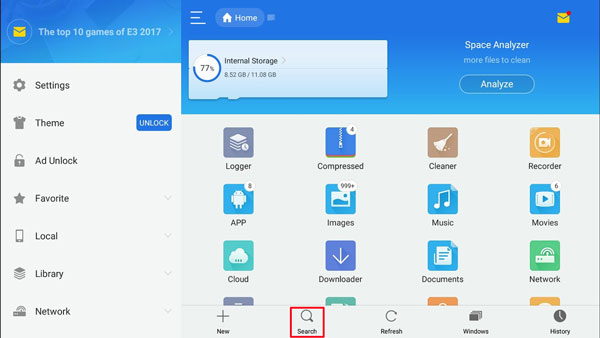 3. Dumpster
Similar to that on a PC, as you delete files like images, audio, videos, VCF cards, etc., on your Android device, the deleted files will be removed to Dumpster (can be downloaded from Google Play). To restore the deleted items on Android, just open the app, search for the lost items, and tap Restore to get them back to where they were.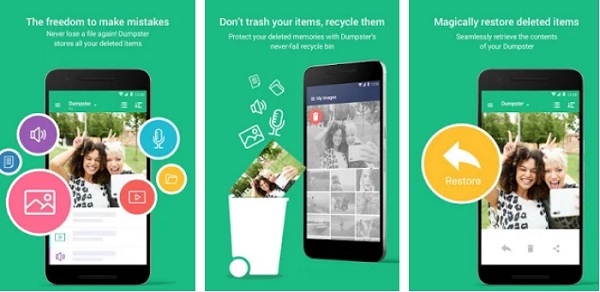 Last Words
It is still possible to find and restore lost Android files assuming they are not rewritten by new data, though there's no Android recycle bin on the phone. And you won't be confused after reading through this post when you can't find the media in the recently deleted folder, or you can't regain the lost contact, SMS, etc. That's because MobiKin Doctor for Android can let you get where you want to be sooner.
Related Articles:
Android Video Recovery: How to Recover Deleted Videos from Android Devices
Where Are Texts Stored on Android? SMS Location, Backup, Recovery, etc.
3 Ways to Recover Deleted Contacts from Android (#1 is Awesome)
Android Picture Recovery - Recover Deleted Photos on Android