Made It! Recover Contacts from Broken Screen Android Phone
Hint: For Android users, breaking the phone and causing the loss of contacts is a real headache, because if you can't find the lost contacts, you need to add them one by one, which will take you a lot of time and effort. Well, now you don't have to worry about this type of problem, because you will get the answer for how to recover contacts from broken screen Android phone here.
The openness of the Android system laid a solid foundation for the rapid development of the Android phones, and attracts more and more users accept and use Android devices. Also, Android has no boundary for the application and has the incomparable advantage and development space over other operating systems. This is the reason why we cannot live without our Android devices, we need Android phones to contact our friends and families. Then, what if you accidentally break your Android phone and how to get contacts from broken phone?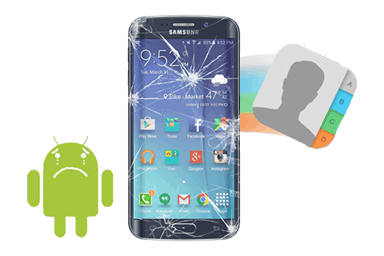 Part 1. Why Can I Get Contacts off A Broken Phone?
When your phone breaks, the screen breaks. Worse, you can't access the device. Therefore, there is a risk at this time: you don't know how the data stored in the phone is, are they intact? A broken Android phone can't do anything, so how to retrieve contacts from broken phone?
This problem seems to be difficult to solve, because contacts are not stored on the SD card like pictures, music and the like. The files on the SD card, you can directly remove the SD card, and then insert the card reader, you can easily extract the files on the card. Contacts are stored in the Android phone's memory, you need to use special recovery tools, download and install on your computer, and then connect to the broken Android phone, this recovery tool can help you recover contacts from broken screen Android phone.
Below, we introduce this powerful Broken Android Data Recovery to recover your contacts and other data.
Part 2. How to Recover Contacts from Broken Screen Android Phone?
(Best Way)
We know that there are a lot of Android recovery software on the market, which is dazzling. Here, we want to recommend Broken Android Data Recovery, which is highly recommended by many people. This software can help you get contacts from broken Android phone quickly and safely. The program is very simple and effective to use, and it has a very high success rate in restoring Android data.
Main Features of Broken Android Data Recovery:
- Support to recover data like contacts, SMS, call logs, photos, music, WhatsApp, videos, etc.
- Recover data from broken screen Android's internal memory without enabling USB debugging.
- Fix Android system issues and get your device back to normal status, such as virus attack, black screen, system crash, phone frozen, phone drown, password forgot, etc.
- It is easy to use and 100% secure.

How to Get Contacts from Broken Phone with Broken Android Data Recovery?
Step 1. First of all, download and install Broken Android Data Recovery on your Windows computer. Run it and connect your broken Android phone to the computer with a USB cable. Once connected, you can choose "Broken Android Data Extraction" from the left side, then click "Start" button to begin extracting contacts from your broken Android phone.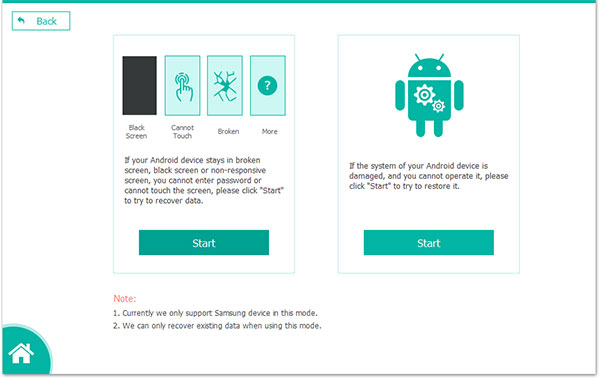 Step 2. As you can see on the next screen, you are required to choose your Device Name and Device Model. Currently, this function only supports Samsung phones and tablets. Don't forget to check the "I agree" box and click "Confirm" option.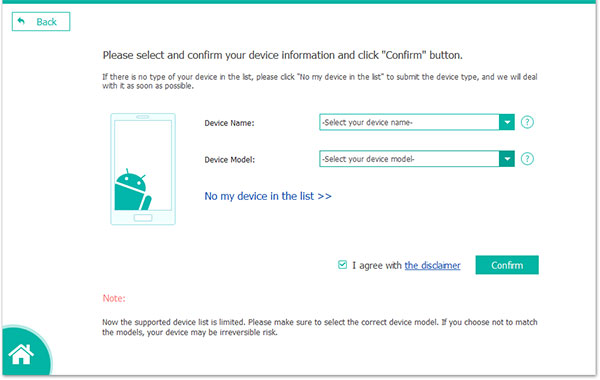 Step 3. The program will provide you with the procedure to help you put your broken phone into Download mode. After that, you can click "Start" button to begin scanning.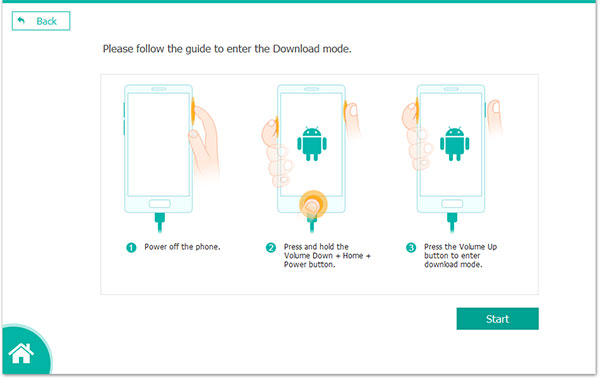 Step 4. After the scan, all contacts on this broken Android phone will be scanned out and you can view them on the computer. Select the contacts you want to recover and click the "Recover" button to save them to computer as VCF, CSV or HTML.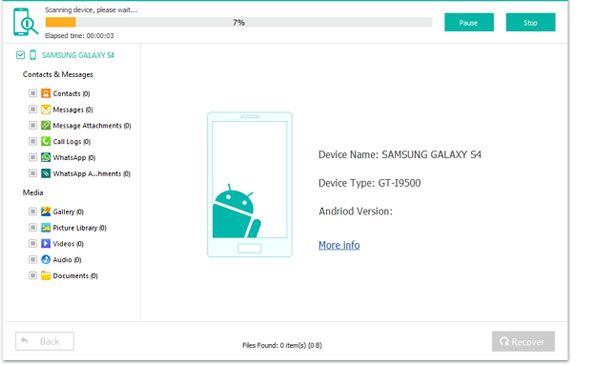 Note: Broken Android Data Recovery currently only support Samsung Galaxy S5/S4/S3, Galaxy Note 5/Note 4/Note 3, Galaxy Tab Pro 10.1. You can check the related models in this page:

Related Posts:
Part 3. How to Retrieve Contacts from Broken Android Phone via Google Account?
Situation 1: If you have synced contacts to Google account, you can recover contacts from Google account on broken phone.
Follow the steps below:
Go to "Settings" from home screen.
Choose "User and Backup" and click on "Accounts".
Select "Google" and then "Google account".
Enter your Google account and password and then tap on "Next" to continue.
Select the Google services as you need and then tap on "Next" to continue.
Click "Sync contacts" and then "Sync Now" options to start restoring contacts from Google account.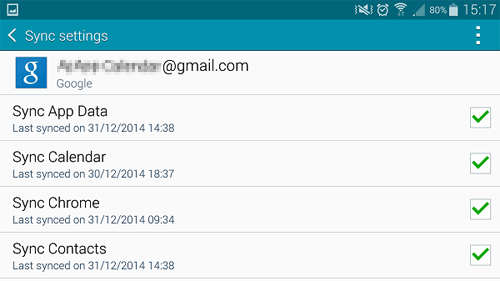 Situation 2: If you have synced contacts to Google Contacts web, you can restore Google contacts from Gmail easily.
Follow the steps below:
Open Google Contacts on a browser and log in your Google account.
Navigate to the left panel to choose the "More" option.
Choose "Undo changes" to bring out a new window.
Select a time and click the button of "Confirm". Or, you can customize the time on your own.
Tap on the options: "Google"/"Accounts" > "Google".
Click the button of "Restore contacts" to begin to restore contacts from Gmail.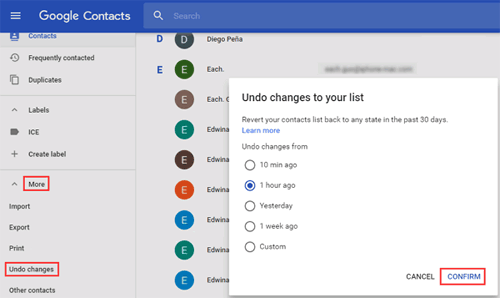 Part 4. How to Get Contacts off A Broken Phone from Samsung Account (for Samsung Phones Only)
If you are a Samsung phone user and have ever backed up your contacts to Samsung account. You can follow the steps below to retrieve contacts from broken phone from Samsung account.
Step 1: Go to Settings on your Samsung phone and scroll down to choose "Personalization" part.
Step 2: Click on "Account" and login to your Samsung account with email address and password.
Step 3: Finally, you can press on the "Restore" button and click "OK" to get contacts off a Samsung phone.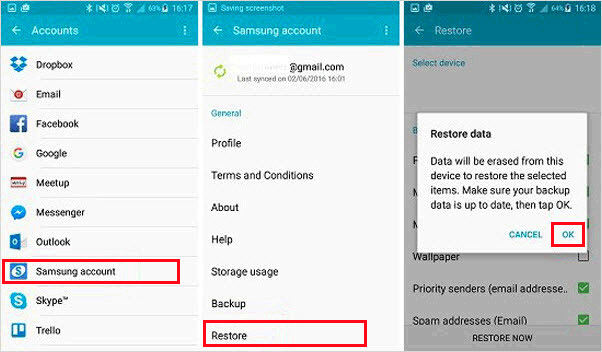 Related Posts:
Part 5. Back up Your Android Contacts to Keep Them Safe
I have recommended several methods for how to recover contacts from broken screen Android phone. However, the best way to prevent contact loss is to prevent it from happening, that is, to schedule backups of contacts on our Android phones. There are many ways to back up your phone data. Here, we introduce the most direct and effective way to help you - using Mobikin Assistant for Android.
Why choose MobiKin Assistant for Android?
1-click backup & restore function allows you to backup and restore Android data conveniently.
Back up Android contacts with full information, such as contacts name, phone number, email, job title, address, companies and more.
Preview and selectively export data from Android to computer.
Back up not only contacts, but also text messages, photos, videos, music, call logs, apps, etc.
Compatible with 6000+ Android phones, including Samsung, HTC, LG, Huawei, Sony, Windows phone, Google Pixel, Motorola, Xiaomi, Redmi, OnePlus, Oppo, etc.
How to Backup Android Contacts via MobiKin Assistant for Android?
Connect your Android phone to computer and start up the application.
Choose "Contacts" tab from the left side menu.
Preview and tick off the contacts you want to backup
Click "Export" button from the top menu to copy contacts from Android to computer.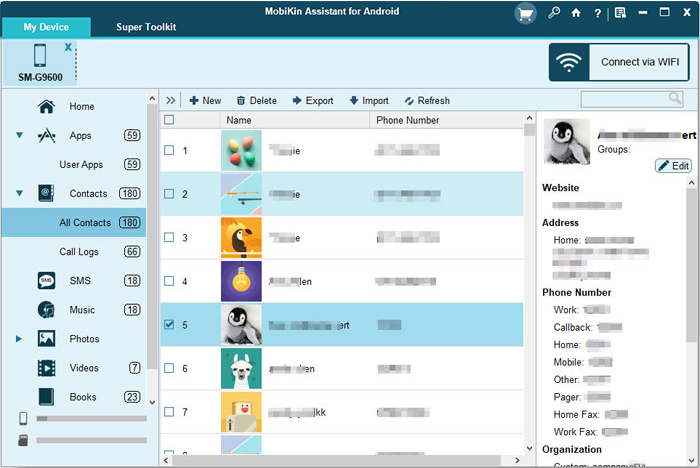 You can also choose "Super Toolkit" option from the top, tap the "Backup" button, tick off "Contacts" folder and click "Back Up" button to back up contacts from Android phone to computer with one click.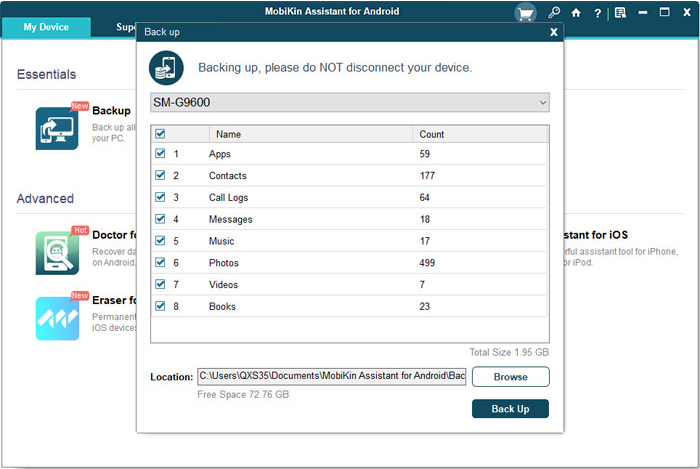 The Bottom Line
Contacts are very important for everyone. If you don't like to lose them, the most reliable thing you can do is to back up all your data before the phone has a problem. This way, no matter what happens to your Android device, you can easily recover all your data from backup.
If you don't have a backup, don't worry too much. Because as long as you have Broken Android Data Recovery, you have the hope to recover important data from broken Android mobile devices. Just read this article to learn how to get contacts from broken phone. It's worth mentioning that this program does not cover any other data, so you can use it with confidence, don't worry about losing any data on your Android device.
Related Articles:
Pixel Contacts Disappeared? How to Recover Deleted Google Pixel Contacts
How Can I Fix "My Text Messages Disappeared on My Android?"
How to Import CSV Contacts to Android Devices with Clicks?
Top 5 Powerful Android Data Recovery Apps and Software of 2021
How to Unlock iPad without Passcode? 6 Ways to Solve It!