[Fixes in 2023] How to Unlock Android Phone with Broken Screen?
Android phone's screen can be used to navigate, swipe, and access every app available on the device. For security, many would like to set a password or other authentications for the phone to prevent unauthorized access. Unfortunately, it could be a big headache when the touch screen is broken/cracked. (Touch screen not working on Android?) Oops, phone screen broken; how to unlock it?
In this definitive guide, we will talk about how to unlock phone with broken screen in detail. And you can run through the page and pick the method that suits you best.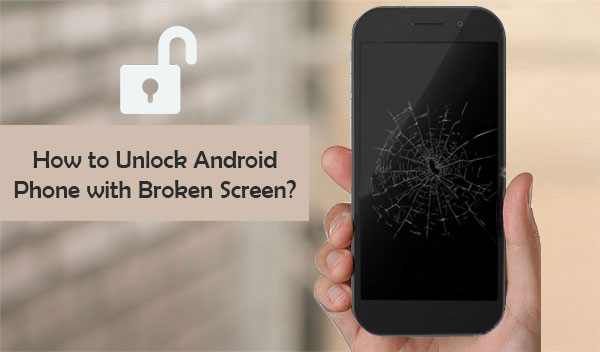 #1: Unlock Android Phone with Broken Screen via Android Unlock
When the Android phone's screen is broken or unresponsive, you need to find a way to get rid of the limits of USB debugging and bypass the screen lock. Actually, it is difficult for general tools on the market to do this. But as a high-end product of cutting-edge technology, Android Unlock can surely get your hopes up. Now, let's first take a look at this tool.
Core features of Android Unlock:
Bypass all types of screen locks, such as password, pattern, PIN, and fingerprint.
Unlock some Samsung/LG phones with no data loss.
Easy to use, trouble-free, and secure unlocking.
Work well with various Android devices, including Samsung, Huawei, Xiaomi, LG, Motorola, Sony, HTC, Google Pixel, OPPO, Vivo, etc.
It won't uncover your privacy.

Important: Since it may delete the data on some Android devices during the unlocking, it's better to ensure that you backed up your Android phone beforehand.
How to unlock an Android phone with a broken screen via Android Unlock?
Step 1. Launch Android Unlock
After you install and open the program on your computer, choose "Screen Unlock" from the interface.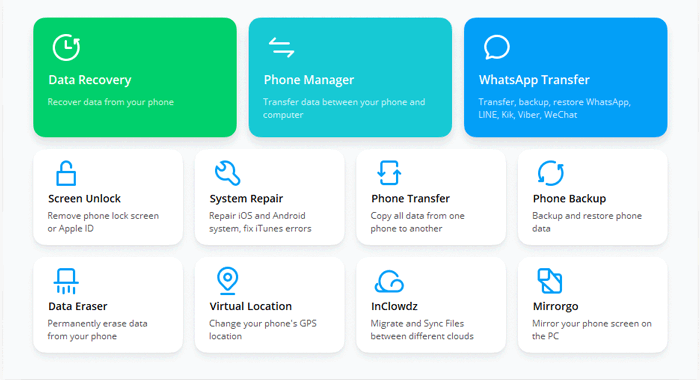 Step 2. Get Android phone into Download Mode
Connect your Android phone to the computer via USB and click "Unlock Android Screen" on the screen.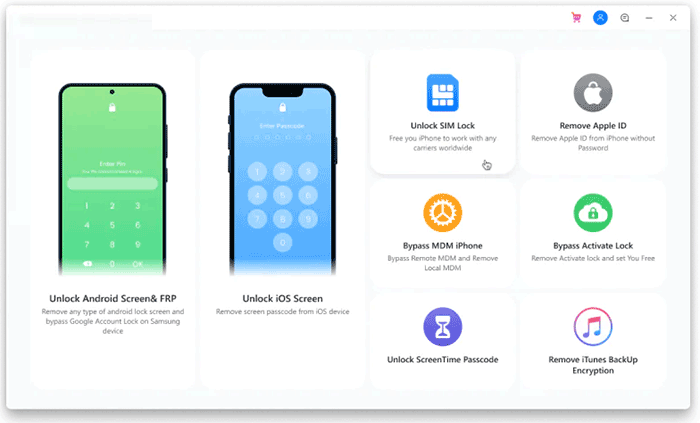 Step 3. Choose your phone model
Select the correct phone model. If you cannot see the option "I can't find my device model from the list above", press "Next" to continue.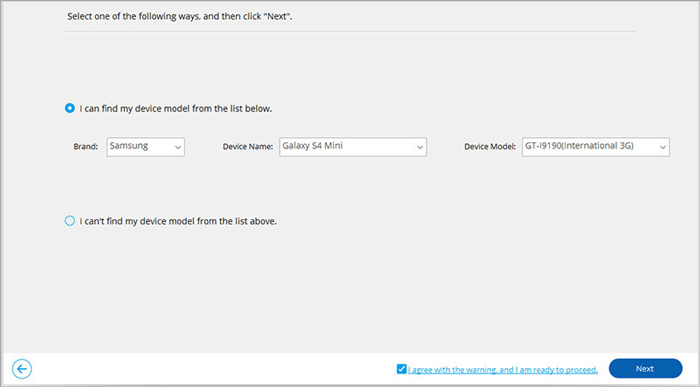 Step 4. Enable the lock screen removal feature
This tool will start to recognize your device and turn on the lock screen removing feature. After the app configuration is complete, you can click "Unlock Now".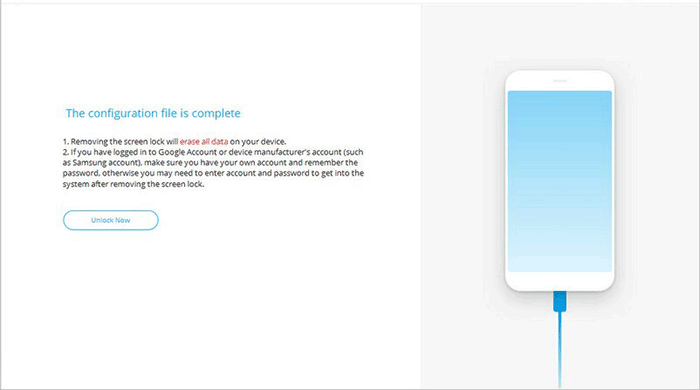 Step 5. Enter Recovery Mode
Follow the steps on the incoming interface to enter "Recovery Mode" > click "Next".
Note: You can select "phone with Home button" or "phone without Home button" on the interface to find the steps that are suitable for your phone. This will get your phone into Recovery Mode.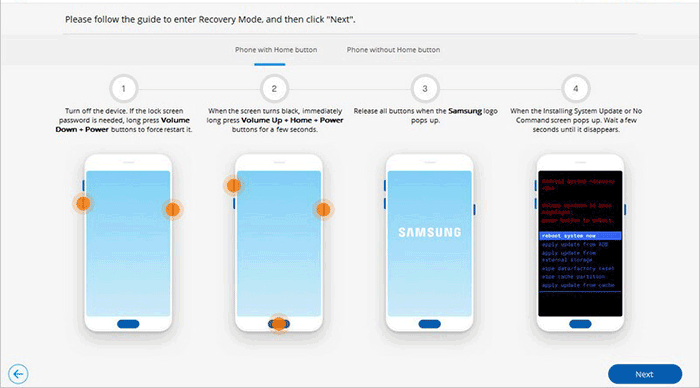 Step 6. Wipe data on your phone
Follow the instructions on the screen of Android Unlock to wipe all of your phone's Settings.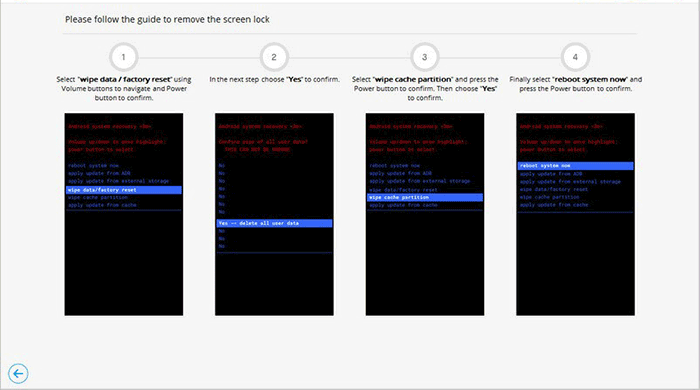 Step 7. Unlock phone without a broken screen
After that, you can see that the screen lock has been removed from your phone successfully. Just click "Done".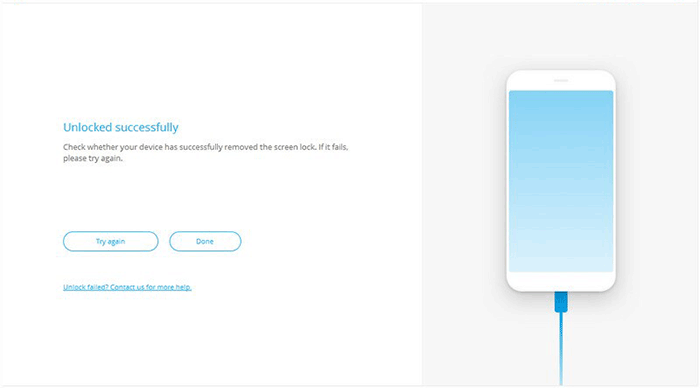 Related Pages:
#2: Unlock Android with Broken Screen via OTG Adapter
If you don't have USB debugging enabled on Android, you can try to unlock the screen with your phone, an OTG adapter, and a USB mouse. Before you unlock an Android phone with a broken screen, please make sure your device can be connected to a USB mouse, and then find an OTG adapter online.
How to unlock a phone with a broken screen via OTG Adapter?
Connect the USB of OTG adapter to your phone and plug a USB mouse into the adapter.
Once connected, you'll see a cursor on your phone screen. If you haven't found it, you can reboot your device to redetect the connection.

Enable the USB debugging mode: Go to phone Settings > About phone > Tap Build number 7 times. Go back to select Settings again and find the Developer options. Click it and scroll down to enable the USB debugging on your Android phone.
Enable the MTP option: Scroll down until you see "USB configuration". Go for it and select "MTP".
Connect the phone to a PC via a USB cable; open Windows Explorer, and you'll see the phone is displayed right under "Devices with Removable Storage". Here, you can open it to access the phone storage and then transfer files from the broken phone to this computer.
#3: Unlock Android Phone with a Broken Screen via ADM
Android screen not working? How to unlock it without a tool? Well, you can do it with the Android device manager, assuming you have linked your phone with your Google account. Please remember that your phone should be signed in with the same account and connect the device with a stable connection.
How to unlock access Android phone with the broken/cracked screen via ADM?
Open the ADM website on your computer.
Sign in with the same Google account you have on your Android phone.
Now Google will search for all the devices that are linked with the same account; just select your device that was broken.
Next, select "Erase" from the popup window.

You will get a confirmation message that you need to confirm. This will erase your device completely with the screen lock.
You May Also Like:
#4: Unlock Phone Broken Screen on Android with ADB
"My phone screen is broken; how can I unlock it skillfully?" Well, ADB is worthy of considering. This method is a little complicated for those not being familiar with ADB. It is an imperative step to know how this process progresses because you could potentially cause damage to your phone if you have no idea about the ADB.
How do I unlock my Samsung with a broken screen via ADB?
Download the ADB tool on your computer and encrypt it to Local Disk C.
Then use a USB cable to connect your locked phone and the computer.
Next, choose "Charge Only" on your phone other than "USB Debugging".
Click "Start" on your PC, select "Run", and enter cmd.
Now please type in the code: cd c: \adb> adb shell> cd data/system> ls.
After that, you will see a folder named "password.key".
You have to delete it and enter "rm password.key".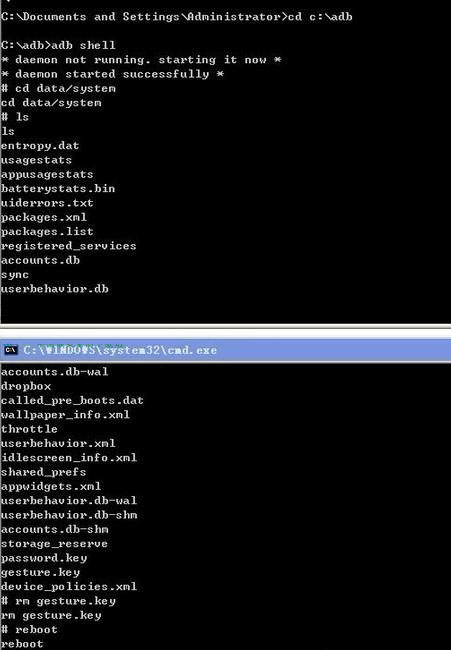 Tips: In the last steps, please enter the command adb shell rm /data/system/gesture.key if your phone is pattern locked.
#5: Unlock Android with Broken Screen by Factory Reset
You can try to factory reset your Android phone, but this will end up losing all the data on your device. And assuming you didn't have a backup of your phone before it was broken, it's also possible to recover data from a broken Android phone.
How to open a phone with a broken screen by factory reset?
Turn off your device, hold down a combination of the buttons to enter the download mode. It's usually the "Power", "Volume Down", and "Home" buttons.
Use Volume buttons to pick "wipe data/factory reset".

Press the "Power" button to unlock the phone without a screen lock.
#6: Unlock Android with Broken Screen via Samsung Account (Samsung Only)
"My Samsung screen is broken, and I can't unlock it whatsoever". OK, if you have applied for a Samsung account in advance, you can try this method for sure.
How to unlock Samsung Galaxy with the broken screen via a Samsung account?
Go to the https://findmymobile.samsung.com/login.do on your computer or any other device.
Log in with your account info.
Select your device from the menu from the left-hand side of the screen.
You should then see the option "Unlock my screen" on the sidebar.
Click it, and you'll get instructions on how to access your device.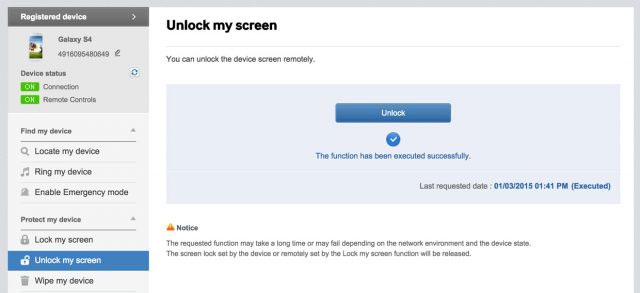 Closing Remarks
To sum up, it is easy for us to draw the conclusion that Android Unlock can easily unlock your Android phone with a broken screen in the absence of preconditions. With this tool, you're not required to know about system commands, you don't have to buy an OTG Adapter, and you don't even need to have a Google or Samsung account. So, just download it and give it a whirl on your own now.

Related Articles:
Quick Guide: How to Backup Android Phone with Broken Screen?
How to Enable USB Debugging on Broken Android Phone?
How to Access Phone with Broken Screen with PC Easily & Safely?
6 Simple Ways to Unlock Android Phone without Google Account
How to Bypass Android Password without Factory Reset
How to Reset Android Phone without Password in Different Scenarios?