Motorola Data Recovery - How to Recover Deleted Files from Motorola Phones
Overview: Many Motorola users have sent emails to me, complaining that they cannot recover accidentally deleted or lost data from Motorola Android phones. In view of this, I wrote this article to help Motorola users recover deleted files from Motorola phones.
Have you ever mistakenly click "Delete" button on your Motorola phone and remove something important on your device? Or have you ever tried to return your Motorola Droid to factory resetting but forgetting backup the precious files? In the daily life and work, so many situations may result in data losing on your mobile phones, so in addition to backup all your crucial Motorola data well, you still need a Motorola Android phone recovery tool for your Motorola phone as your daily assistant, so that you can get back your lost files on Motorola phone as soon as possible.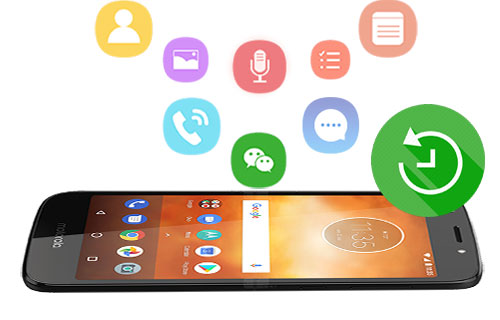 Part 1. Major Data Loss Scenarios of Motorola Droid/Atrix/Razr/MOTO X
1. Erroneous deletion
This is one of the main reasons for losing data on Motorola phones. This may be because you accidentally deleted important files while deleting multiple files, or maybe the child in your family clicked the delete button while playing with your phone, and so on. These will make you lose your important photos, videos, information or other data stored on the phone.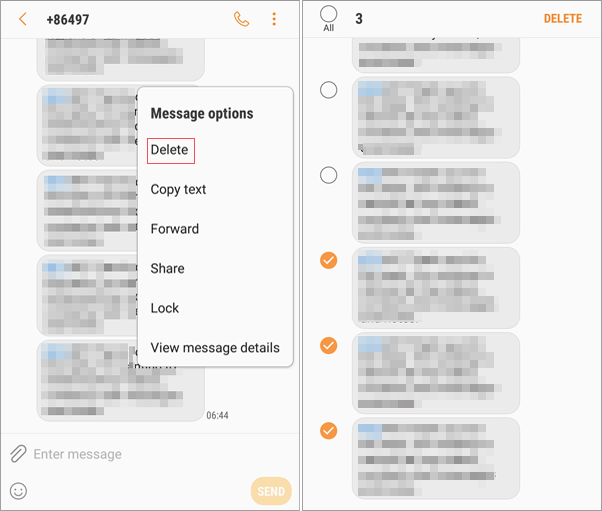 2. Format device storage
Formatting the internal or external storage of a Motorola device will also delete all data in it. If for some reason you have to format your device storage, then be sure to carefully back up important data on your Motorola before formatting.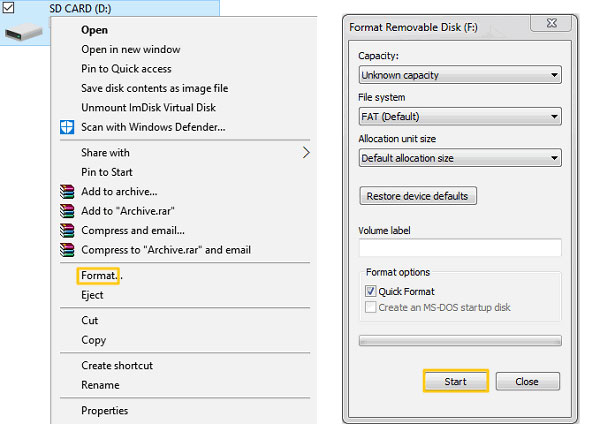 3. Virus attack
If you download an insecure app or visit a website with a virus, your phone storage will also be attacked by a virus, resulting in the loss of files on the Motorola phone or inaccessibility.
4. Rooting the device
The purpose of rooting an Android phone is to give the device super user control, so that the user of the phone can access all sensitive files that are hidden. But at the same time, mobile phones also face the risk of being damaged and losing data. Therefore, don't easily root your phone. And we also have guide telling you how to recover data from Android without root.
5. Forgotten screen lock password, PIN, pattern
Screen lock password, PIN, and pattern can all be used to protect our mobile phones from malicious people. But sometimes we accidentally forget these lock screen passwords and patterns, which makes it impossible to access the data in the phone. By the way, we wrote an article specifically to tell you how to unlock a locked Android phone without losing data.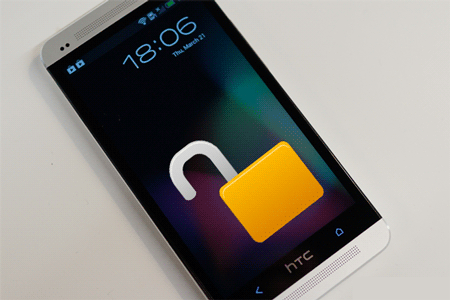 6. Improper Ejection
When you connect your Motorola phone to computer using USB and the USB is not ejected correctly, data loss may also occur. For example, when you are unplugging USB while transferring data from a Motorola device to a computer, it may cause data loss.
7. Damaged file system
Because the memory card is frequently changed from one mobile phone to another, the file system is damaged, which can also cause the memory card to malfunction and delete files from it.
8. Factory data reset
Because the remaining space of the mobile phone to store data is insufficient and the mobile phone runs too slowly, users often choose the most direct method to restore the mobile phone to factory settings to improve this situation. Once the factory data reset is performed and the "erase media files" option is selected, the files on the device will also be lost.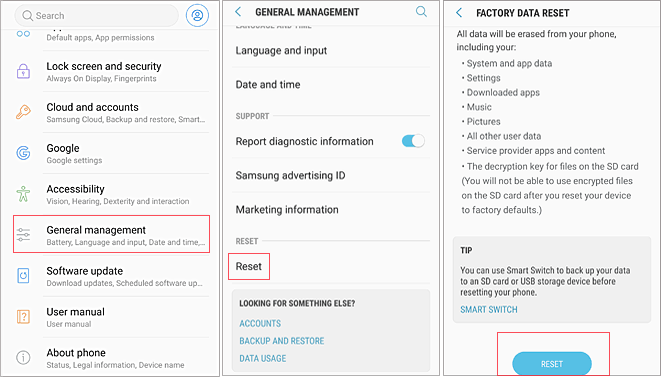 People Also Read:
Part 2. The Best Motorola Android Phone Recovery Software: Doctor for Android
We know that different files on your Motorola Droid/Atrix/Razr/MOTO X, etc. always be stored in the different storage space. For example, contacts, call logs or text messages will be stored on the phone's internal while media files like music, photos, movies, books, etc. are always stored in the phone's external SD card. So the best Data Recovery for Motorola, should allow users to scan and restore data from Motorola's internal and external storage card thoroughly and completely. That's why we kindly recommend MobiKin Doctor for Android here for your reference.
Main Features of MobiKin Doctor for Android
- Has helped over millions of Android users successfully recovered deleted or lost data, including music, photos, videos, call logs, contacts, SMS and many more.
- It allows you to preview and select your wanted files before recovering.
- It enables you to back up recovered Android data to computer for further use.
- Supports 6000+ Android device models, various Android OS, including Samsung, HTC, LG, Sony, Motorola, Huawei, Xiaomi, etc.
- It guarantees 100% safe, clean and virus-free.
- For Mac user, please learn more information about the Mac version - MobiKin Doctor for Android Mac.
This program has gained a great reputation in the market of Android recovery, and here is no additional technical skills be required, no matter who you're, you can handle the program as easy as 1-2-3. Now, you can click the below icon to take a free trial on this powerful program.
Guide: How to use this Motorola recovery software - MobiKin Doctor for Android?
Note: After losing the data, stop using your phone immediately, and never add or delete phone data at this time to prevent the lost data from being overwritten by new data.
Step 1. Run the Program and Make Your Motorola Phone be Recognized
Launch Doctor for Android after you download and install it on your computer. Connect your Motorola phone to the computer and the tool will detect your linked device soon. Here you need to turn on USB debugging on the Motorola device, so that the detection will be proceed smoothly.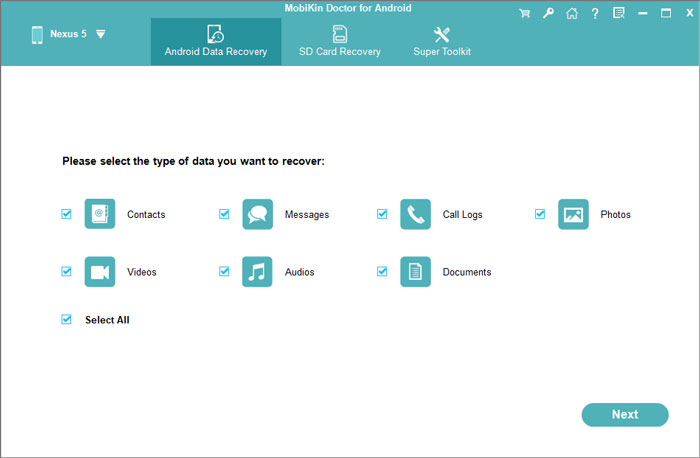 Step 2. Preview and select Files to Restore
Choose the data types you want to recover and click "Next" button in the lower-right bottom. Then, the Motorola data recovery software will start to scan your Motorola device. After the scanning, you can preview and mark all files you wish to recover.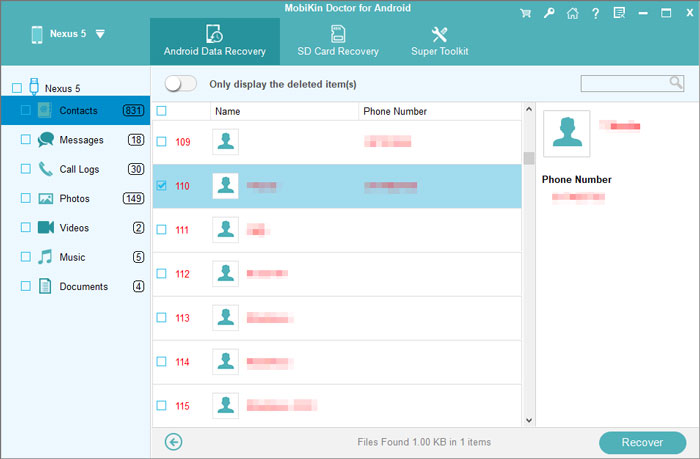 Step 3. Start the Motorola data recovery
After you have selected all the data you need, you can then hit on "Recover" button to save them on your computer.
People Also Read:
Part 3. Motorola Data Recovery from Google Drive Backup
Google Drive is a cloud storage service developed by Google that allows you to back up and restore your phone data. However, you want to restore your deleted data from Google Drive, provided that you have backed up the data to Google Drive before deleting the data. If you did back up the deleted data, then you can follow the steps below to perform Motorola Droid/Atrix/Razr/MOTO X/Moto G data recovery.
Step 1. Visit the website drive.google.com on your computer and log in with your Google account.
Step 2. Go to the Trash folder and you can view the deleted files within 60 days.
Step 3. Select the files you want to restore, and then click the "Restore" button, these selected files will be restored.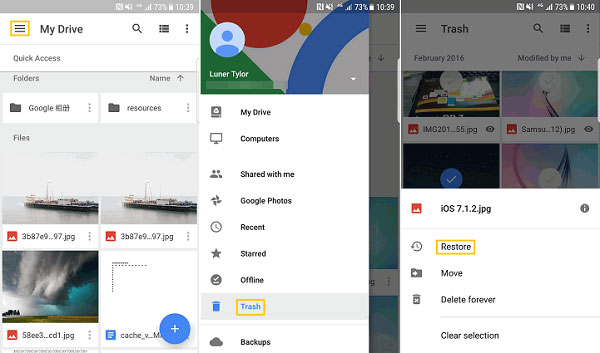 Bonus Tip: Backup Motorola Android Phone to Deal with Accidents of Lost Data
If you want the data on your Motorola phone to be safe and you will never face the trouble of losing data, then you should regularly back up your phone data. In this way, you can easily restore the data from the backup whenever you delete the phone data by mistake or accidentally lose your phone data.
So, the question is coming, how to backup Motorola phone's data?
In addition to the Backup Motorola phone to Google Drive mentioned above, you can also use the professional Android backup and restore tool - MobiKin Assistant for Android, to back up your Motorola phone data to the computer, and then when needed, press another key Restore data from backup.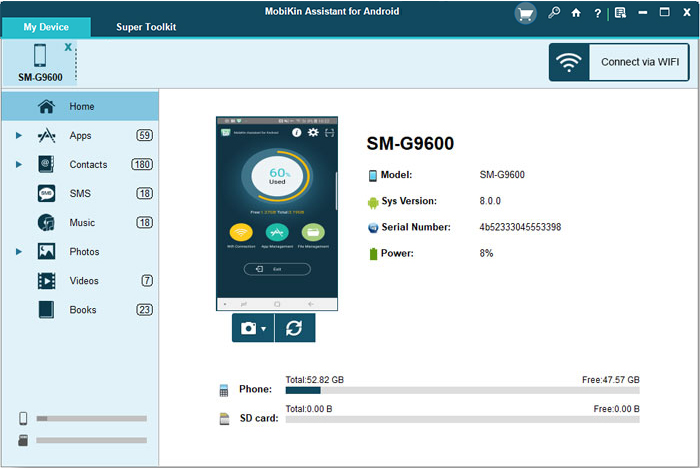 Here you can also find more Motorola backup tools to protect your mobile phone data.
Wrap Up
Well, we know that no one wants to lose important mobile phone data, and you are also careful enough to protect your data. However, data loss is still a common problem faced by Motorola users. I hope that after reading this article, you can successfully complete the Motorola Android phone recovery task with the help of Motorola recovery tool - MobiKin Doctor for Android.
Related Articles
How to Recover Deleted Text Messages from Sony Xperia
How to Recover Deleted Contacts from LG Phone
How to Recover Data from Water Damaged iPhone 6/5S/5/4S
How to Recover Lost Contacts from Samsung Galaxy
How to Recover Data from Water Damaged Android Phone or Tablet?
How to Access Phone with Broken Screen with PC Easily & Safely?