5 No-nonsense Ways to Transfer Files from Samsung to Motorola
"I want to transfer my old text messages and contacts from my old Samsung S7 to my new Moto G9 but I can't find out how to do this." (from Google Fi Help)
Suppose you have used Samsung for years, and want to enjoy your life with another brand of handset. Personally, a budget-friendly phone is well worth considering. Nowadays, there are a huge array of smartphones that are far beyond what we might expect. Yet not many phones are cost-effective. Well, Motorola is one of them. If you plan to get a new Moto Razr 5G or Moto Z4, you're likely to find a way to transfer data from Samsung to Motorola.
However, if the method is not selected properly, some files might not be moved or transferred over completely. So, are there any tool or service that can do the job well? Sure! Just read on please.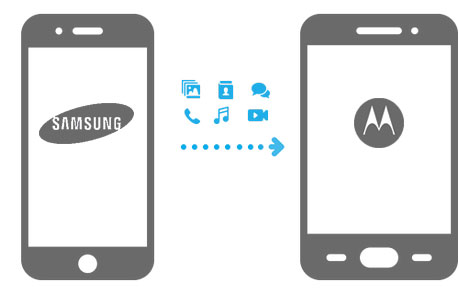 Way 1: How to Transfer Data from Samsung to Motorola via Transfer for Mobile
It's exciting to have a brand new Motorola G73/G53 with medium-to-high performance. In addition to the enjoyment, how to do data transfer may be a puzzle for some folks. To make the task smooth, efficient and lossless, the selection of right tool is a must. Here, MobiKin Transfer for Mobile (Win and Mac) is fully eligible.
This utility is highly praised by many Android and iOS users. Prior to doing the migration, you are only supposed to connect your phone to computer, and then choose the types of files you want.
Key features of Transfer for Mobile:
Move data from Samsung to Motorola, covering contacts, call history, SMS, photos, videos, music, documents, apps.
Can also be used to transfer files from iOS to Android, iOS to iOS, and Android to iOS.
Easy to use, fast transfer, secure outcomes, and ads-free.
Work well with various PC and Mac computers.
Operate on 6000+ Android and iOS devices, containing Samsung Galaxy S23/S22/S21/S20/S10/S9/S8, Galaxy Note 20/Note 10/Note 9/Note 8/Note 7/Note 6, Galaxy A51/A71/M20, and Moto G73/G53/G23/G13/X40/G9/G8/G7, V860/V868/V870/, C330/C350/C650, Moto Ultra, Droid Turbo series, etc.
It never spies on user's privacy.
Now, let's take contact migration as an example to discuss how to transfer phone contacts from Samsung to Motorola using Transfer for Mobile. And of course, this program works exactly identical on other types of data.
Step 1. Launch the Program and Connect both Devices
Free download this Samsung to Motorola data transfer tool before you install and open it on computer. Then link both Samsung and Motorola to computer via USB cables.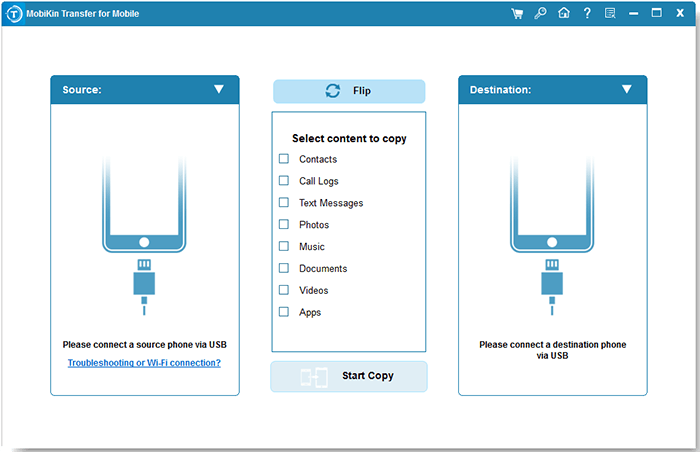 Step 2. Check the Positions of Two Phones
Follow the brief hints on the screen to have two devices recognized by this tool. After that, they will appear on the main interface. Simply click Flip button to make sure Samsung is source phone and Motorola is destination device.
Step 3. Transfer Wanted Data from Samsung to Motorola
Mark the file types that you want to move. Here, you can tick on Contacts and press Start Copy located in the middle to start the Samsung to Motorola data transfer.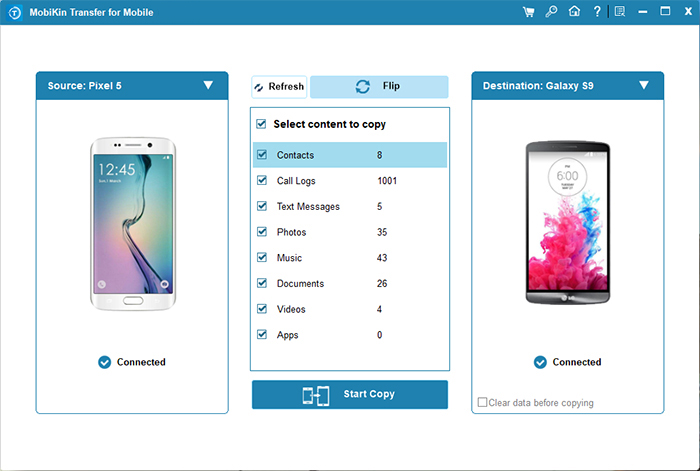 Way 2: How to Transfer Files from Samsung to Motorola Using Assistant for Android
We just mentioned that the task is accomplished in a direct manner. Now, the next tool - MobiKin Assistant for Android (Win and Mac) is able to help implement the transfer via backup & restore. It assists to move data from Motorola to PC/Mac, and then restore it to Samsung. During this procedure, you can also choose to back up any content to computer. Or make a full management for the stuff on your device.
This smart utility can be connected via both USB and WiFi. Plus, you can do as the common drill below to carry out the task. Before working it out in this way, just click the proper button to download the software, and then install it on computer first.
To transfer data from Samsung to Motorola using MobiKin Assistant for Android:
Step 1. Open the installed tool on computer. Then plug Samsung into this computer via a USB cable. Now the detection will start automatically. Soon, the connection will be made. You'll see the main interface, and just hit Super Toolkit > Backup to move on.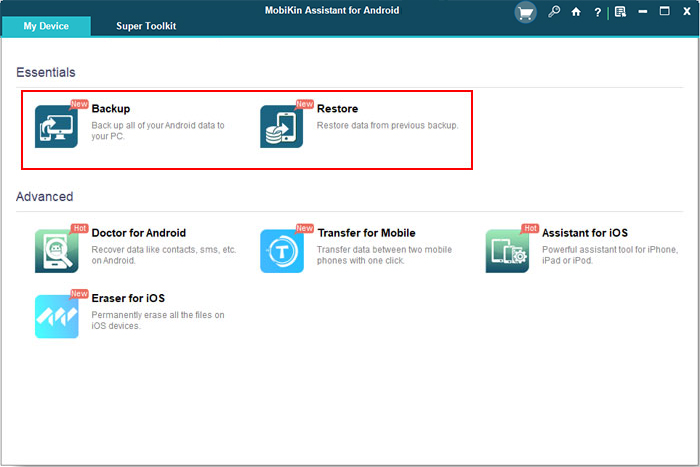 Tips: This smart utility also enables you to connect your Android device via WiFi network.
Step 2. All the data types from Samsung will be on the screen. You should click any types of files you need, and tap Browse to specify a location on computer. Then click Back Up to save them to the folder. Once done, please disconnect the Samsung.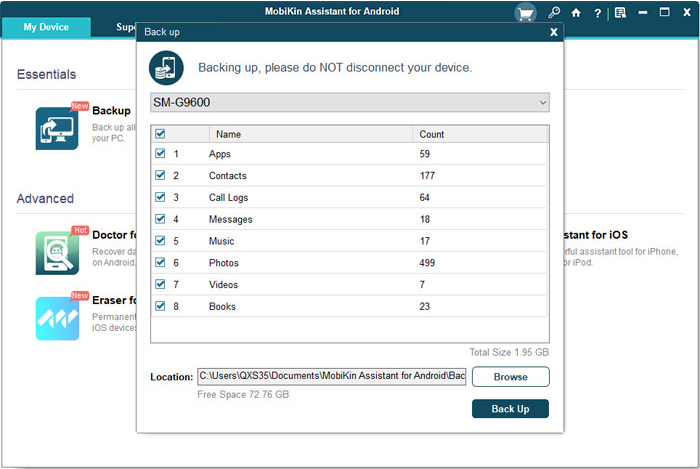 Step 3. Connect Motorola to this computer with a USB cord. After the detection, you ought to hit Restore from Super Toolkit, and you'll find all the backup files on the window. Then mark desired items and hit Restore again to put them on Motorola.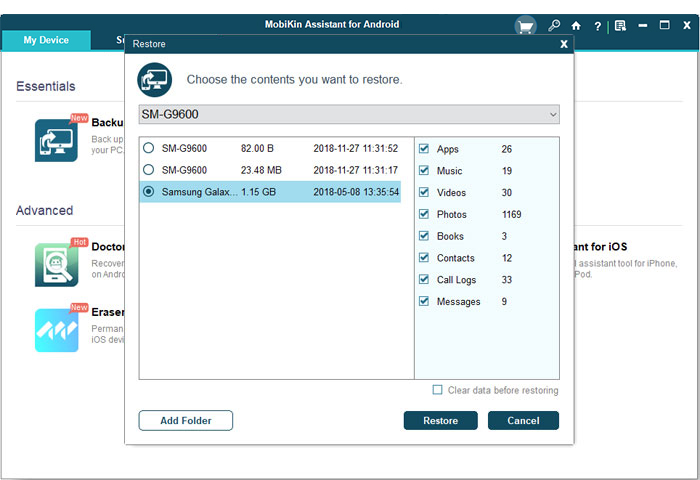 Video guide: How to back up Samsung data and restore it to Motorola?
Read Also:
Way 3: How to Move Data from Samsung to Motorola with Motorola Migrate
Firstly, I'm sorry to tell you that Motorola Migrate has been retired recently. And it allows you to move media files only from handset with Android 2.2 (Froyo) or above to Motorola running Android 4.2 or higher. Namely, data like contacts, text messages, call logs, etc. are out of its reach. (P.S. want to learn more about the recent Motorola Migrate? Click here)
How to transfer files from Samsung to Motorola using Motorola Migrate?
Download and install Motorola Migrate app on both Samsung and Motorola.
Choose Motorola from the main interface and select the source as device Android.
Touch NEXT to check all the content on Samsung phone except the application.
Opt for file categories you intend to switch from Samsung to Moto.
Start Motorola Migrate on Samsung and press NEXT button.
Scan the QR code displayed on Motorola phone by holding Samsung over it.
The connection between the two devices will be created and the transfer starts automatically.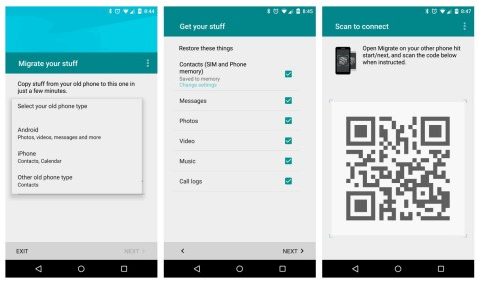 Please keep the hotspot enabled, and put two phones close together until the task completes. Furthermore, this app will take around 5 minutes to move 1GB of data.
Way 4: How to Copy Data from Samsung to Motorola over Bluetooth
To copy files from Samsung to Motorola via Bluetooth, you should first keep the devices in close vicinity. Then turn on this feature, and remember to check if the devices are in pairing mode. Again, note that just be patient while doing the transfer in this way, for it doesn't work very efficiently often.
How to transfer data from Samsung to Motorola over Bluetooth?
Step 1. Enable Bluetooth
Switch on the Bluetooth on both devices. For Motorola owners, you can do it from the Notification bar. While for Samsung users, just find and enable it from Connections.
Step 2. Pair the Devices
On your Samsung phone, touch the Bluetooth to view the devices available for pairing. Soon, you're see the name(s) of available one(s), including Motorola. Here, tap the mobile model to pair them. Type in any simple pin if asked. The pairing will established in no time.
Step 3. Share Needed Data
Now, choose the files you'd like to move from Samsung device, and press the Share icon. Finally, select Bluetooth and opt for Motorola as the recipient to trigger the transfer.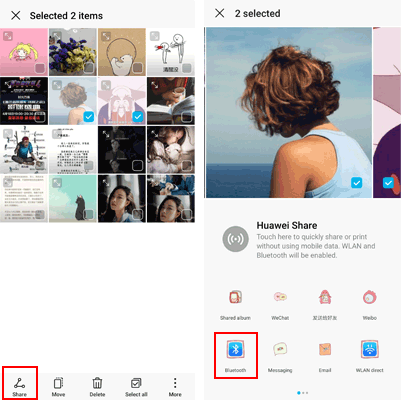 Check if You Need:
Way 5: How to Transfer Data from Samsung to Motorola Using Dropbox
You can upload Samsung files to Dropbox server, and then download or export them to Motorola. In this process, the overall efficiency of the task will be determined by the fluency and stability of the WiFi.
Dropbox has only 2GB of free space. For more storage, you need to pay for the upgrade space. Plus, you can also use its online version by reaching the site at https://www.dropbox.com.
How do I transfer data from Samsung to Motorola G7/G8/G9 with Dropbox?
Step 1. Download Dropbox App and Launch It
Get Dropbox installed on Motorola after the download. After that, you're required to log in to it. Just do this, or register for a Dropbox account in advance, if you haven't signed up yet.
Step 2. Select Data for Upload
Touch the + icon > Upload files. Then select the files you're to transfer, upload them to the Dropbox server, and click the Open to get the task started.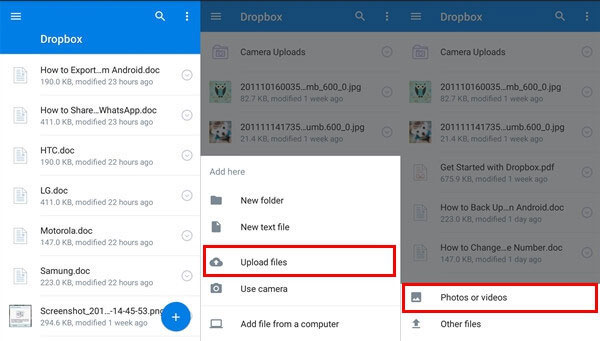 Step 3. Sign in to Motorola to Download Files
Run the Dropbox application on Motorola phone. Next, log in with the same authentication you used on Samsung, access the data you want, and download them on Motorola.
By the way, if the Dropbox is pre-installed on both phones, just skip the procedure of download and installation.
Words in the End
In today's article, we talked about 5 workable methods of transferring data from Samsung to Motorola. Some are wired transfer, while others are wireless direct or indirect migration.
From the safety, it is the safest way to move data by connecting phones to computer. In terms of the types of data supported, the first two tools can be applied to a wider range of data. At last, no matter which method you pick, hope you'll have a pleasant transfer experience.
Well, any other questions? If any, just let us know in the comment area below.
Related Articles:
4 Dependable Ways to Transfer Contacts from Motorola to Computer
Tutorial to Transfer Music from iTunes to Motorola
[3 Methods] How to Wipe/Erase Samsung Phone Permanently?
How to Retrieve Deleted Videos/Music from Motorola
[3 Ways] Effective Ways to Transfer Music from Computer to Samsung