6 Well-devised Ways to Transfer Text Messages/SMS from Android to Android
It has become increasingly common for individuals to switch to a new Android device, upgrade their existing phone, or simply desire to transfer important texts to another Android smartphone. Given that, having a reliable and efficient method to copy SMS becomes essential. OK, today in this guide, we will delve into how to transfer text messages from Android to Android, enabling you to seamlessly simplify the SMS transfer.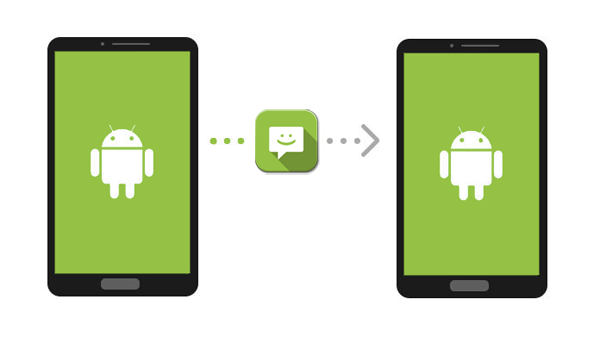 Way 1: How to Transfer Text Messages from Android to Android in a Single Tap (Bulk)
Wish to connect your Android devices to a computer via USB and make Android transfer text messages to new phone without the need for uploading and downloading? MobiKin Transfer for Mobile (Win and Mac) is a superb tool for you. This dependable 3rd-party program provides a safe and user-oriented interface, guaranteeing quick and safe data migrations. With this intelligent tool, you can copy data between mobile phones in seconds, regardless of the operating systems they run on.
MobiKin Transfer for Mobile - Best app to transfer text messages:
Transfer text messages from one Android phone to another with just a single click, ensuring a seamless process.
Effortlessly transfer data between Android and iPhone, Android to iPhone, or iPhone to iPhone.
Migrate various data types, including text messages, call logs, music, videos, photos, contacts, apps, and more, making the transition hassle-free.
Initiate the transfer without the need for additional configuration, ensuring a quick and convenient experience.
Work well with almost all mobile phones, including Samsung, HTC, iPhone, Xiaomi, Google, LG, Motorola, Sony, OnePlus, DELL, and more.
It won't disclose your privacy.
How to transfer text messages from one phone to another using Transfer for Mobile?
Step 1. Run Transfer for Mobile and connect phones to your computer
Download and install the Transfer for Mobile program on your computer. Once installed, run the program to display its initial interface. Connect both Android phones to your computer using USB cables.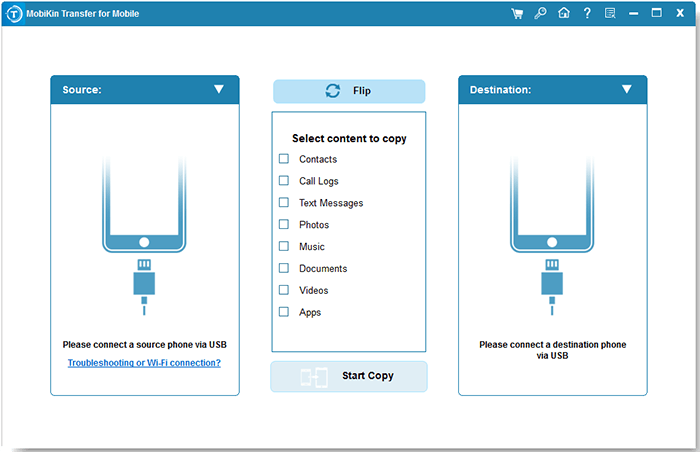 Step 2. Check the positions of both phones
Let the tool recognize your devices by following the on-screen prompt. Then you'll see your phones marked as the source and destination devices on the interface. If they are incorrectly placed, click "Flip" to swap their positions.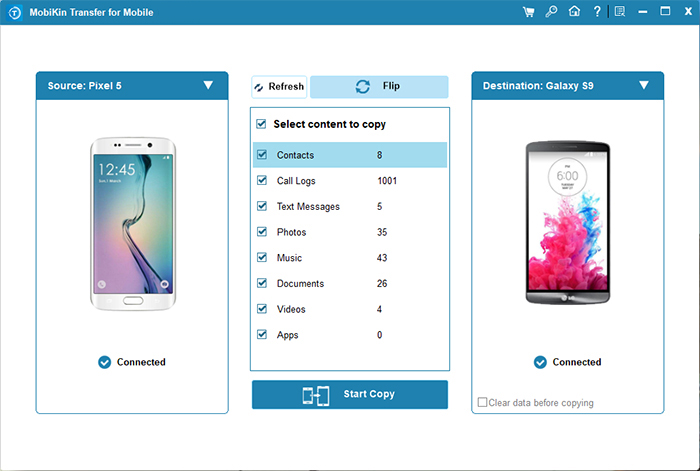 Step 3. Transfer text messages from Android to Android
Tick the checkbox next to the "Text Messages" option to select it as the content you want to transfer. Lastly, click the "Start Copy" button to initiate the Android SMS transfer immediately.
Recommended Posts:
Way 2: How to Transfer SMS from Android to Android via Assistant for Android (Selective)
We have just introduced the transfer of text messages to a new Android phone through direct peer-to-peer transfer. If you want to select the content you want to copy before doing so, look no further than MobiKin Assistant for Android (Win and Mac), which is a smartphone management software that allows you to not only preview your phone's content on your computer, but also backup, restore, and manage them conveniently. Your phone's text messages, contacts, applications, music, photos, videos, books, etc., are all within its reach.
Is there a way to transfer text messages between Android phones selectively? Free download this product and adhere to these steps:
Step 1. Launch the program on your computer and connect your source phone to the system via USB. Choose either a USB or Wi-Fi connection method and follow the on-screen prompts to ensure your device is detected by the tool. Once connected, the program will display the interface.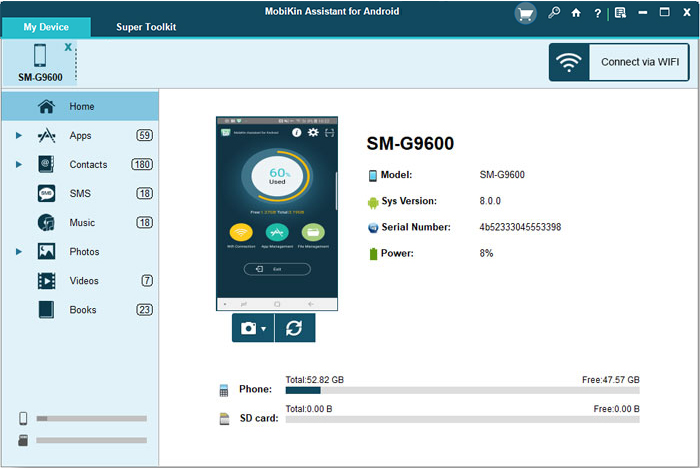 Step 2. On the main window, navigate to the left panel and click on "SMS". You will soon be able to preview and select the text messages you want to transfer. Next, click "Export" and choose a format to save the selected texts to your computer.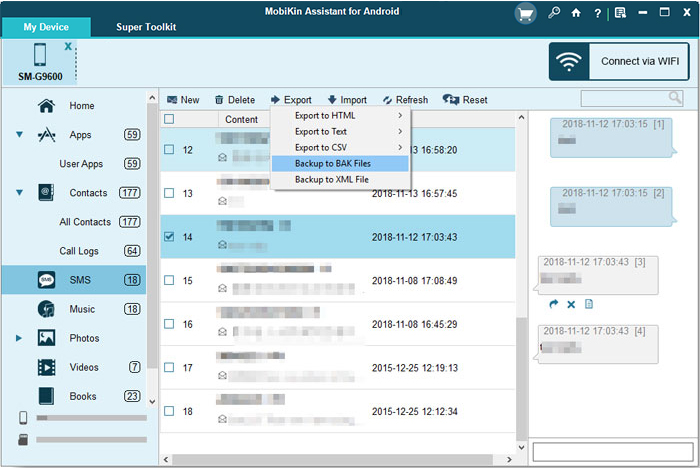 Step 3. Unplug the sending device and connect the target one to your computer. Once the tool recognizes the target device, select "Import" and choose the text messages you exported earlier. Finally, click "Open" to transfer the messages to the connected Android device. (In doing so, you can also easily back up and restore text messages on Android)
Way 3: How to Transfer Text Messages from One Phone to Another Using Local Backup
Can you transfer text messages to new phone via a local backup? If you have previously backed up your messages using this feature on your phone and made an additional backup by transferring the file to your PC, you can utilize it to make Android SMS transfer as follows:
Connect your new phone to your computer system via USB.
Enable USB Debugging on your Android phone and choose the "Transfer Files" option.
Once the connection is detected, navigate to the local backup folder on your PC where you previously moved the data.
Copy the folder and paste it into the internal storage of your new Android phone.
On your new phone, access the "Settings" menu and go to system settings.
Scroll down and select "Backup and reset".
Tap on "Backup & migrate" and choose "Local backup".
Select the most recent backup folder that you transferred from your PC, and then click on "Start".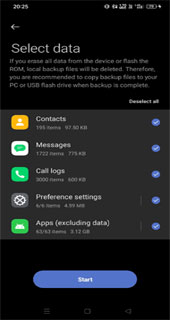 See More:
Way 4: How to Transfer Text Messages to New Phone via Google
Android can back up all your phone data, including contacts, device settings, call history, and text messages, to Google Drive. For transferring SMS between Android phones, you'll need to use Google's Messages app. It's the default app on Pixel and stock Android phones.
How to copy texts from Android to Android using Google?
Open the Settings app and select "Google".
Go to "Backup and reset" and ensure the "Back up my data" toggle is enabled.
Confirm the correct Google account for backup.
Check the "Backup details" section to see the message backup size.
Tap "BACK UP NOW" to manually back up Android data to Google Drive.

Set up your new phone and sign in with the same Google account.
Choose "Restore" during the setup process to restore data.
Once setup is complete, your text messages will be available on the new phone.
Way 5: How to Transfer Text Messages to New Phone Android via SMS Backup & Restore
SMS Backup & Restore is an efficient tool for transferring SMS messages between Android devices. With its user-friendly interface, it simplifies transferring, backing up, and restoring mobile messages. Yet, the app is primarily designed for Android devices and may have the potential for data loss or corruption. (How to clear crash files from Android?)
How to get text messages from one phone to another using SMS Backup & Restore?
Launch the Android SMS transfer app on both devices.
Select "Transfer" from the home page or the "Settings" tab.
On the source phone, choose "SEND FROM THIS PHONE".
On the target device, select "RECEIVE ON THIS PHONE".

The target device will wait for the SMS transfer while the source device displays a list of available devices.
Tap the recipient and accept the invitation to connect by tapping "Accept".
On the sending device, choose to send a previous backup file or all text messages and calls.
Confirm your selection by tapping "OK" and wait for the transfer process to complete.
Way 6: How to Transfer Texts from Android to Android by Bluetooth
Using Bluetooth to transfer SMS from your old phone to a new one is a time-consuming method, thus often applicable to a small amount of content. Further, it is not widely recommended due to security risks, such as potential malware transfer. So, consider it only as a last resort if your old phone lacks a reliable Internet connection. (Can I share apps via Bluetooth on Android?)
How to import text messages from Android to Android over Bluetooth?
Bring the phones close together and enable Bluetooth on both devices.
Pair the devices using Bluetooth settings on either phone.
Open the "Messaging" app on the source device and select the desired messages or conversations.
In the app's "Settings", choose the option to "Send" or "Share" the selected messages.
Select "Bluetooth" from the sharing options.
Choose the target device from the list of available Bluetooth devices.
On the recipient, accept the incoming data prompt to start receiving the messages from the old phone.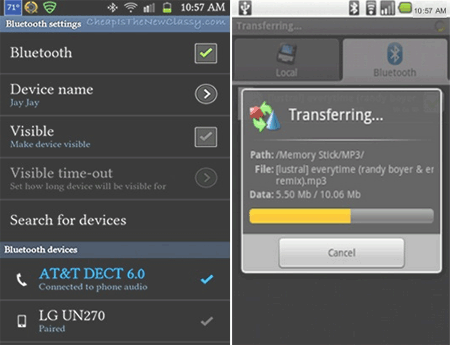 Depending on the model, transferring via Bluetooth might be limited to a conversation at a time or not exist at all. You can focus more directly on other approaches.
Conclusion
Overall, we just dwelled on the six smart strategies that guided you through transferring text messages from one Android device to another. After that, you'll have the knowledge and tools/services to effortlessly accomplish the migration. If you'd like to pick a beginner-friendly program, you can choose either of the first two tools, depending on your transmission needs. Finally, any queries? Please let us know by dropping a line below.
Related Articles:
[4 Solutions] How to Sync Calendars Between Two Android Phones?
[3 Ways] How to Transfer All WhatsApp Chats from Android to Android?
Texting from Computer to Cell Phone: 7 Ways & Their Comparison
3 Ways to Transfer Ringtones from Android to Android [Step-by-Step Guide]
6 Proven Methods to Retrieve Text Messages from Old Phone Numbers [Android & iPhone]
How to Permanently Delete Text Messages from My Android Phone?