100% Helpful Tricks for Switching SIM Card from Android to iPhone 14/13/12/11/X/8
We often find ourselves transitioning from one mobile device to another. One common scenario that arises is the need to transfer a SIM card from an Android phone to an iPhone. This process is imperative when individuals want to make the switch while wanting to retain their existing mobile carrier and phone number.
OK, this tutorial covers how to switch SIM card from Android to iPhone. Beyond that, we also talk about some tips to copy contacts to your new iPhone and transfer an eSIM card with the increasing adoption of eSIM technology. But before that, let's figure out, "Can I move my SIM card from Android to iPhone?"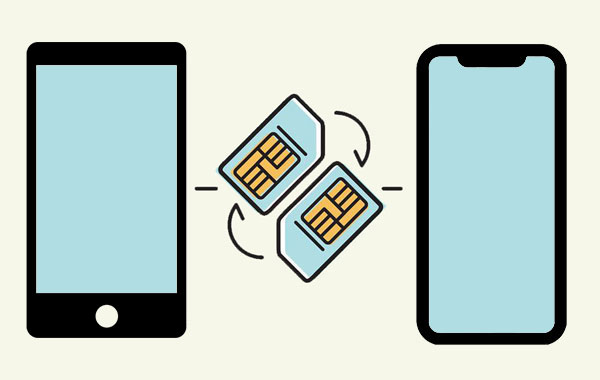 Part 1: Can You Switch SIM Card from Android to iPhone?
Whether you can switch the SIM card from an Android to an iPhone depends on the models involved. For older iPhone models or the latest iPhone 14 non-US models, transferring the SIM card is possible if the sizes match. However, US versions of iPhone 14 do not have a physical SIM card slot. SIM-locking and carrier restrictions may also affect compatibility. (How to tell if your iPhone is unlocked without a SIM card?)
For the latest US model, eSIM transfer is an option if you already use it on your Android device. It's advisable to check with your mobile service provider and review device specifications for accurate information.
Recommended Posts:
Part 2: Preparations before Switching SIM Card from Android to iPhone
Yes, it is possible to switch a SIM card from an Android phone to an iPhone, provided that both phones use the same type and size of SIM card. Below we will give a more comprehensive summary of some basic matters to notice before SIM card switching:
Ensure the SIM card size of your Android phone matches the required size for the iPhone model you plan to use.
Confirm that the iPhone model you intend to use is compatible with your mobile service provider's network.
Back up your Android phone to a PC, Mac, or cloud storage.

If you have been using iMessage on your Android phone, it's recommended to disable iMessage before making the switch.
Contact your mobile service provider to activate the iPhone with your existing phone number and SIM service plan. (How to activate iPhone without a SIM card?)
If your Android phone and iPhone use different SIM card sizes (e.g., micro-SIM or standard SIM), you may need to obtain a SIM card adapter or contact your carrier to get a correctly sized SIM card for your iPhone.
Part 3: How to Switch SIM Card from Android to iPhone Easily
Can you transfer SIM card from Android to iPhone directly? The short answer is YES! If you are upgrading to an iPhone model with physical SIM support and get ready for the preparations we mentioned above, just follow the drill below to learn how to transfer Android SIM card contacts to iPhone straightforward:
Open the "Contacts" app on your Android phone.
Tap the "Three-dot" icon to access the menu.
Choose "Import or export contacts" from the menu.
Select the option to "Export" your contacts.
Pick your SIM card as the destination for the export.
Select the specific contacts you wish to transfer.
Once the export is complete, remove the SIM card from your Android phone.
Insert the SIM card into your new iPhone.

When recognized, proceed to the iPhone "Settings" and locate the "Contacts" option.
From there, select "Import SIM Contacts", which will populate your new Contacts list with the contact numbers stored on the SIM card. (Can you transfer contacts to a SIM card on Android or iPhone?)
Part 4: How to Transfer SIM Card Contacts from Android to iPhone in a Single Tap
While you can switch the physical SIM card, certain features and services may not transfer automatically between Android and iOS devices. These could include some contacts, messaging apps, or specific settings. Among them, contacts are almost always the data types that must be transferred. To make data migration a breeze, try MobiKin Transfer for Mobile (Win and Mac), a popular and reliable mobile phone transfer assistant.
Main features of Transfer for Mobile:
Switch from Android to iPhone seamlessly in minutes.
Ability to transfer data from Android to iOS, iOS to Android, Android to Android, and iOS to iOS.
Work for such files as contacts, SMS, call history, music, calendars, notes, videos, photos, documents, apps, and more.
Great comprehensive performance: Easy to handle, simple interface, retaining original file quality, etc.
Apply to virtually all Android and iOS devices, containing Samsung, Motorola, Asus, DELL, LG, Sony, Huawei, Google, HTC, OPPO, OnePlus, Xiaomi, iPhone 14/14 Plus/14 Pro (Max), iPhone 13/13 Pro (Max)/13 mini/12/12 Pro (Max)/12 mini, iPhone 11/11 Pro/11 Pro Max, iPhone X/XR/Xs/Xs Max, iPhone 8/8 Plus, iPhone 7/7 Plus, iPhone 6/6S/6 Plus, iPod touch, iPad, etc.
It won't divulge your privacy.
Easy steps for switching SIM card contacts from Android to iPhone via MobiKin Transfer for Mobile:
Step 1. Install and launch the data transfer program
Once you have installed the Transfer for Mobile program on your computer, open it to launch. The program's main interface will appear on your desktop, as shown in the image below. Connect Android and iOS devices to your computer using their respective USB cables.
Step 2. Verify the positions of both phones
The program will detect the devices and display them in the "Source" and "Destination" areas, though their positions may be random. You can click the "Flip" button to interchange their positions if needed.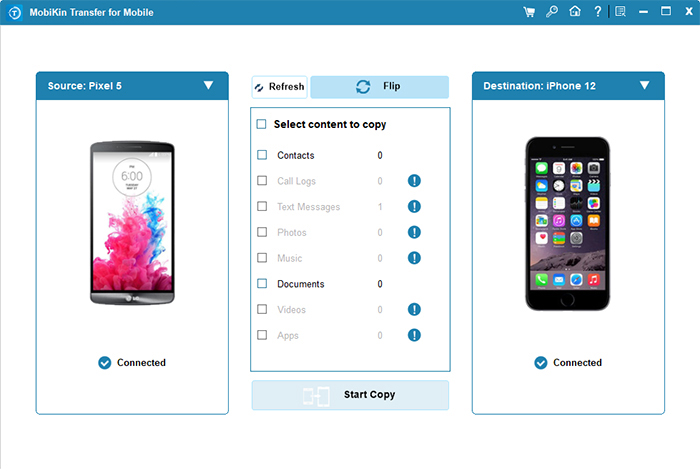 Step 3. Start to switch SIM contacts from Android to iPhone
Next, select the "Contacts" option in the program by ticking the checkbox. Finally, click the "Start Copy" button to initiate the contact transfer process, seamlessly transferring all contacts from the source Android device to the target iPhone.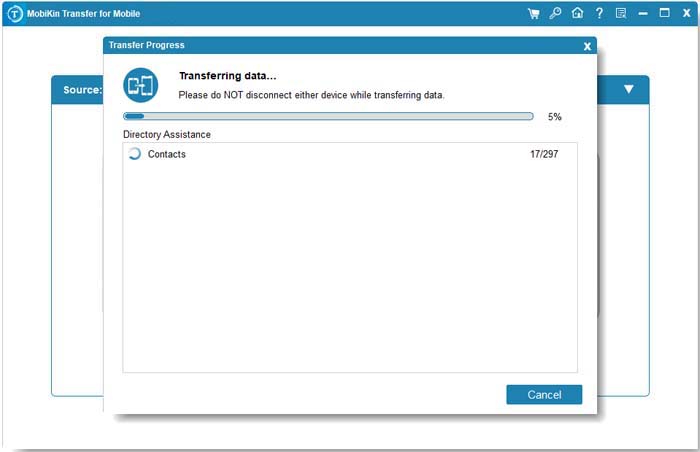 You Might Also Enjoy:
Part 5: How to Transfer SIM Contacts from Android to iPhone via Import/Export Option
There are other considerations when copying contacts between the two devices. To achieve this migration seamlessly, utilizing your SIM card and the built-in feature on the Contacts app is the simplest method. (What if no SIM card error on Android arises?) Know how to transfer SIM contacts from Android to iPhone by Import/Export option:
Open the Contacts app on your Android phone.
Look for the three dots or gear icons, and choose the "Import/Export" option.
Tap "Import/Export contacts" to export the contacts as a .vcf file.

The contacts will be saved as a .vcf file in your phone's storage.
To transfer the file to your iPhone, you can send it via email, upload it to the cloud, or use Bluetooth.
Once the file is on the destination device, please open it and select the option to add all contacts.
If you are prompted to choose an app to open the file, select the Contacts app.
Part 6: How to Move eSIM Card from Android to iPhone by Carrier's App
Most carrier-provided mobile apps offer options to transfer a physical SIM or even eSIM from another phone to the new eSIM in your Apple device with newer iOS versions like iPhone 14. The specific way may vary depending on your carrier and app. However, one common aspect is that you cannot configure the eSIM during the initial setup.
Instead, you should set up your iPhone using a Wi-Fi connection, skip the eSIM setup, and then download and utilize your carrier's app once the setup is complete. Next, wonder how to switch eSIM card from Android to iPhone by using Carrier's app? Here's the avenue to do it:
Swipe up from the Welcome screen to initiate the setup of your new iPhone.
Proceed with the setup process until you reach the "Set up cellular" screen.
Choose the option to "Set up later" under "Settings".
Complete the remaining steps for your iPhone.
Once you reach your home screen, go to the "App Store" and download your carrier's app.
Follow the provided instructions within the app to set up or transfer your eSIM from your previous Android phone.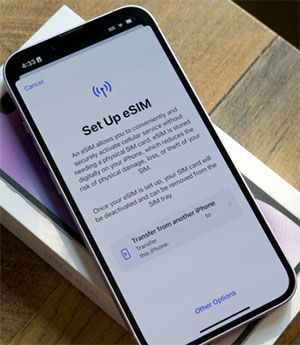 Summary
On balance, when switching a SIM card from an Android phone to an iPhone, it is important to consider the factors discussed earlier and carefully follow the required steps for activation and data transfer. This will help ensure a seamless switch between the devices. And if you'd like to transfer SIM card contacts from Android to iPhone, don't hesitate to pick the professional MobiKin Transfer for Mobile. Finally, any questions? Please let us know below. And we'd like to keep the conversation going.
Related Articles:
Top 10 Android Screen/SIM Unlock Apps You'd Better Know [Free & Paid]
[Full Guide] 5 Ways to Unlock SIM Card on iPhone 14/13/12/11/X/8
How to Transfer Contacts from SIM Card to iPhone 14/13/12/11/XS/XR/X/8?
Simple Ways to Erase SIM Card Memory with Android in 2023
How to Transfer Contacts from iPhone to SIM Card Easily & Quickly?
How to Transfer Photos from Android to iPhone Wirelessly [6 Options with Pics]