Android Tablet Recovery: How to Restore Deleted Files on Android Tablet?
A tablet with a large screen means that it can give you a better reading and video playback experience than a smart phone. Compared with the iPad, Android tablets have more favorable prices, which is why Android tablets are now gaining more market share. But what if you find that you accidentally deleted some very important files from your Android tablet? Is it possible to restore deleted files on Android tablet?
Most people think that we cannot recover lost data unless we make a Android data backup in advance. In fact, it is not. This article will provide you with the most accurate guidance, telling you how to recover files from Android tablet with and without backup.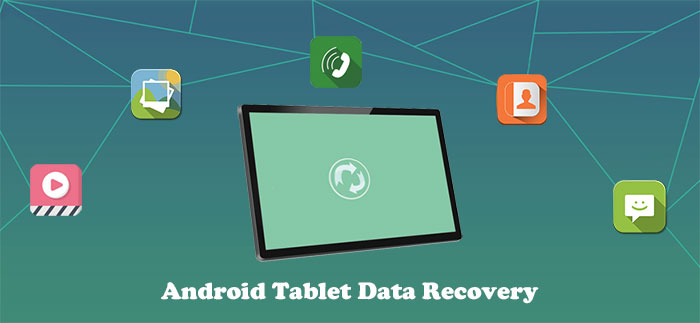 Part 1. Can You Recover Deleted Files from Android Tablet?
Once the Android tablet or the Android phone data is lost, the first question that comes to mind is: Can we retrieve deleted files from Android tablets? The answer is yes. Files deleted from the tablet will not disappear immediately, they will still reside in the internal memory, but will not be visible to the user. In other words, these deleted files are hidden, but they can actually be recovered. So, How do I recover deleted files on my Android tablet?
Here is an important point: When you accidentally delete files from your device, you must remember not to access this device again, and you can't save new data to the device to prevent new data from overwriting the deleted data.
Then, find a reliable data recovery method or a reliable Android recovery software as soon as possible to help you retrieve deleted files from Android tablet or Android phone.
Read Also:
Part 2. How to Restore Deleted Files on Android Tablet from Google Photos
Google Photos app allows you to back up an unlimited number of photos and videos. Once your tablet has been linked to a Google account, your files will be automatically backed up to this app. Therefore, if the photos and videos on your Android tablet are accidentally deleted, you can retrieve them from Google Photos.
Now, let's take a look at how to find and restore lost photos and videos on Android tablets from Google Photos.
First, open the Google Photos app on your Android tablet.
Click the "Menu" tab (three horizontal line) from the top left corner.
Choose the "Trash" or "Bin" option.
Open the folder and check all your deleted items here.
Choose the photos and videos you want to recover, and tap on the "Restore" option.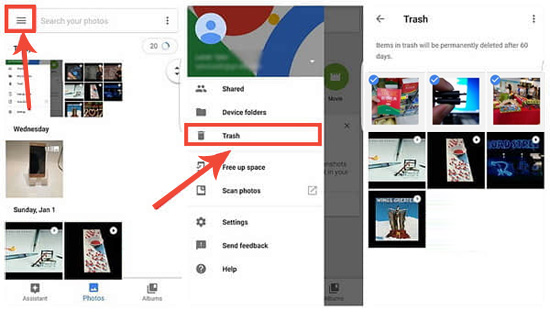 Part 3. How to Retrieve Deleted Files on Android Tablet via Google Drive
If you don't have Google Photos, or you want to restore more than just pictures and videos, then as long as your device is connected to a Google account, you can also use Google Drive to restore deleted files from Android tablet. Google Drive provides 15GB of storage space for each user, allowing you to access and share your files on any devices anytime, anywhere.
Here is what you need to follow about how to recover deleted files on tablet from Google Drive.
First of all, open Google Drive on your Android tablet.
Click on the "Menu" icon.
Go to the "Trash" folder and you will see all the deleted items within 60 days.
Choose the files you want to restore and then tap on the "Restore" button.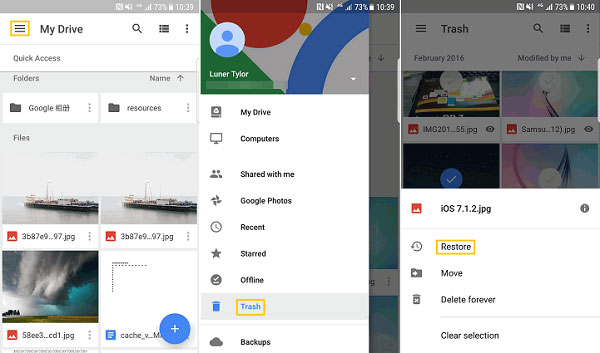 People always want to know:
Part 4. How to Recover Deleted Files from Android Tablet via Doctor for Android
If you haven't Google Photos or Google Drive app, your deleted files can still be recovered from your Android tablet directly by using a reliable Android data recovery software called MobiKin Doctor for Android (with its Mac version). It can effectively deal with various Android data loss issues, allowing you to restore almost all types of files from any Android tablet or phone without backup.
Why Choose MobiKin Doctor for Android?
Recovers deleted files without backup by scanning your Android tablet & phone directly.
Allows you to preview and selectively recover what you want to recover from Android devices.
Supports various file types, including contacts, call logs, SMS, music, videos, photos, apps, and documents.
Supports recovering data from Android internal memory and external SD card.
Fully compatible with 6000+ Android phones and tablets & various Android OS.
How to Restore deleted files from Android tablet using Doctor for Android?
As you can see from the following operation guide, although Doctor for Android is very effective in Android data recovery, it is also quite simple to use. You can complete it in just 3-4 simple steps.
Step 1. Download and install Doctor for Android on your computer. Launch it and connect your Android tablet to the computer using a USB cable. To let the device be detected by the software, you may need to enable USB debugging on the device as prompted.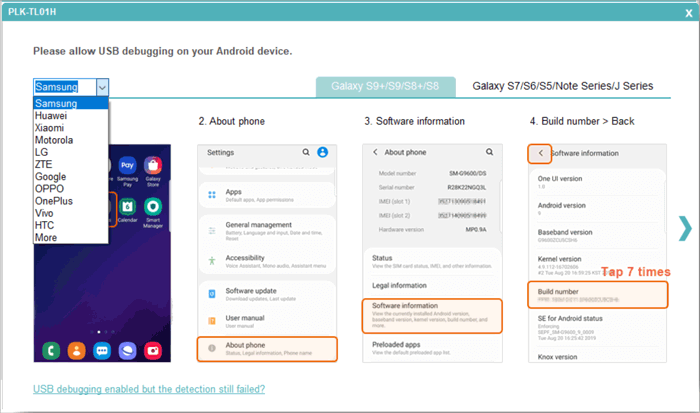 Step 2. Once the program recognizes your Android tablet. you can see an interface as below. Select the type of file you want to scan for. For instance, if you want to recover photos from Android, check "Photos" and then click "Next" to continue.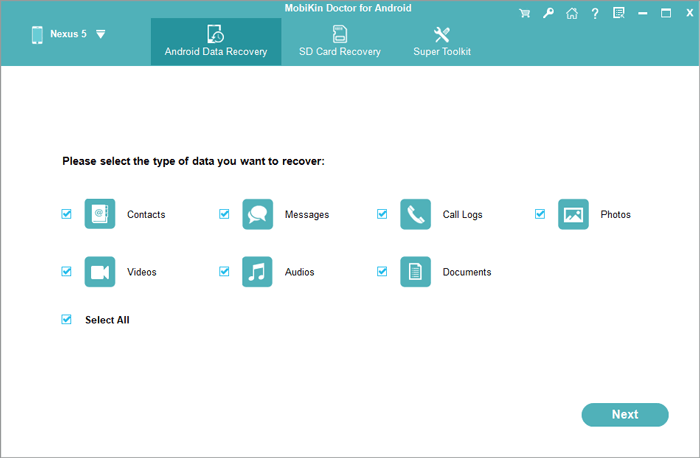 Step 3 (optional). Doctor for Android provides you with two scanning modes: Quick Scan & Deep Scan if you want to scan Photos, Videos, Audio and Documents. After selection, please click "Continue" to start the scanning process.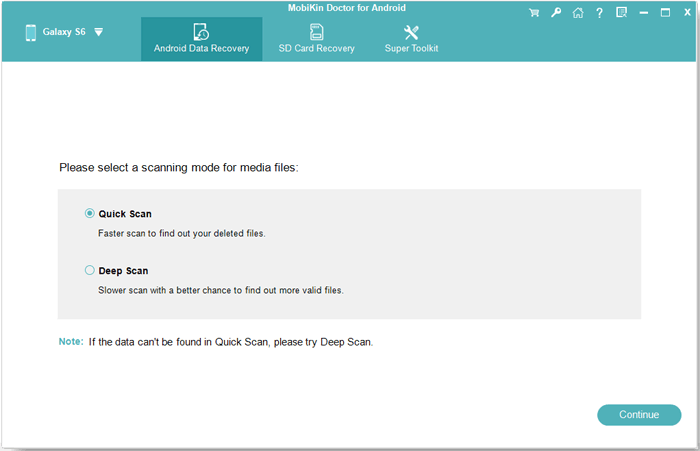 Step 4. The deleted files will be scanned out and displayed in the next window. Tick off "Only Display deleted items" to only see deleted files. Then, you can select the files you want to recover and click on "Recover".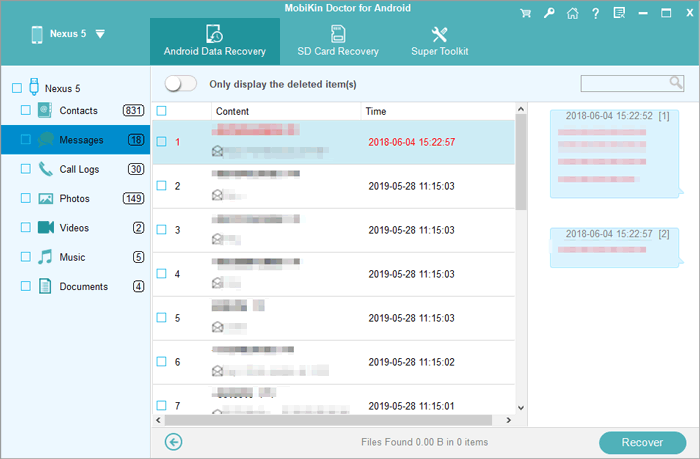 It's that simple! You have recovered all the files you want to recover. We also have a dedicated video guide to give you a more intuitive tutorial.
Bonus: Is there a Recycle Bin on Android Tablets?
Many users are concerned about whether there is a recycle bin on Android tablets. Well, I'm sorry to tell you that Android tablets are not equipped with recycle bin options like computers or even Android phones. Therefore, there is no option similar to the recycle bin on Android tablets to temporarily save deleted files.
However, there is no need to worry too much. On the one hand, we can use third-party applications, such as ES File Explorer, to create a recycle bin-like function for Android tablets. On the other hand, as mentioned above, we also have other methods to recover lost files on Android tablets.
Wrapping Up
Now, we have reached the end of this article. We have introduced three different methods to recover lost data from Android tablets. If you have a backup, you can easily restore your lost files from the backup file. If you don't have a backup, you don't need to worry, you can directly use MobiKin Doctor for Android to directly restore the lost files from the Android tablet. This is a powerful software that can efficiently and risklessly help you retrieve deleted files from Android phones and tablets.
Related Articles:
Pixel Contacts Disappeared? How to Recover Deleted Google Pixel Contacts
How Can I Fix "My Text Messages Disappeared on My Android?"
How to Recover Deleted and Original Files on OneDrive
Recover Data from Broken or Damaged Android Phone
How to Remove Contacts from Android SIM Card Permanently?