Completely Delete Skype History on Android Phone
Skype is arguably one of the oldest and most widely used chat messenger apps. It provides video and voice calls to let you call and chat with your business partners or friends from worldwide. When you use Skype for voice and video calls, the software itself does not retain your chat history, but chats made using Skype are stored on your computer. If you don't want others to see your Skype chat history, it's important to delete these chats.
However, we often get into trouble when deleting Skype chats. If you are trying a lot of methods, but deleting Skype chats still has no results, then I hope this article can help you.
Part 1. Deleting Skype Chat History Manually
You can delete separate messages and chat history in a conversation manually by following these steps:
Step 1. Open Skype app and choose the Skype messages that you want to delete. Please note you only have 60 minutes to delete a message that you sent (You can only delete sent messages). After 60 minutes, the "Remove" button will disappear and you will lose the chance to delete it.
Step 2. After you have selected the message that you need to delete, press and hold on it. Wait a while and you can release your finger, then, there will be a menu popping up, from which you can choose "Delete" option. Then, the selected message will be deleted at once.
Step 3. Just repeat the operations above for other messages that you want to delete.
By the way, if you cannot find the "Delete" option, maybe because the message had been sent over 60 minutes.
Maybe You are Interested in:
How to Wipe Photos off Samsung Galaxy
How to Clear Junk Files on Android Phone
Part 2. Delete Skype History by Removing Cache
Step 1. Launch Skype app on your PC or Mac and login with the same account information you used on your Android phone.
Step 2. Go to "Privacy" and choose "Clear History" option.
Step 3. Turn to your Android device and launch Skype app on it. Sign out from the app.
Step 4. Turn to "Settings" on your Android phone and open Applications manager. Choose Skype app and click "Force Stop".
Step 5. Clear Cache and data. Launch the Skype app again and login with your account information. Then, you will find all your chat history has been removed now.
Warning: Android users are used to restoring devices to factory settings to clean device and personal information. But in fact, this does not really delete the data. Because these "deleted" data still exists in the device until it is overwritten by new data. It is easy to retrieve and restore all deleted Skype messages and other data using special data recovery tool before being overwritten. So if you want to permanently delete Skype chats and other data from your Android phone, you can use a professional third-party Android data erasing software, which will be introduced in Part 3:
Part 3. Erase Skype History with Android Data Eraser
If you are eager to delete important and sensitive chat history on Skype app, we humbly recommend you to try the Android Data Eraser. It is a powerful program to erase all personal information from Android devices permanently and make the deleted data unrecoverable. Not only Skype history, Android Data Eraser even help you clear photos, videos, contacts, text messages, and so on from Android phones. It will provide users with 3 different erasing levels to wipe the whole contents & settings on your phone.
Install Android Data Eraser on your computer and follow the steps below to delete Skype chat history on Android permanently.
Step 1. Launch Android Data Eraser on your computer
Download, install and launch the latest version of Android Data Eraser on your computer. Connect your Android device to this computer with a USB cable. Then the program will detect the connected device automatically.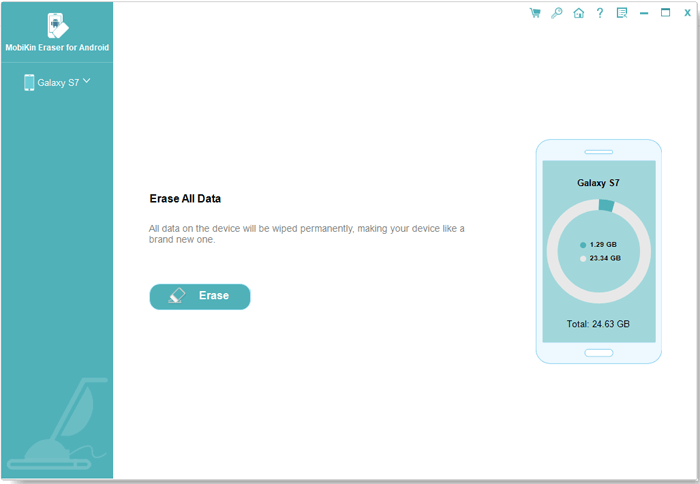 Step 2. Select erasing mode
You could click "Erase All Data" mode and choose "Erase Now" button to erase all Android files, including the Skype chats.
Note: you might want to take a backup of essential data from your phone and then opt to delete all data from the device permanently. Click to see how to back up your Android phone.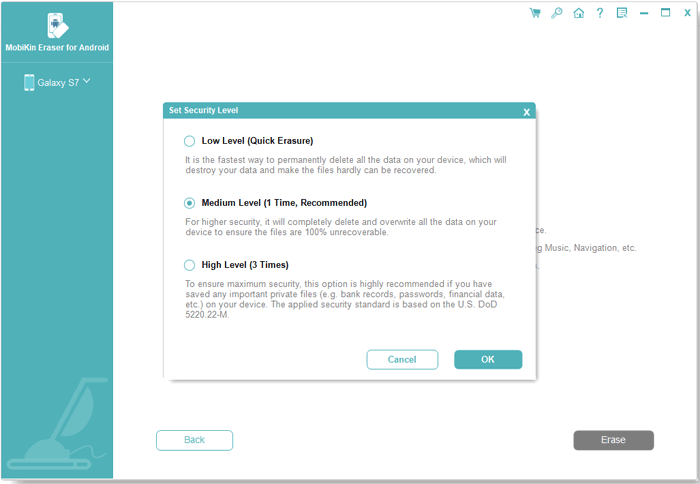 Step 3. Delete Skype chat history on Android
Type the "delete" to confirm the process to delete everything on your Android phone. It will take several minutes to finish the erasing process according to the number of messages stored.
Summary
If you want to completely delete chat history in Skype to prevent others to view your private messages, just manually deleting them is not enough. You need a professional Android Data Eraser just like the one I recommend above to erase everything permanently with zero recovery possibility. By using this program, no one can recover anything on your Android device.
Related Articles:
Android/Samsung
Quick Fix: How to Delete Gmail Account on iPhone
3 Ways to Delete Photos from Samsung Galaxy Permanently in 2023
4 Marvelous Ways to Delete Messages from iCloud Storage [Quick Guide]