4 Ways to Erase iPhone Data without Restoring
Q: How to permanently wipe out iPhone data without recovery?
"I purchased a new iPhone X, so I need to permanently wipe data like text messages, call logs, contacts, photos, etc. off my iPhone 6. I'm planning to sell my old iPhone on the Internet but there are many privacy information stored in it, so what can I do? I have tried to deleted or return to the factory resetting on my phone, but unfortunately, I find the deleted data can be restored with some recovery program. So in order to ensure my personal information will never be leaked out, is it any way that can permanently delete or erase all data on my iPhone 6 without restoring? Please help, thanks!"
No matter you wish to donate your old iPhone, re-sell it on the Internet, or send it to your friends or any one you like, you'd better to delete all data on your old iPhone to prevent your personal information from leaking out. You may have known it, but you may don't know that data can't be erased off your iPhone permanently by performing the simple "Deletion" function.
This article shares four methods to erase iPhone data with you:
Way 1. Permanently Erase iPhone Data without Restoring (Data Unrecoverable!)
Some special tool like iPhone Data Recovery software can help their users rescue the lost, deleted or formatted data on the portable device completely. So your personal data are still in danger, and if you wish to clear the threat thoroughly, you need to ask for help from a professional data eraser software like iPhone Data Eraser.
About iPhone Data Eraser:
The recommended program as the a reliable yet the best Data Eraser for iPhone X/8 Plus/8/7 Plus/7/6S Plus/6S, iPad Pro/Air/4/mini or iPod touch, that allows users to wipe data like text messages, contacts, call logs, apps, photos, videos, etc. from all generations of iPhone, iPad and iPod permanently. And the deleted data by the program will never be restored by any data recovery software on the market. So that you'll never worry about your personal data will be spread to public without permission.
Now, just get the program and follow the below steps to start your erasing process.
Steps to Erasing Data from iPhone X/8 Plus/8/7 Plus/7/6S Plus/6S without Restoring
Step 1. Connect iPhone to PC and Run the Program
Using USB cable to link your iPhone to computer, then launch the iPhone Data Eraser software on your computer. Then the program will detect your device.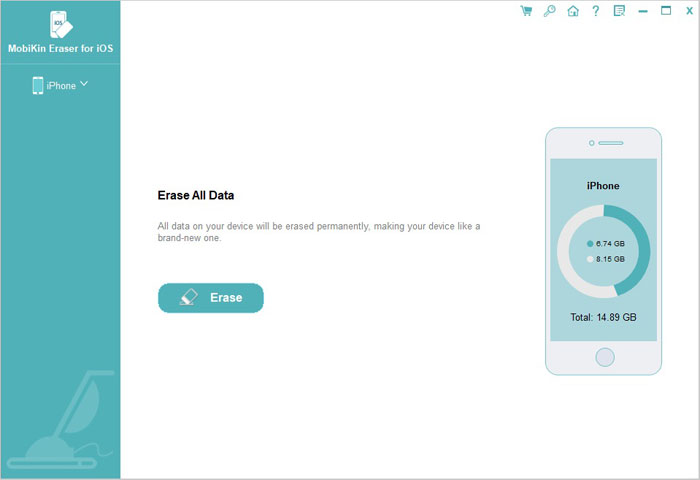 Step 2. Choose Erasing Mode to Begin the Process
In the left panel, you can see lots of options like Erase Private Data, Erase Deleted Data, Erase All Data, etc. for your reference.
Select the options you need and then the software will conduct a deeply scanning on your device. Then tick the files you wish to wipe permanently and hit "Erase Now" button and type "delete" on the pop-up window to confirm your action and begin to remove them at once without restoring.
If you wish to donate, resell or send the old iPhone to others, here you're recommended to choose "Erase All Data" in the program. After that, you only need to click "Erase Now" and decide the security level, then type "delete" on the pop-up window to confirm your action. After that, both deleted and undeleted files can be cleared permanently.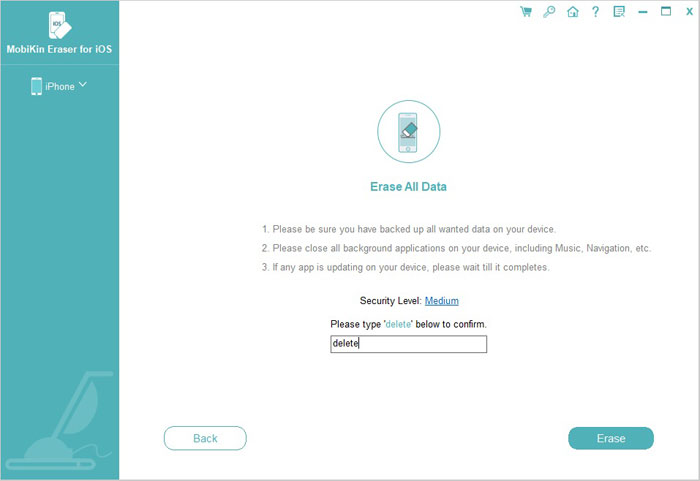 More Useful Articles:
How to Remove Apple ID from iPhone/iPad
4 Ways to Delete Browsing History from iPad
Way 2. Delete Data on iPhone Manually (Data Recoverable)
Generally speaking, people like to delete data on iPhone one by one manually. However, it has some defects:
1. It will cost you much time and energy to do so, especially when you have a huge number of items need to be cleared.
2. Moreover, there are also some types of data that cannot be deleted manually because of certain restrictions.
3. The iPhone data that is deleted in this way can be recovered via data recovery software, they are not permanently deleted. Therefore, it isn't secure enough.
Anyway, you can use this ways to delete a small number of files on your iPhone daily.
Way 3. Erase iPhone Data by Factory Reset iPhone (Data Recoverable)
Factory reset your iPhone is the simplest and fastest way to remove everything on your iPhone. It is suitable for users who have no any important data on the iPhone. Follow the steps below to factory reset your iPhone.
Step 1. Go to the homescreen of your iPhone and choose "Settings".
Step 2. Scroll down the list and choose the option of "General".
Step 3. Go to the bottom of the list to choose the options of "Reset" > "Erase All Content and Settings" > "Erase iPhone" in turn.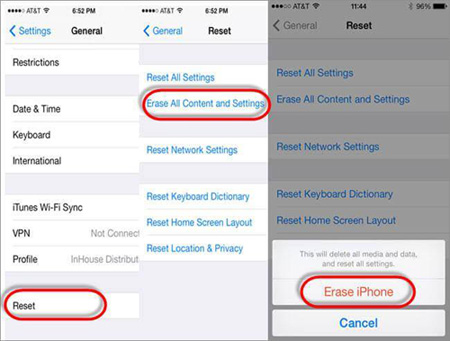 Way 4. Erase iPhone Data Using iCloud (Data Recoverable)
If your iPhone is not at your side, you can also erase your iPhone data remotely through iCloud. In that case, you do not need to connect the phone to the computer.
Step 1. To do so, you need to go to iCloud.com. Sign up with your account info and choose the option of "Find My Phone".
Step 2. Click on "All Devices" and then select your device.
Step 3. Now, you can choose the "Erase iPhone" option erase iPhone data from there.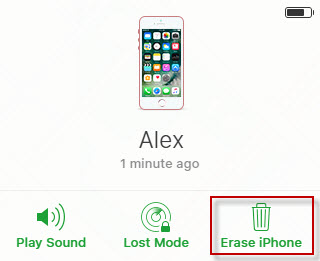 Conclusion
You can use the four methods above to clear your phone data. But you need to be aware that the latter three methods are not safe, because others can recover data through third-party recovery software. If you really care about your personal information being compromised, I highly recommend using the first method - using the iPhone Data Eraser. Because the data deleted with this software is permanently deleted, even if the military forces can't get them recovered.
Related Articles:
How to Erase iPhone Data without Restoring Permanently
How to Permanently Erase iPhone Text Messages