How to Backup Photos from iPhone - 7 Easy & Secure Ways
It is necessary to backup photos from iPhone, because of different reasons ranging from security to the creation of storage space. Whatever the reason, you need to choose a method that lets you backup photos on iPhone easily and fast. This can be difficult given the many options available which are why below are some of the best ones to help you make a choice.
Tip 1. How to Backup Photos from iPhone to Computer with Professional Backup Tool Effectively?
MobiKin Assistant for iOS (Win/Mac) is no doubt one of the best ways to backup photos from iPhone to computer. The software is not just ideal for backing up photos from the iPhone XR/XS/8 Plus/ 8/iPad/ iPod and so on, it has many features that perform different functions which give it the ability to complete various tasks when necessary as well.
MobiKin Assistant for iOS can be used to manage many types of iOS data on computer, including contacts, SMS, Notes, calendars, bookmarks, media files, apps, and books. It is also featured with the ability to backup & restore iPhone with 1 click. Another advantage is that you can perform these operations very fast, and it retains the original quality of the files and will not leak out your data.
Here's how:
At first, you need to install the latest version of iTunes and run it on the computer.
Step 1. Open MobiKin Assistant for iOS on your computer after downloading it. You can see the following interface, please connect your iPhone to computer via a USB cable as required.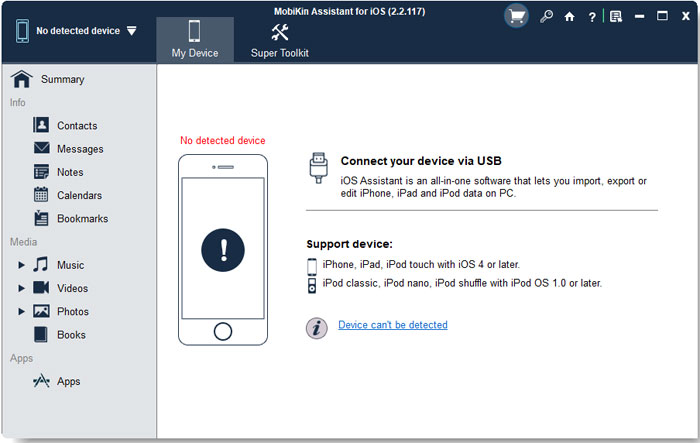 Step 2. When your iPhone becomes recognized, you need to authorize the connection by taping Trust on your connected iPhone. Then, click Continue to go on. After making a connection, the files on your iPhone are displayed on the program.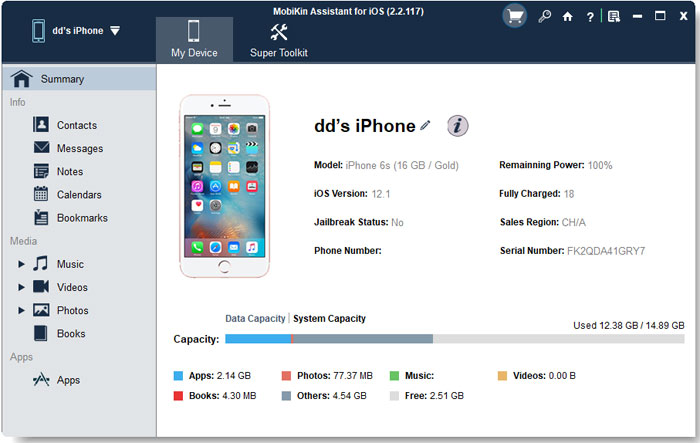 Step 3.Please go to Photos, select what you want to backup up and tick on the boxes. Then, tap on Export from the top menu bar to backup photos from iPhone to PC/ Mac.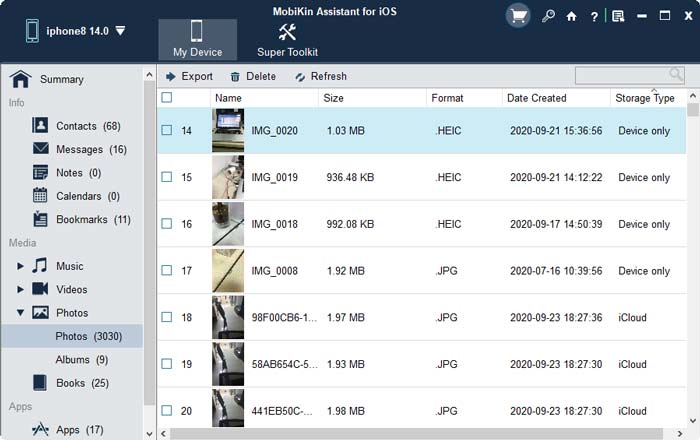 Readers are always interested in:
Tip 2. Backup Photos from iPhone to PC with AutoPlay
One of the advantages of AutoPlay is that it comes with Windows 7, 8 and 10 which means you don't have to spend time and resources looking for it elsewhere. It is also easy to use and in most cases, it usually brings forward a prompt that makes it easy for you to choose the type of action you want to take.
The only disadvantage from this tool is that you may have to locate it and enable it if it is not active. This may be challenging if you don't know where to find but it is not an uphill task once you know where to look.
Here's how:
Step 1. Access the Control Panel through the Start button then open Hardware and Sound before finally getting to AutoPlay. You could also type in the word AutoPlay in the search box then click it when comes up.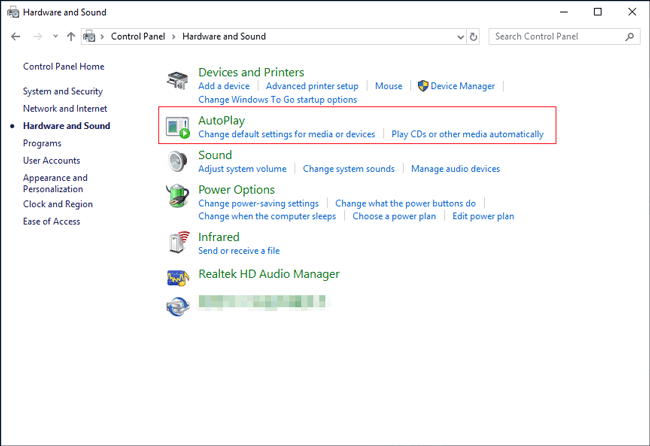 Step 2. Connect iPhone to PC via a USB cable.
Step 3. AutoPlay will show up automatically with options of possible actions to be taken. Choose Import pictures and videos. The rest you need to do is to select the photos that you wanted and click Import to backup them to PC.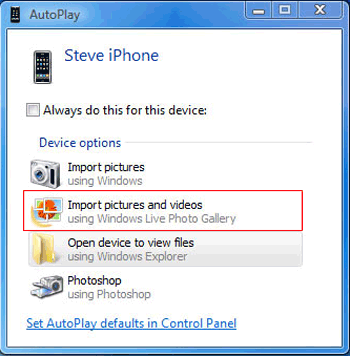 Tip 3. Backup Photos from iPhone with Windows 10/Mac Photos App
Like AutoPlay, Photos App comes inbuilt in both Windows 10 devices and Mac. This saves you the trouble of having to look for it from the relevant stores. It can be used to transfer pictures in batches and can be used to not only view photos but also edit them before backing up.
When being used to copy large batches, the process tends to be slow, the only disadvantage this tool seems to have.
See how to use Photos App if needed:
Step 1. Connect your iPhone to the computer by a USB cable. Please make sure you allow your iPhone to trust the computer in order to proceed.
Step 2. Launch the Photos app on your computer if it can not run automatically. You can locate the app by typing it on the search menu.
Step 3. Click Import at the top-right of the interface and you will be asked to select the option from the drop-down menu, please choose From a USB device.
Step 4. You can now select your individual picture or albums on your device and click Import selected. The selected photos are imported to the Photos app and stored on computer.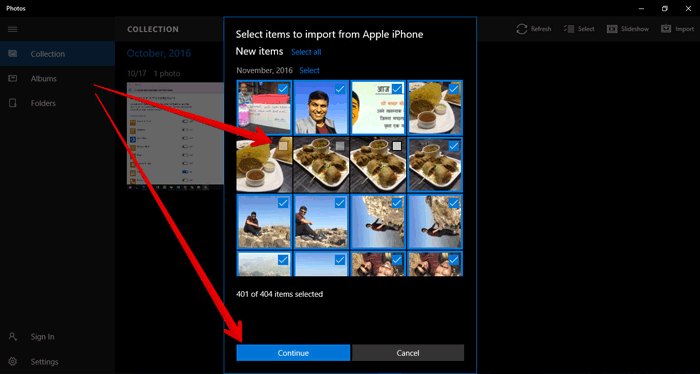 Tip 4. Backup Photos from iPhone by Drag & Drop
Being a straightforward method is one of the advantages of drag and drop has over other methods. It is also simple as the rest but is only perfect form small files which means you will have to back up your pictures individually. If you try to back up a whole album or many photos at once, the process takes longer and sometimes even stalls forcing you to start over again.
Drag and drop can be used on many platforms including windows and MacBook and is also applicable to a large number of mobile devices.
Here's how:
Step 1. Connect your iPhone to the computer with a USB cable.
Step 2. Go to My Computer to find your iPhone then double click your iPhone's icon to open it.
Step 3. Open the Internal Storage then you can see the DCIM folder which is your Camera Roll, please open it.
Step 4. View your pictures then drag them to the location you want the backup to be stored. You can select multiple photos before dragging them but this is always time-consuming. The best option is to select small batches of less than 10 pictures at a time.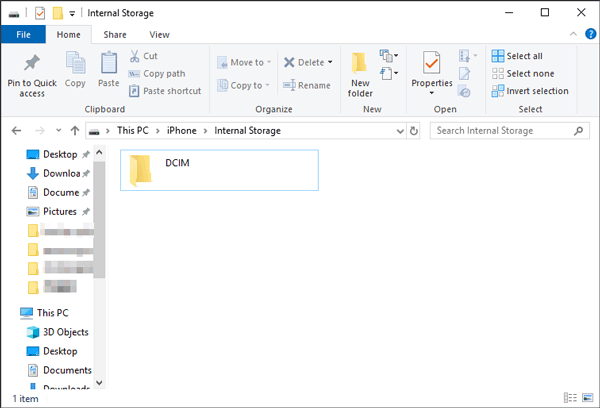 Tip 5. How to Backup Photos from iPhone to iCloud Photo Library/iCloud
Although they are always used interchangeably, iCloud Photo Library can be considered as a feature within the iCloud.
It has advantages such as large storage spaces for backups and ease of use as well as easy synchronization with devices, which takes away the need for manual backups. The iCloud Photo Library is usually online which means that any time you want to see your pictures you have to log into iCloud. Apart from this disadvantage, the platform makes it easier for you to backup other files. You can use it to recover and share your pictures as you please.
You can go with the following steps to backup photos from iPhone to iCloud:
Please go to Settings > your name > iCloud > Photos > turn on iCloud Photos to activate an auto backup.
Please notice that the photos you backed up to iCloud Photo Library will not duplicated in your iCloud backup, so you need to backup your photos from iPhone.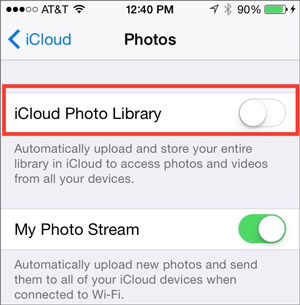 Tip 6. How to Backup Photos from iPhone to iTunes
The main disadvantage of iTunes stems from the fact that you have to have the latest version for you to complete major tasks like restorations or backups. The automatic synchronization feature is particularly important for those who want to backup photos from iPhone since it gets the job done faster and efficiently. It also limits users on selective backups, something that is considered an inconvenience to some. However, it is a common way to backup photos from iPhone.
Here are the steps:
Step 1. Connect your iPhone to the computer via a USB cable and open iTunes.
Step 2. Tap on your device from the iTunes then go to Summary.
Step 3. Choose your storage area as This computer then select Encrypt backup to bring your passwords with the files if needed > tap on Back Up Now. Click Done when finished.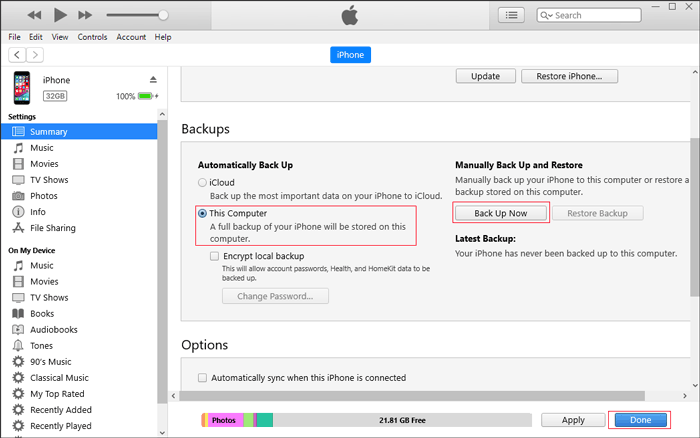 You may need:
Tip 7. Backup Photos from iPhone to Google Photos
Compatibility with all devices is one of the main advantages of Google photos. This is aside from the fact that you get 15 GB free storage for your backups while Apple only offers 5 GB free space for iCloud. Easy access to the pictures is another advantage, together with the fact that you can use the same Gmail account for Google applications so you don't have to worry about forgetting many passwords.
Here's how:
Step 1. Install Google photos for iOS on your phone, then sign in to your Google account.
Step 2. Enable backup photos from iPhone to Google Photos. You can find this option from Menu > Settings > turn on Backup & Sync. If you are prompted to allow this app to access photos, you can go to iPhone Settings > Privacy > Photos > turn on Google Photos. After that, the photos will be backed up to Google Photos.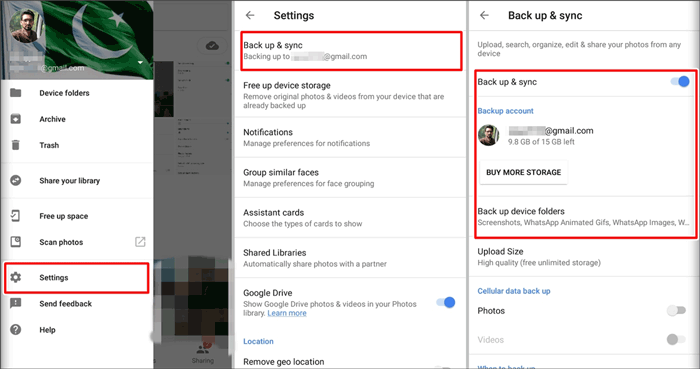 Final Thoughts:
Each of these methods has their disadvantages and advantages but they are all great for backing up photos from iPhone to PC/Mac/Cloud. You, therefore, have to compare their features and choose the best one for your needs. MobiKin Assistant for iOS (Win/Mac) has been reported to be the most preferable among most users since it comes with more full-featured.
Since everyone has different likes, it may not be a perfect choice hence the other options. If you have other good ideas to backup photos from iPhone, please leave your comments.
Related Articles:
How to Transfer Contacts from iPhone to PC
6 Ways to Transfer Photos from Computer to iPhone Effectively
5 Ways to Backup WhatsApp on iPhone Effectively
How to Import VCF to iPhone Xs/Xs Max/XR/X/8 Plus/8/7? (Productivity Tips)
How to Send Large Size Videos & Photos from iPhone Effectively?