3 Ways to Erase LG Phone Permanently
LG mobile phone is an extraordinary smart phone, you can make full use of it to entertain, such as taking snapshots, videos, watching movies, chatting and so on. After using the LG phone for a certain time, it will accumulate all types of information about you from the photos you took, the saved contacts, and the text messages you received. Now suppose that after using it for a long time, you decide to sell it to someone. Or you don't need any money, but choose to donate or give your mobile phone to an unfortunate person. Then the first thing you have to do is removing all your sensitive data from your LG device.
One of the reasons why it's important to remove all data from your LG phone is to protect your privacy. After all, no one wants others to have easy access to their personal data. As you can see, millions of people are victims of identity theft simply because they forget to erase their data from their mobile phones. In this guide, we will share several ways to help you clear all data from the LG G6/G5/G4/G3/G2 and other LG smartphones. This process can also improve phone performance by removing unnecessary or junk data from your phone.
Way 1: Using "Factory Reset" to Erase Data on LG (Not Safe)
Whenever you want to return your LG phone to the factory defaults, or your device is in a very bad condition, you can choose to format it by factory reset. After that, all data and settings on your LG phone are erased completely and your phone just looks as new. The guidelines are divided into simple steps as follow:
Step 1. Click on "Menu" and then find and select "Settings". You can also swipe down the screen to click on the gear icon to do the same work.
Step 2. Highlight the tab of "Personal". Scroll down and then click on "Backup & reset" option.
Step 3. In this step, you should tap on "Factory Data Reset".
Step 4. Click on "Reset phone" and then select "Erase everything".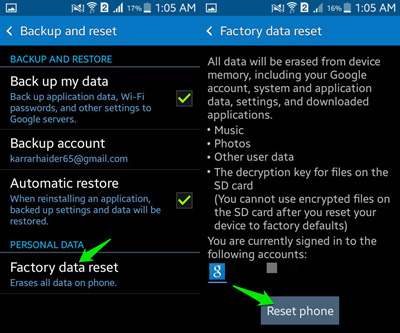 Step 5. In this final step, it is vital to not mess with your phone in any way while the resetting process is taking place. Wait until it is completed. Once it is, your device will be instantly be rebooted.
This is all!
See Also:
How to Recover Deleted Text Messages on Android
Things You Have to Do before Selling Your Phone
Way 2: Manually Delete Everything on LG G6/G5/G3/G3/G2 (Not Safe)
If you are not bothered, you can choose to manually delete the data on your phone. Things that you must delete are as follows:
Step 1. To delete contacts from your LG phone, you should open Contacts, select all and tap on Delete.
Step 2. To erase text messages on LG phone, you should open text messages, select all and tap on Delete.
Step 3. To delete photos from your LG phone, you should open Gallery and delete all photos and videos.
Step 4. Uninstall applications from your LG phone, such as WhatsApp, Facebook and any other app.
Step 5. Sign out all online accounts on your LG phone, such as Gmail.
Please note: No matter you choose to factory reset your LG phone, or delete LG phone data manually, here is a drawback of the two methods that these deleted data can be recovered easily by using LG data recovery software. In this case, you might want to consider taking advantage of Android Data Eraser, which can erase everything on LG G6/G5/G4/G3 permanently, with zero recovery possibility. Please continue to read the following way 3.
Way 3: How to Erase LG Phone Data Permanently (100% Secure)
There are numerous programs available online that can recover lost data from Android phones or tablets. Therefore, if you want to delete everything from your LG phone permanently, you need to use Android Data Eraser, which is a powerful application to erase all data from your phone and make sure nothing can be recovered. It will erase everything at one shot for several types of devices, including browsing history, contacts, messages, photos, videos, music, notes, keyboard cache, voicemails, among others. So, you are suggested to make a backup of your Android phone before using this software (here is a guide showing you how to backup LG phone data on computer).
Just click the following button to get the Android Data Eraser downloaded and installed on your computer. It works on not only LG, but also other Android phone brands, including Samsung, HTC, Sony, Motorola, Huawei, ZTE and so forth.
Step 1. Launch Android Data Eraser after you have installed it on your computer. Connect your LG phone to your computer with its USB cable and install the MobileGo connector on your device as asked. Then you will see an interface like this.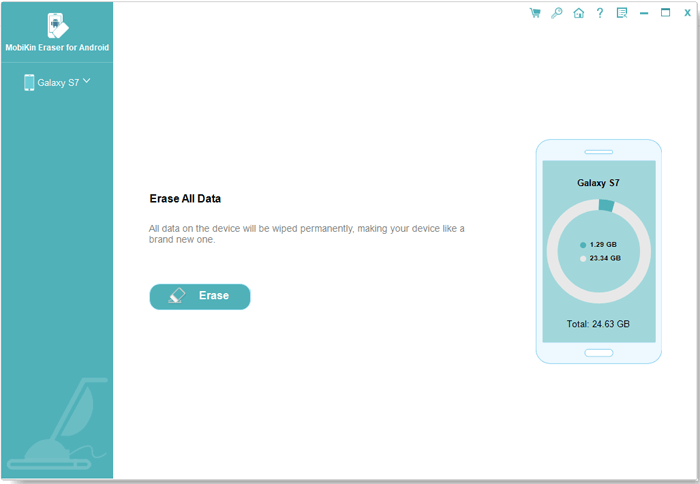 Step 2. The program will detect the connected LG phone and display you with the following screen. Now you can directly choose "Erase All Data" if you want to delete everything on your phone.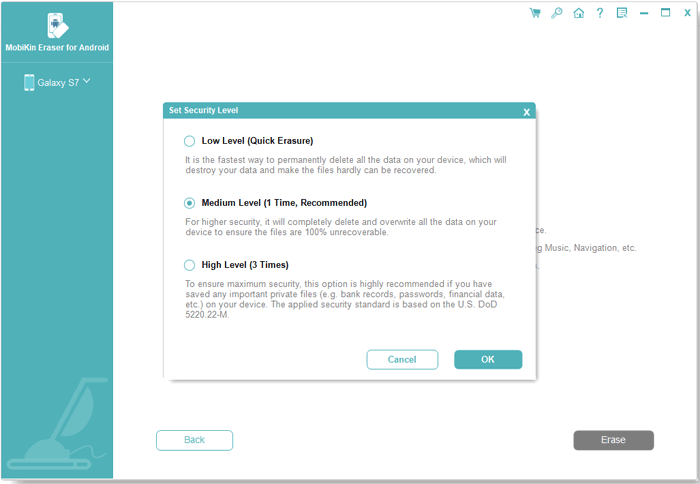 Step 3. After you have selected all the data you want to remove, you can hit on "Erase Now" button and type "Delete" on the pop-up window to confirm the erasing action. Make sure keep your phone connected to the computer throughout the process.
Which Way is the Best?
The above factory reset can only delete data you stored on SD card, and the data you saved in internal storage is still in your phone that can be recovered by other people. Manually deletion also cannot erase LG phone data for good. Therefore, to permanently delete files on LG phone, you should pick up the Android Data Eraser, which is able to erase everything on LG phone with zero recovery possibility.
Related Articles:
How to Clean Cookies on Android Phone