How to Downgrade From iOS 17 to iOS 16 Without Losing Data [Full Guide]
iOS is known for its frequent updates. These updates come with their pros and cons. If you've recently upgraded your iPhone or iPad to iOS 17, you may have realized it doesn't suit your needs. People find downgrading their device to the more reliable iOS 16 is the best way. But how do you downgrade your device without losing all of your data? Don't worry – you can perform an iOS downgrade from 17 to 16 without losing your data. This guide will explain the whole process of how to roll back iOS update.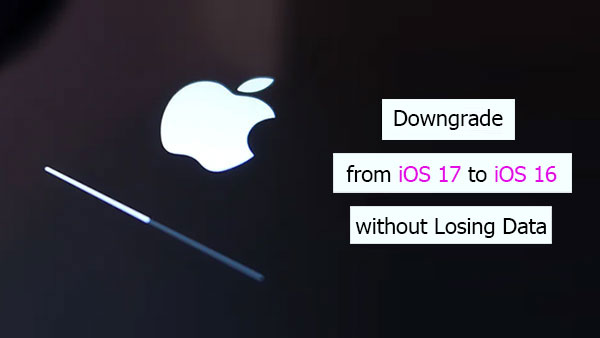 Part 1. What to Do Before Downgrading from iOS 17 to 16?
It is easy to lose data while downgrading, so it is important to take certain precautions to back up your iPhone data. Before you start the downgrade process, ensure you have the latest version of iTunes or iCloud installed on your computer. The following are some of the backups you should do:
Method 1: Backup Your Data With iCloud
You only need a strong network connection to back your data. iCloud is the most suitable option as it backs up data quickly and stores it in the cloud. With iCloud, all your data (such as apps, photos, music, and contacts) will be saved to the cloud. It is free to use, so there's no extra cost involved. Below are the steps:
Go to "Settings" on your iPhone or iPad. Choose the name of the device and tap on iCloud.
Enable the automatic backup option and make sure it is up to date.
Select "Back Up Now" to get the process going.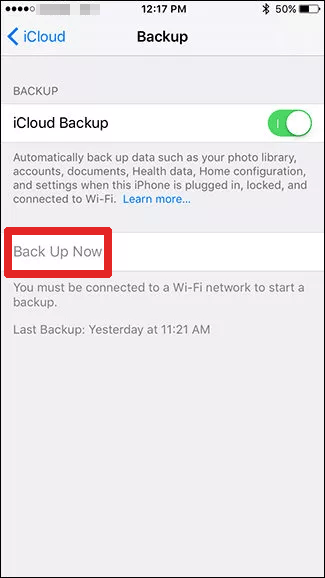 Method 2: Back Up Data with iTunes
If you are a Windows user, you can use iTunes to back up data. It is a reliable method, and all your media files, such as videos and music, will be backed up without hassle. Although you must install it first. Below are the steps:
Launch iTunes on your computer. Connect your iPhone.
Open iTunes and tap on the phone icon.
Click on Summary -> Backups -> Back Up Now.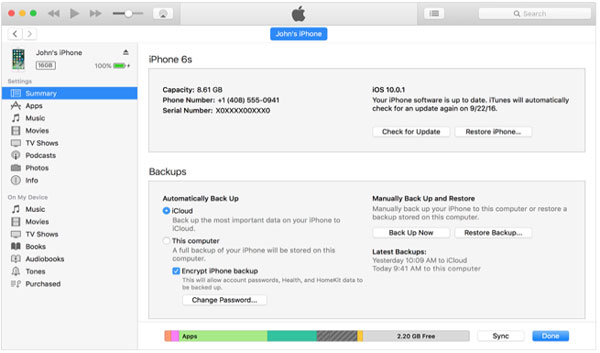 All your data will be backed up within minutes. This will help in recovering data if you encounter any issues while downgrading.
Click to Learn More:
Part 2. How to Downgrade from iOS 17 beta by Removing iOS 17 Beta Profile
It is harder to downgrade from iOS 17 Beta compared to other versions. But you can do it by removing the iOS 17 Beta profile. Although Apple does not support this method, you can try it. But keep in mind that this method might not work and can come with some risks. This will delete any beta software running on your device and allow you to install a new version of iOS 16.
Here are the steps on how to downgrade from iOS 17 beta:
Open your preferred web browser and type "iOS 16 IPSW download." Click search or hit enter button.
Different websites will appear on the search result page, choose one of them and download iOS 16 IPSW file for your compatible iPhone model.
On your iPhone, go to "Settings" -> "General" -> "iPhone Storage". Locate iOS 17 Beta profile and select it. Then tap on the "Delete Profile" button from the bottom of the page.

Now restart the phone. Locate the IPSW 16 file you downloaded and tap on it. The installation process will begin. Follow the on-screen instructions and wait till the process gets over. Wait for it to complete.
When iOS 16 installation is complete, your device will restart automatically. You can check for the version by going to "Settings" -> "General" -> "About".
Part 3. How to Downgrade iOS from 17 to 16 Using iTunes or Finder
Using iTunes (on Windows) or Finder (on macOS) is another method to revert to a previous iOS version. You need to ensure that you connect your iPhone to the PC using the USB cable. Steps on how to downgrade iPhone:
You need to put your iPhone into recovery mode. To enter this mode, press and quickly release the Vol (-). Then repeat the same on Vol (+). Now press the Side button and hold it until you see the recovery mode screen.

iTunes (or Finder) will automatically detect your device in Recovery Mode. A pop-up window will appear on the screen. Click "Restore", and iTunes (or Finder) will begin downgrading or restoring your device to iOS 16. All the data will be wiped out.

The whole process might take a few minutes, so wait for it to finish. Restore your data from the iCloud or iTunes backup once complete. Remember, the restoring process is different from the process we have followed in downgrading.
Extended Reading:
Part 4. Downgrade from iOS 17 to iOS 16 without Losing Data Using iOS System Recovery
iOS System Recovery is a reliable tool designed to fix various iOS system issues without data loss. Whether downgrading your iOS or dealing with system errors, this software ensures a quick, easy, and secure recovery without technical expertise. Millions of users trust it because it boasts more features, and no risks of data loss can be encountered.
Core features of iOS System Recovery:
iOS System Recovery offers a few-clicks solution for downgrade with no loss of data.
Fixes over 50 iOS system issues, including frozen screens, boot loop, battery draining fast, Touch ID not working, and more.
No need for iTunes while upgrading or downgrading the iOS.
Fix systems problems with just two repairing modes.
No data breach to the third party.
Compatible with almost all iOS devices. They include iPhone 14/13/12/11 Pro Max, 11/11pro, XS Max/XR/Xs, 8/8 Plus, 7/7 Plus, 6/6S/6 Plus, iPhone 12/12 Pro Max/12Mini, 13/13 Pro Max/13 mini and 14/14 Pro Max/14 Plus iPod Touch and iPad.
How to downgrade from iOS 17 to iOS 16 using iOS System Recovery?
Step 1: Connect iDevice to PC
Download and install iOS System Recovery on your computer. Launch the program and connect your Device using a USB cable. Choose the "iOS System Recovery" option from the program's interface. Tap on "Trust" on the device's screen to allow access.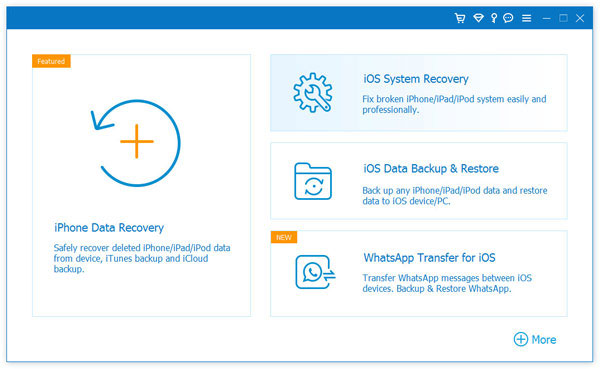 Step 2: Tap on "Start"
Move ahead by tapping on the "Start".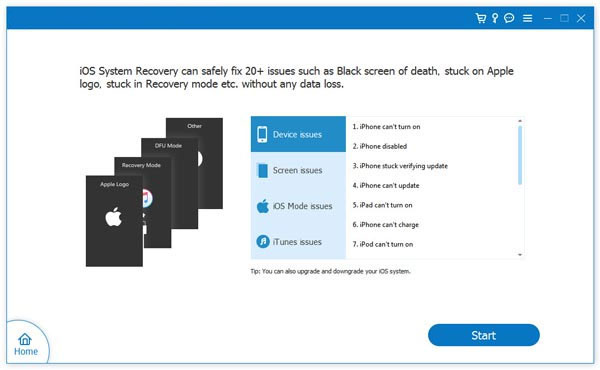 Step 3: Choose Standard Mode
Now select "Standard More". Check and confirm your device's basic information and click "Optimize."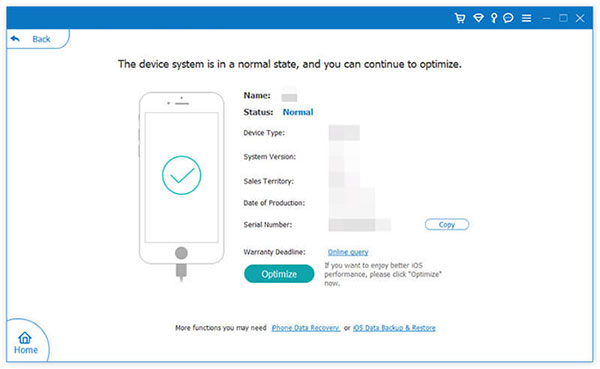 Step 4: Downgrade iOS for your iPhone/iPad/iPod
The tool will match and verify the suitable iOS firmware package for you. A list of different iOS versions will appear. Select the downgrade version you want to downgrade your iPhone/iPad/iPod and tap "Next" to start downloading.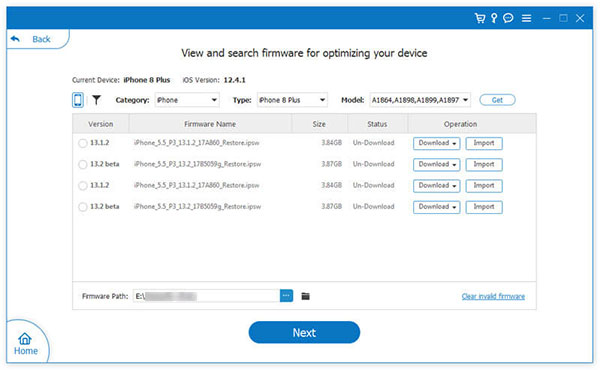 Step 5: Downgrade Completion
The process will finish with the "Downgrade Completed" message. Disconnect your device and start using it with the downgraded version.
Part 5. FAQs about iOS 17 Downgrade
Q1: iOS 17 VS iOS 16
iOS 17 and iOS 16 offer updates to the existing features, but there are some key differences between them. The latest version, iOS 17, provides improved performance, stability, security, and more features. This is why many users upgrade to the new version of iOS. Although this iOS 17 version does not provide the best form, it could be more stable. iOS 16 should be your priority if you are looking for a reliable and stable OS or have multiple devices.
Q2: Tips for a successful iOS 17 beta downgrade
If you're running the iOS 17 beta version and want to downgrade back to iOS 16, you should follow these tips for a successful downgrade:
Before beginning, ensure you have an up-to-date device backup in iCloud or iTunes. This will help protect your data in case something goes wrong during the process.
Be cautious about downloading to the versions that Apple fully supports.
Use the right tool and way to downgrade your device. Various online tools can help you downgrade your device—the most common and verified tools such as iOS System Recovery and iTunes.
Q3: Is iOS System Recovery safe to downgrade iOS 17 to 16?
Absolutely yes. iOS System Recovery uses advanced technology to ensure the safety of your Device during the downgrade process. It's designed to preserve your data and make the transition as easy and safe as possible. You can restore your Device to the previous version with a few clicks without any data loss. It is trusted by millions of users worldwide. You can simplify the process and avoid unnecessary complexities or troubles. iOS System Recovery provides a secure and effective solution for downgrading your iOS version.
Conclusion
Technology can be complex, but you can navigate its intricacies with the right guidance. Downgrading from iOS 17 to iOS 16 is possible, and by following the steps outlined on how to downgrade to older iOS in this guide, you can achieve it without losing any valuable data. Remember to back up, gather information, and choose a suitable method based on your situation. With these steps, you can take control of your Device's software and enjoy the version that suits you best.
Related Articles:
iPhone/iPad Stuck on Preparing Update to iOS 16/17? 9 Methods for You
[Fixed] How to Recover iPhone Data after iOS Update?
Tired of iTunes? Here're Top 11 Alternatives to iTunes for Windows & Mac
How to Downgrade from iOS 15/14 to iOS 14/13 [Full Guide]
How to Unlock A Disabled iPhone without iTunes or iCloud? (100% Useful)