How to Transfer PDF to iPhone, iPad or iPod touch Easily?
PDF Files (portable document format) are undoubtedly the most popular format for anything from business documents, classic literature, to digital magazines. Despite being among the most sought after iPhone features, only a handful of users truly know how to take advantage of the device's built-in capability to download, and read PDF file types.
Below are some of the most practical, user friendly methods of transferring PDF files to an iPhone.
Transfer or Copy PDF from PC to iPhone X/8 Plus/8/7/6S/6 with iTunes or iBook
In case you didn't know that Apple has their own native eBook reader app called the iBook, which was recently updated to support PDF files. If you happen to have the iOS 8, the iBook is already preinstalled in your app library. If not, simply head over to the free app section to download it. Here, if you have multiple PDF files to transfer, you will more than happy to learn about the easy synchronization between the iBook and iTunes. This removes the hassle of moving a single file at a time, allowing full folder transmission.
First of all, please connect your iPhone, iPad or iPod touch to your computer via USB cable and then launch iTunes. Generally speaking, iTunes will be automatically launched once your iDevice is connected. But if it is not launched, you can open it manually.
Hit "File" > "Add File to Library..." or "Add Folder to Library..." to import the PDF files you wish to read on iPhone into the iTunes library.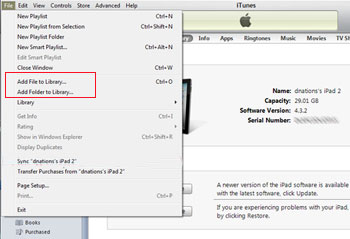 After that, you can find "Books" option in the menu tab. Click on the Books section located in the library area and check the box that says "Sync Books". Shortly thereafter, you'll notice the books you chose to transfer will be available. Another cool feature of the iBook is the ability to view PDF attachments, which is more practical for PDF files sent via E-mail. Now, you can enjoy PDF files with your iPhone iBooks anytime anywhere!
In order to avoid the need of transferring PDF from iPhone to computer, here we could like to strongly recommend MobiKin Assistant for iOS (Windows/Mac) as your daily books transmission helper. Below is the free trial version of the powerful program.
Something you may need know
It may not sound logical at first to go for a slightly more difficult method in the form of PDF to EPUB conversion. However, we know that PDF files are not meant for mobile viewing. EPUB files offer an upgraded reading experience due to their dynamic, adaptive qualities catering to particular mobile monitor size, and devices. As a whole, EPUB files improve, and upgrade readability. This is especially important or small monitors such as offered by the iPhone, while not such a big deal with larger sized devices such as the iPad. Therefore, if you wish to have a great reading experience on iPhone, you're highly recommended to convert your eBooks from PDF to ePub with some free online tools before importing them to your device.
Related Articles
How to Transfer Music from iTunes to External Hard Drive
Tips to Transfer or Copy Contacts from iPhone to Computer
How to Transfer Music or Songs from iPod to iPhone