Not Enough Space to Back Up iPhone on Mac/PC? 10 Solutions for You
"iTunes could not back up the iPhone because not enough free space is available on this computer. How can it be true when I have 193 GB available on my computer, and my iPhone has only 118 GB used?". -- from Apple Forum
Have you ever run into such a headache as "iPhone backup not enough space on computer" while backing up your iPhone with iTunes? Is it necessary to delete some videos/photos from my iPhone and try again? OK, to put an end to iTunes backup issues, this article offers you 10 quick solutions, a great alternative to iTunes, and practical tips associated with this topic.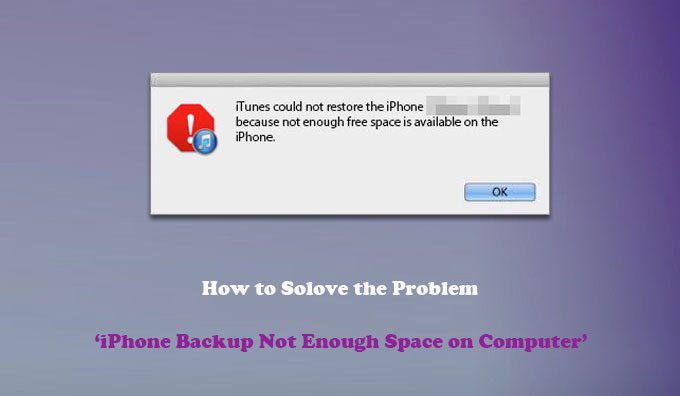 Part 1: 10 Solutions to Fix "iPhone Backup Not Enough Space on Computer"
Solution 1: Check the iPhone Storage
When iTunes says, "I don't have enough space but I do...", the first solution that comes into your mind could be to check the iPhone space. To do this, head to Settings > General > Storage & iCloud Usage. Now, you can see the used and storage available on your iOS devices. And you can choose to clean temp files on your iPhone.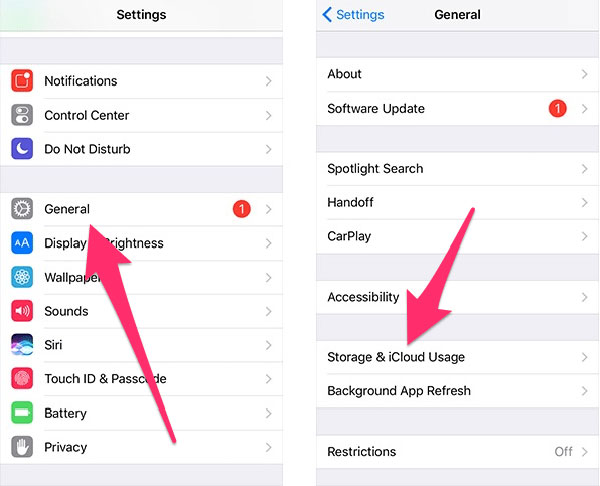 Solution 2: Reconnect Your iPhone to the Computer
Failure of the lightning cable or the connection port might also give rise to the message like "not enough space to backup iPhone on Mac/PC". At this time, you can choose to reconnect your iPhone to this computer or use another USB cable available instead and try again.
Solution 3: Restart Your iPhone and Computer
After reconnecting, try rebooting your iPhone and computer if the issue doesn't get fixed:
For iPhone X or later: Press & hold the "Side" button and either volume button till the power off slider turns up > swipe the slider to turn off your iPhone > Press & hold the "Side" key until you see the Apple logo.
For iPhone 8 or earlier: Press & hold the "Top (or Side)" button until your get the power off slider > drag the slider to get your device turned off > hold the "Top (or Side)" button tightly until the Apple logo appears.
For your PC: Navigate to "Start", followed by "Restart".
For your Mac: Click the "Apple" button on your Mac and tap the "Restart" button when you see the dialog box.
Solution 4: Upgrade iTunes Version
Upgrading iTunes versions may help settle the matter. Now, you can check if a new update is available on your iPhone. Then, follow the steps below to install the latest version of the tool as needed.
For Windows computers: Open iTunes and go to "Help" > "Check for Updates" > a prompt will then tell you to install the latest version of iTunes.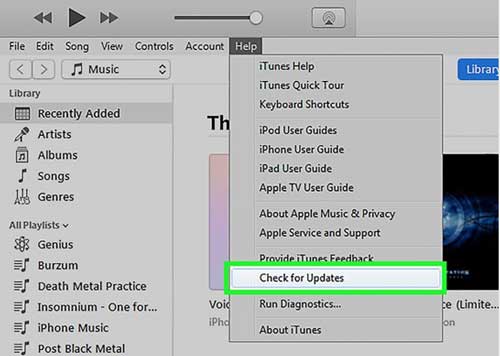 For Mac computers: Open your Mac and head over to App Store > tap on "Updates" > click on "Install", if any.
Read Also:
Solution 5: Update iOS to the Latest Version
An outdated iOS version can also be the culprit for "iPhone backup not enough space on computer". You can try to have the iOS updated now if your phone system is not up to date:
1. On your iPhone, go to Settings > General > Software Update.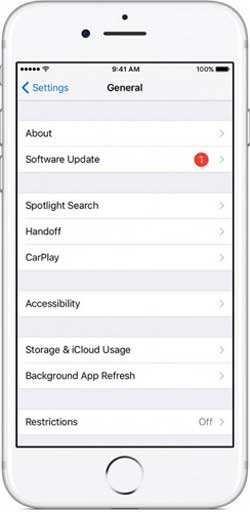 2. Tap on "Download and Install". Then the next window should appear, asking you to tap on "Install". Simply follow the instruction and wait for the installation to complete.
Solution 6: Remove Previous iTunes Backups
Removing corrupted or old backups to free up space can be a simple way to fix iTunes errors like "iTunes can't backup iPhone not enough space". To accomplish this, you need to open iTunes > go to iTunes > Preferences > Devices. Then choose the backup file and tap on the "Delete Backup" button.
Solution 7: Compliance with Security Settings
To troubleshoot iTunes issues that might occur due to cybersecurity, you can settle the problem via Security Settings on your computer:
Ensure the date, time, and time zone settings are all correct. Otherwise, just update them.
Install the latest version of iTunes if you haven't done it yet.
Make sure you update the Windows or macOS regularly.
Install the latest security patch for your 3rd-party security software.
Check the host files on PC/Mac to make sure they are not damaged.
Solution 8: Free Up Space for Your PC
There may be conflicts between iTunes and unknown memory files on your computer when it is backing up. Cleaning up your computer's space might let iTunes function well. Here's how:
1. Type disk cleanup from the search box on the taskbar > select "Disk Cleanup". Next, check the boxes in Windows Disk Cleanup.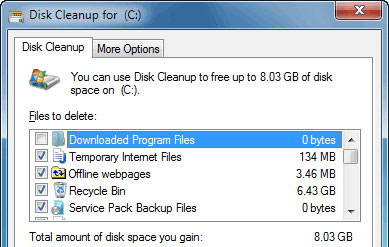 2. Open the Windows Programs and Features, arrange the list of installed programs following their size by clicking "Size" as below, and uninstall your unnecessary programs.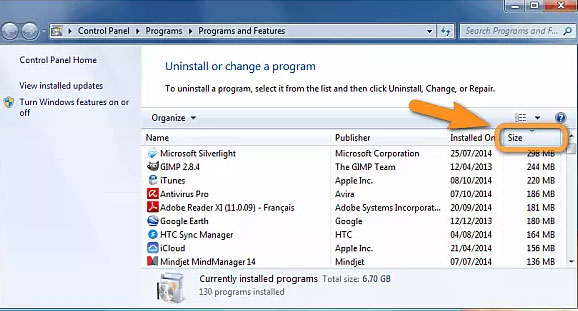 You can also clean temporary files from your web browsers or free up your computer space with personal computer tools.
Solution 9: Reset Location & Privacy Setting on iPhone
Resetting Location & Privacy Setting on your iPhone/iPad will not erase your iOS data. So, to further rule out the possibility that your iPhone might result in the bad performance of iTunes, you can try this solution:
On your iPhone, go to Settings > General > Reset and touch "Reset Location & Privacy". Once your device is reset, apps will stop using the location unless you grant them permission.
You May Also Need:
Solution 10: Fix iTunes Errors with iTunes Repair
Still, you may find iTunes cannot work for you after trying the methods above. Without being able to explore its back-handed reasons, it is difficult to solve the problem through some simple strategies. iPhone backup cannot be saved because of not enough space on computer all the way? Just try the professional tool - iTunes Repair to deal with your predicament.
What can iTunes Repair do for you?
Repair 100+ iTunes errors and issues (almost all).
Fix your iTunes to normal without harming the data on your devices.
Boost your iTunes in seconds within one click.
Work well with nearly all the iTunes versions and iOS devices.

How to fix "iPhone backup not enough space on computer" via iTunes Repair?
1. Download and install the program before running it on your computer. Then choose "Repair" from its primary window.
2. Connect your iPhone to the computer with a USB cable and wake up the device screen. When the utility detects your iDevices, it will offer 3 options, from which you ought to select "Repair iTunes Syncing Error" to continue.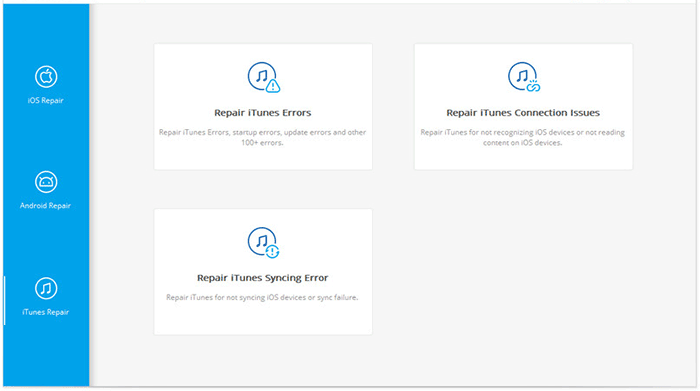 3. Click "Start" to initiate the repairing process. It may take a few minutes to resolve the error.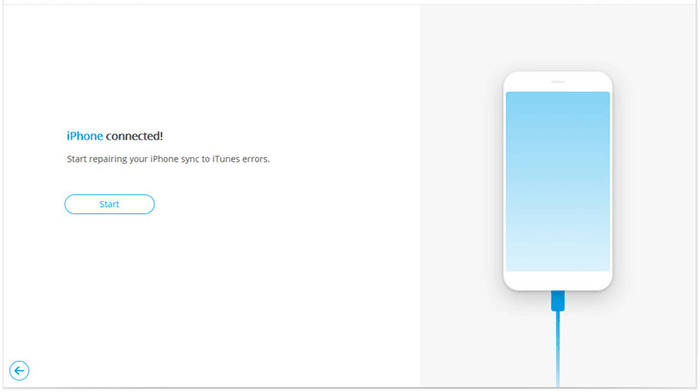 4. Once accomplished, you will get a "Repair Completed" message from the interface of the program.
Part 2: The Best iTunes Alternative to Back Up iPhone to Computer
Folks used to enjoying a productive and quality life are likely to ditch iTunes in favor of its replacement MobiKin Assistant for iOS (Win and Mac). Based on the needs and UE of iOS users, Assistant for iOS outperforms iTunes in every respect. It allows you to back up iDevice in two simple ways and manage your iOS devices better.
Some highlights of MobiKin Assistant for iOS:
Transfer data between iPhone/iPad/iPod and computer seamlessly.
Back up and restore content between iDevices and iTunes but without opening the iTunes.
Manage your iPhone, iPad, or iPod data on PC/Mac directly.
Work for various content, such as contacts, text messages, eBook, video, picture, Safari bookmarks, music, voice memo, podcast, playlist, and more.
Free download, simple interface, and easy to use.
Fully compatible with various iDevices, including iPhone 12, iPhone 11/11 Pro/11 Pro Max, iPhone X/XR/XS/XS Max, iPhone 8/8 Plus, iPhone 7/7 Plus, iPhone 6/6S/6 Plus, and a full range of iPod/iPad, etc.
It never tracks any privacy of its users.
How to back up iPhone to computer with Assistant for iOS?
Quick Steps:
Have your iPhone identified by the tool.
Choose your desired data for backup.
Export the chosen items and save them on your computer.
Detailed Steps:
1. Install and launch the program on your computer. Connect your iPhone to the computer via a USB cord. Then launch the program, and it'll recognize your iPhone with its main window displaying as below.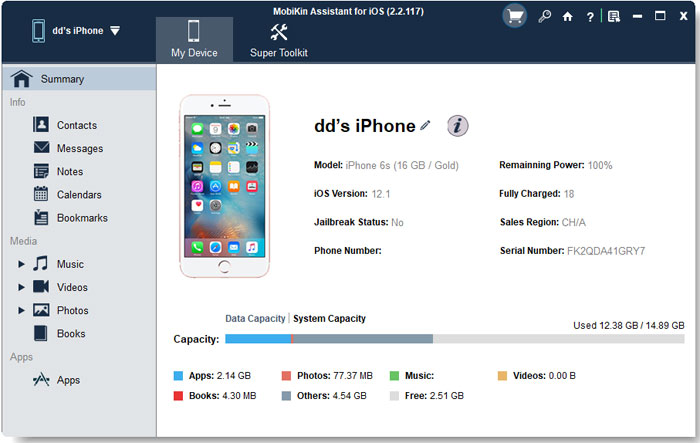 2. You will find a list of files at the left sidebar. Just click the categories and mark the checkboxes nearby the files you'd like to back up to this computer.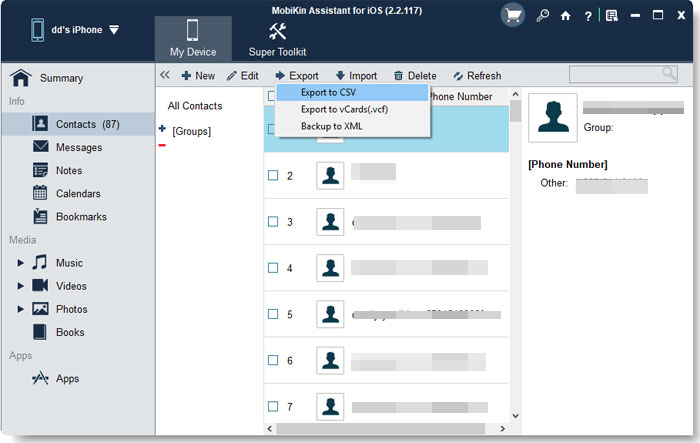 3. Tap "Export" at the top menu to start moving selected files from your iPhone to this computer. Once done, you can check the backup files on your computer with ease.
Alternatively, you can back up your iPhone in bulk by going to Super Toolkit > iTunes Backup & Restore > Backup > arrange a location to get the backup stored on your computer.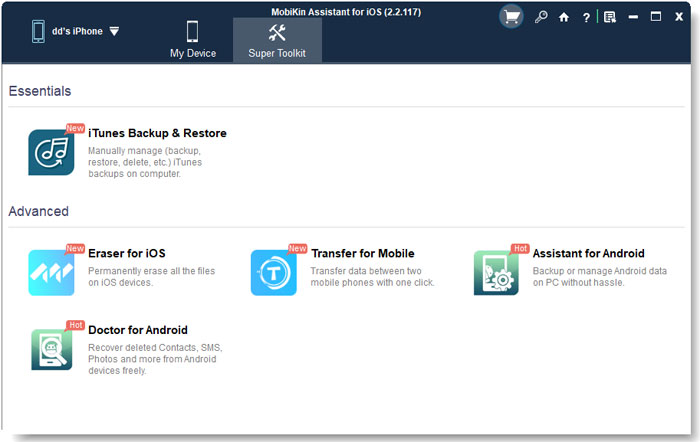 Part 3: Bonus Tips of iTunes Backup iPhone
Tip 1. What Is Responsible for "not enough free space is available..."?
iTunes could not restore because not enough free space on this computer? Well, it may just be a facade. There are 2 main causes for this phenomenon. Primarily, there might be something wrong with your computer, iTunes or iPhone. Next, the actual available space does exceed the maximum capacity of the computer's memory.
Tip 2. Why Can't iPhone Backups Be Saved While Using iTunes?
The possible reason is iTunes doesn't have enough permissions to access your iPhone content. It's usually when the device is connected to a computer running iTunes. You'll be hinted to set up the device as a new iPhone or restore from backup files. At this point, just choose whether or not to add media files from the computer to your iPhone.
Tip 3. How Much Space Do iPhone Backup Files Eat Up?
At present, the average storage space of an iPhone is around 64GB. And a standard Blu-ray 1080P film alone can reach 30G or more. This means your iDevice memory can be easily used up. In this case, your computer must allocate at least 64GB of memory for the files.
Roundup
To fix "iPhone backup not enough space on computer", the most clumsy way is to try each solution in turn. And you can also resolve this problem directly using iTunes Repair. Then try to back it up again with iTunes. But when it comes to iPhone backup, wouldn't it be better to save a lot of the time and energy wasted by iTunes to go and take a stroll outside? As such, just pick MobiKin Assistant for iOS because it will work just fine all through.
Related Articles:
How to Fix iPhone/iCloud Photos Not Showing Up on Mac?
Easy Ways to Get iPhone Text Messages on Windows 10
Where Does iTunes Store Backups & How to Change iTunes Backup Location?
Send Long/Large Videos on iPhone: The Definitive Guide (7 Ways)
How to Transfer Files from PC or Mac to iPhone 12/11/Xs Max/X/8?