Want to Locate Your Phone Number on Your iPhone? Methods are Here!
It is common to save and find the phone numbers of the people around you like friends, families, colleagues, etc. on your iPhone but only a small amount of people know how to locate their own number on their iPhone. However, in our actual lives, quite a few people are eager to know the methods to locate their numbers on their phone cause they are bad at remembering phone numbers, especially when they get a new number. Thus, to help you get rid of this kind of awkwardness, this article will show you different means of locating phone number on iPhone.
See also:
How to See iPhone Contacts on Computer/Mac?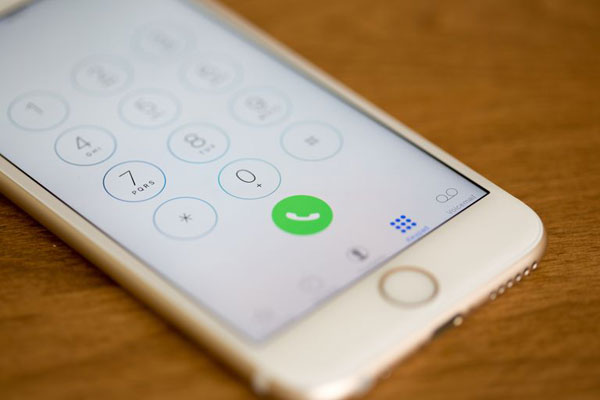 How to Locate Your Phone Number on Your iPhone?
There are three solutions available for you to find out your own phone number on your device and their particular steps will be displayed below to help you complete the locating process. You can choose anyone of them to let yourself seek out your number as quickly as possible when you are unable to call your own number to mind.
1. Find Your Number in iPhone Contacts
The most easy and common means to locate your phone number is to view it in the contacts list on your iPhone. After using this method, you can find out your phone number once you open your contacts list. To add the number, what you need to do is just click on the "Phone" application on the screen. Then tap "Contacts" at the bottom of this page and you will see your phone number is listed at the top.
Easy, right? Just try it when you forget your number next time.
2. How to Locate Your Phone Number on Your iPhone Menu
If you fail to locate your number via the first means, you can try the second one- check your number on your iPhone menu. This method is straightforward as well but you might need to finish it in more steps than the first one. You can take a look:
Click the icon of "Settings" on your iPhone screen. After entering the Settings interface, you will see many files on your phone are listed on the screen. Just scroll down the page and find out the "Phone" option. Hit the option and you will see your phone number is shown at the top of the menu in the next page.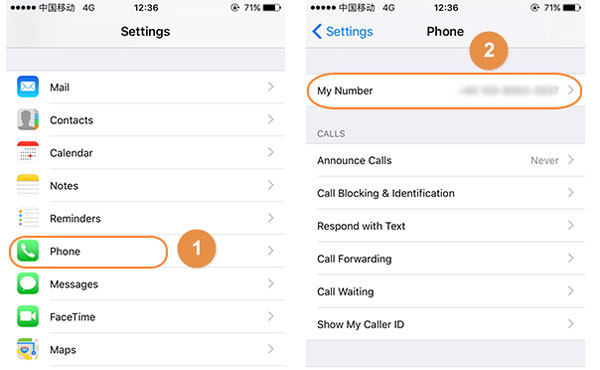 Done! You've locate your own phone number just within several minutes.
3. Make Use of iTunes to View Your Number
The last means we want to introduce is to find your phone number via iTunes. iTunes is an official service provided by Apple Inc. to sync the important data like music, videos, photos and so on between iDevices. And when you use it, it will register the information of your phone, including the Apple ID, phone name, phone number, etc. So you can go to iTunes to see your phone number.
By using this way, you should establish a connection between your iPhone and iTunes with USB cable. Next, launch the iTunes on your computer. Then you have two options:
Option 1: click on the "Device" icon. After that, you will see the "Summary" tab. Just click on it and you can see basic information of your device are listed on the screen and your phone number is listed below the "Capacity".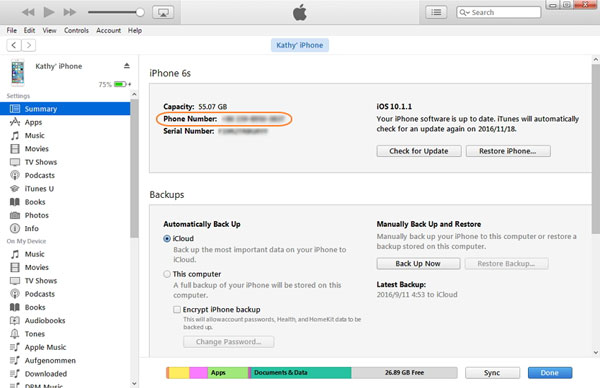 Option 2: Go to "Edit"> "Preference" at the top menu and a new window will appear. Select the "Devices" option and then a list of iOS products which have connected to the iTunes will be displayed. Hold the mouse over the device that you are using and then you are capable of seeing the phone number.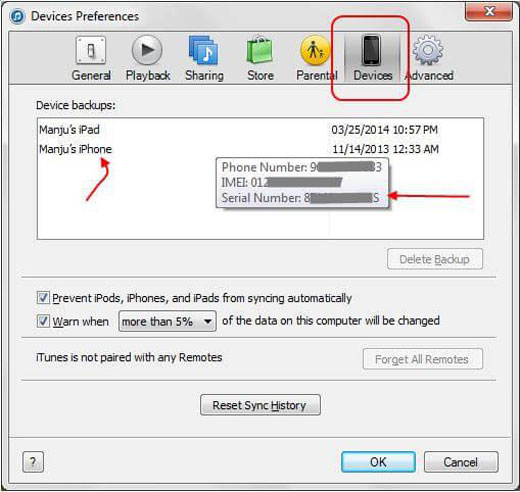 Bonus: contacts are significant information on your iPhone, so it is essential for you to backup these information to computer or other devices. In this case, you can choose MobiKin Assistant for iOS (Win & Mac) to help you complete the transferring process. Not only contacts, other files like messages, photos, music, photos and so on are also able to be backed up. You can click on the free trial of this program below to make an attempt. You will find that transferring data is effortless and secure.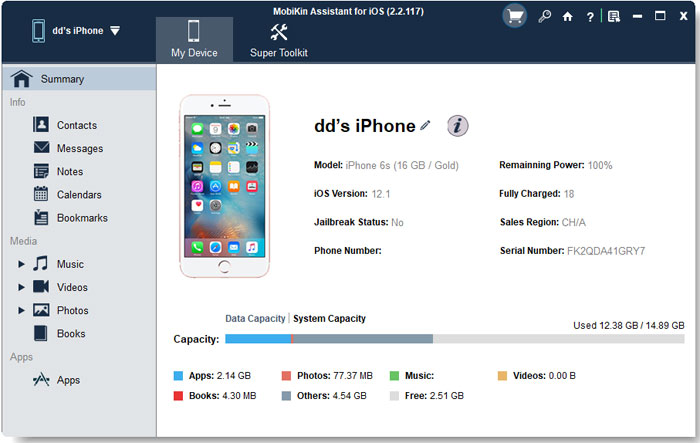 Related Articles:
How to Transfer Contacts (Phone Number, Email Address, etc.) from iPhone to iPhone?
How to Extract Contacts from iPhone to VCF/vCard?
How to Recover Deleted Notes from iPhone 14/13/12/11/11 Pro/XR/X?
10 Best iPhone Backup Software in 2023 for PC/Mac