3 Popular Ways to Check Location History on iPhone 14/13/12/11/X/8/7
Apple iPhones track users' locations by default and record GPS data based on where they have been. (Why is my location wrong on my iPhone?) Sometimes, operators need to see the old locations to obtain the full benefits from it. Well, do you know how to check iPhone location history without effort? OK, this passage illustrates how to view the locations via iPhone Settings, Google Maps, and Apple Maps. Beyond that, we also explain how to change it to secure your privacy.
Part 1: How Does iPhone Location History Work?
iPhone uses various services like GPS, Bluetooth, Wi-Fi hotspots, and phone towers to collect data for location history. You can trace and view location on your iPhone by looking at the history of apps with tracking permission. Some iPhone owners intentionally enable location tracking to later remember the places they visited recently.
Apple stores a limited amount of location history data and often doesn't let you browse through the data in a timeline view. Yet, Google has a detailed Timeline view, allowing you to check the roads you traveled through and the places you visited on a given day.
Check If You Need:
Part 2: How to Check iPhone Location History from Settings
It's quite simple to see location history from Settings. After you see it on your iPhone 14/13/12/11/X/8, you can check the time stamps of your arrival and departure in the location logs. To get more details about a specific location, tap the city name you wish to inspect. If you previously labeled locations on your iDevice, your visited places are listed instead of street names.
How to find location history on iPhone from Settings?
Go to "Settings" on your device.
Tap "Privacy" from the drop-down menu.
Choose "Location Services".

Scroll down and tap "System Services".
Press "Frequent Locations" or "Significant Locations" to check your location history. (No location found on your iPhone?)
Part 3: How to See Location History on iPhone via Google Maps
Do you want to check your iPhone location history by date? Try to make it with Google Maps. To view history in this way, please go through the matters needing attention:
Enable "Location Services" on your iPhone as above before Google Maps can trace your location.
Keep your iPhone with you, and it'll start tracking your location.
Access the Google Maps Timeline page via the mobile app.
The timeline view will display info about the places you visited, the time of your visit, and how long you stayed at each location.
If you use Google Photos, you'll also see all of your trip photos then.
For the best viewing experience, you could do it on a laptop or desktop computer.
Learn how to see past/recent locations on iPhone using Google Maps:
Run the Google Maps app and click your profile image.
Locate "Timeline" in the upper left corner of the screen.
Tap the option, and you should see a breakdown of your travel data for any date.
And you can see your route in the map view on the right of the page.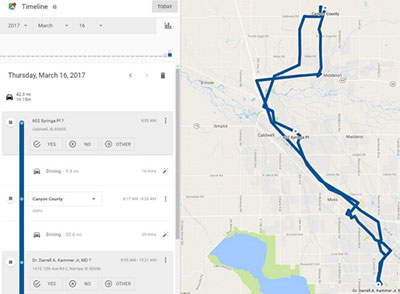 Click to Know:
Part 4: How to Check Location History on iPhone Using Apple Maps
Apple Maps is a mapping service from Apple Inc. that comes pre-installed on all iOS devices. It offers functionalities such as turn-by-turn navigation, traffic updates, lane guidance, traffic signs, stop lights, etc. It doesn't deliver the feature to track your route history. Yet, you can see your iPhone's search history on it.
How to view significant locations on iPhone via Apple Maps?
Activate Apple Maps and swipe up on the gray card on the Apple Maps page to check recent searches.
Choose "See All" next to "Recently Viewed".

Click a location to get turn-by-turn directions.
Use the "exit" option to enter the search box and the address name, assuming the desired place is not visible.
Part 5: How to Keep Others from Tracing iPhone Location History?
Location Changer is designed to help Apple users fake their GPS location anywhere in the world. It can be used to conveniently stop others from traking your actual GPS location, play AR video games, and use some dating applications. Compared with other GPS spoofing programs, this product can give you a more stable Internet connection and location-faking enjoyment.
Main features of Location Changer:
Offer Multi-stop Mode to let you move your iPhone GPS location smartly.
Fake your iPhone's GPS location using Joystick Mode without the limits of routes.
Come packed with Joystick Mode to allow you to move GPS location freely.
Enable you to stop sharing location and play AR video games easily.
Import or export a GPX file to set the location.
Let your iPhone move at various speeds, ranging from 1m/s to 50m/s.
Work well with virtually all iDevices, covering iPhone 14/14 Plus/14 Pro (Max), iPhone 13/13 Pro (Max)/13 mini/12/12 Pro (Max)/12 mini, iPhone 11/11 Pro/11 Pro Max, iPhone X/XR/Xs/Xs Max, iPhone 8/8 Plus, iPhone 7/7 Plus, iPhone 6/6S/6 Plus, iPod touch, iPad, etc.
It never tracks your privacy.
See how to prevent others from tracking your location history on your iPhone via Location Changer:
Step 1. Run the software and link your iPhone to a computer
Free download Location Changer and launch it on your computer after the installation. Connect your iPhone to the PC/Mac via USB to make a virtual connection and hit the "Start" button on the window.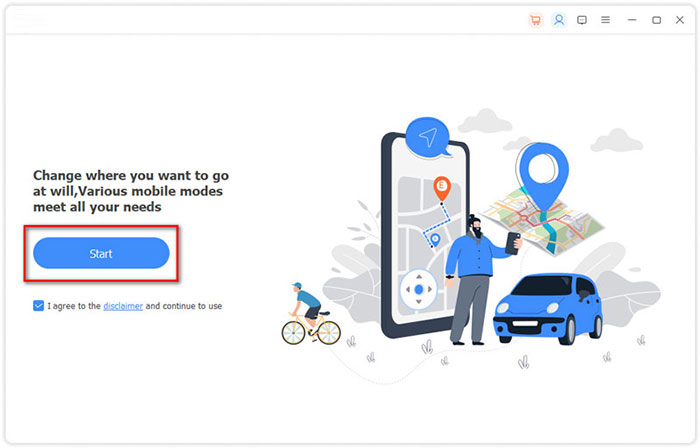 Step 2. Select "Modify Location"
Select the "Modify Location" module. Soon, you will see a map with your location loaded. Now, it lets you drag, zoom in, or even zoom out the map to check locations on it.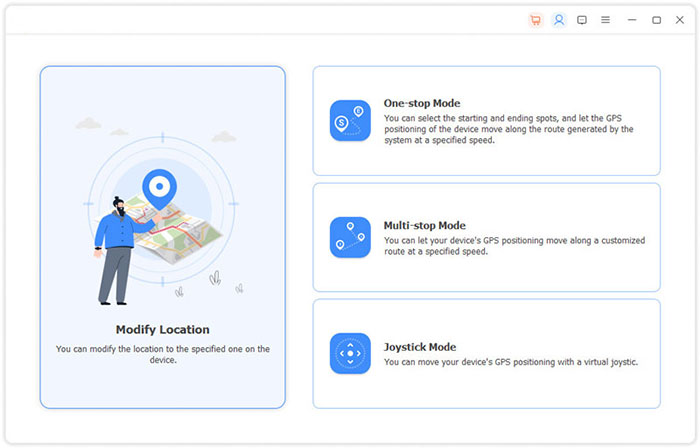 Step 3. Search the desired location and confirm
Enter or search for the place you desire in the bar at the top left corner of the interface. Next, tap the "Confirm Modify" option to complete the location modification.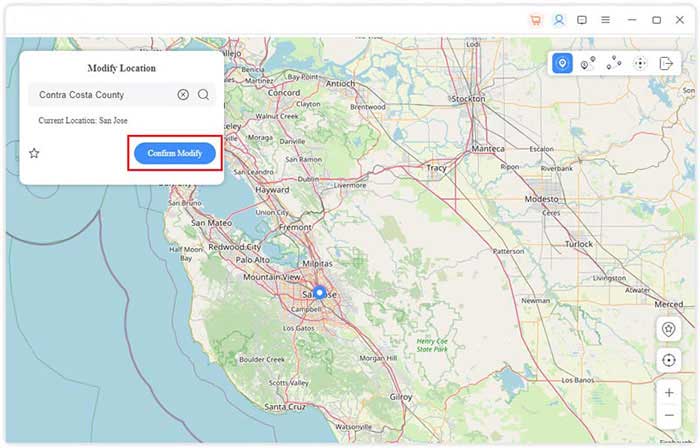 Step 4. Change iPhone location instantly
Here, this tool also lets you click the destination on the map to select it. Finally, please press "Move to" to fake your iPhone's GPS location unknowingly. Further, you can tap "Manage History", assuming you wish to trace iPhone location history and manage it at will.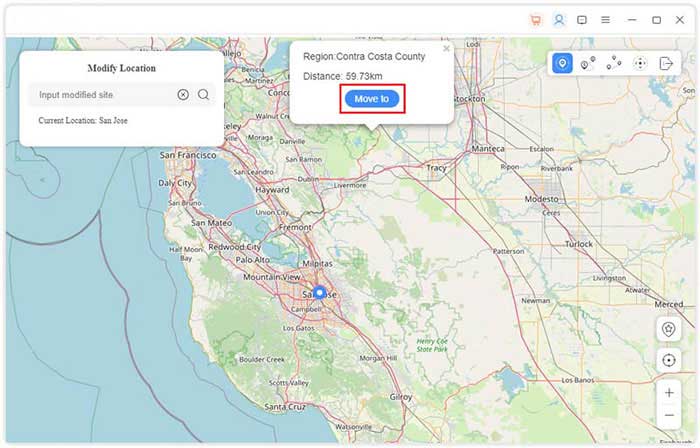 FAQs on iPhone Location History
Q1: Why is My iPhone location history unavailable?
We've discussed how to see where you've been on your iPhone. But what's the case when your iPhone location history isn't available? Some iPhone users are unable to view their location history due to various reasons such as outdated iOS, disabled location services, network issues, incorrect time and date settings, disabled "Find My" and "Share My Location" features, "Find My" being down in Apple's system, or the phone being in Airplane mode.
Q2: How to locate a lost iPhone?
Locate a missing iPhone by using the Find My app on another Apple device or by logging into iCloud.com/find on a computer. You can see your device's current or last known location in the Find My app. (Find my iPhone offline last known location?)
Q3: How to use location services for family sharing?
Go to "Settings", then tap on [your name] and select "Family Sharing".
From there, select "Location Sharing" and toggle "Share My Location".
To share your location with someone else via the Find My app, open the app and select the "People" tab.
Tap the "Add" button and select "Share My Location".
Enter the name or phone number of the person you wish to share your location with..
Q4: Can I check someone's iPhone location without them knowing?
It is not ethical to check someone's iPhone location without their consent. However, there are apps that allow you to do so. We would advise against using these tools unilaterally as it is an invasion of privacy.
Q5: How to delete iPhone location history?
Head to your phone's "Settings" > "Privacy & Security".
Proceed to "Location Services" > "System Services".
Tap "Significant Locations", followed by "Clear History".
In Closing
Would you like to know where you have been and what you've experienced recently, happy or sad? You can check the locations with any of the methods above. But before that, ensure your iPhone's "Location Service" is enabled. Plus, Location Changer is an outstanding location-spoofing tool for keeping your real address private. And the best part of this program is it can safely and steadily allow your device to use the new location rewardingly.
Related Articles:
Can You Turn Off Find My iPhone Remotely? 4 Ways with Step-by-step Guide
How to Fix Photos Disappeared from iPhone after Update? [2023 Updated]
Where Is My iPhone Backup Stored? A Detailed Guide You Should Never Miss
How to Fix iPhone Frozen/Stuck on Lock Screen? [8 Methods Offered]
5 Effective Tips to Factory Reset iPhone Without Computer
5 Popular Ways to Mirror iPhone/iPad to Windows 11/10 [2023 Latest]