How to Put Music on iPod touch/nano/classic/shuffle without iTunes?
Although MP3/MP4 players have been replaced by mobile phones, iPod still has its place. It still has certain sales in the United States. In general, iPod's battery life and audio quality are better than smartphones. Therefore, for music enthusiasts, iPod is unsurpassed by smartphones.
All wonderful music should be stored in iPod, so that you can listen to and enjoy them anytime, anywhere. But, do you have any ideas about how to put music on iPod without iTunes? In this article, we will show you two ways to transfer music from computer to iPod touch/nano/classic/shuffle without using iTunes.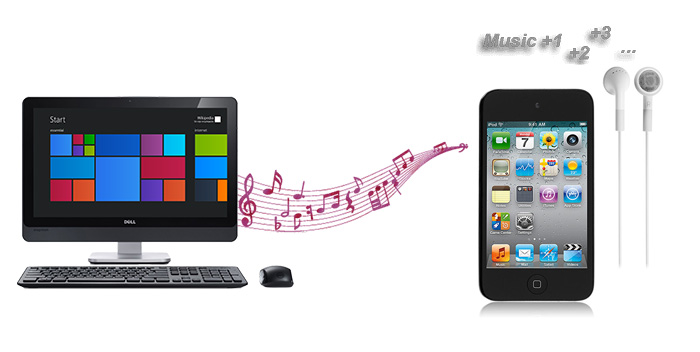 Part 1: Why Not iTunes?
Many people wonder: how can I put music on my iPod nano/touch without iTunes? Well, why they contradict iTunes in this way? In fact, the choice is up to you. iTunes is intuitive and allows seamless interaction between iOS devices and Mac OS. However, for PC users, the use of iTunes will appear clumsy. What's more, iTunes imposes restrictions on users. For example, if people want to download or purchase music from sources other than the Apple Music store, it will be a little troublesome. Because they want users to buy music from their own store. The restrictions imposed by iTunes on users also include:
Users cannot freely move music from iPod to iTunes, nor can they automatically sync non-apple music to iTunes.
Users are not allowed to transfer music downloaded or purchased from sources other than the Apple Store.
Users are not allowed to transfer music to another device one by one, but directly cover the entire library. This brings the risk of deleting all music files on the iPod.
It does not support direct transfer from device to device, and needs to rely on iTunes library every time.
If you don't want to use automatic synchronization of the entire music library that cause the music on the device to be lost, then you can only choose to transfer manually, but this may cause files to be added repeatedly and cause confusion in the music library.
Check If You Need:
Part 2: How to Put Music on iPod without iTunes but Using iPod Music Transfer
So, how can I sync music on my iPod without iTunes? If you don't want to erase your iPod data to sync with the iTunes library, then you can use a powerful iTunes alternative - iPod Music Transfer, which is able to transfer your music that has been downloaded on the computer to your iPod. This process is very convenient. For those users who are tired of the huge iTunes and its intricate steps, iPod Music Transfer will bring you the completely opposite experience to put music on iPod without iTunes on Windows 10/9/8/7 or Mac OS X.
Why we choose the iPod Music Transfer:
Transfer music and other types of data from computer to iPhone/iPad/iPod, and vice versa.
Support various file types like videos, photos, music, contacts, text messages, TV shows, ringtones, podcasts, documents and more.
It can also transfer data between two iOS devices and sync data from iPhone, iPad and iPod to iTunes.
It is compatible with all iPod models, such as iPod touch 4/5/6, iPod nano, iPod classic, iPod shuffle, etc.
Supports on all iOS available and perfectly works on both Windows and Mac machines.
100% Safe & Easy to use. No risk of information leakage.
How to Transfer Music from Computer to iPod without iTunes but Using iPod Music Transfer
Step 1. After downloading and installing the software on your computer, launch it and connect your iPod to the computer via a USB cable. Then, you will see the interface as below.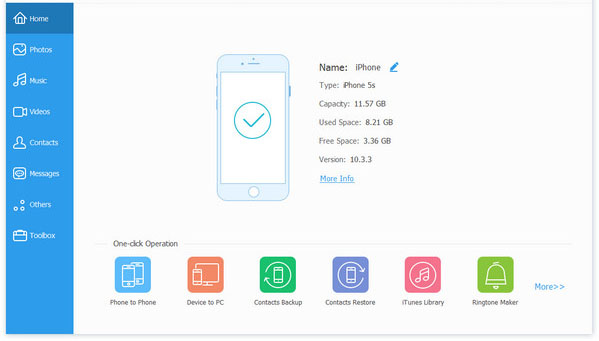 Step 2. Click "Music" tab from the left sidebar, then all your music files on your iPod will be displayed here. Just click on the "import to phone" icon from the top menu.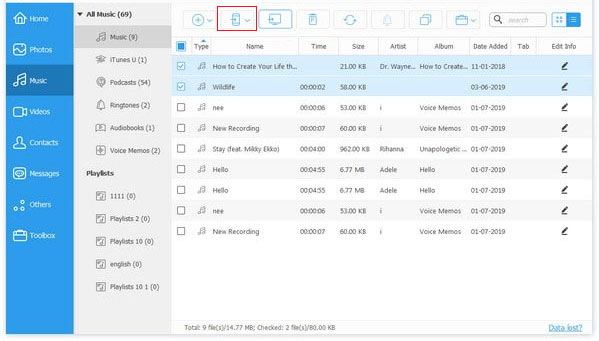 Step 3. Locate to the music files that you want to import to iPod and click "Open". Then, all selected songs will be transferred from computer to your iPod within a few seconds.
Check If You Need:
Part 3: How to Add Music to iPod nano without iTunes but Using MediaMonkey
In addition to iPod Music Transfer, MediaMonkey is also a good iTunes alternative to download music on iPod touch/nano without iTunes. It not only has iPod data transfer function, such as copying MP3 songs to iPod, transferring music and videos to other iPod, iPhone, iPad, Android devices and MP3 players, it also has media manager and player features. It also supports converting unsupported music formats.
How to put music on iPod nano/touch without iTunes but using MediaMonkey:
Launch MediaMonkey on your computer after you downloaded and installed it.
From the main interface, choose File > Add/Rescan Tracks to the Library. Browse your computer to find the music you want and click "OK" to add these music files to the library.
Plug your iPod into the computer via a USB cable.
Tap on the iPod icon from the program and then the program will start to transfer music to iPod without iTunes.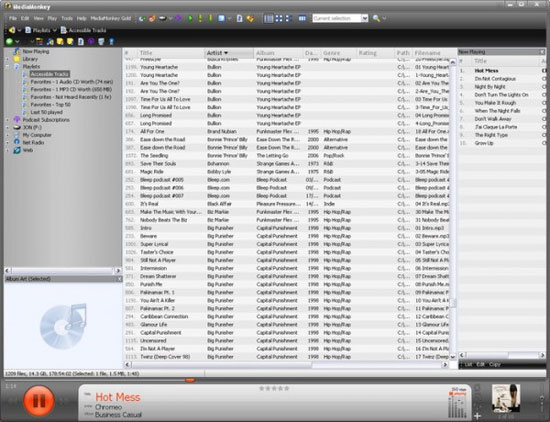 Conclusion
Above, we recommend two good iTunes alternatives that allow you to add songs to iPod without iTunes. Hope the method we recommend can help you. You can use iPod Music Transfer or MediaMonkey to put music on iPod without downloading iTunes. They have their own advantages, I believe no matter which one you choose, you will not be disappointed. Of course, if you are a beginner and want to choose a product that is relatively simple and user-friendly, then I suggest you choose iPod Music Transfer, which not only has all the functions you need, but also the simple operation is very friendly to beginners.
Related Articles
How to Edit/Manage iPhone Contacts on PC? [Top Tips for 2021]
[100% Success] How to Back up iPhone/iPad to External Hard Drive
4 Easy Approaches to Export Text Messages from iPhone to PDF
Tips to Transfer Contacts from iPhone to Computer
How to Transfer Music from iPhone to Computer