[3 Ways] How to Transfer Music from iPod to Computer without iTunes?
"I'd like to transfer music from iPod to computer. My old PC crashed, and my music is only on the iPod. I've already uploaded and purchased music on the new PC, that wasn't on my iPod before. I'm afraid to hook the two together, for I've heard it can lose music. Any ideas on what I can do?"
For the purpose of protecting the copyright of songs, Apple has limited its iPod to sync music to computer strictly. Any attempts to get the songs off the device to a different computer as a backup will lead to an erased iPod. And as we know, iTunes is not an ideal synchronization tool. For instance, when you plug an iPod into computer, and select the Auto-Sync feature, iTunes will delete songs automatically.
So, to get around the restrictions set by Apple, how to transfer music from iPod to computer without iTunes can be an urgent problem to be resolved. OK, fret not! This page will discuss 3 great ways to complete iPod music transfer without iTunes.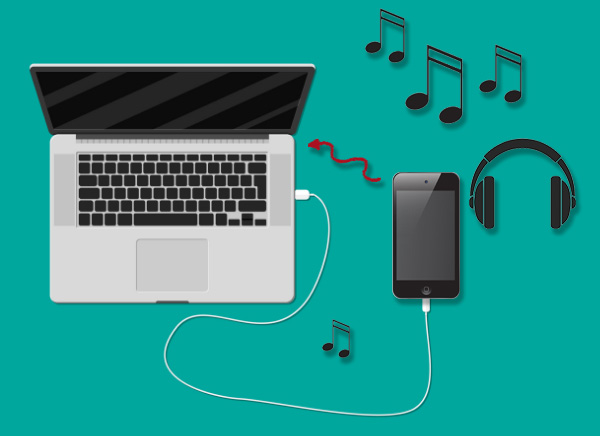 Way 1: How to Transfer Music from iPod to Computer without iTunes with One Click
Compared with moving songs from computer to iPhone/iPod/iPad, it's a little bit complex to work in reverse. Because iPod and other iDevices can only be synced manually, and with just one computer. It is apparent that these restrictions can be overcome by MobiKin Assistant for iOS (Windows and Mac), as this powerful software is an all-around player, enabling you to make iPod file transfer without iTunes. In terms of managing your iPod, it has performed fairly well in hundreds of thousands of trials done by its users.
Key Features of MobiKin Assistant for iOS:
- Move up to 14 types of data from iPod/iPad/iPhone to computer easily, including all the music, videos, pictures, eBooks, contacts, SMS, notes, Safari Bookmarks, voice memos, podcasts, ringtones, etc.
- Backup iPod files to iTunes default location or any other places on your computer.
- Restore any iTunes backups for iPod/iPad/iPhone in one tap.
- Add or delete backups on computer without any limitations.
- Manage your iDevice contents freely (e.g. add, delete, edit contacts, and install or uninstall any apps, etc).
- Work well with various iDevices, including iPod touch 5/4/3/2, iPod shuffle 4/3/2/1, iPod classic 3/2, iPod nano 6/5/4/3/2, as well as all models of iPhone and iPad, with iOS 4 and up.
Guidance on how to transfer music from iPod to computer without iTunes using MobiKin Assistant for iOS:
Step 1. Download, install and open MobiKin Assistant for iOS, and get your iPod linked to computer via an applicable USB cord.
Step 2. Tap "Trust" button on iPod as you're prompted. Then hit "Continue" on the tool to generate a successful connection. After that, the main interface will show you at once.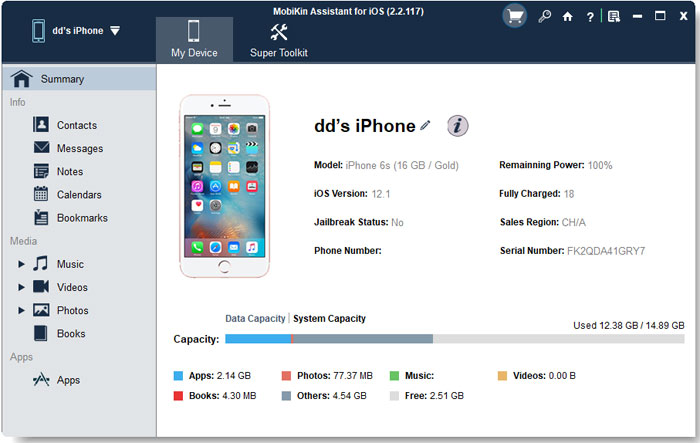 Step 3. Press "Music" from the left panel of the interface. Then you'll see all the song files there. Just preview and tick off the wanted ones from the music lists.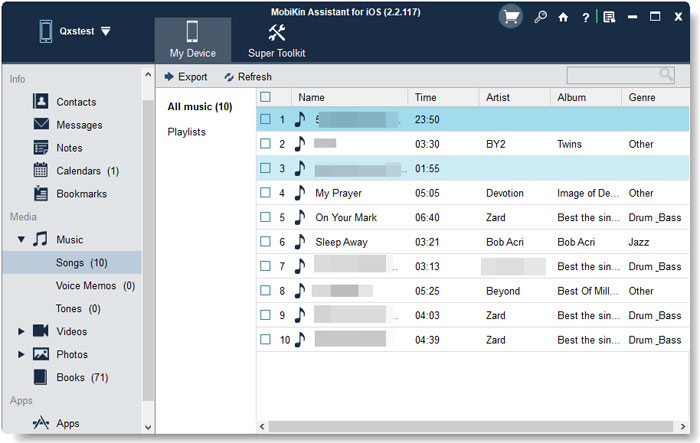 Step 4. After the selection, hit the "Export" button from the top menu to save the chosen songs on any folders of your computer.
Video Guide:
Related Pages:
Way 2: How to Get Music off iPod to Computer without iTunes Directly
If you buy a new computer or there's a hard disk failure on the old one, or in other cases, you can take this method to reload the music library to computer. After iPod is connected, you need find the "iPod Control" item before going any further. And of course, you can do this on your Mac too.
Want to know how to get songs off iPod without iTunes directly? Go ahead please.
Step 1. Once you've plugged your iPod to computer via a suitable USB cord. Tap on "Yes" or "Trust" on iPod as prompted to grant the access for your computer.
Step 2. Open "My Computer"/"This PC" to click iPod icon. Now, if the "iPod_Control" doesn't appear, just head to "Tools" > "Folder Options" > "View", and then tick off the option of "Hidden items".

Step 3. You'll find the "iPod Control" and the Music folder now. Simply choose the song folder and drag it to any location of the computer.
Note: After the transfer, you can switch to "Tiles view" on Windows Explorer to reveal the names of the transferred music and other file tags. Plus, you can rename the files as needed.
Way 3: How Can I Get Music off My iPod to Computer without iTunes with Dropbox
Some cloud storage, like Dropbox or Google services, can also help do this. Take Dropbox as an example. You should install it to your iPod and computer respectively. And if you don't have an account, you should register one first, and then log in to the account on the two devices successively to complete the transfer task.
Let's check out how to copy music from iPod to PC without iTunes using Dropbox:
Step 1. Open Dropbox on your iPod after the download and installation, and sign in the account to access it. Next, duplicate the iPod songs you need to the location of the Dropbox.
Step 2. Download Dropbox installer on computer, and start the tool after the installation. Then click the folder to find the songs stored there.
Step 3. Just tap file names of your desired songs, and copy them to your computer. Besides, this service can also be used to transfer movies, photos, apps from your iDevice to computer with the similar steps.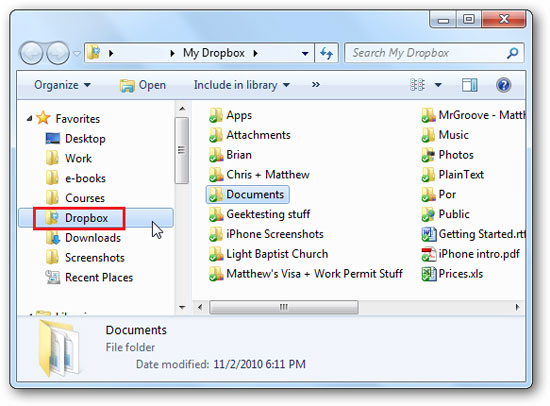 Further Reading:
Extra Tip: How to Transfer Music from iPod to Computer with iTunes
As we mentioned in the preface, there are some qualifications on how to get songs off iPod with iTunes. But you can change do the manual sync instead of syncing your iPod music with iTunes automatically. Yet this solution only works for purchased songs.
Step 1. Ensure you have upgraded to the newly released iOS on iPod, and also the latest version of iTunes on computer. Then log in your iPod with your Apple ID. Next, go to the iTunes Store on computer to choose "Authorize This Computer" and sign in the same ID.
Step 2. Tap on "File" > "Devices" > "Transfer Purchases from..." from the left menu of iTunes to proceed. Afterwards, you can access the transferred folders on computer by going to C:Users/Administrator/Music/iTunes/iTunes Media.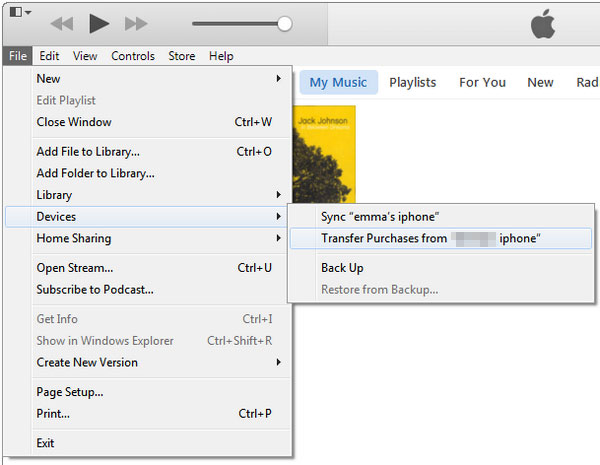 Tips: Your iPod won't sync with iTunes? Click here to get the full solutions.
The End
iPod is a sheer music device, and today, its features are being shared by iPhones and other smart devices. Meanwhile, some iPod products, such as iPod nano/iPod shuffle, have been removed from the shelves. Thus, it is suggested that you keep your iPod from sitting around and gathering dust. Years later, it will become uncommon, and you can pick it up to enjoy wonderful memories. While in terms of how to extract music from iPod, you can go for MobiKin Assistant for iOS, which can help you bypass the restrictions placed by iTunes, and thus get the best of your iPod.
Related Articles:
Simple Method to Get Back Deleted Files on iPod touch
How to Transfer Music from iPod to iPod on Windows or Mac?
Different Ways to Delete Music from iPod touch or classic