5 Easy Methods of Transferring Music from Old iPod to New iPod
"I just got a new iPod and want to transfer music from old iPod to new iPod. However, I can only seem to transfer the songs that was purchased from iTunes - not my uploaded music. Why won't they sync to my new iPod?"
iTunes is reluctant to toss its constraints on iPod music management. As the user posted on Apple forum above, iTunes is only capable of the transfer for purchased music, and its music auto sync function will overwrite the previous songs. Today, music migration becomes an essential part after the purchase of new iPod, is there any effective ways to settle how to transfer music from iPod to iPod?
Well, in an attempt to address this query, this page will talk about 5 simple solutions to move music from iPod to iPod. OK, let's get going now.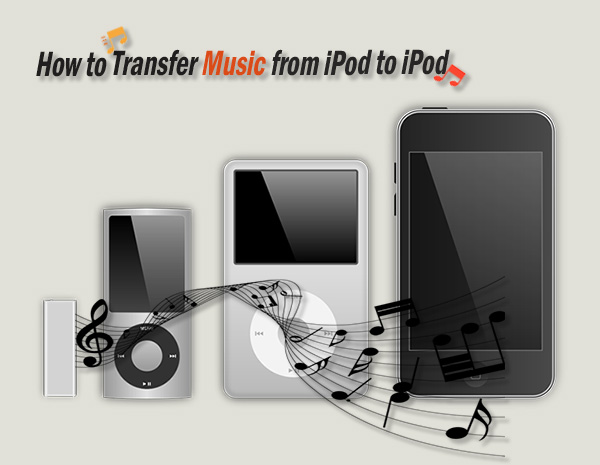 #1: How to Transfer Music from Old iPod to New iPod without iTunes
The debut of iPod made this smart device a must-have tool for many music lovers. With a new top-notch song collection holder, and to simplify your life, you may want to copy music from iPod to iPod directly and easily. Now, iPod Music Transfer can get your back. This program comes in handy for transferring songs from iPod to iPod, regardless of the songs purchased from iTunes Store or the ones from anywhere else. Again, it also allows you to keep your favorite music saved on computer.
What Can We Benefit from iPod Music Transfer?
Move contents from iPod to iPod, to other iOS devices, or to iTunes library, PC/Mac, and vice versa.
Other than music, it also helps you transfer Music, Movies, Ringtones, TV shows, Podcasts, Audiobooks, Playlists, etc.
Can be used to copy playlists from iTunes and computer to your iPod without any hassle.
You'll no longer lose anything while moving iPod music or other data.
Give a full manipulation for iPhone SMS(MMS) and contacts, etc.
Fully compatible with the latest iTunes, iOS and various iDevices, like iPod touch 5/4/3, iPod shuffle 4/3/2, iPod nano 6/5/4, iPod classic 3/2, etc., as well as all models of iPhone and iPad.
Here's how to transfer iPod to new iPod with iPod Music Transfer:
Step 1. Link your iPods to computer and run the program
First, connect both two iPods to computer, and then run iPod Music Transfer software after getting it installed. The program will detect your devices, and you can follow the simple prompts to let the tool recognized your iPods.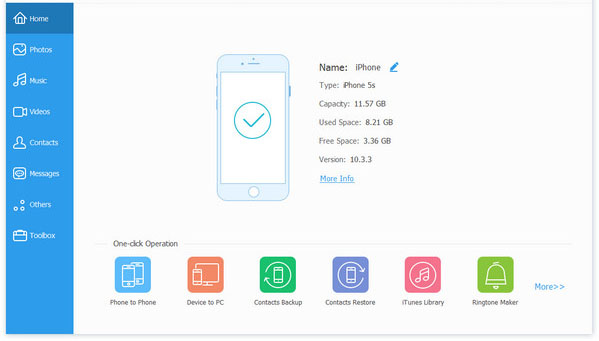 Step 2. Check the source iPod and choose songs
After the recognition, files on your iPods will be categorized and displayed on the left panel. Be sure which one is the source iPod. Now on the source device, just click "Music" from the left panel. Then preview and select your desired songs for transfer.
Step 3. Transfer music from iPod to iPod
Tap on "Export" button from the top menu to select your target iPod for transferring music from old iPod to new iPod accordingly.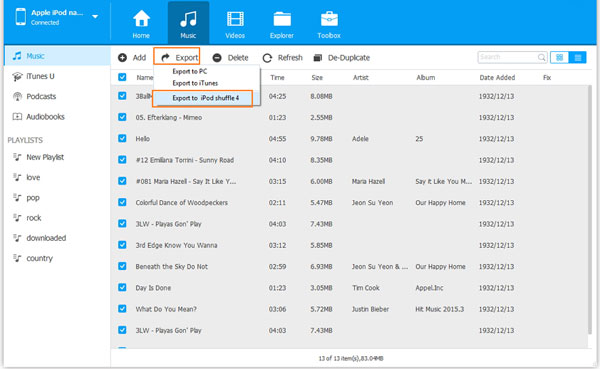 #2: How to Transfer Music between iPods via iTunes
iTunes gives you the access to add playlists, and podcast episodes to your playlists, besides transferring songs from iPod to iPod. But note that only music purchased from iTunes Store can be transferred.
Plus, After the iPod is connected to the computer, to prevent iTunes from automatically deleting songs from iPod, you can open the iTunes to click Edit > Preferences > Device, and then unselect the auto sync feature of the iPod.
Direction on how to put music from iPod to iPod via iTunes:
Step 1. Install the downloaded iTunes on computer before you open it. Then attach the old iPod to the computer via a USB cable.
Step 2. On your iTunes, choose "File" from the upper left to go for "Devices" > "Transfer Purchases from (the name of your old iPod)" to transfer music from source iPod to the iTunes library. Once done, unplug this device.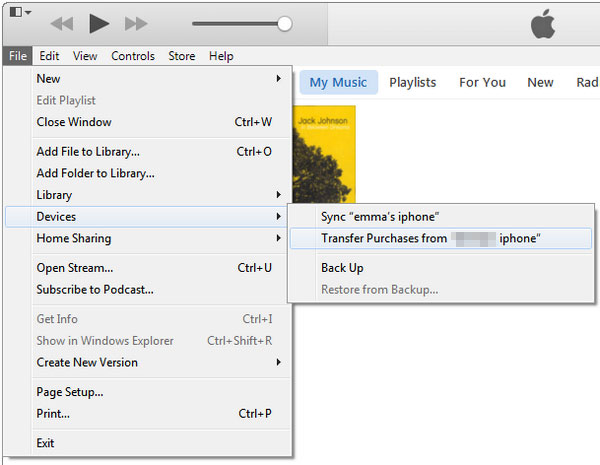 Step 3. Link the destination iPod to the same computer, and then launch the iTunes. Choose"Songs" and select your wanted music for transfer. Next, right-click the songs to opt for "Add to Device". Finally, choose the target iPod to transfer music from iPod to iPod.
Related Passages:
#3: How to Transfer Music from One iPod to Another with Dropbox
If you're using Dropbox for the first time, click "Create Account" to sign up for an account after starting it. Then you'll get 2GB of free storage. Suppose you don't have much music to transfer, and both devices are iPod touch (running on iOS 11 and above), then you can try with this solution.
Below is how to transfer music to new iPod from old iPod with Dropbox:
Step 1. Download and install Dropbox on both iPods from Apple Store.
Step 2. On your source iPod touch, launch the app and log in with the account. Next, tap "+" icon/"Add Files". Then choose the music you'd like to move. After that, click "Upload files" to commence.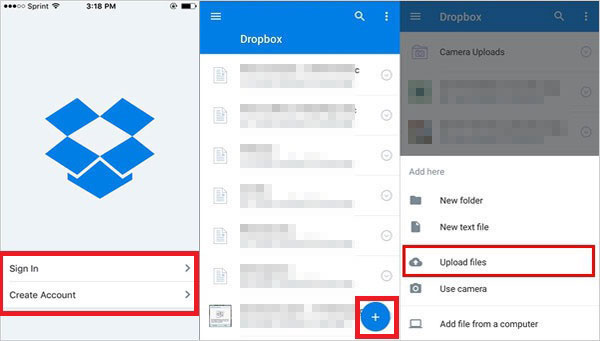 Step 3. On the other iPod, start Dropbox and sign in with the same account. Subsequently, wait until the music turns up on the location of Dropbox. Lastly, choose the songs and save them to this iPod touch.
#4: How to Transfer Old iPod Songs to New iPod with Apple Music
For Apple Music users, it's quite easy to move music from iPod to iPod. To do so, please give a simple setup for Apple Music on the sending device. And take the same Apple ID to activate the sync feature on both iPods. It is an alternative way, but you cannot move music selectively with it.
Let see how to transfer iPod music to the other iPod with Apple Music:
Step 1. Check if your membership of Apple Music is within the period of validity, and its service is enjoyed on your old iPod. If so, then go on.
Step 2. Log in the destination iPod with the Apple ID that you have used to subscribe for Apple Music.
Step 3. On both two iPods, head over to "Settings" > "Music" to switch on "iCloud Music Library" (for some versions, here you should enable "Sync Library").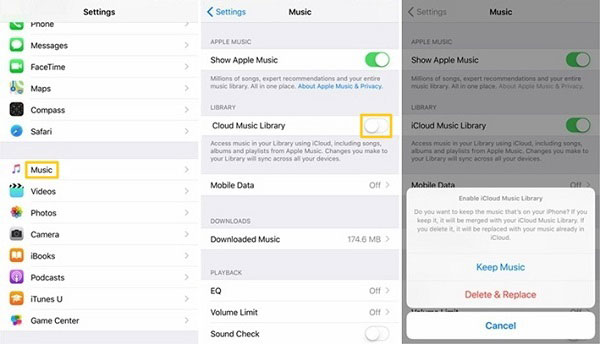 Step 4. After the above tasks are over, just start the Music app on your target iPod, and you'll access the synced songs there.
Warm tips: After the sync completes, if you want to delete all the Apple Music songs from the old iPod, you can disable the "iCloud Music Library"/"Sync Library" option from the source device.
See Also:
#5: How to Transfer Music from iPod to iPod via iTunes Store
Is there any other method to transfer music from iPod to iPod? Definitely, iTunes Store can be the possible way. Yet you should ensure that songs to be moved are purchased from iTunes Store. And log in two iPods with the same Apple ID.
How do I transfer music from iPod to iPod with iTunes Store?
Step 1. Unlock your new iPod and log in with the Apple ID that you use to make the purchase of the songs on your source iPod.
Step 2. Launch the iTunes Store app to go for "More" > "Purchased" on this device. Next, choose "Music" and opt for "Not on This iPod" option.
Step 3. You can now select "Download All" to download all of the music to the target iPod. Or choose the specific songs to store them to new iPod one by one.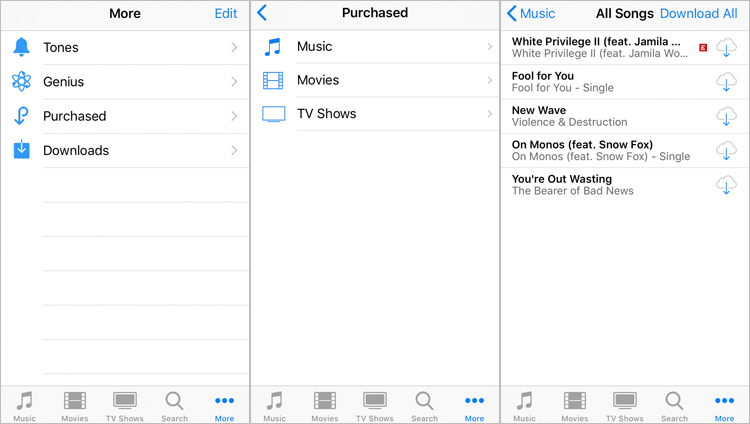 Calling It a Wrap
In conclusion, iTunes, Dropbox, Apple Music and iTunes Store have certain restrictions before the use. By contrast, iPod Music Transfer gives you freedom to transfer all high-quality songs to another iPod directly and effectively, which is, obviously, the most workable way.
Lastly, this post will finish with 2 warm prompts: it's better not to play the iPod while charging, which will have an impact on the lifetime of its battery, and is dangerous as well; plus, iPod may underperform due to high or low temperature, and this will affect the performance of the battery too.
Related Articles:
How to Transfer Photos from iPod to Computer/PC?
How to Extract iTunes Backup for iOS Device?
How to Easily Empty Trash on iPhone/iPad/iPod
How to Fix iPod touch Stuck at White Screen of Death?
How to Transfer Music from iPod to iTunes Library?