Restore Deleted Music from iPod touch/shuffle
My sister bought me an iPod touch for my 16th birthday. And actually I'm not good at using it. I just downloaded a lot of my favorite songs and forgot to sync the iPod with iTunes, so I don't have the backup. The other day, I deleted some songs that I love by accident and I really need to get them back as they are so precious to me. But I don't know how. So I'm wondering if somebody could show me the way to retrieve them. I'm grateful for that!
Owing to mistakenly deletion or factory setting, songs in iPod can be missing. And other reasons like iTunes upgrading or the iPod synced with iTunes on a new computer can also make the music disappear. That was a disaster to users listening to music with iPod Touch/Shuffle/Nano especially when these songs have unique meanings to them. So they want those songs back badly. But can the deleted music be recovered, if can, then how to do it? This article will show all the users the way to restore deleted music from iPod Touch successfully.
You may also be interested in:
How to recover deleted data on iPhone X/8/7
How to Backup Music from iPhone X/8 to Computer
As long as the music is not overwritten by the new data, they didn't vanish completely. They still exist somewhere in your iPod. In this case, you are still able to get back the wanted files from your iTunes or iCloud. But anyhow, you'd better make a backup for these songs or you may lose them permanently. So now, we would like to show you three things in this article:
Recover Deleted Music from iTunes
iPod touch is the most welcome device that people prefer to using to listen to music. But accidental deletion of the songs is a familiar situation. Here is a method to recover deleted music from iPod touch easily - recover music from iTunes. As we know, the songs you purchased can exist in the history of iTunes no matter you delete them or not. Now you can take steps as follows.
Step 1. Connect iPod to computer
Use a USB cable to connect your iPod to computer and launch iTunes on this PC. Here you should make sure that the version of the using iTunes is latest.
Step 2. Enter the Music folder
Next, you ought to click on the iPod name on the top right side to get the detailed information of your iPod. Then tap on the Music folder from the drop-down menu under iPod.
Step 3. Sync music from iTunes to iPod
In the end, you need to check the Sync Music box and click Apply to start syncing the songs on iTunes library to iPod.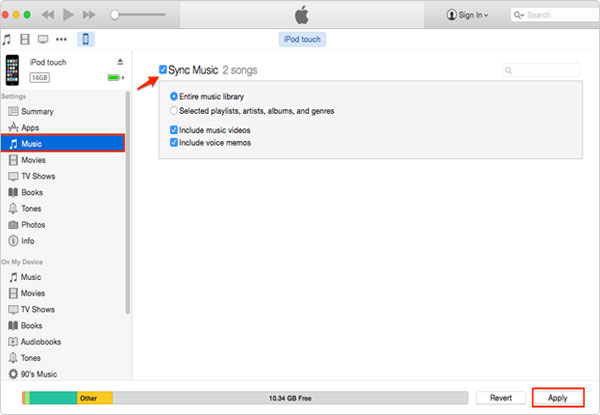 Get Back the Wanted Songs from iCloud
If the songs that you delete are purchased music, you can recover them from your iCloud. With iCloud, you can store and access all of the music you purchase in the iTunes Store on all of your devices. So when the purchased music on iPod lose, you can try to get them back from iCloud:
Step 1. Login to your iCloud account
First of all, you should go to Settings> iCloud on your iPod touch to sign in to iCloud service with your Apple ID.
Step 2. Find out the purchased music
Next, you need to open iTunes on your device and tap on Purchased and select Not on This iPod. Then you will see all the songs that you purchased but not show on the device currently.
Step 3. Download the songs to iPod
Now you can choose the artist you want to download songs from and tap Download All button to download these songs. Or you can elect a specific song you want to download and click the iCloud icon next to it to get it.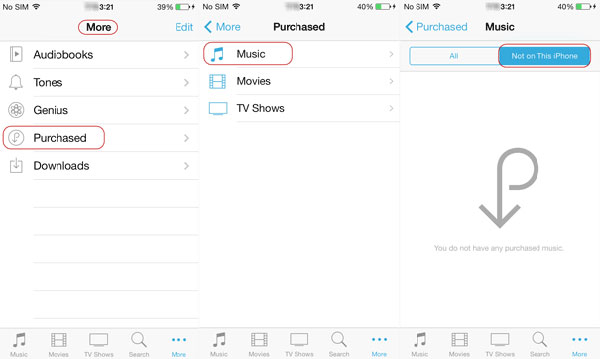 Backup Music from iPod Touch to Computer
No matter you use which method above, you are still at the risk of losing the deleted songs permanently- they might be overwritten. Therefore, the best method to prevent your iPod music from losing is to backup them to computer. This task is not so difficult as you think actually. On the contrary, you can complete the moving process within 3 steps as long as you ask MobiKin Assistant for iOS (Win & Mac) for help. With this program, you are able to transfer various kinds of files from iPod, iPhone or iPad to computer effortlessly and safely. The file types it supports include music, photos, videos, contacts, text messages and so on. You can download the free trial of this software to have a try first.
Step 1. Establish a connection between iPod and the software
First of all, you need to plug your iPod touch into the computer with a USB cable and then launch the software on your PC. After the connection, you will see the main interface of this tool.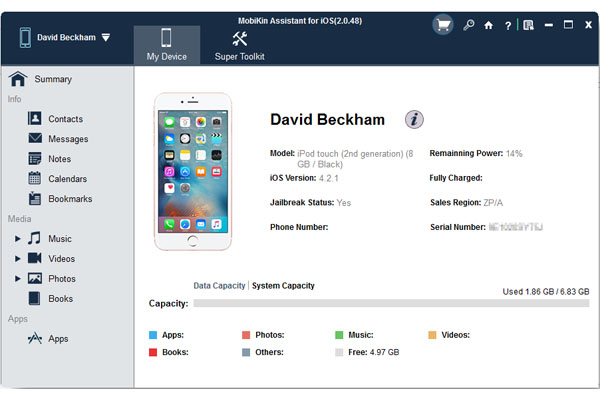 Step 2. Preview and choose the wanted songs
Now all the files on your iPod will be categorized in the left panel. Here you can tap on Music folder to locate the detailed contents to the program. Then you can preview these files and mark the songs that you wish to backup.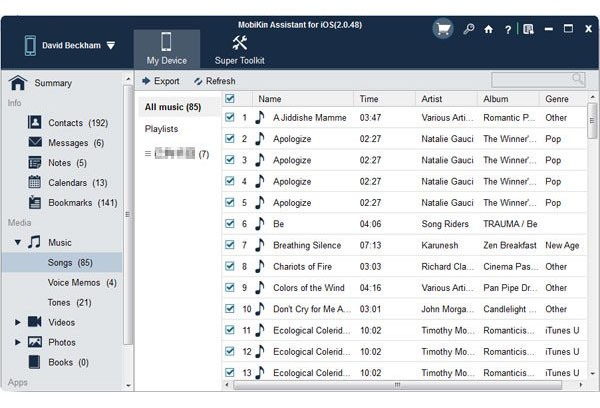 Step 3. Export iPod music to computer
Finally, you just need to simply tap on the Export button on the top menu to export the selected songs to computer quickly.
Related Articles
How to Recover Deleted Contacts from iPhone 6/5S
Tips to Extract Notes from iPhone Backup