What is The Latest Version of iTunes? How to Update & An iTunes Alternative
iTunes is a free tool for both PC and Mac computers. This program can play all digital songs and videos. It is also a file manager for your iPhone, iPad, iPod as well as Apple TV.
You know, Apple has been very active in updating iTunes, and 2019 is a year of extensive updates for it. Thus, what is the latest version of iTunes in 2019? Its version starts at iTunes 12.9 (supporting iOS 12), which added several features for Apple Music users. And iTunes 12.10.3 (compatible with iOS 13) is the last version of that year.
Now, what's the latest version of iTunes as of 2020? OK, this review will answer the question for you. Plus, you'll learn how to update iTunes to the latest version and how to manage your iOS devices with its alternative.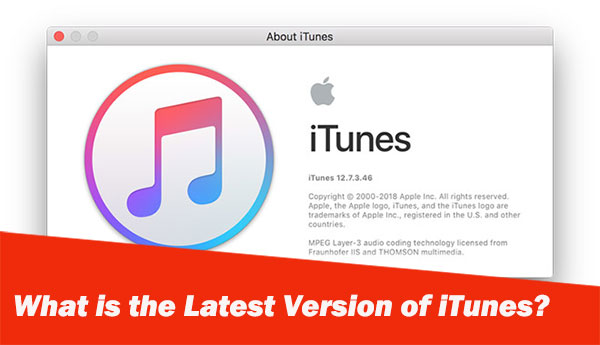 Part 1: Tips You Should Know before iTunes Update
1. Brief History of iTunes Updates
iTunes was first launched in 2001. Apple touted it as the most amazing music player in the world. And its second version iTunes 2, released 10 months later, marks its official move into the iPod. A year later, a smart playlist was added to iTunes 3, followed by iTunes 4 with the Music Store embedded in...
New versions of iTunes in a dozen years that followed have great improvements generally, such as optimizing, adding some new features or simplifying complex operations, etc. Again, iTunes has been updated frequently since its release, and the tool was updated 9 times in 2010 alone.
An earlier major upgrade for iTunes was in 2017. For example, its built-in app store browser is deleted, and it simplifies the management of local apps; members can create profiles and go to visit each other to see the music their friends are listening to and their shared playlists.
You May Need:
2. What's the Latest Version of iTunes?
As of October 21, 2020, Apple iTunes 12.10.10 for Win XP/7/8/10 is the most current version of iTunes. You can use it to collect songs in one tap, convert CDs to digital music, play videos with screen controls, and sync content on iPhones and other Apple devices.
What's more, while there has never been an Apple iTunes app for Android. Those who are looking forward to it can use Apple Music for Android to get into the iTunes library from Android phones.
3. How Do I Know if I Have the Latest Version of iTunes?
It's easy to check the version of iTunes, depending on where you installed this tool. Now, let's take Windows 10 as an example to discuss how to do this.
- iTunes was installed from the Store:
On your computer, Go to Start menu > Settings app > Apps > Apps & features > iTunes entry > Advanced options. Then navigate to the Specifications section to check the version number of the iTunes installed on this computer.
- iTunes was installed from other sources:
On your computer, head to Start menu > Settings > Apps > Apps & features > iTunes entry.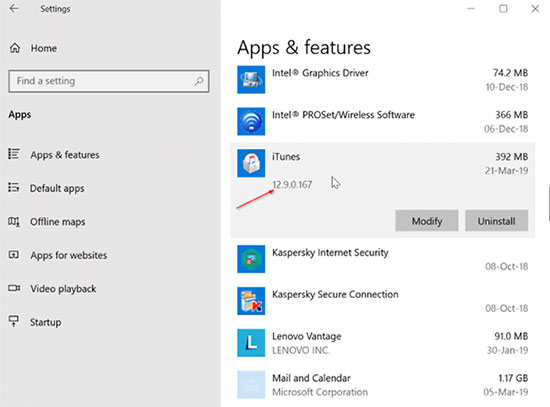 Part 2: How to Update iTunes to the Latest Version on PC/Mac
Updating iTunes is a way to fix iTunes Errors. If you plan to do the update, it is not a big deal anyway. There are 3 methods out there to fulfill this.
You can choose to launch the tool on your PC or Mac and update iTunes directly, provided that there is an old version installed on the computer. Otherwise, simply download and install the most current version online.
Update iTunes on a PC:
1. Double-click on the iTunes icon on your PC to open it. Or you can press the Win icon > Start menu > type iTunes into the Search bar > launch iTunes.
2. On the iTunes menu, click on "Help", followed by "Check for Updates". If there is an update available, this tool will ask if you need to download it.
3. Download the most current version of iTunes and then install it on this PC.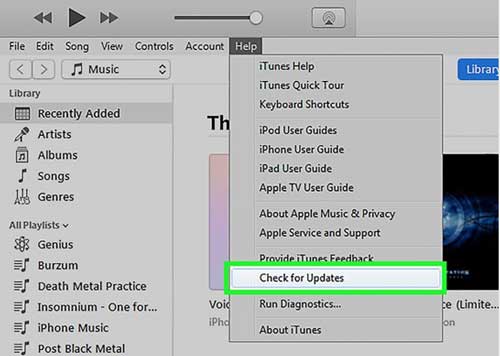 Update iTunes on a Mac:
1. Run iTunes on your Mac directly. Or you can go to Finder menu > Applications (Shift + Command + A) > find and launch iTunes.
2. On the menu bar, hit iTunes > Check for Updates. This tool will then check online for iTunes (current version). If any, a message will pop up to prompt you to download it.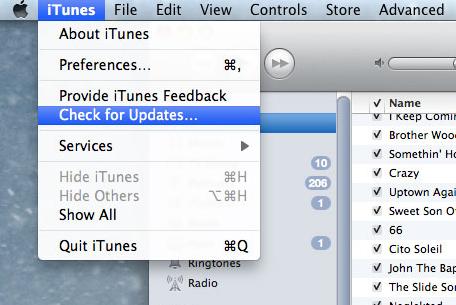 3. Click "Download iTunes" to update it to the latest version.
Update iTunes online directly:
If you don't have iTunes on your computer now, you can download and install it online.
To do so, head to the iTunes download page. Click "Download Now" on the webpage to download iTunes. The page will select the latest version for the operating environment automatically. After that, just install it on your computer.
Tips: Aha! Here's another method to update iTunes to the latest version: when you launch the tool, it may prompt you to get the latest version, if any, and just confirm the message for updates.
You May Also Like:
Part 3: The Best Alternative to iTunes to Transfer & Manage iOS Data
As we know, in addition to frequent updates, there are also some unsatisfactory designs. For instance, the existing data on your iOS device will be covered when restoring from iTunes, the user privacy is exposed to the risk of leakage due to its Home Sharing feature, and only a few songs can be added at a time.
Would you like to know what the best alternative to iTunes? Well, MobiKin Assistant for iOS (Win and Mac) can be your best bet. It enables you to back up your iOS data repeatedly on a computer, and previous backups will not be overwritten. It also empowers you to delete unwanted iTunes backups from your computer.
Further, this professional program servers as an excellent iOS data manager. (e.g., it allows you to access, preview, edit or delete different files from PC/Mac.)
Some other highlights of Assistant for iOS:
Back up & restore iPhone data directly.
Transfer as many as 14+ data types from iDevices to computers, containing Contacts, Text Messages, eBook, Video, Photo, Safari Bookmarks, Music, Voice Memo, Podcast, Playlist, etc.
Import files from computer to iPhone, covering iBooks, bookmarks, contacts, calendars.
Clean interface without malware/ads.
Perform tasks on various iOS devices, such as iPhone 12, iPhone 11/11 Pro/11 Pro Max, iPhone X/XR/XS/XS Max, iPhone 8/8 Plus, iPhone 7/7 Plus, iPhone 6/6S/6 Plus, iPod, iPad, etc.
It does not record any privacy from its users.
Now, please download the Assistant for iOS program on your computer, and let's enjoy more control and flexible iOS file management experience provided by this iTunes alternative.
1. Connect your iPhone to computer
Install and launch Assistant for iOS on your computer. Then, link your iPhone to the computer with a USB cable. Next, this program will identify your device soon, and its main screen will appear as below.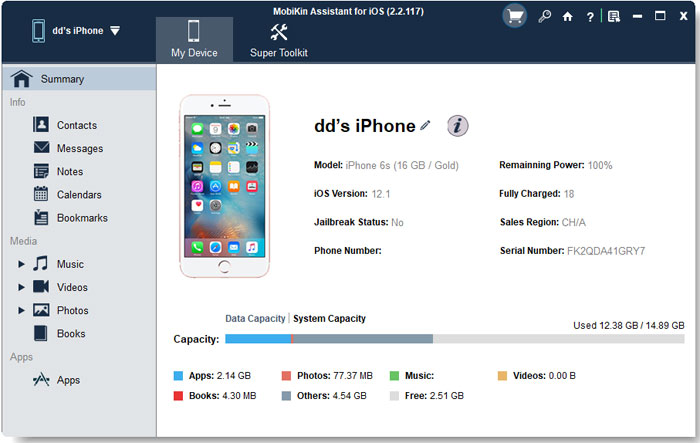 Note: Before the recognition, you may need to tap "Trust" on your iPhone and click "Continue" on the program when prompted.
2. Transfer and manage iPhone information and media files
You'll see a list of data types on the left menu on the main interface, including contacts, messages, notes, calendar, bookmarks, music, videos, photos, books and apps.
Transfer data from iPhone/iPad/iPod to computer by clicking on the "Export" button.
Copy files from computer to iOS device by clicking on the "Import" button.
Remove useless files from iPhone, iPad or iPod by clicking on the "Delete" button.
Modify the information of the existing iOS data by clicking on the "Edit" button.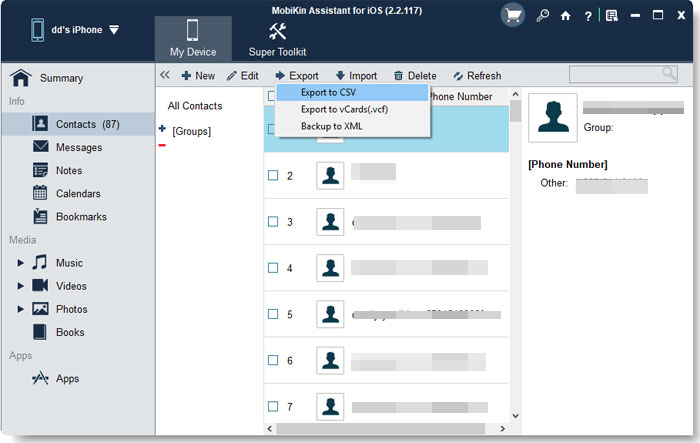 3. Remove applications from iPhone/iPad/iPod
You can click the "Uninstall" option from the top menu to remove needless applications from your device.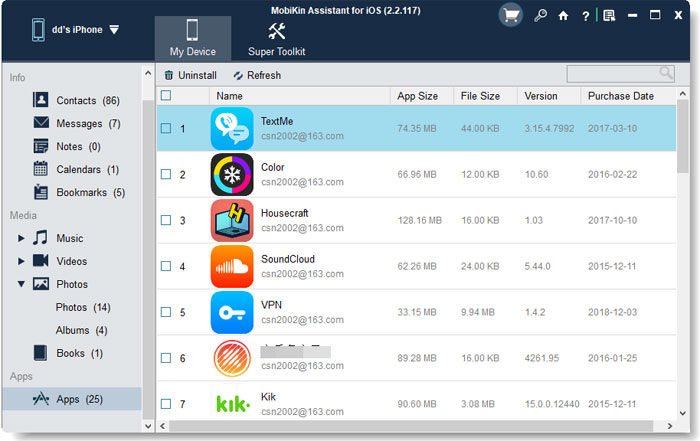 4. Manage iTunes backups on computer
Highlight the "Super Toolkit" option from the program interface and choose "iTunes Backup & Restore". Then, you can begin the iTunes backups management task:
Click the "Backup" button to back up your iOS device to iTunes default location or customized folder at your will.
Click the "Restore" to restore data from iTunes backup to your iDevice.
Click the "Delete" to remove iTunes backup records from your computer.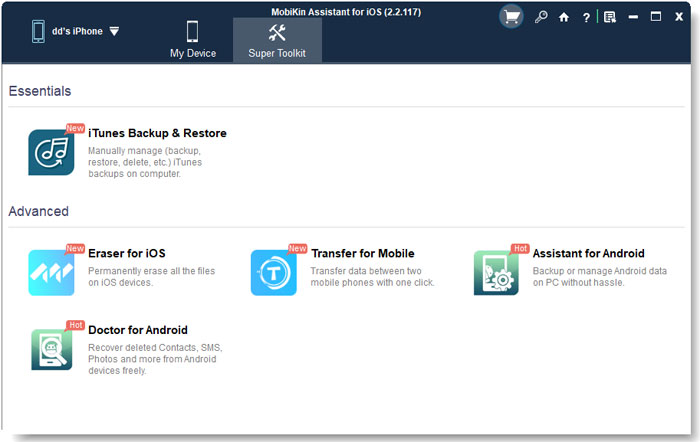 The Bottom Line
New versions of iTunes always can't wait to come out. And by the time you reach this page, it may have been updated to the next version. However, the ways to update it have not changed much.
After all the frequent updates, iTunes is still unfriendly, cumbersome, inefficient, and cannot work for non-purchased stuff. OK, if you want to improve the quality of your life, don't hesitate to pick MobiKin Assistant for iOS, the best replacement.
Related Articles:
[Guide] How to Reset iPhone 12/11/11 Pro/XS Max without iTunes?
How to Transfer Videos from iPhone to iTunes?
How to Transfer Music between Windows Media Player and iTunes?
How to Restore iTunes Backup to Samsung Galaxy?
Top 6 iTunes Alternative for Android Phones/Tablets in 2020