Top 6 iTunes Alternative for Android Phones/Tablets in 2021
Apple users have the iTunes that can help them manage the files like contacts, SMS, audio files, videos and so on on iOS devices. But it is only for iPhone, iPad and iPod users, and doesn't support Android devices. Android is a very powerful mobile operating system, but its biggest drawback is the lack of an official data management tool like Apple's iTunes. So as an Android phone user, how can you manage your Android phones and tablets? Is there a program like iTunes for Android? In another word, is it possible to find an iTunes alternative for Android?
Don't worry! Here we collect some tools that can function like the iTunes on your Android phone. Just find an iTunes equivalent for Android that you are interested in most.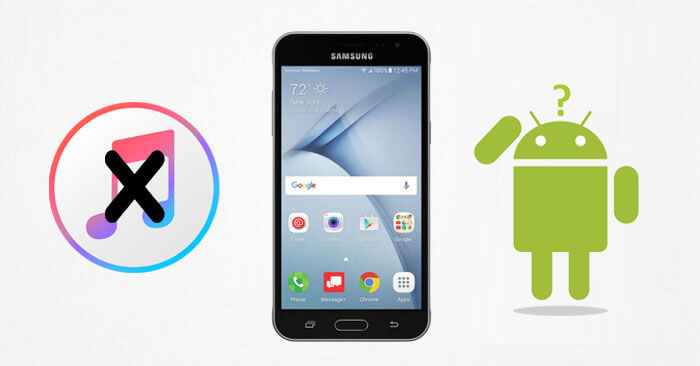 Part 1. Top 1 iTunes Alternative for Android - MobiKin Assistant for Android
MobiKin Assistant for Android (with its Mac version) is the best iTunes replacement for Android phones and tablets that can work on both Windows and Mac platforms. It allows users to transfer data including contacts, SMS messages, audio files, video files and so on between Android device and PC/Mac with 1 click, and manage these Android phone files on computer freely. Here, we list out the salient features of the program to let you understand what is the Android version of iTunes.
Assistant for Android - Best iTunes Equivalent for Android
- Google version of iTunes that supports to transfer overall file types, including contacts, call logs, text messages, photos, videos, music, documents, apps, etc. between Android and computer.
- Enables you to edit, add and delete Android phone contacts on computer, manage, export/import music, photos, videos, and even send text messages from computer to any phone.
- It can support all brands of Android phones like Samsung, LG, Huawei, HTC, Motorola, Sony, OnePlus, etc.
- The operation is very simple and does not require professional computer knowledge.
- Fully compatible with all version of Windows, Mac and Android OS.
Click the following button to download the free trial version of the top 1 iTunes alternative for Android - MobiKin Assistant for Android to have a try:
Steps to Use Assistant for Android - Best iTunes Equivalent for Android to Manage Android Data on Computer
Step 1. Connect Android device and launch the program
After downloading and installing Assistant for Android on your PC or Mac desktop. Launch it and connect your Android phone to the computer via its digital cable. The program will automatically detect your Android device and display it in the main window.
Note: Make sure you have enabled USB debugging on your Android phone by following the prompts on the program interface.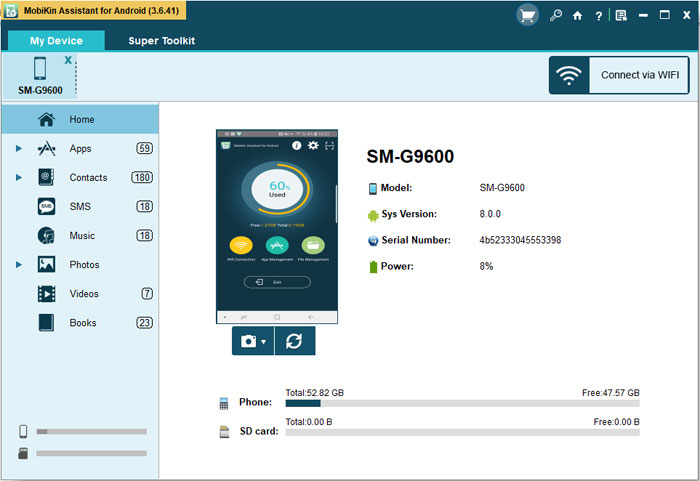 Step 2. All data on your Android phone is categorized on the left column. You can choose the file types you want to manage. For example, if you want to manage contacts, you can choose "Contacts" option from the left panel and begin to add, delete. export, import and edit the contacts.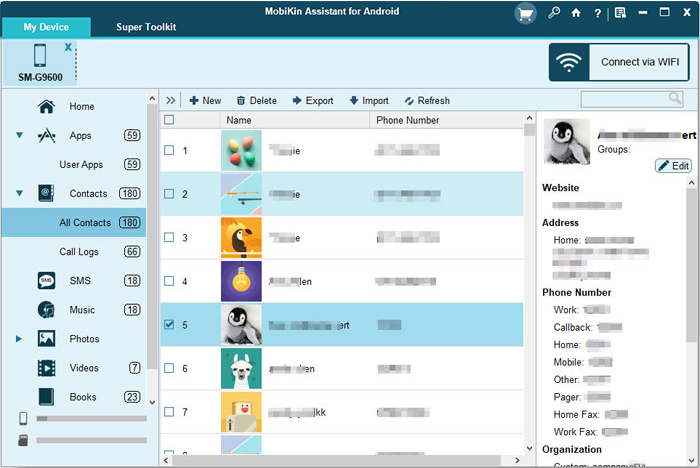 Step 3. Send, delete, export, import, resend, forward and copy text messages on your Android phone.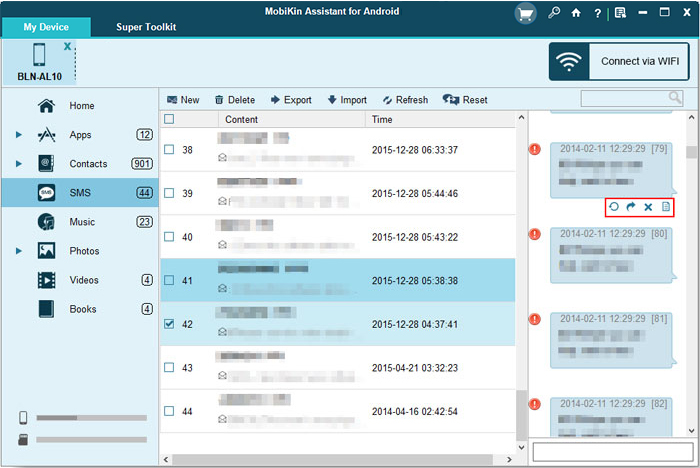 Step 4. Import, export, delete and refresh call logs on your phone.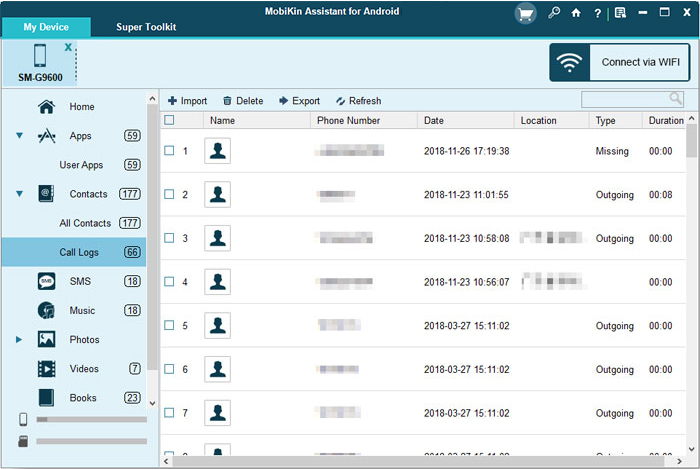 Step 5. Install, uninstall and export apps on computer.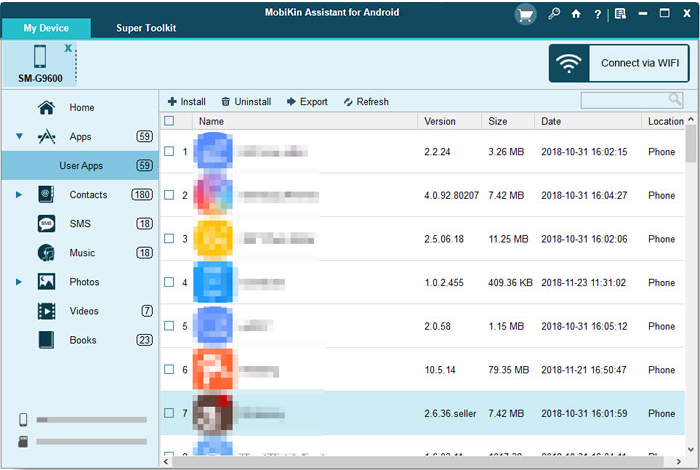 Step 6. Import, export or edit photos, videos and music files on your Android mobile.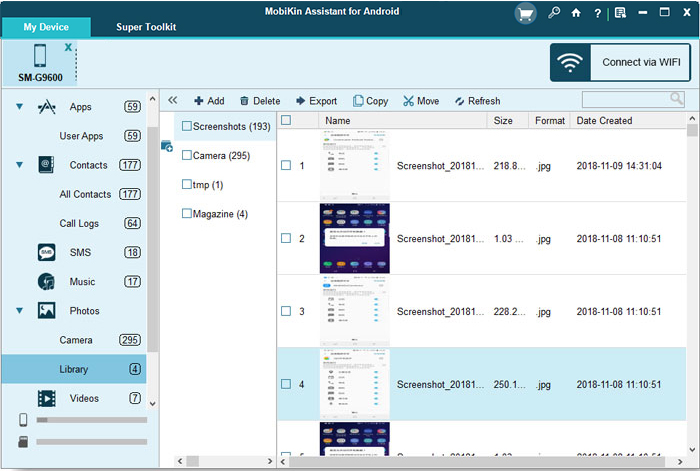 Step 7. Backup & restore Android data with one click by going through "Super Toolkit" > "Backup" or "Restore" option to backup and restore your Android phone data on computer with one click quickly.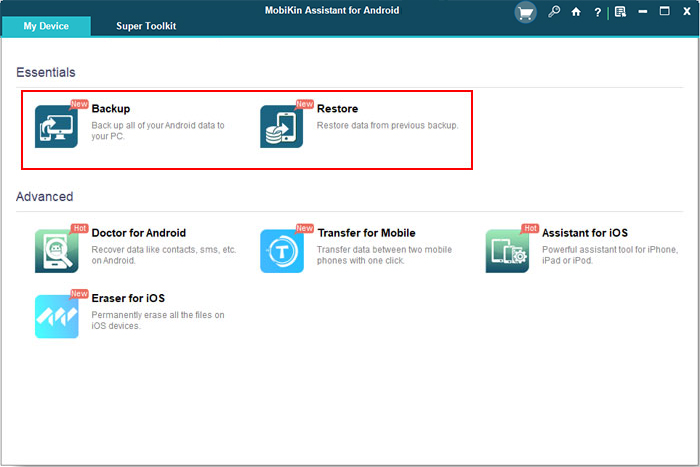 Video Tutorial for How to Perform the Best Android Manager Program
Can't Miss:
Part 2. Other 5 iTunes Equivalent for Android
1. AirDroid
AirDroid enables the Android phone users to manage the files that stored in the device on a PC or Mac. The software can meet your needs and offer you the functions that are similar to those of iTunes. What's more, the app can also offer you an online interface. And the best iTunes app for Android is professional and powerful, which make it a good choice for Android users who want to access the files and other content in a convenient manner.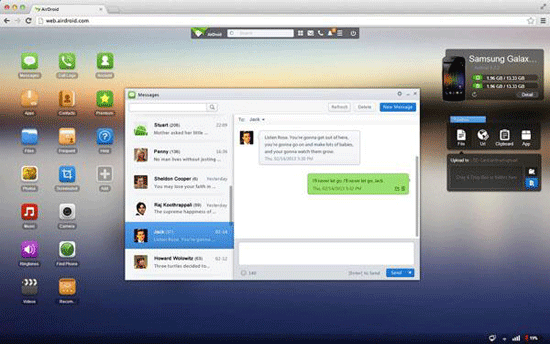 Pros:
It can get access to the website without needs to install the app.
The interface is concise and it is easy to operate.
Cons:
There are some bugs in the app especially in the web version.
2. Mobiledit Lite
With Mobiledit Lite, you are able to get access to all the files on your device easily and quickly. This iTunes like app for Android is reliable and enables you to preview all the files and items you can see on the smart phone. Furthermore, the app also allows you to send text messages and update the device as you like. By the way, the free version cannot offer you the complete functions and if you want to get the pro version of the app, it will cost you EUR 19.00.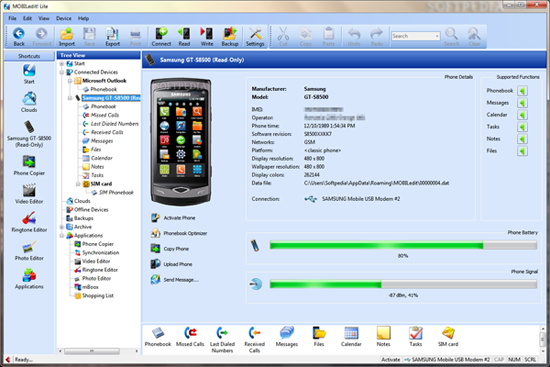 Pros:
Allows you to make a backup of your device fast.
Easy to use.
Cons:
You may need to connect the device to computer for several times when the app can not recognize the device.
3. Samsung Kies
Samsung Kies is a software that are designed and developed for Samsung devices specially. This a professional app like iTunes for Android that enables the Samsung device users to transfer files from Samsung to computer or from PC/Mac to the device freely (See how to backup and restore Samsung devices with Kies). Moreover, the app can perform the transfer process seamlessly and offer you a ton of neat stuff that you can appreciate. You will be surprised by so many functions that the app has. And it is also easy to install and use the app. With the simple and practical interface, the app is user-friendly. By the way, the software is free to download.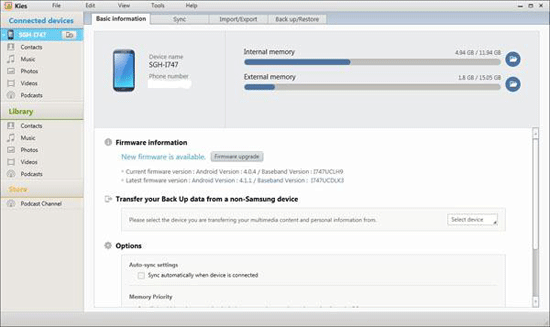 Pros:
It works great with Samsung devices and the best choice for Samsung phone users.
Easy to use.
Cons:
Only suit Samsung best.
There are still bugs in it.
Can't Miss:
4. HTC Sync Manager
HTC Sync Manager is the smart phone assistant that are specially released for HTC phone users and also enable the users to manage the files on computer efficiently. It allows you sync files like contacts or add events to the calendar as you like. One world, the software is useful can help you manage your HTC phone well.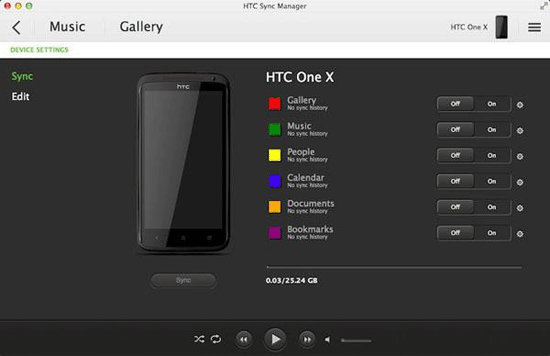 Pros:
With the great functions like automatic syncing, removal and so on, the app is the best choice for HTC users who need an assistant.
Cons:
The interface may confuse you.
There are a few connectivity issues.
5. DoubleTwist
Finally, we want to recommend to you an Android version of iTunes is DoubleTwist, which makes multimedia management on mobile phones a piece of cake. You can use this software to connect your Android phone to the computer system via USB or WiFi. Then manage music, videos and images on your smartphone with this software. You can also convert multimedia file formats. Any user, even without much computer experience, can easily master the use of this software, because the product interface is very simple.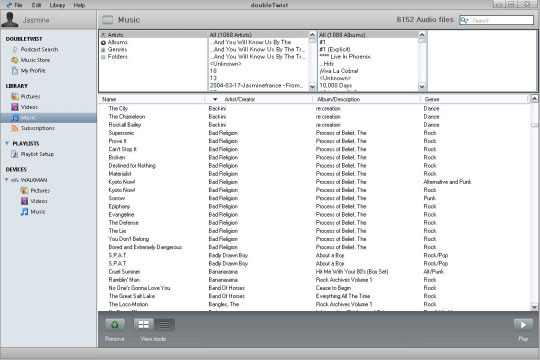 Pros:
It's free.
There are some other features that iTunes does not have.
Cons:
Only support media file types.
There are still bugs in it.
Conclusion
iOS device users have the definitive tool iTunes to help them better manage and use their iOS devices. Unfortunately, Android does not have such a direct solution. However, after reading this article, you now know that there are actually many great iTunes alternatives for Android. Among them, MobiKin Assistant for Android is the safest and most powerful iTunes equivalent for Android, which can transfer and manage overall data types on your Android phones and tablets. Download this software to experience it now.
Related Articles
How to Transfer Contacts from Android to iPhone
Best Android Contacts Manager Software
Best 10 Android Desktop Managers to Manage Your Android Devices on PC/Mac
Top 6 File Manager for Android to Keep Your Device Organized
Top 5 Android PC Suites - Help You Manage Your Android Phone with Ease
The Best Android SMS Manager Helps You Manage Android Messages Easily