How Long Does iOS 17 Take to Install? Get Your Answers Here
iOS 17 is now out, and users can't wait to try it out. From a customizable lock screen and new Safety Check functionality to schedule emails and more, this newest version is for sure fully packed with awesome features. If you are also eager to give it a try and check out these features for yourself, then you may be asking 'how long does iOS 17 take to install'?
iOS updates sometimes can give you problems and take longer, especially if it is a new version that is still in its development stage. In this guide, we'll focus on iOS 17 update time and also give you tips on what to do when the update seems to be taking longer.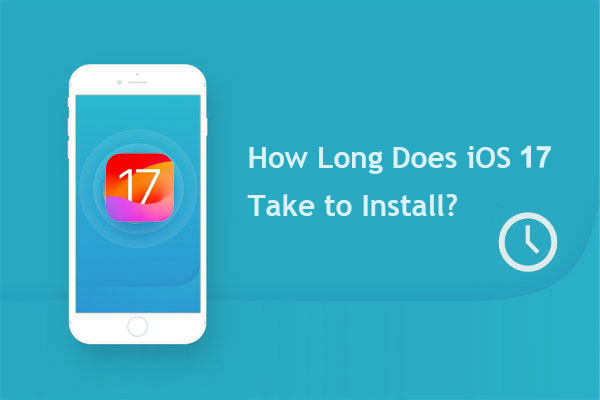 Part 1. How Long Does the iOS 17 Update Take
Decided to install iOS 17 on your iOS device? You have to set aside time to get this upgrade installed on an iOS device. Changing to another iOS version can cause issues, so you have to track the download and installation time.
How long does iOS 17 take to install? The time it takes for an iOS 17 to install varies depending on various factors. Some iOS updates may take longer, while others will take less time. However, we will help you in approximating the time it takes to install a new OS on your iOS device.
Basically, Apple updates are minor updates offering fewer improvements like bug fixes, security improvements, and font changes. Also, it may be a major update, which usually happens every year. If there are few features, the OS will be smaller, and vice versa.
So, how long does it take to update to iOS 17? On average, the time it takes to update to iOS 17 is about 30 minutes to an hour, and several stages are involved during the process, each with a waiting time.
| | |
| --- | --- |
| Activity | Time |
| Data Backup | 5-30 minutes |
| Download of iOS 17 | 15-20 minutes |
| Installation of iOS 17 | 10-20 minutes |
| Setting up iPhone | 5 minutes |
You May Be Interested in:
Part 2. Why iOS 17 Update May Take Longer
As said, various factors may slow down the iOS updates, which vary from one device to another. Below are the most common factors that may slow down the iOS 17 update:
Reason 1: A Larger iOS Update File
iOS update files vary depending on the number of features or upgrades they contain. If you are moving from version 16 to 17, expect about 5GB update file. That is a huge update containing many features. Therefore, downloading and installing it may take longer.
Reason 2: Insufficient Storage on your iOS Device
Each update comes with new features that require storage to be accommodated. Thus, if your iOS device doesn't have enough storage, then the iOS update may freeze halfway. Worse, the process can get terminated after some time. So, before starting the update procedure, it is crucial to check the available storage on your device and confirm the update size as well to make sure it can be accommodated by the phone. (How to free up space on iPhone?)
Reason 3: Issues with Apple Servers
During iOS updates, it is common to experience issues with the Apple servers. Users all over the world are trying to upgrade their devices as soon as Apple releases a new iOS. Therefore, the servers may easily be overloaded by this traffic, thereby slowing down.
Besides, there could be delays while updating iOS devices while the servers are under maintenance.
Reason 4: Network Problems
If your internet is slow, the installation process may also be slow. It isn't just about the network strength but also consistency. If the network fails or is too slow halfway, the update duration will be extended.
Reason 5: The Device's Age
The phone's age is also a determining factor in the time the iOS 17 update may take. Some models may be sluggish because every latest update comes with features that require better hardware.
You May Also Like:
Part 3. What to Do if iOS 17 Download Takes Longer
Now you know the answer to the question, 'How long does iOS 17 take to download?'. It takes utmost 20 minutes, but as said, it depends on various factors. However, if the iOS 17 update seems to take longer, you need to troubleshoot the problem immediately to complete the updating process
Fix 1. Force Restart the Device
If your iDevice seems to get stuck during the download procedure, the first thing to do is to restart it. This is a simple fix that is known to fix various issues within the phone, such as getting stuck on update.
To force restart your iPhone, press then quickly release the Volume Up key and do the same for the Volume Down key.
After that, long press the Side key and release it when the Apple logo shows up.
Fix 2. Check Your Phone Storage
The available storage space on your iDevice is also another reason the iOS 17 update may fail to complete successfully. To upgrade to iOS 17, you need at least 5GB of free storage. Therefore, if the update seems to be taking longer than expected, you should check the available storage on your iPhone.
Head to your device's "Settings", then to "General", and check the available storage. If the storage space is running low, remove unnecessary applications and try to download the iOS update file.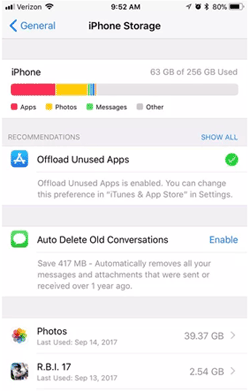 Fix 3. Check Your Network Connection
An unreliable and slow network may often freeze the iOS 17 update. Therefore, you must use a stable, strong, and reliable network when updating to the latest iOS version.
Fix 4. Check Apple Server Status
The cause behind this problem may also be Apple Servers. If the update isn't complete after waiting for some time, you should look into issues with Apple Server. To know if the servers are working fine, you need to visit the Apple System Status website and check the dots next to iCloud and Sign In, App Store, etc. These dots should be green, and if not, you will need to wait until it is fixed.

Fix 5. Close All Apps Running in Background
You should also close any app running in the background, which may be consuming resources. These apps consume more battery, memory, or CPU than they are supposed to. Closing active background applications means there will be more available resources for the iOS update, which will make the iOS update duration shorter.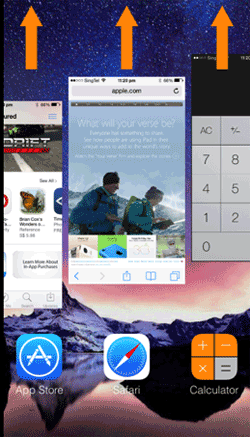 Fix 6. Reset Network Settings
If the problem persists, you can try resetting network settings, which removes glitches and errors that may be interfering with network connections. Resetting the network is pretty straightforward; you just need to open Settings, head to "General", and "Reset Network Settings". Finally, enter the password if asked and confirm the reset process. (Tips about resetting all settings on iPhone.)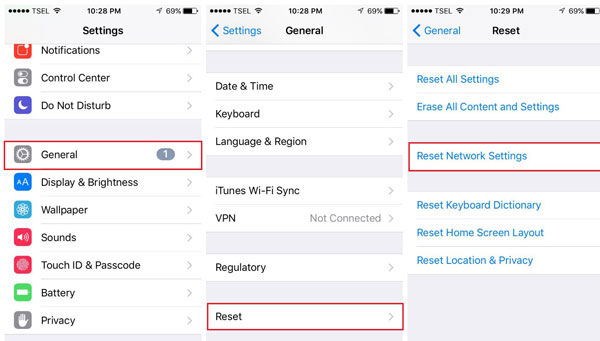 Fix 7. Repair System Issues in Your iOS Device with a Third Party Tool
If nothing seems to work, you should consider third-party software developed specifically for repairing systems problems in iOS devices. One application that's being appreciated and sought after by many nowadays is iOS System Recovery.
This tool helps to repair almost all software-related problems in all iOS devices hassle-free. Whether your device is stuck on update, disabled, or stuck in a loop restart, this is your all-in-one solution that repairs your iOS devices in just a single click.
Key highlights of iOS System Recovery:
Download/install iOS 17 quickly without the need for iTunes.
Repairs system-related problems in all iOS devices.
Ability to handle 50+ iOS problems, including iPhone keeps restarting, iPhone frozen on lock screen, iPhone typing on its own, error 9006/56/54/11/3194/8003 on iTunes, black screen, stuck on boot loop problems, etc.
Resolve iOS system issues using either the Standard mode or Advanced mode.
Supports all iPhone models & iOS versions, including iPhone 15/14/14 Plus/14 Pro (Max), iPhone 13/13 Pro (Max)/13 mini/12/12 Pro (Max)/12 mini, iPhone 11/11 Pro/11 Pro Max, iPhone X/XR/Xs/Xs Max, iPhone 8/8 Plus, iPhone 7/7 Plus, iPhone 6/6S/6 Plus, iPod touch, iPad, etc.
It won't let out your privacy.
How to shorten the iOS 17 update time? Check the steps below on how to repair your iOS device and quicken the installation process:
Step 1. Start by launching the software on the computer after downloading and installation. Enter "iOS System Recovery". Once done, plug in your iOS device to the computer and click on the "Trust" option.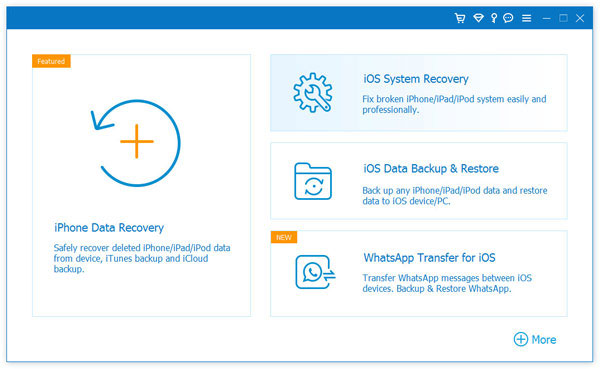 Step 2. From the popup window, you will see all the problems this software can fix. Press "Start" to continue. Choose the Standard repair mode to start repairing your device and hit the "Confirm" button.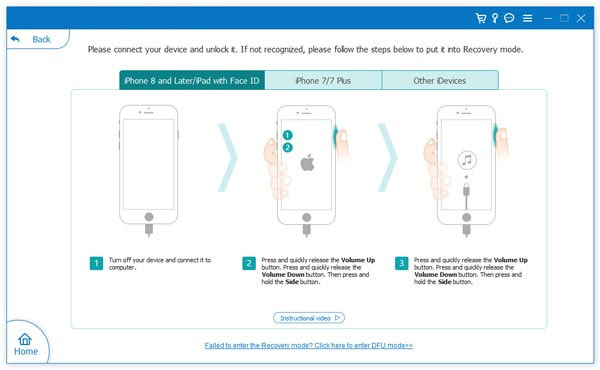 Step 3. Confirm the details of your iOS device as directed. Ensure it is accurate.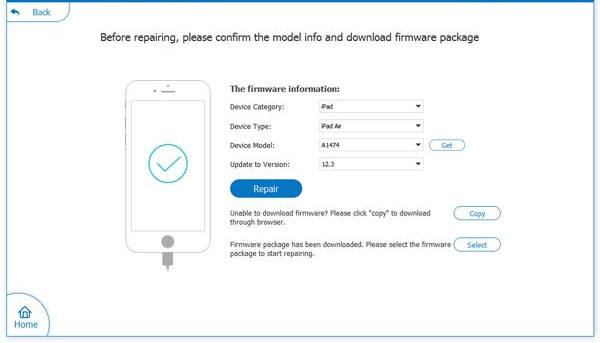 Step 4. After that, tap on the "Repair" icon to start the repair procedure.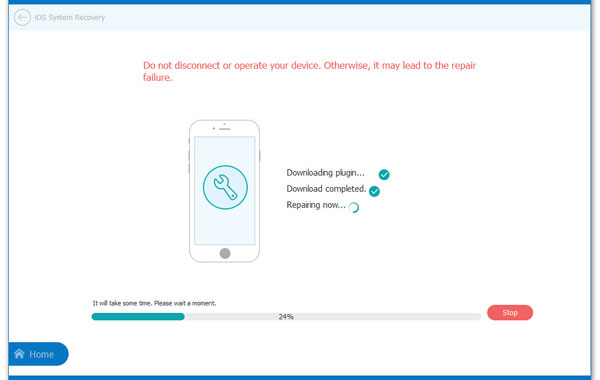 Ending Words
How long does the new iOS 17 update take? You now know the average time iOS 17 update can take. Though updating to the new iOS 17 is exciting since you get to try out new features and awesome enhancements available, it can give you problems. Although installation time varies depending on various factors, these fixes can help quicken the update process. We highly recommend iOS System Recovery to help make the installation process quicker and smoother.
Related Articles:
How Long Does It Take to Back Up iPhone to iCloud/iTunes? Here's The Answer
How Long Does It Take to Transfer Data from iPhone to iPhone 14/13/12/11/X?
How to Fix Move to iOS Taking Forever or Slow? Here is the Answer
Want to Downgrade iOS 15 Beta to iOS 14 without iTunes? 3 Simple Ways are Here!
How to Fix iPhone/iPad Locked after iOS 16/15 Update? [Top 6 Ways]
4 Popular Methods to Fake Location on iPhone/iOS 16 [2023 Updated]