Ultimate Guide: How to Retrieve Deleted Text Messages on iPhone 13
The iPhone 13, with its advanced features, is a technological marvel. However, the inadvertent deletion of text messages remains a common concern for users. In this preface, we explore the intricate methods and tools available to retrieve deleted text messages on iPhone 13/13 Pro Max. Unraveling the solutions within this guide empowers users to navigate through various recovery options, be it through native settings, backups, or specialized software. This comprehensive exploration aims to equip iPhone 13 users with the knowledge needed to recover their lost text messages effectively.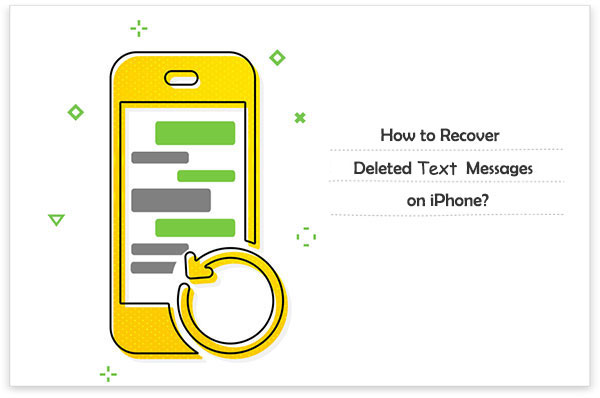 Part 1: Retrieve Deleted Text Messages on iPhone 13 from Recently Deleted
In the recent release of iOS and iPadOS 16, Apple has brought forth a valuable feature allowing users to recover deleted messages directly from the Messages app. The method to retrieve these messages is simple and can be a real savior in accidental deletion scenarios.
Here's a step-by-step guide to recovering iPhone 13 deleted messages from recently deleted folder:
Launch the Messages app on your iOS 16 or later device.
Access the Edit button within the app.
Choose the "Show Recently Deleted" option to reveal your deleted messages.
From the list, select the specific conversations containing the messages you wish to restore.
Tap on the Recover option and confirm your decision to reinstate the selected messages.
Your deleted messages should now be successfully recovered and displayed among your other conversations.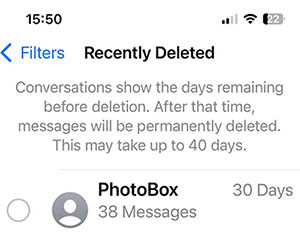 Remember, this recovery method is only applicable for messages deleted within the last 30 to 40 days and is exclusive to devices running iOS 16 or iPadOS 16.1 or later versions. If you don't see the option, it's likely your device hasn't been updated yet.
Click to Know:
Part 2: Restore Deleted Messages on iPhone 13/13 Pro Max via iCloud Backup
Restoring your deleted text messages from an iCloud backup is possible if you have ever backed up iPhone text messages to iCloud, but it involves a necessary step that includes wiping all your existing data and settings. Follow the steps outlined below to recover deleted text messages on your iPhone through an iCloud backup:
Navigate to your device's settings and access the "General" tab, then proceed to "Transfer or Reset iPhone" and select "Erase All Content and Settings." Follow the prompts on the screen to carry out the erasure process.
After completing the erase, power on your device. When prompted with the "Apps & Data" screen, opt for "Restore from iCloud Backup."
Sign in to your iCloud account using your Apple ID and follow the subsequent instructions to finalize the restoration process.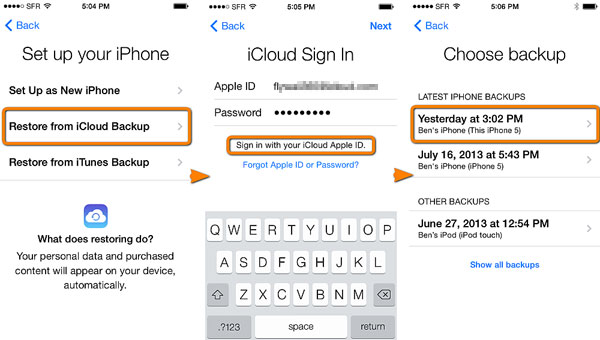 Further Reading:
Part 3: Recover Deleted Text Messages on iPhone 13 Using iTunes or Finder
If you backed up your iPhone on a Mac or PC rather than using iCloud, you can restore your iPhone using that specific backup. If you're on Windows, this would be through iTunes, and for Mac users, it's done via Finder. Here's how to find deleted messages on iPhone 13 using iTunes or Finder:
Connect your iPhone to the computer and launch iTunes or Finder, manually if necessary.
In iTunes, click on the phone icon at the top of the screen, then select Summary from the left-hand menu. For Finder, click on your phone's name under Locations.
Click on "Restore Backup," and your old messages should reappear on your device. If they don't, it indicates that these texts weren't included in your backup.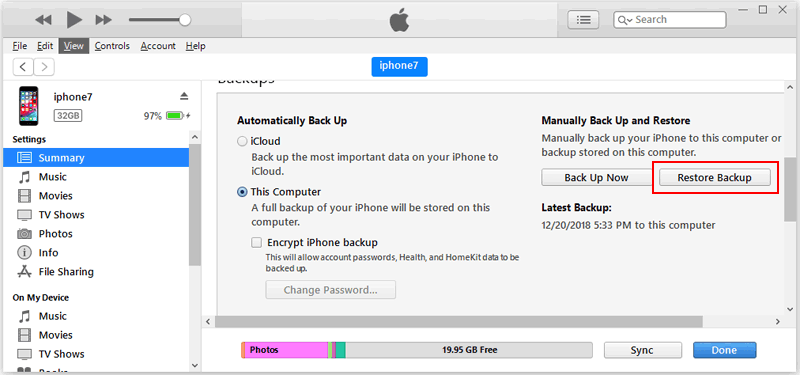 If the Restore Backup option is inactive, click the option saying "This Computer" or "Back up all of the data on your iPhone to this Mac." You can switch it back once you've found the needed texts.
Part 4: Retrieve Deleted Messages on iPhone 13/14/15 without Backup
In the quest to recover deleted iPhone 13 text messages, various avenues exist beyond checking the Recently Deleted folder or restoring from iCloud or Finder backups. MobiKin Doctor for iOS, a versatile file recovery software, offers an efficient solution, enabling retrieval of lost messages without requiring a backup. Its comprehensive scanning capability surpasses other similar programs, efficiently sorts found files, and aids in their recovery, safeguarding newer essential data on the device.
This tool also provides the option to access and extract specific files from an iTunes or iCloud backup without initiating a complete restore, ensuring no data loss occurs. Known for its high success rate in recovering deleted text messages on iPhone, Doctor for iOS swiftly scans devices to reclaim lost data, avoiding the necessity to erase the iPhone for a backup restore, thus preventing any additional data loss.
Why Doctor for iOS Stands Out as the Premier iOS Data Recovery Tool:
It covers over 14 data types, extending beyond text messages to encompass crucial content like photos, videos, and WhatsApp conversations stored on your iPhone.
Effortlessly retrieve data directly from iOS devices or selectively restore data from iTunes and iCloud backups.
A free trial is available, allowing users to test the tool's functionality and verify compatibility before making a commitment.
The software fully supports all iOS devices and versions, including the latest iPhone 15 and iOS 17, ensuring comprehensive coverage for various users.
It won't interfere with your privacy.
Guide: How to recover deleted texts on iPhone 13/14/15 with Doctor for iOS:
Step 1. Begin by downloading and running the software on your computer. Opt for the "Recover from iOS Device" option from the interface. Connect your iPhone to the computer via USB, and the tool will automatically identify your device.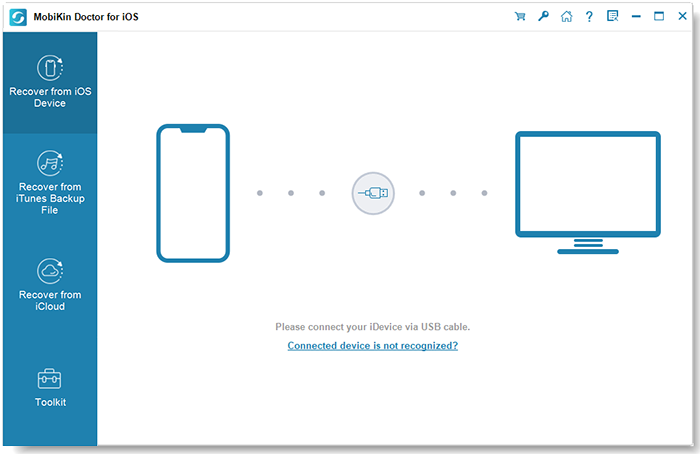 Step 2. Once the tool recognizes your iPhone, the program's main screen will appear. Select the "Messages" category and click "Start Scan." Shortly afterward, you'll be able to access the previously missing text messages from your iPhone on your computer.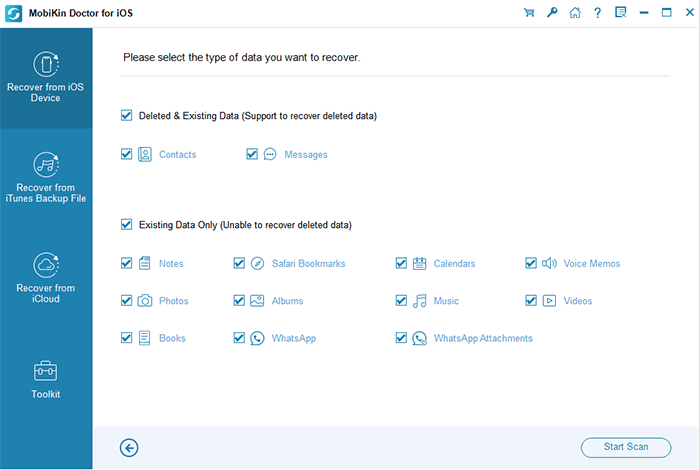 Step 3. Handpick the text messages you wish to recover and click "Recover to Computer" to restore them to your computer.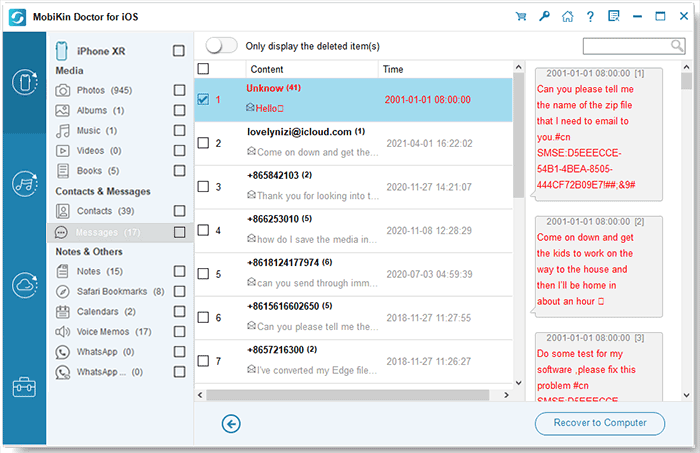 Part 5: Retrieve Deleted Texts on iPhone 13 by Contacting Phone Provider
Consider contacting your phone carrier as another means to recover deleted text messages. Some carriers, in select countries and regions, maintain text message records for varying timeframes, ranging from a few days to several months. They might assist by retrieving these deleted texts if stored in their records. Certain providers enable access to messages through online accounts for viewing and printing, while others require requesting printed copies through a call.
To pursue this, reach out to your service provider's customer service via call or email. Retrieving deleted SMS messages from the carrier's servers is subject to limitations and isn't a guaranteed process. You might need to verify your identity, offer a valid reason, and note that this method applies to text messages, not iMessages.
Bonus Tip: Backup iPhone Text Messages Regularly to Prevent Data Loss [Free]
The adage "an ounce of prevention is worth a pound of cure" holds true, highlighting the importance of regularly backing up iPhone text messages to avert potential data loss. The free MobiKin Assistant for iOS stands out as the optimal tool for this purpose, serving as a top-notch and free iOS backup solution. This software seamlessly performs data backups to your computer and allows selective restoration to your device, in addition to aiding in the management and transfer of various iOS data such as photos, contacts, and videos.
Here's a simplified guide to effectively safeguard your iPhone data:
Begin by downloading and installing the Assistant for iOS on your computer. Connect your device, allowing the software to recognize your iPhone.

Navigate to the left column of the software interface and select the specific file types to be backed up. For messages, ensure to check the box and proceed by clicking "Export."

Exercise patience as the backup process unfolds. Once completed, you'll have access to the backup data, offering the flexibility to restore it whenever necessary.
FAQs about Deleted Messages
Q1: Do deleted iPhone messages disappear permanently?
When you delete messages on your iPhone or other phones, they can actually be recovered. Advanced applications like MobiKin Doctor for iOS offer simple recovery methods, enabling the retrieval of deleted iPhone messages via iTunes, iCloud, and alternative approaches. By following the straightforward steps outlined above, you can easily scan and recover important messages that were previously deleted. The process is straightforward, user-friendly, and swift.
Q2: How to locate old text messages on an iPhone?
To discover old text messages on your iPhone, follow these steps:
Launch the Messages application.
Locate and access the Search bar.
Input keywords or phrases from the old message.
Conversations matching your search will appear in chronological order.
Review the search results and select the message you want to read.
Q3: Is it possible to retrieve deleted messages on Viber?
Recovering deleted messages on Viber is relatively uncomplicated. Simply reinstall the app and link your phone to the same Google account. Viber conversations are typically linked to your Google account or iCloud, establishing an efficient backup system. When setting up the account, you'll encounter the restore option. Just select the button, and you can recover your lost Viber messages.
Round Off
The focus of this article revolves around outlining five highly effective strategies for recovering deleted text messages on an iPhone, be it directly from the iPhone, utilizing iTunes backup, or resorting to iCloud backup. Among these, the most user-friendly approach is employing MobiKin Doctor for iOS.
In addition to these techniques, an extra tip caters to guiding users on backing up iPhone text messages. Your feedback on this article and any queries you may have regarding this topic are welcomed in the comments section below. Feel free to share your thoughts and questions with us.
Related Articles:
Texting from Computer to Cell Phone: 7 Ways & Their Comparison
4 Easy Ways to Recover Deleted Messages on Facebook Messenger on iPhone
Unlock iPhone Free with IMEI Number/Carrier/Unlocking Software
9 Quick Solutions to Troubleshoot Messages Didn't Transfer to New iPhone
How to Retrieve WhatsApp Messages from Lost Phone without Backup? [iPhone/Android]